Best Sims 4 Kissing Pose Packs: The Ultimate Collection
This post may contain affiliate links. If you buy something we may get a small commission at no extra cost to you. (Learn more).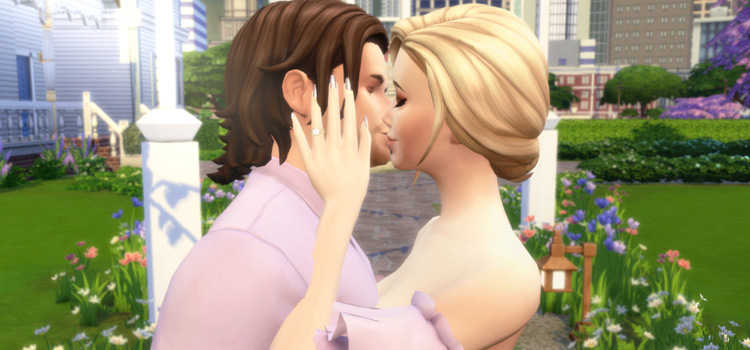 The Sims franchise always has the best take on romance.
From the iconic "woohoo" interactions to the hilarious "woohoo" animations, and the ridiculously easy courting system (leave two Sims alone for a whole day, come back to find them in a committed relationship…)
No matter how you slice it, The Sims provides a lot of love options to play around with.
And TS4 content creators can expand those options even further with pose packs.
So here you go: some of the sweetest kissing pose packs this side of Oasis Springs.
1.

Slowly Pose Pack by CazMari
Slow dancing in the dark will never not be hella romantic.
And even if you're a bad dancer, you can always just sway (very carefully) from side to side.
This pack stands out because it manages to perfectly portray the tremulous tension between both models in an intimate setting.
How the creator managed to do this when it's literally just pixels, I'm not sure.
But I'm not complaining, because I got some really gorgeous stills from it.
The first 8 poses gradually lead up to #9 and #10, which is where the Sim models actually kiss.
Really sweet, really sultry, and the built-in height difference is perfect for smol-tol match-ups.
The poses are labelled with "f" and "m" so you can tell who's supposed to get what, but the check the preview photos; pretty sure the poses are unisex and can work for any couple.
2.

Kiss Me by sciophobis
Literally keeping it sweet and simple, this set of poses by sciophobis is kind of like a variety pack of kissing scenes.
Kisses on the nose, kisses on the hand, even playful kisses while keeping the eyes covered?
Yep, all here (with height difference to boot!)
You'll get 5 poses total, with two all-in-one animation options for each model.
They're great for establishing casual kissing scenes between couples who are obviously very comfortable with each other.
Literally no need for a complicated backstory or explanation.
3.

We're Engaged! Poses by Perfect Sims Life
This is the creator's first pose pack (apparently) and I have to say that they did a great job!
Attention to detail is excellent, the concept is pretty unique, and the third pose made me giggle.
It's not a kissing pose, but the enthusiasm is very much appreciated.
Don't worry though; the first two poses in this pack are all about kisses.
The second one is a very Simstagrammable-worthy pose where the just-got-engaged Sim shows off their wedding ring.
In fact, I'm pretty sure I've seen poses like this on Instagram IRL, so…
Real-life replication is spot-on.
Just be aware that the third pose is meant to be pictured from the Sim's POV (as you can see in the previews).
You could take the photo from a third-person POV, but fair warning, the Sim holding up their ring hand looks kinda stiff that way. Best to stick with how the creator intended it.
4.

It's Okay Poses by Symphony Sims
The poses in this pack are so incredibly tender, I had to include them.
The creator's description involves the words "walking hand-in-hand," "talking," "comforting," and "kissing."
And that's a pretty succinct description of what you're getting.
Each pose is labelled with "Her" or "Him," so I guess the creator didn't really intend for this to be unisex.
I personally think the poses will work with a mix of any sex, but I didn't try it out myself.
5.

This Kiss Poses Pack by joannebernice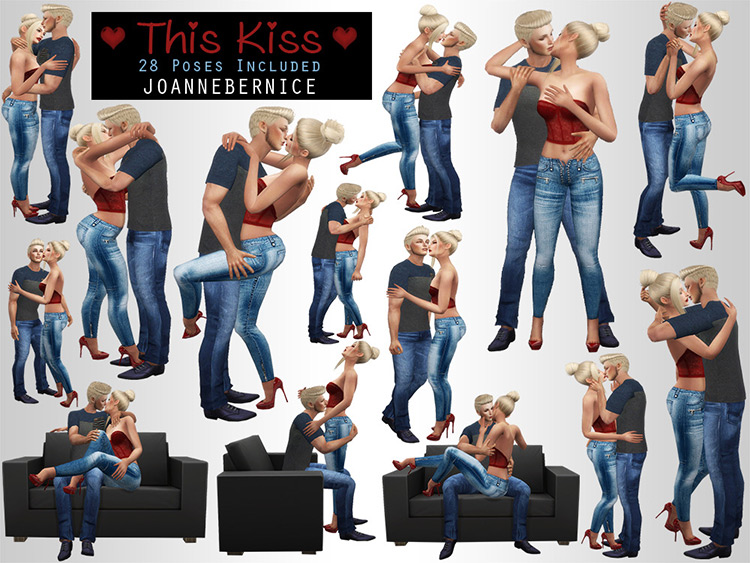 How many different ways can you kiss someone?
Joannebernice's pack says 14.
Yep, that's fourteen variations of the same action.
It's a pretty impressive number that not a lot of Sims 4 pose packs can top, hence why it's on this list.
A lot of the poses in this set are also quite unique.
It goes beyond the typical standing-up-while-caressing-the-face kissing, and explores a lot of possible positions very playfully.
I personally like the last two poses on the couch. They're very casual and very comfy, which is a narrative I try to keep my Sims tied to.
The .package file contains an all-in-one animation option for both Sim models (very helpful if you want to review all poses at once) and a slight built-in height difference.
6.

Kiss Me If You Can Couple Pose by 3lodiie26
There may just be two poses in this pack, but they still spin a cute and romantic storyline.
There's a lot of passion in the second pose (the one that's meant to take place against the door) and a lot of fresh, playful flirting in the first.
I think I just like how clean and straightforward the whole concept is, really.
No accessories and not a lot of setup required.
Just place two teleporters in one spot and, bam. You're all set!
7.

Because Love Poses by KatVerseCC
What you see is what you get with this pack: 4 poses of one Sim couple being obliviously sweet and sappy.
Nothing else to it, but the subtlety is pretty admirable.
It's a very soft, very slow build-up to a passionate kiss, which I think is pretty darn cute.
Also I love the expression of the Female Sim in the third pose.
It's not marketed as unisex – but the lack of height difference and the amicable expressions makes me think they could be.
8.

Stolen Kisses: Angry by atashi77
Don't steal kisses while someone's berating you, dude. That's not cool.
But if this scenario just so happens to line up with your current plot, then atashi77's pack is definitely for you.
You'll find 5 poses of a couple in a midst of a spat.
One's pretty fired up, the other one's a little cocky. Same Sim thinks they can win the argument with a sneaky little kiss, but a slap very quickly puts them in place.
The concept's both interesting and unique, as I don't think I've seen a Sims 4 kissing pose pack with a similar setup.
Speaking of setup, the poses in this pack were incredibly easy to work with.
There are in-game thumbnails so you know which pose you're on.
The thumbnails are also labelled with very clear actions, i.e. "being hit," "hitting," and "walking away," so assigning them to the right Sims was easy-peasy.
9.

Be Together by andromeda-sims
Aaaand we're back to regularly-scheduled romantic programming.
This pack is the complete opposite of the previous one.
Whereas atashi77's Stolen Kisses featured a passionate disagreement, this pack by andromeda-sims features two Sims in so much agreement. So much.
If you cycle through all 10 poses, these have your Sims kissing a grand total of three times. And all the other poses are basically just cute filler poses, i.e. moments for them to catch their breath via cuddling before they do it again.
But I will say that this pack stands out quite a bit because of those tender in-between shots.
I dunno; the facial expressions really shine.
10.

Kiss!!! by pandora-sims
This pose pack's name couldn't be any clearer.
You get 6 poses in all, with 3 poses for the lead-up, and 3 poses for actual smooches.
This pack starts out with a playfully flirty vibe that lasts about four poses before taking a hard left into full steamy territory.
One night stand?
Rare date night?
Secret rendezvous with the mistress?
Honestly, these poses can suit all three scenarios perfectly.
Only hiccup I had with this pack is that there aren't any thumbnails, so I didn't have any visual cues regarding which pose I was on.
Other than that, actually queuing up the poses and positioning them via teleporter was easy.
Browse:
Lists
The Sims 4
Video Games