Best Sims 4 Pride CC & Mod Packs
This post may contain affiliate links. If you buy something we may get a small commission at no extra cost to you. (Learn more).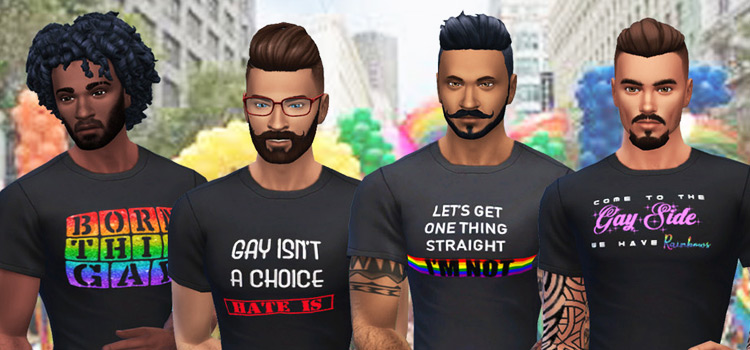 One of the things that makes pride so special is the fact that not only does it celebrate how far we've come, but it spreads awareness to those groups that aren't as represented.
It brings people together, and continues to relay the message that we're not going to give up!
Everything and all things pride give everyone a chance to come together, to feel like they're not alone, to build up the community and positivity. Which is probably one of the most important messages of all.
Many of us still wear out t-shirts and pins well after June has ended, and for good reason!
And we want to spread this love even more, maybe incorporating it into our Sims games.
Everything from shirts, socks, flags – there are countless options out there for expressing pride.
So let's take a look at some CC well worth downloading!
15.

Pride Upper Arm Tattoo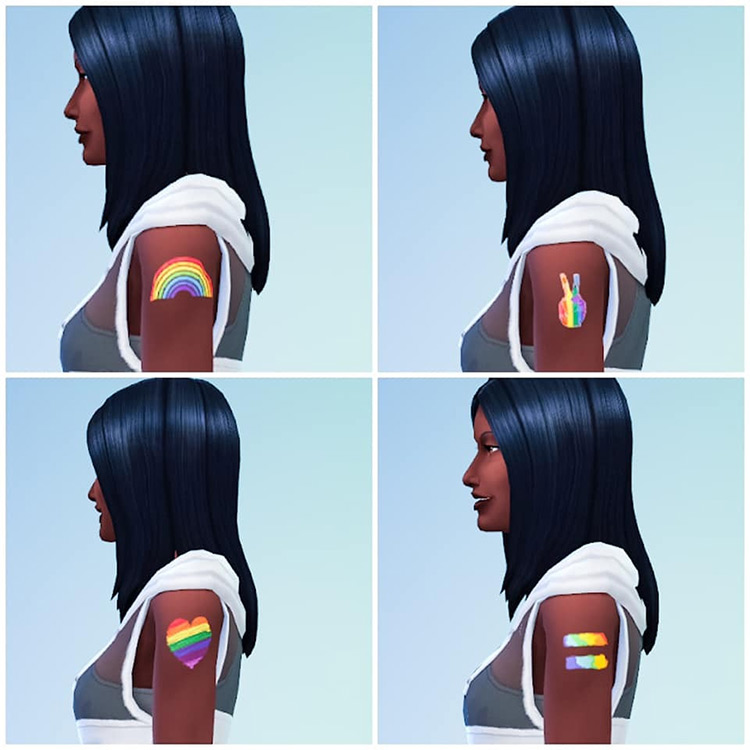 Tattoos are one of the best ways to express yourself.
So what better way for your Sim to put their pride on their sleeve by having it literally right on their arm?
These beautiful upper arm tattoos come in four different designs, all with a rainbow color theme.
And they say more than words about how important LGBTQ+ representation is to you(and your Sim!).
These also can be used temporarily as a body paint accessory for when a Sims pride event comes around!
14.

Pride Face Paint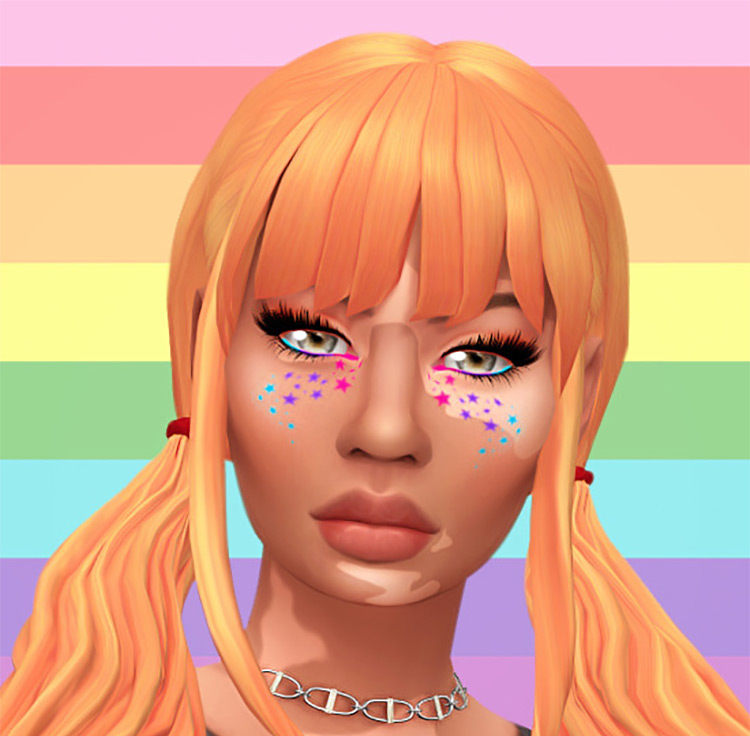 Whether your Sim is out at a protest, a parade, or wants a cute way to spice up their makeup, this Pride Face Paint CC is absolutely the way to go.
Face paint works wonders for any look that you're trying to add a little extra flair to. The way that it's placed on the face gives it that freckled look that everyone's been chasing after lately, all while going against the grain.
This set of facepaint even includes 40+ swatches, so you'll have fun scrolling through all of the different options and finding the right look to express whatever matches your Sim.
13.

Pride Glasses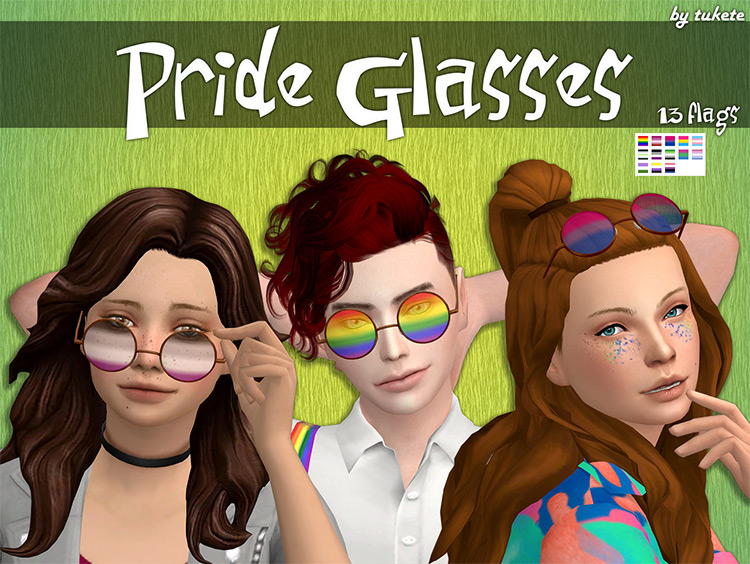 Who could go wrong with a pair of sunglasses?
Not only are they a functional accessory that have served their purpose for years, but they come in a variety of styles and colors.
So many that it's hard to not find the perfect pair of shades.
With that being said, these Pride Glasses are the perfect example of how they can go a long way, from the circular lenses to the colorful, bright designs in just about every flag color combination you could think of… they definitely come out on top!
There are even three different ways for your Sim to wear these glasses while they're out an about.
Try wearing them on the bridge of their nose for the classic eyewear look. Or on the tip of the nose for a carefree way to sport your glasses.
Or even on top of their head and out of the way!
12.

Pride Flag Accessory
Sure, you could put your flag up on display in your Sim's home.
But what about wearing it on their clothes?
With this Pride Flag Accessory CC your Sim can wear the flag they wave on their backs like a cape. A nice accessory for any event that they want to show the world who they truely are!
This comes in 40 swatches so no one's left behind. Plus wearing your pride flag as a cape is way cooler than any superhero cape could ever be.
11.

DIY Pride Jeans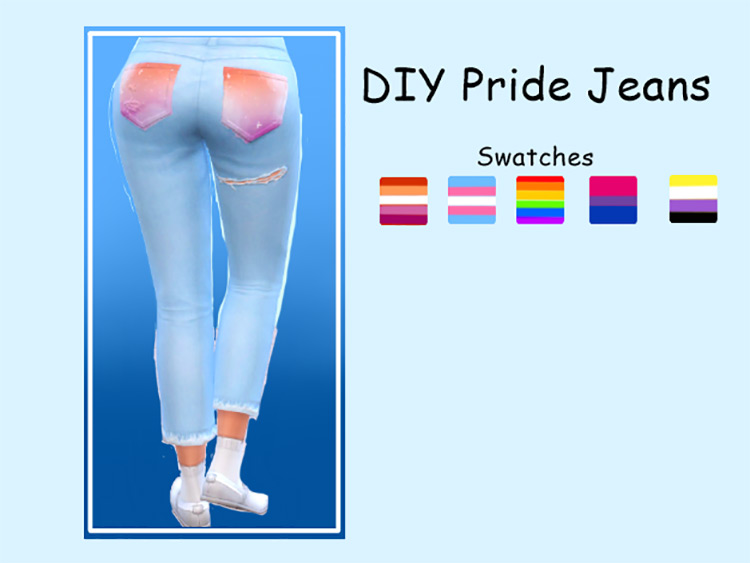 Do you like the idea of having your pride be part of your outfit… but maybe you're looking for something a little more subtle?
Maybe you're even looking for something more unique than what you usually see when it comes to pride attire.
If that's the case, have no fear. Because the DIY Pride Jeans CC are here!
Jeans with painted back pockets are a fantastic way to give old jeans new life. And with the loose fitting style and the rip just below the butt, they're not only a stylish pair of jeans in the first place… but have added meaning with the custom paint color on the back.
It can be intimidating to have to fully commit an outfit to one specific theme.
But now you can pair these with a basic top and some plain sneakers and have a comfy outfit that still does the job just as well.
10.

Harmony Eye Liner
Makeup keeps on getting more clever.
It never ceases to amaze me all of the wonderful and skillful ways that people think to incorporate art onto their faces that always looks so beautiful and well done.
While this look is more on the subtle side of things, it's equally as glamorous as other looks.
And it has a pretty significant meaning, too!
This eyeliner comes in 40 swatches, is compatible for both masculine and feminine shaped eyes in the game. It would pair great with the face paint CC earlier in this list, also from the same creator.
9.

Pride Undies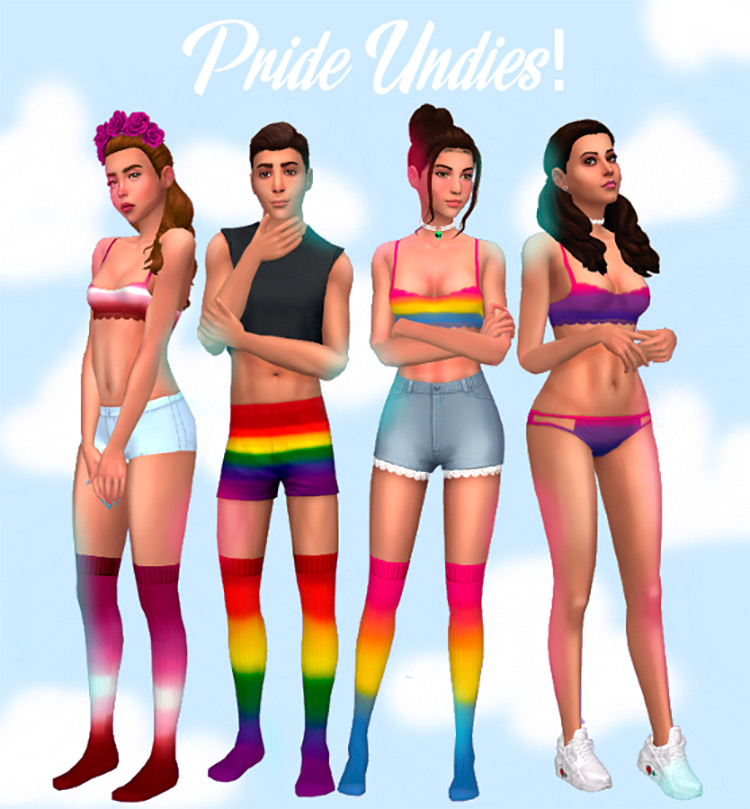 Whether your Sim is looking to keep these to themselves, or they have someone special in mind they want to get dressed up for, this set is definitely the way to go.
Made complete with underwear (panties and boxers), bras, and some fashionable knee-high socks that are a staple for getting cozied up at home.
These Pride Undies have got you set when it comes to having everything in your Sims life pride-themed. Even the things most other Sims probably won't get to see.
8.

LGBTQ+ 2019 Pride Shirts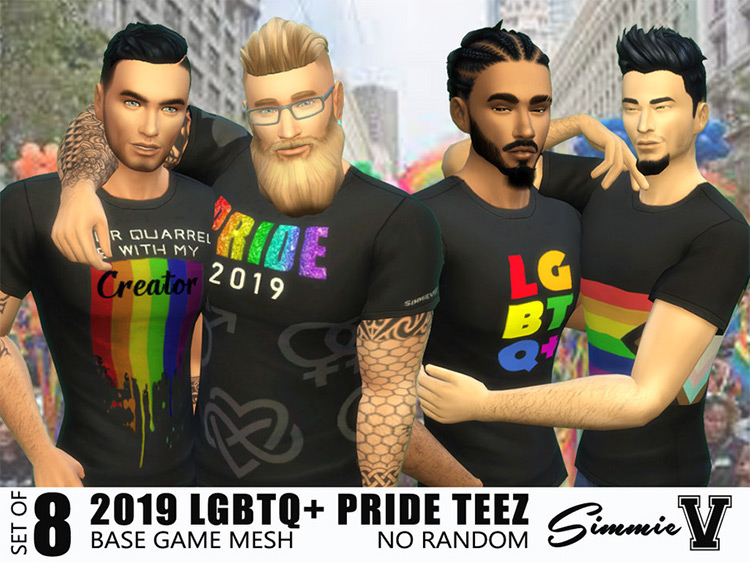 I, for one, have always been a big fan of black graphic tees.
They're so versatile, they can go with just about any outfit you want, and they don't look lazy.
Not to mention they pair with everything from jeans to casual skirts. And you can still express yourself with words, characters, and anything in between.
That being said, black pride shirts have all of the benefits of regular black graphic tees. But now they have your favorite words on them, and they mean something really important.
What better way to tell the world about what you believe than this set of Sim tees?
With shirts that have sayings like "Gay isn't a choice, hate is" and "Let's get one thing straight, I'm not" there's something for everyone here.
And you're sure to find one that fits your Sim.
7.

Pride Toddler Tee
Start them off young!
There's no reason your younger Sims should have to miss out on all the pride fun.
Whether you want them to learn acceptance and love, or maybe they have two moms or two dads, this toddler tee CC is a nice way to show how understanding your Sim children are.
This tee comes in 19 swatches with prints such as "Love wins" and "I love my moms". They rise up for any and all occasions.
6.

Pride Bracelets
Some accessories aren't meant to take off when you go to bed every night.
And this is a great example of one.
Your Sim can show off their pride 24/7 with this bracelet around their wrist.
Not only is it a pride themed bracelet, but its beaded design is way too cute to pass up!
5.

Proud Pride Recolor
When summer rolls around, your Sim needs to be cool and comfortable.
And of course, wearing their pride crop top!
They're the perfect thing to wear to their next parade, and feature a variety of LGBTQ+ flags such as pansexual and genderfluid for every Sim out there.
4.

Punk Pride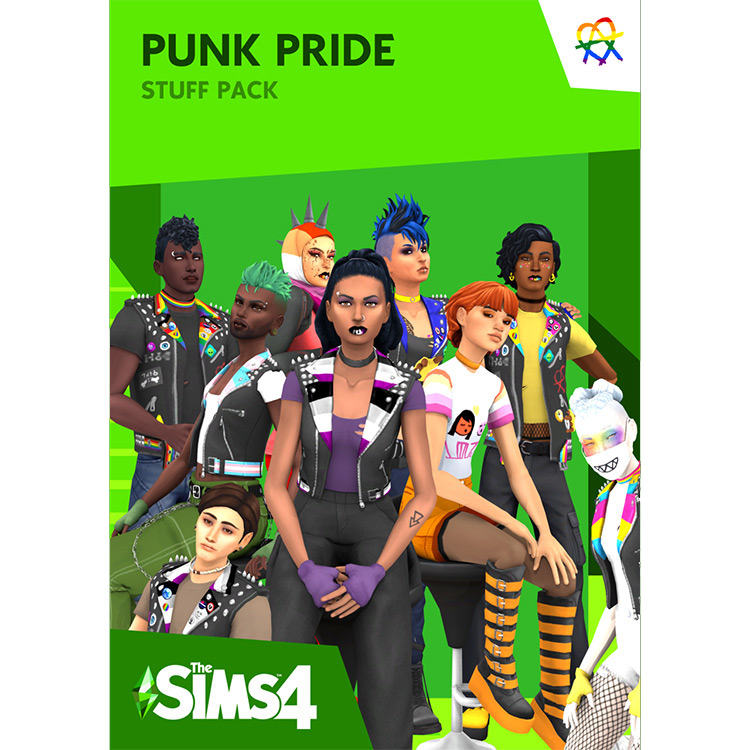 This is the best pack for everything you could possibly need that's pride-related in The Sims 4.
It has everything from objects to makeup to accessories, and what makes it even better is that it comes with a little bit of edge.
Things like the rainbow-studded jacket that come included in the Punk Pride pack make it worth the download. And is the best way to get your lot decked out before Pride Month kicks in again!
3.

Coming Out Mod
Being gay was already an option in The Sims. But do you sometimes wish you could give your Sims the full experience?
That nerve wrecking conversation that you have with your parents when you finally feel the time is right, and you finally let them know who you truly are?
Well then make sure to check out the Coming Out Mod.
This gives your Sim the chance to clarify exactly what their sexuality is to other Sims.
Of course, it comes with a variety of different emotions that can be felt by your Sim afterwards. Because as the creator of this mod put it:
"Coming Out is a very emotional thing"
And it even has other features such as telling their coming out story to others and expressing acceptance. Very detailed.
2.

Pride Month Mod Pack
We can't wait around for it to be June in real life. So if you want Pride Month to return but don't want to sit around and wait, this is the mod for you!
It affects certain cities like Windenburg and Del Sol Valley, and gets the towns ready to go for celebration.
Flags, banners, and more. Your town is going to be decked out and ready for Pride.
1.

LGBT Mod
The LGBT mod arguably offers the best experience for Sims to properly live out their sexual identity.
The mod comes fully equipped with traits that will give them special whims, drag show events, special social events, and more!
For everyone in your town to experience all the joys the LGBTQ+ community, this is just the mod to try out.
Some of my personal favorite highlights of this mod are things such as planning LGBT charity galas, giving your lot special traits like LGBT hotspots that spawn Sims of similarity, and pride spirit being a holiday trait.
Unfortunately, as in real life, this mod does have a homophobic trait. Which does add more realism, but kinda ruins the mood.
However, there's a way for you to encourage those Sims to be open-minded. And if successful, that trait will disappear from that Sim. A victory in my book!
Browse:
Lists
The Sims 4
Video Games