Sims 4 CC: Maxis Match Toddler Costumes For Halloween
This post may contain affiliate links. If you buy something we may get a small commission at no extra cost to you. (Learn more).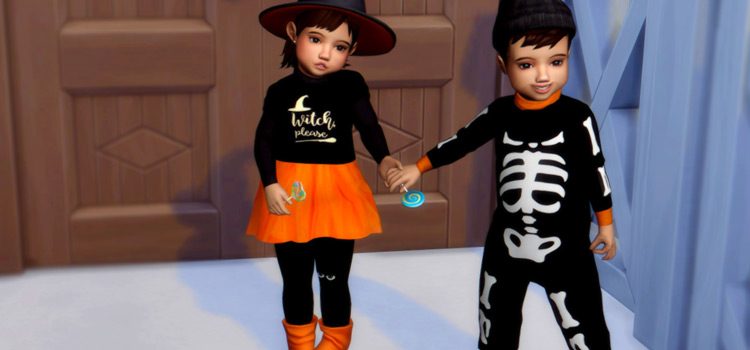 Let's say you're looking to pad your Toddler Sim's wardrobe with cute, clever, or just downright creative Halloween costumes.
Well you're in the right place.
I've got dozens of options here for you to choose from. They're all great ideas for any Sim tykes, and totally Maxis match.
1.

Superhero Onesies and Masks for Toddlers by SimsDollhouse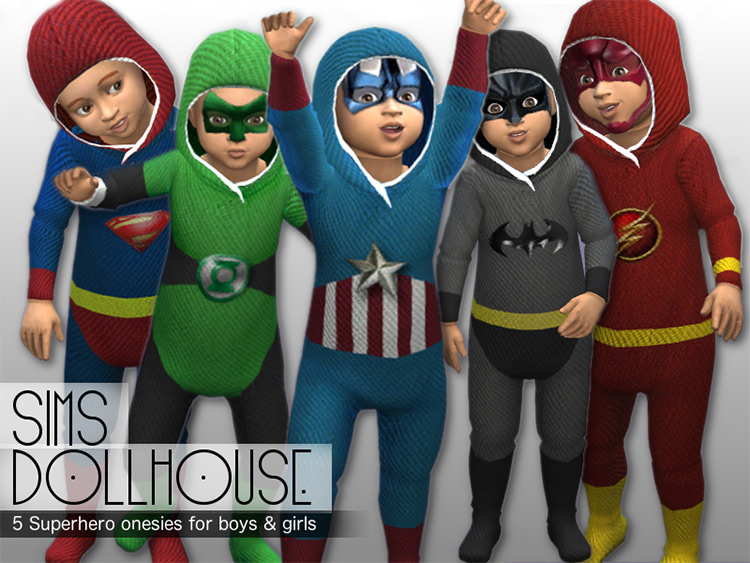 Captain America, Green Lantern, or The Flash?
Your Toddler may only pick one to go as for Halloween, but at least this download gives you all three options (plus two more!) on-hand.
Plus I love the simplicity of the design.
It's not an exact replica of the superhero's costume, but the important & distinct features are definitely present.
2.

Little Witches by storylegacysims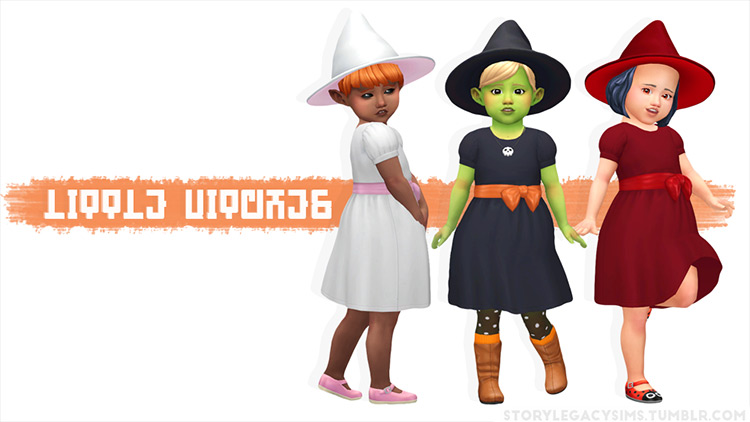 This witch costume can make any Toddler look wickedly charming.
Your Sim parents might have to act scared and intimidated so as not to hurt their tiny tot's feelings.
3.

Minnie Mouse Toddler Dress by MadameChvlr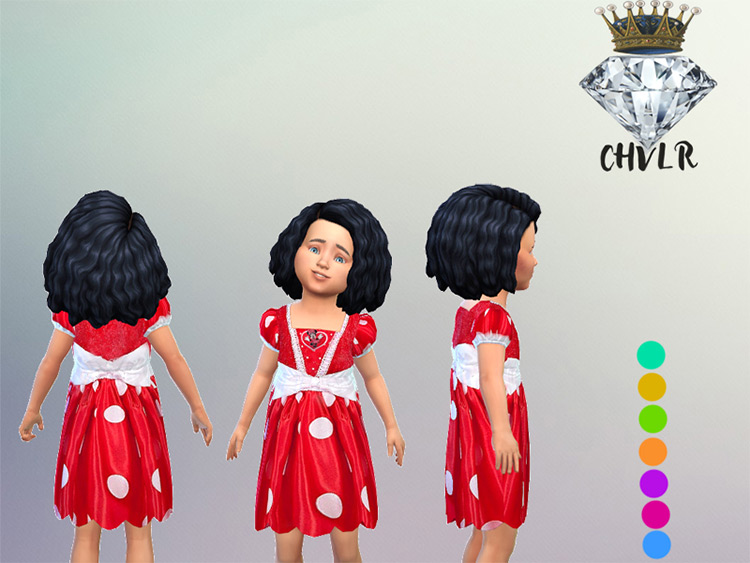 Here's a stylishly modern take on Minnie Mouse's iconic dress. It's hard to miss the bold red color and distinctive white polka dots.
I couldn't find any Minnie Mouse ears for toddlers, but I did find this big red bow with white polka dots to complete the look!
4.

Halloween Toddler Set by Simsefin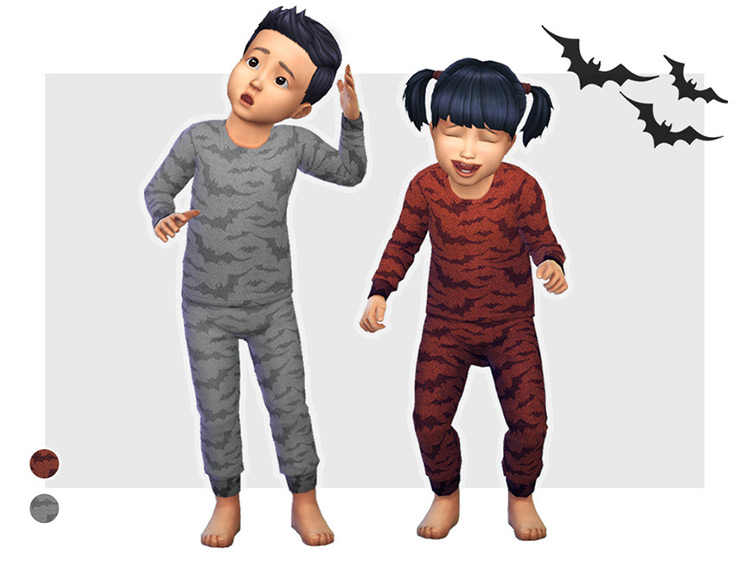 For Halloween, you can dress your Sims Toddler up as actual bats or you can give them bat-themed jammies. Honestly?
Both options work fine for spooky season!
This may not be a costume per se, but I give it a pass for sticking to the theme.
5.

Toddler Princess Dresses by InfinitePlumbobs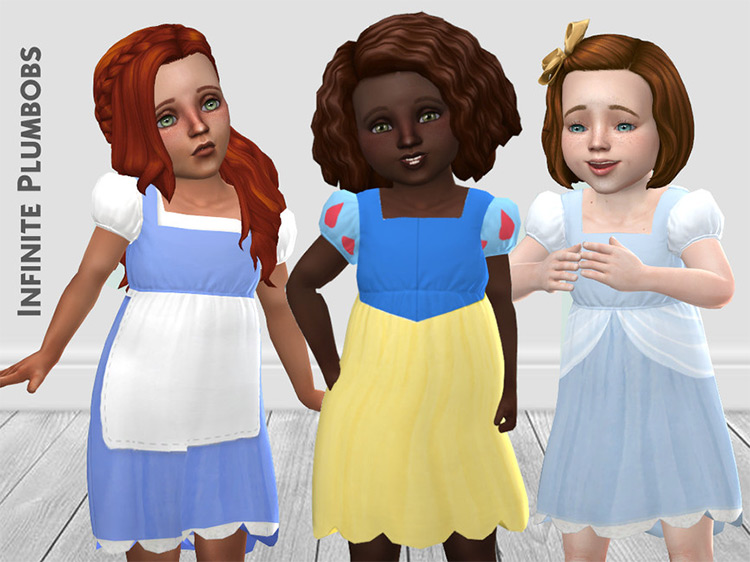 How about some pretty Disney Princess dresses for your pretty little princess?
These Toddler-friendly frocks not only come in the princess's iconic color scheme, but they managed to incorporate some of the more distinct details, too (like the bodice lacing on Rapunzel's dress and the curlicue designs on Anna's)!
6.

Baby Princess Set by alin2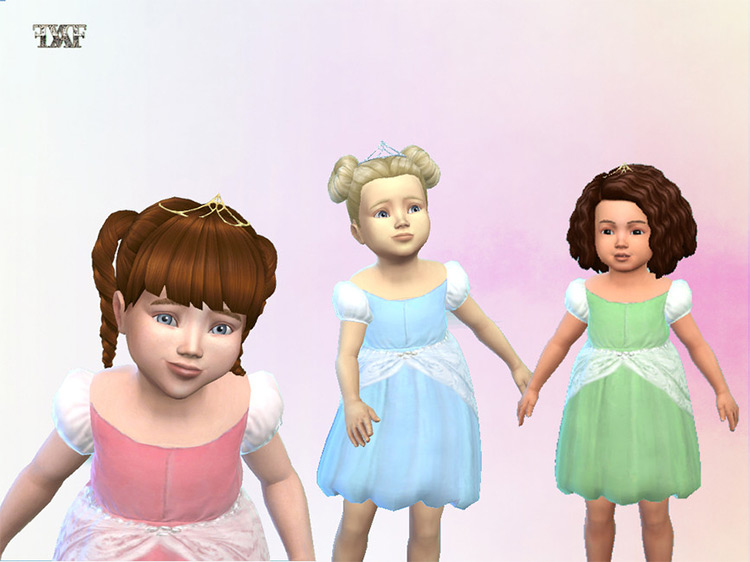 These dresses aren't patterned after a specific Disney princess, but they still work a treat! They're still bright, poofy, and perfect for your Sims's royal highness.
Plus I love that this set comes with a dainty little tiara to complete the look.
7.

Josie Jack O Lantern Halloween Costume by josie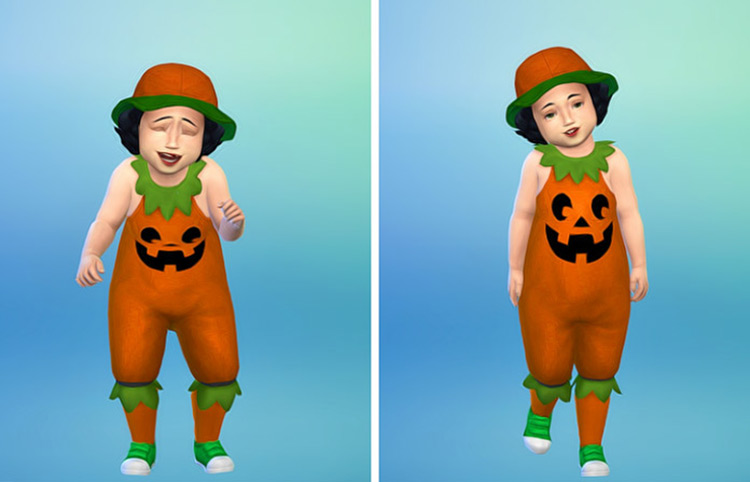 If you've got The Sims 4: Toddler Stuff, I highly recommend this cute pumpkin getup from josie.
It's a simple but oh-so-effective ensemble that nailed the charm of a kid's costume.
Brightly-colored onesies with specific patterns and extra accessories will never not look adorable on tiny frames.
8.

Toddler Alien Outfit (Seasons Needed) by ommlette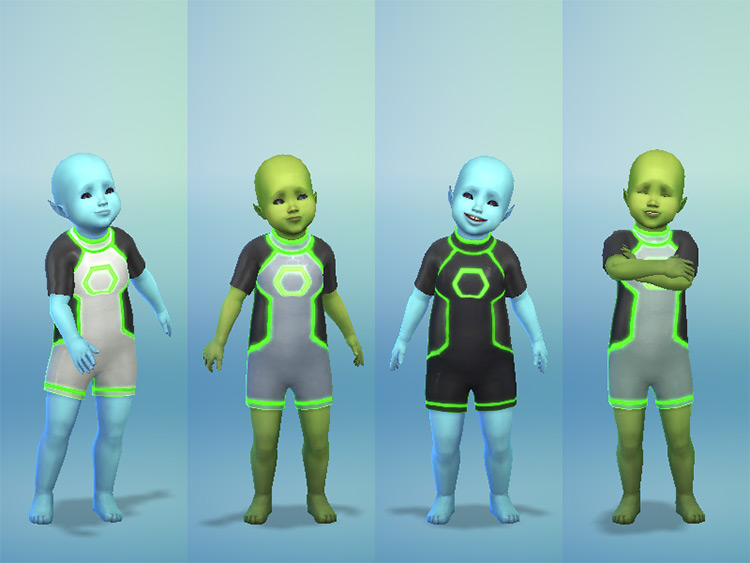 You'll need The Sims 4: Seasons for this costume to work (as specified in the title).
But if that's installed, go ahead and slip your Sim Toddler, alien or not, into this space-tacular outfit.
It's pretty simple as far as costumes go – literally just a onesie with lines and geometric shapes – but with the right prosthetics and makeup? Your intergalactic Toddler's gonna rake up all the candy, for sure.
9.

Disney Toddler Dresses by MadameChvlr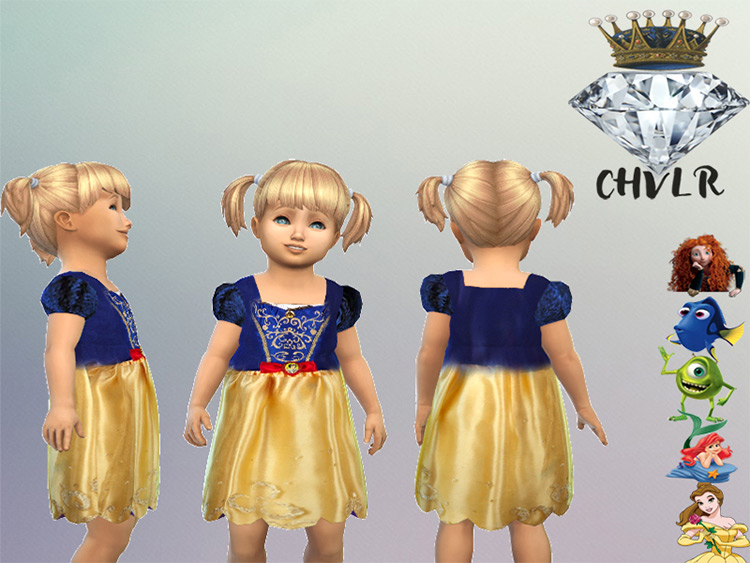 Never mind Snow White; what if your Toddler wants to go as Dory from Finding Nemo?
Or Merida from Brave?
I wouldn't sweat it.
With this Toddler dress CC set from MadameChvlr, your baby can go as freaking Mike Wazowski from Monsters Inc. if they want to.
The creator beautifully blends iconic character costumes with fully wearable dresses in a way that works.
10.

Costume Little Devil by fuyaya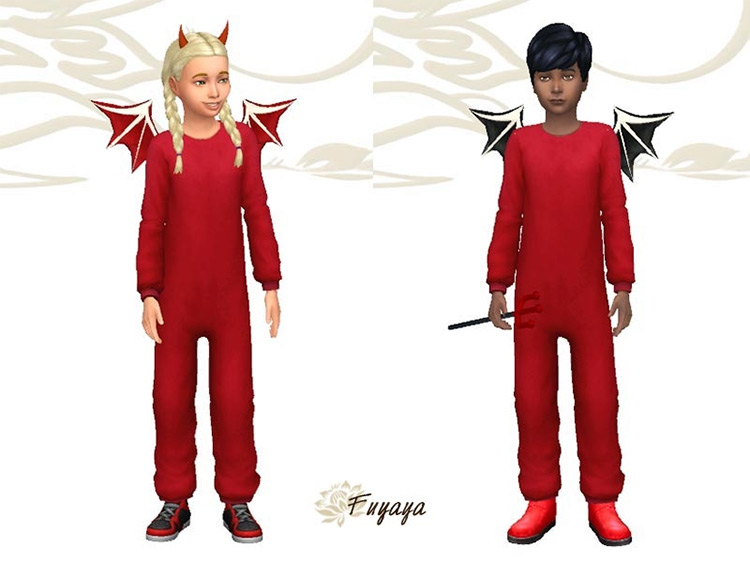 On any other day, I'm sure your Toddler's an absolute angel.
But on the last day of October? All bets are off—and all tiny bat/imp wings are on!
This full-body jumpsuit is available in seven colors and comes with its own little wings attached. You can use these Toddler-friendly horned headbands and smol pitchforks (from the same creator) to complete the look!
11.

Toddler Frozen Dresses by sassymissollie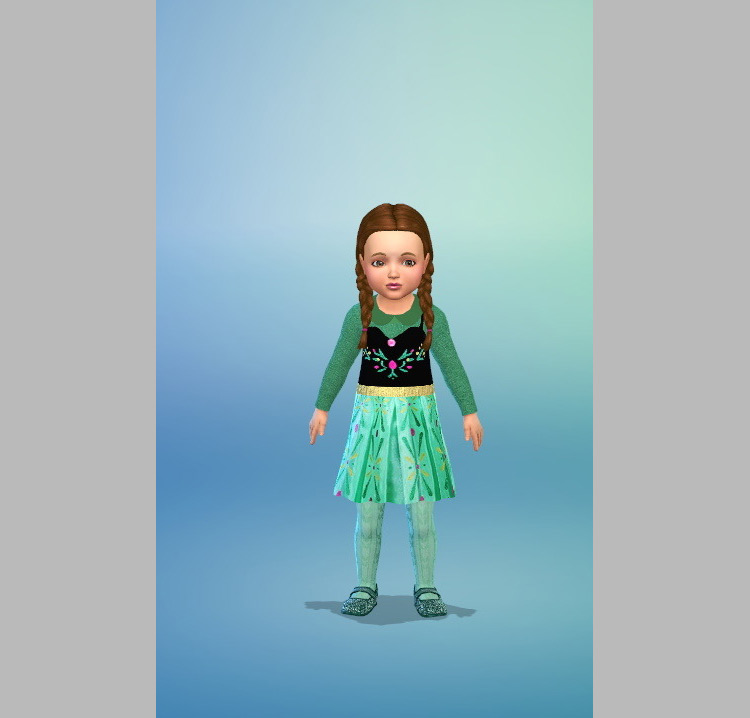 These Toddler dresses aren't literally iced over.
They're TS4 Toddler-friendly versions of Queen Elsa's and Princess Anna's dresses (from Disney's Frozen franchise).
What's cute is that it's the same dress (long sleeves, collar, smock) in just two different swatches.
Makes it feel like it was done by a very talented DIY-er.
12.

Pikachu Costume for Toddlers by Mami003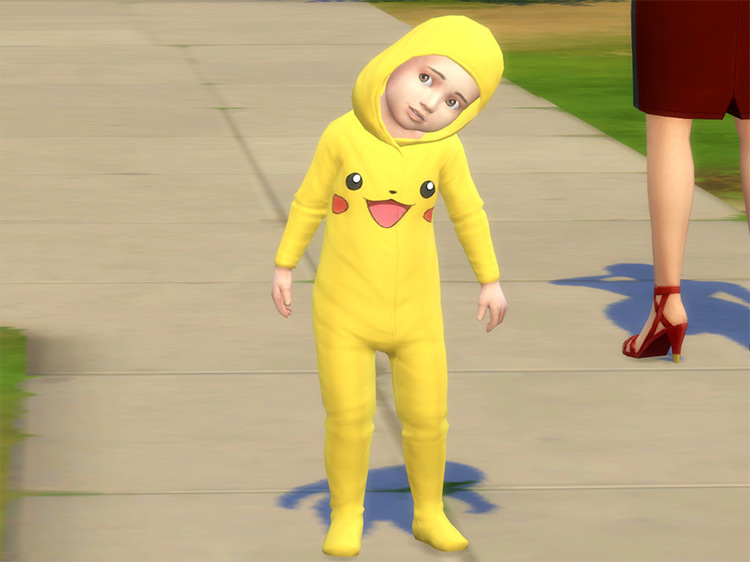 Is this not the cutest Pokémon you ever did see?
It's more of a Pikachu-patterned onesie than it is an actual Pikachu costume… but we'll give it a pass because it's bright yellow and has back stripes.
All you really need is a pair of red-tipped ears and a lightning tail, and your Toddler's all set!
13.

Toddler Mermaids by TomiLynYT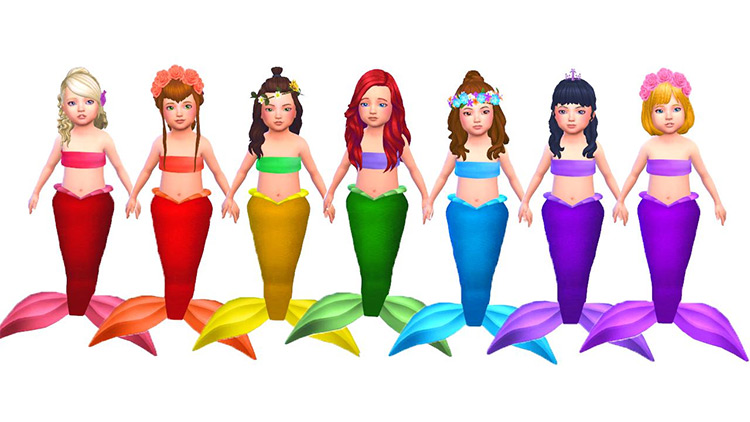 This is a CC costume that turns your precious tot into a teeny, tiny mermaid.
Although I can't, for the life of me, figure out how a Sim Toddler would toddle around with wearable tail on, this costume still works great for storytelling!
14.

Overalls Ghosts by bukovka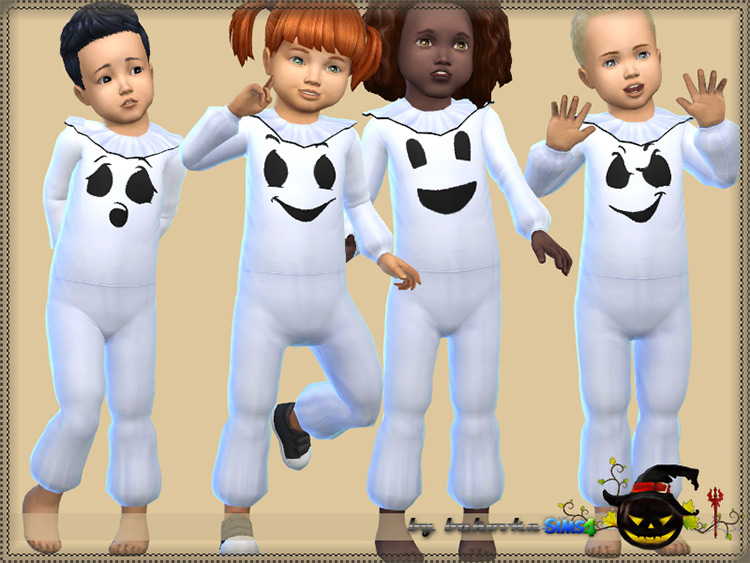 This here's a pretty unique spin on a tried-and-true Halloween costume. Why throw on an old white bedsheet with eyeholes cut out when you could wear something comfier? And more secure?
Let little ghosties run free with this cute white onesie.
15.

Ghost Sheet Costume for Kids by karzalee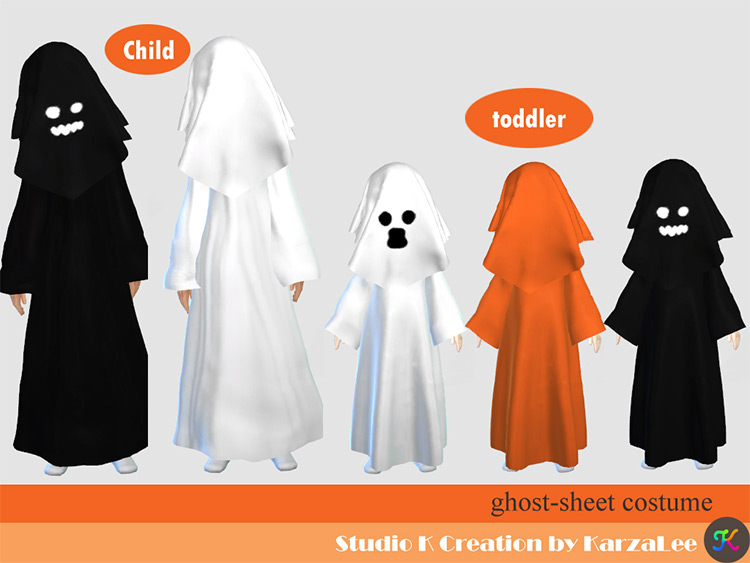 If the printed onesie is too contemporary, here's something a little more classic. A white bedsheet with eyeholes honestly is one of the easiest costumes to pull off—even if it does seem incredibly claustrophobic.
This custom costume by karzalee is available in black, white, and pumpkin orange colors!
16.

Bat Costume for Toddlers by Daddy's Prince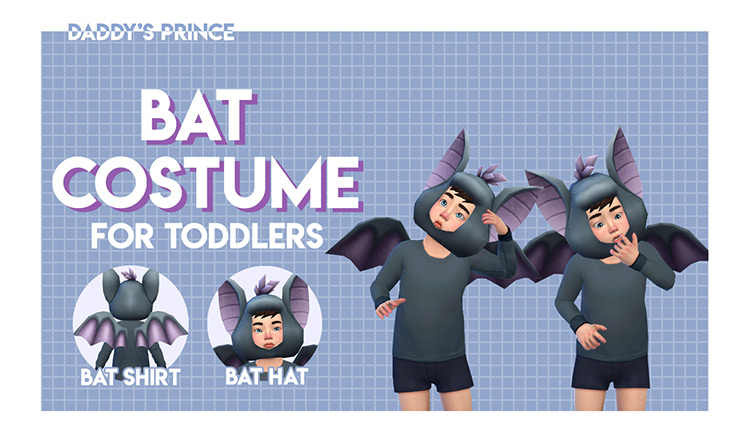 Halloween creatures only get to play once a year.
Bats? They rule the skies every night.
Plus, when you get past the initial stigma against them (thanks, Batman) you'll realize that they're small, fluffy, and practically harmless.
This CC set turns your Toddler into the cutest, fluffiest fruit-eating mammal around!
17.

Toddler Vampire Suit by georgiaglm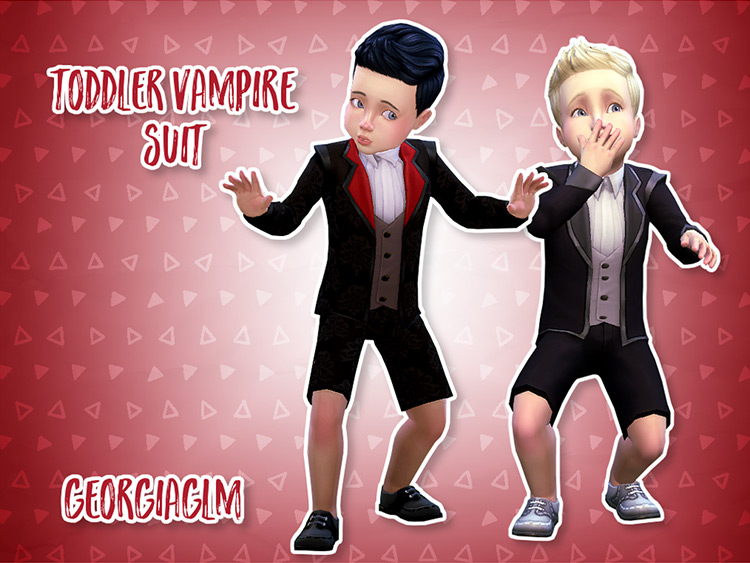 Speaking of bats, here's a pop culture icon they're normally associated with.
When they're not strutting around in their Dark Form, Vampires in the Sims 4 are arguably the most well-dressed folk in Forgotten Hollow and beyond.
Ergo, these snazzy Toddler costumes by georgiaglm make a lot of sense!
18.

DC Super Heroes Onesies by kratoscheky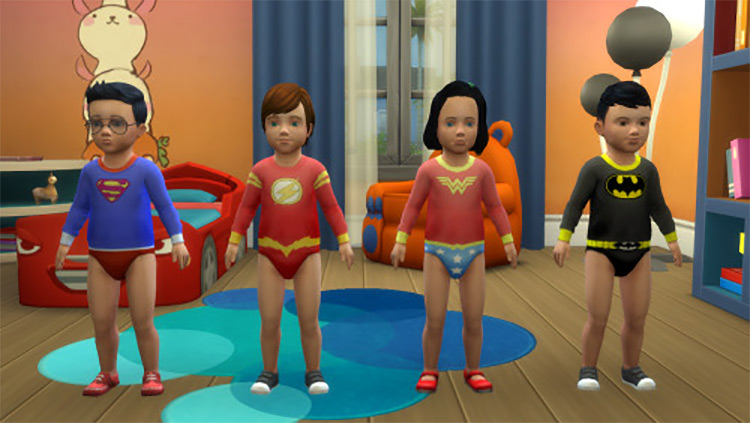 The beauty of this CC is that your Toddler can wear them out as a costume or climb into bed with them.
They're an incredibly versatile diapers-plus-shirt combo. To turn them into passable Halloween costumes, just add capes and masks!
19.

Fairy Dress for Toddlers by KiaraZurk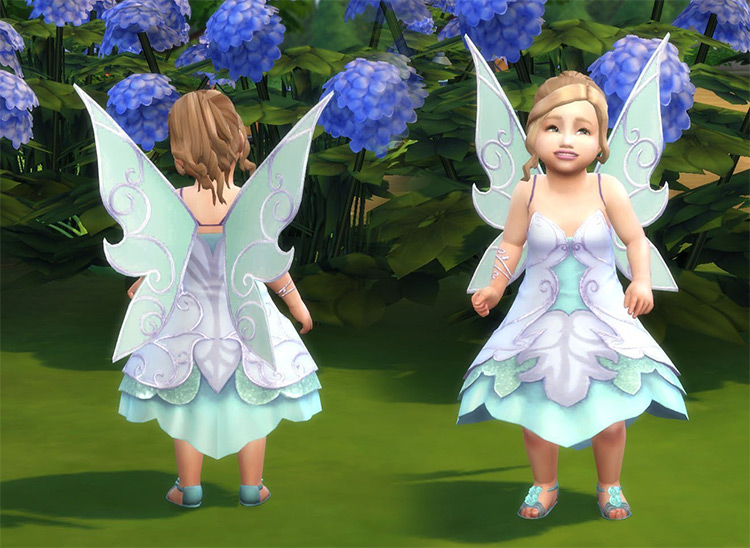 For elegant faerie princesses smaller than three feet, I recommend this Fairy Dress set by KiaraZurk.
The color combinations are beautiful and the details are stunning.
Plus you won't have to hunt for separate wing accessories to complete the look, no. These dresses come with their own sparkly pair of tiny flappers attached!
20.

Dinosaur Onesie v2 by simtographies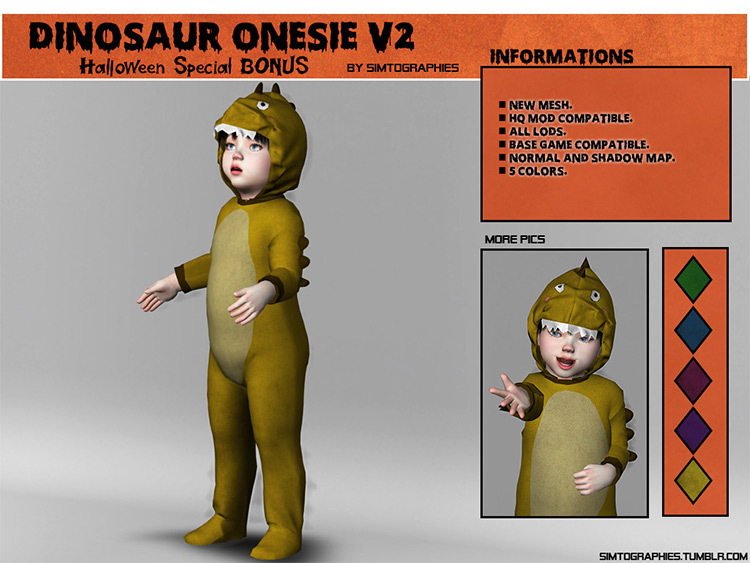 Oh no, it's a fearsome dinosaur! Be afraid; be very afraid.
Them ankle biters can rough you up if you aren't careful.
Okay for real though, how adorable is this onesie? The hood even has tiny teeth!
21.

Bunny Suit by kliekie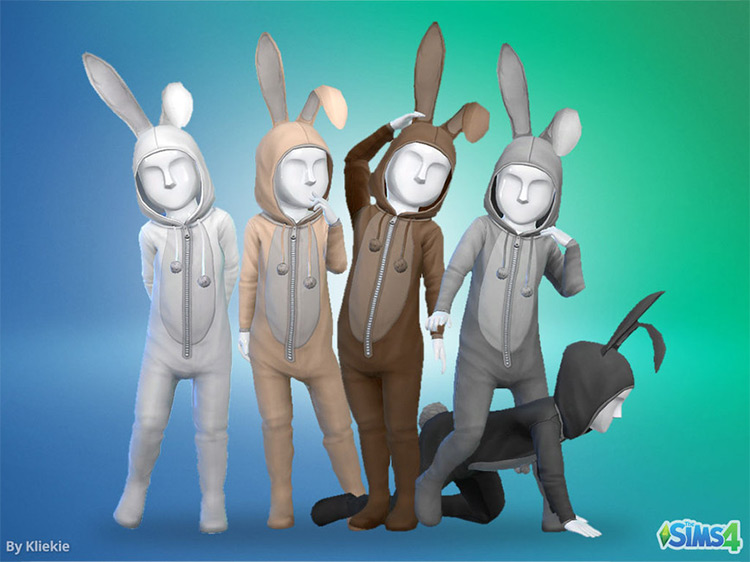 For little tots that would rather be something smaller, fluffier, and twitchier than a dinosaur. How about a bunny?
This adorable bunny rabbit onesie by kliekie comes in 15 colors. Two ears (one upright, one loped and droopy) and a soft cottonball tail attached to the costume help complete the look.
22.

Gnome Costume + Headband by sweetformysims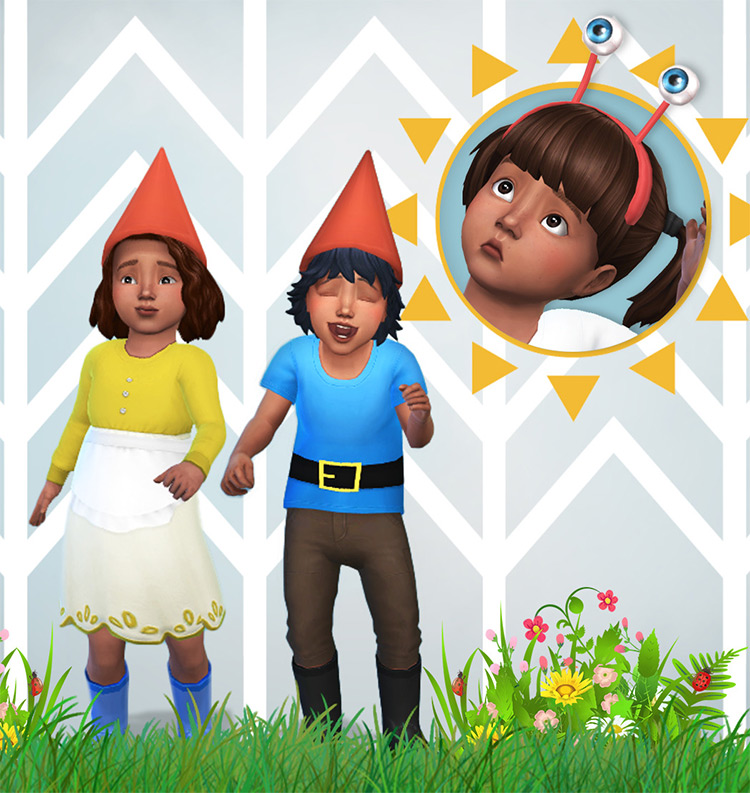 When I first played TS4, I was determined to collect as many gnomes as possible (before I realized how annoying they were—and disturbing).
I even tried appeasing the Harvestfest gnomes a couple times before realizing it just wasn't worth it.
I've long since turned my back on them, but this download from sweetformysims proves that gnomes at least make for fun, cute little Toddler costumes.
23.

Vampire Dress Conversion for Toddlers by Lina's Sims 4 Stuff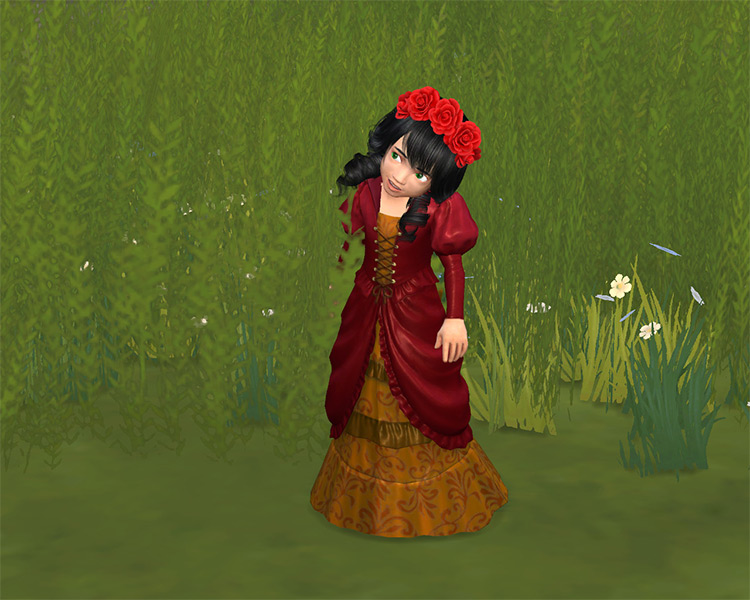 The Vampires pack gave Young Adults and Adults and so many cool new items of clothing.
What about the Toddlers, Children, and Teens?
This is why we have custom content. Even if your Toddler isn't actually a tiny, fearsome creature of the night, they can at least dress like one.
And you can even use these small Toddler Vampire Teeth (by Wyatts Sims) to complete the look.
24.

Alice in Wonderland (Toddler Outfit) by Stardust Sims 4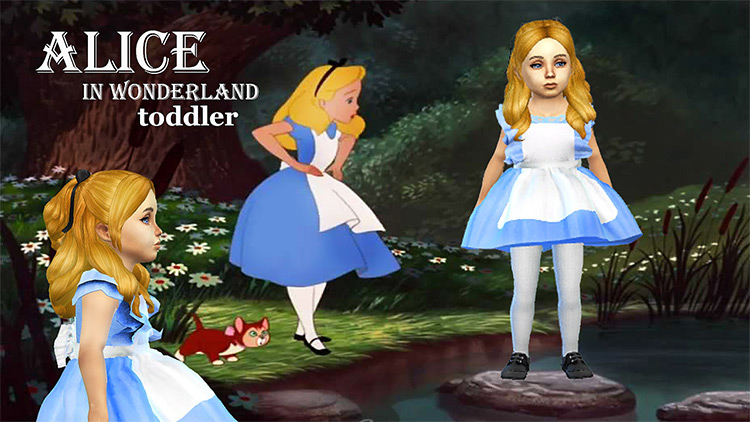 Disney's version of Alice in Wonderland manages to stay kid-friendly despite the wild, wacky, and slightly unhinged elements.
You can dress up your own little Toddler as the movie's main character with this pretty blue dress and pristine white smock!
25.

Simblreen '21 Costumes by powluna58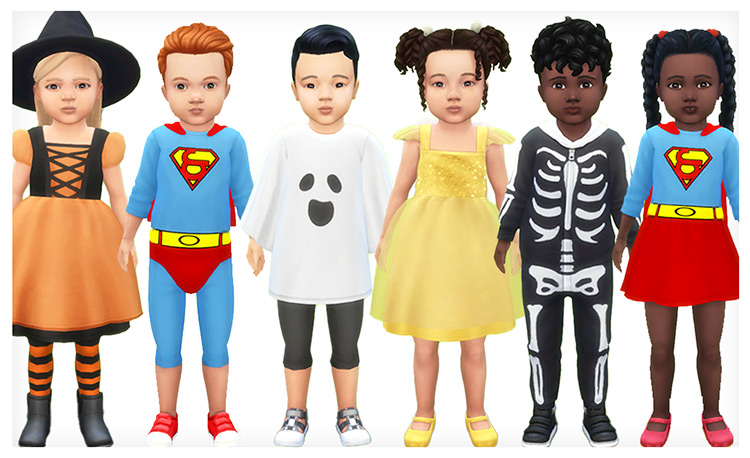 Can't pick a costume yet? How about getting one with different options?
This variety pack by powluna58 contains six different Halloween getups for Toddlers:
An orange witch
Superman
Supergirl
A sparkly fairie
A happy ghost
And a spooky li'l skelly
26.

Dress Skeleton by bukovka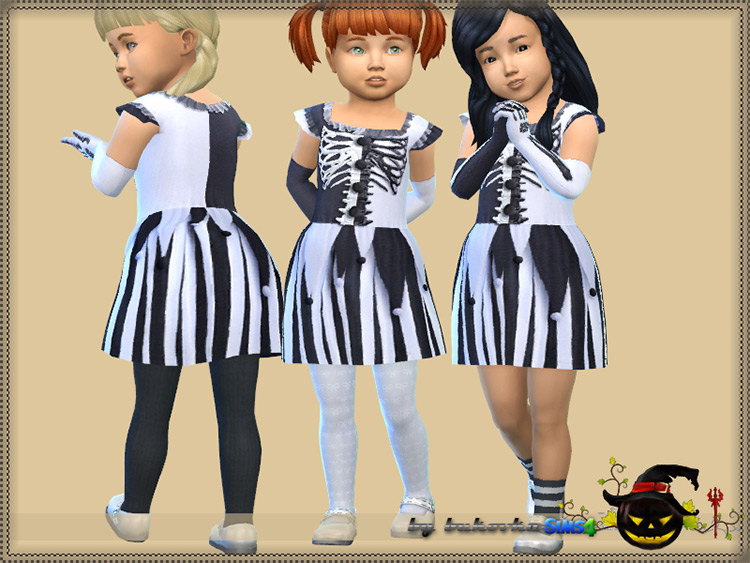 If you've ever watched Disney-Pixar's Coco or 20th Century Fox's Book of Life, then you might agree with me when I say this dress has La Muerte and/or La Llorona vibes.
The print and design instantly brings to mind their classy, dead-but-still fashionable skeleton lady energy.
27.

Skeleton Conversion by Zurk Design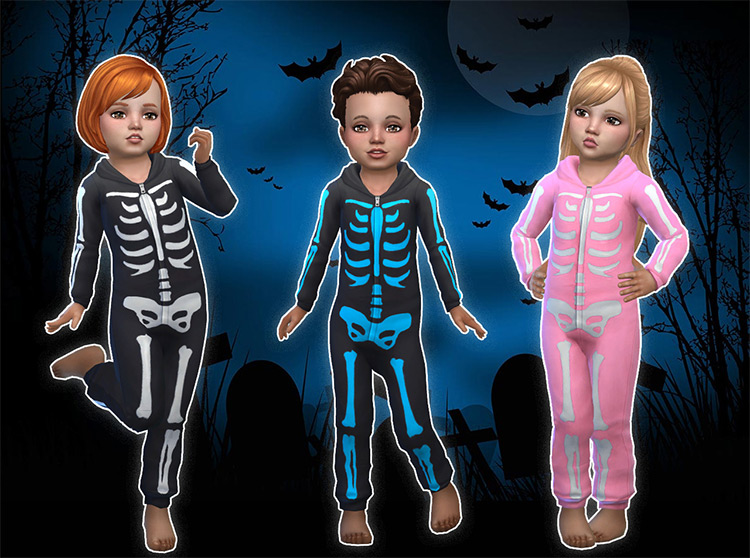 If your Toddler isn't up for a skelly dress, how about a nice, comfy jumpsuit?
This zippered, hoodied onesie by Zurk Design is a quick and easy solution for when your Toddler needs a spooky costume, stat.
There are 10 color combinations available here, including the classic white-on-black.
28.

Scarecrow Clothes for Toddlers by Zurk Design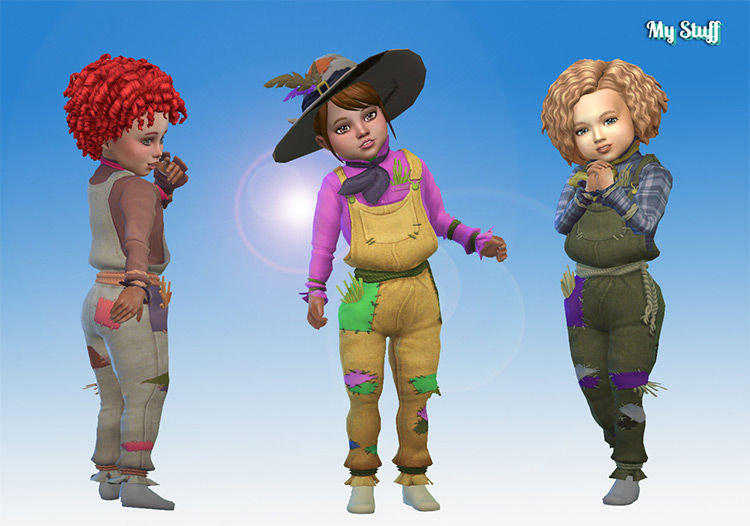 Whoever thinks scarecrows aren't scary needs to get their eyes checked. Scarecrows have always creeped me out, what with their pumpkin heads and disturbingly limp, lifeless bodies.
Thank goodness TS4 Toddlers are all sorts of adorable. Only they could make a scarecrow costume look warm and cuddly.
29.

Angelic Wings Toddler by Suzue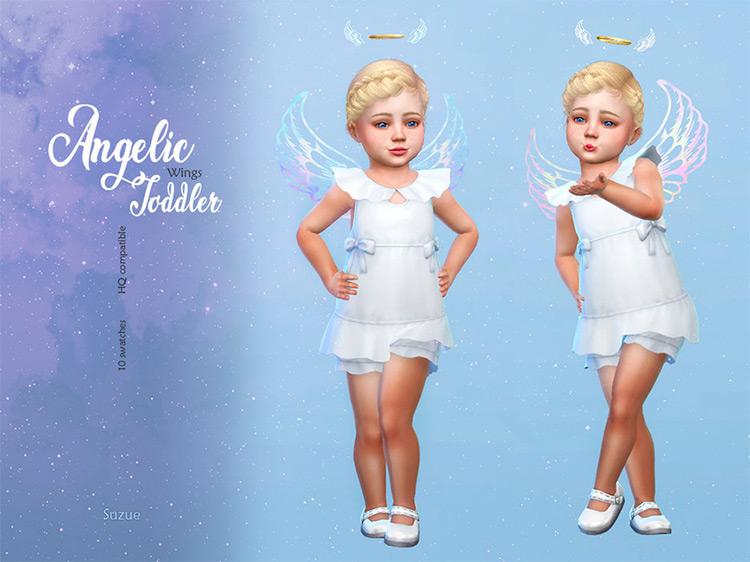 Quick and easy Halloween costume idea for Toddlers: a pure white dress, some lacy socks, white Mary Janes, and a pair of small, glittery wings.
Ta-da!
Now your little angel can go as an angel. Dress and shoes not included, but the wings? Easily attachable via the Bracelets category.
30.

Little Pirate Set by renorasims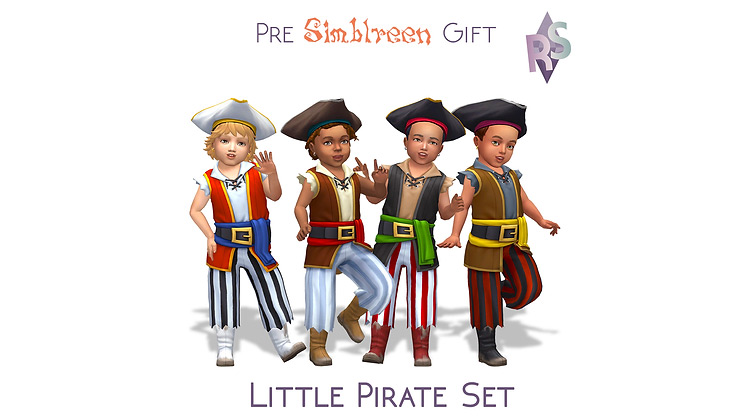 Let your Sim's Toddler take to the high seas with this snazzy pirate costume.
And when I say it's detailed, I mean it's detailed.
From the little pirate booties (6 color swatches) to the tricorne hat and earrings, this costume set's worthy of a full production.
Browse:
Lists
Maxis Match
The Sims 4
Video Games