Best Sims 4 Halloween CC: Decor, Costumes & More
This post may contain affiliate links. If you buy something we may get a small commission at no extra cost to you. (Learn more).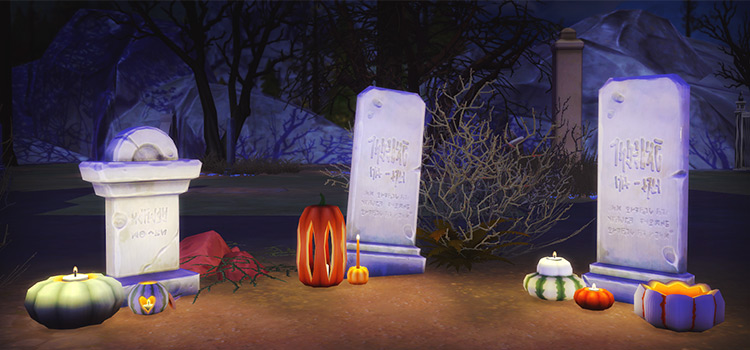 A lot of people would say that Christmas or New Year's Eve are the two most exciting holidays in the Gregorian calendar.
But once you include candy-obsessed kids and fun-starved adults into the equation, it might show that Halloween is the best holiday ever.
After all, it's the only day in the year where kids can talk to strangers and dare to demand sweets.
What's more, sleep-deprived adults aren't pressured to go out and mingle – they can simply ditch the festivities and have spooky movie marathons wearing worn pajamas. But out of everyone, Sims are luckier than most for being able to celebrate Halloween whenever the mood strikes.
Let's get the spooky party started with some of these incredible Halloween-themed CC, tailor-made for The Sims 4 and for your love for all things weird and bizarre!
20.

Halloween Package
During Halloween, there's only one goal: to consume as many candies and calories as possible.
Adults are more obliged to indulge spoiled brats, but if your Sims' are trying to get an extra bar of Hershey's chocolate, there's an adorable way to go about it.
Dress up your canine buddies and feline friends with cute costumes that could woo even the cheapest candy givers!
Stage the perfect con for your stingy neighbors and let them fall for the trap by having your pets do the trick-or-treating in style.
Just one of many fun pet mods for TS4.
19.

Fire Flame Headband
Halloween is all about creativity and being absurdly extra (shout-out to Heidi Klum), but there can be times where you just can't be bothered to glam up.
Thankfully, this holiday gives zero f*cks about what you wear.
As long as you don't show up as "yourself", your party host can forgive last-minute ensembles.
But if time's not your friend, then slap a fire flame headband onto your Sim and apply the darkest red lipstick you could find to emulate a cute little devil look.
18.

Beastly Part 2 – Vampire Fangs
Even though dressing up as a vampire on Halloween is as common as seeing dog poop in the park, no one can deny that it's a classic and beloved costume.
And thanks to modern media and Stephenie Meyer, it's now much easier to resemble a modern bloodthirsty immortal.
Give your Sims a Twilight makeover and sink your teeth into a pair of vampire fangs!
Lazily exude gothic glamor and easily compel the crowd with a big smile and your dedication to Team Edward.
17.

Wind-up Keys
When throwing a spooky party, it's natural for guests to get competitive.
After all, there could only be one person to brag about winning Best Costume.
If you want your Sim to have this honor, then you better ditch the Frozen costume idea ASAP.
Doll your Sim up (literally) with this simple but terrifyingly creative costume by waekey.
Stick a life-sized Wind-up Key on the back of your Sims and become the picture-perfect party-goer.
16.

Ghost – Skeleton Makeup
Although death scares the shit out of people, folks sure do love looking like the living dead.
From the vibrant Día de los Muertos to Tim Burton's Nightmare Before Christmas, the skeletal aesthetic has fascinated cowardly humans to the point of making it a Halloween mainstay.
But if you want your Sim to look better than the Grim Reaper, then you'll need help from makeup CCs.
Turn your Sim's face into a scary work of art and enjoy creeping out kids with this Skeleton Makeup from Pyxis!
For the full effect, add-on these Demon Eyes from Pralinesims to truly become hell incarnate.
15.

Intergalactic – Supernatural Overlays
If you're interested in spicing up James Cameron's Avatar look, then Pyxis' Supernatural Overlays has got you covered!
Deviate from the Na'vi blue skin tone and enjoy alien features as sweet as candy.
Be an intergalactic star of the night and have puny humans scrambling over your out-of-this-world style in no time.
14.

Gossamer – Fairy Stuff
Tinkerbell is cute and all, and Maleficent is a badass bitch, but there are so many more ways to dress up as an otherworldly fairy.
The secret?
Pixie dust and a CC pack of fairy stuff.
With just a sprinkle of dragonfly wings, antennae, bug eyes, and shiny makeup, your Sim can flaunt an ethereal disguise straight out of a storybook!
13.

Demon Days – Vampire Stuff
Had enough of teenybopper vampires passing as high school students?
Then it's time to raise hell and look like a true creature of the night with this Vampire Stuff pack from Pyxis.
Unleash the devil from within your Sims and unveil a pair of ram horns, bulging veins, alarmingly large eyebags, and more unearthly features.
Look less like Bella Swan and more like Lilith when you apply this CC on the spookiest day of the year.
12.

Spellbound
In the mood for magic, mayhem, and madness? Then you're in luck.
Fall under the spell of this CC pack from Hula Zombie which contains 8 spellcasting poses and 6 accessory wands.
With just a click of the download button, you can easily cast an illusion over your Sims and have them believe that they're the greatest magicians since Gandalf and Dumbledore.
11.

Plazasims' Halloween Set
It's really tragic that Halloween is celebrated only once a year.
Imagine spending months planning your costume and making it from scratch only to wear it for just a few hours at some random house party where everyone is too drunk to appreciate your homespun masterpiece.
What's worse: you didn't even get to win Best Costume.
Fight the injustice of it all by having more than one spare costume to guarantee your place in the spotlight!
Take your pick from Plazasim's Halloween set 1, set 2, and set 3, and never worry about choosing a winning costume ever again.
10.

Happy Halloween Pose Pack
Now that you've nailed down your Sims' costumes, it's time to brag on social media about how wonderful it is to still go trick-or-treating with the whole fam bam.
Choreograph the commemorative family photo down to a tee with this Happy Halloween Pose pack by BommieSims.
With this CC, you can command your candy-obsessed kids to cooperate for once. And even get to force adults to join in on the cheesy moments.
9.

Halloween Wine Bottles
When you've passed the threshold of legal age, you'll start to realize that candy isn't all there is to Halloween.
It's no secret that grown-ups love their drinks when the occasion calls for it, especially when it's adorably packaged for Halloween.
Throw out the pumpkin spiced latte from Starbucks and get your Sims drunk on the mysterious contents of these Halloween Wine Bottles!
8.

Creep It Real Halloween Decor
Most Halloween fanatics make it a mission to become the scariest house on the block.
Some, weirdly enough, prefer not to terrorize neighbors with creepy statues and cut-outs.
If you think putting up Halloween decor is too much of a hassle, but you don't want to be labeled as a party pooper, then this CC by Ravasheen will be enough to keep neighbors from egging your Sim's property.
7.

Functional Candy Dispensers
It should be pretty obvious that Halloween is just an excuse to indulge your inner glutton and eat tons of treats.
But when you're a kid who doesn't know any better, the only thing that matters is getting that seasonal sugar rush.
And what better way to distribute the sweet bundles of joy than having Functional Candy Dispensers right at your Sim's doorstep?
6.

Happy Halloween Set
Eating too many sweets is bad for anyone's health.
But Sims have an unfairly robust body that can withstand a dozen of the sweetest treats and pastries, all served by soloriya's Happy Halloween CC Set.
Fill your Sims' table with cakes, cocktails, pies, and more as you announce only one rule to your guests: no one's allowed to leave without getting sick to their stomach and gaining more than a few pounds.
5.

Halloween Dining
Setting up a romantic candle-lit dinner on the spookiest day of the year is a bit unorthodox. But it can certainly intrigue whoever's lucky enough to date your Sim.
Now instead of the usual serving of red roses and crisp white wine, the lovebirds will be spending a pleasant dinner surrounded by cobwebs and Spider Venom wine.
For the main course, cookies and cupcakes will be served while a giant black widow spider stares at your Sims as they eat.
Sounds like the perfect date to die for!
4.

Simblreen 2015 Deco
There can be a lot of pressure when throwing a Thanksgiving or Christmas dinner.
Everyone expects your cooking to be on par with a Michelin Star Chef, but the reality is that most are just ordinary cooks without extraordinary recipes.
Halloween expectations are so low by comparison, that guests are willing to eat store-bought snacks all night if they have to.
Have your guests foaming at the mouth by decorating your party buffet table with insane amounts of sugar and neon-colored drinks courtesy of this CC!
3.

Simblreen 2017 Treats
If your Sim has a genuine bunch of friends, then planning spooky Halloween activities would be all the more exciting.
From decorating the house and brewing confectionary concoctions to braiding each other's hair, the list of activities can go on until the witching hour.
It's safe to say that Halloween is basically a more mature version of a kid's sleepover, where bedtime stories and Barbies are replaced by Bloody Mary dares and ouija boards.
Gather your sims for a night of Halloween mischief and decorate your pure abode with nightmarish indoor and outdoor furniture.
2.

Halloween Pumpkins
Do you ever wonder why pumpkins are associated with Halloween? No?
Me neither.
Pumpkins and jack-o'-lanterns have been a popular Halloween tradition for centuries, and it will stay that way for centuries more.
I mean, can you imagine carving a sinister grin on a kiwi? Yeah, I didn't think so.
But as much as we love the iconic fruit now, there's more room to put an illuminating surprise inside.
Light up your Halloween night with a buttload of pumpkin candles, enough to worry local firefighters!
Litter your Sim's home with carved pumpkin candles in varying shapes and forms, and have your Sims on standby in case the house goes up in flames.
1.

Halloween Outdoor Stuff
Forget about gift buying and wrapping – it's time to terrorize annoying neighbors with some over-the-top Halloween décor.
Make your Sim's house the must-visit destination on the block with Wondymoon's Halloween Outdoor Stuff pack.
Place a sad-looking ghost statue on your Sim's front lawn along with pumpkin light fixtures, zombie hands, menacing crows, spiders, and more.
Lure would-be trick-or-treaters into your lair and be the most awesome candy giver of the season!
Also, if the Grim Reaper comes to say hello, he'll be pleased to feel right at home in your Sim's house of horrors.
Browse:
Lists
The Sims 4
Video Games