Best Sims 4 Salon CC, Mods & Clutter Packs
This post may contain affiliate links. If you buy something we may get a small commission at no extra cost to you. (Learn more).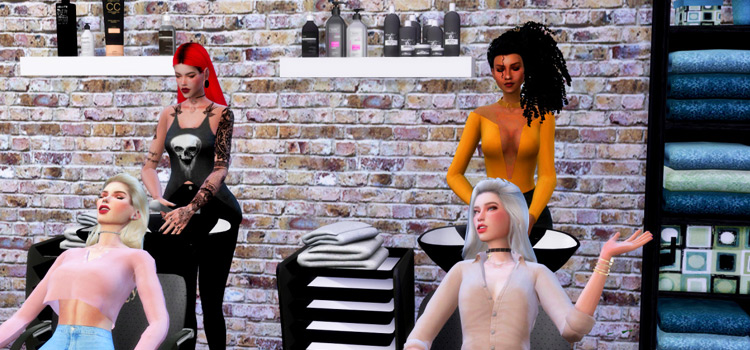 Does anyone else ever get nostalgic for a certain item of a past Sims game?
I for one am still dreaming of the days when my Sims got to work in a salon, giving makeovers to all their fellow neighbors.
I remember how excited I would be when I got to create new outfits for Sims, and I think this is where my love of CC truly started… because I was always on the hunt for new clothing options.
So for this list I've compiled a ton of salon-related CC that's going to bring back the excitement of walking into a salon.
Whether you're looking for a new hairstyle, a different color of nails, or even a good ol' fashioned face mask, each of these free CC packs offers something a little different.
1.

Ellenplop's Salon Career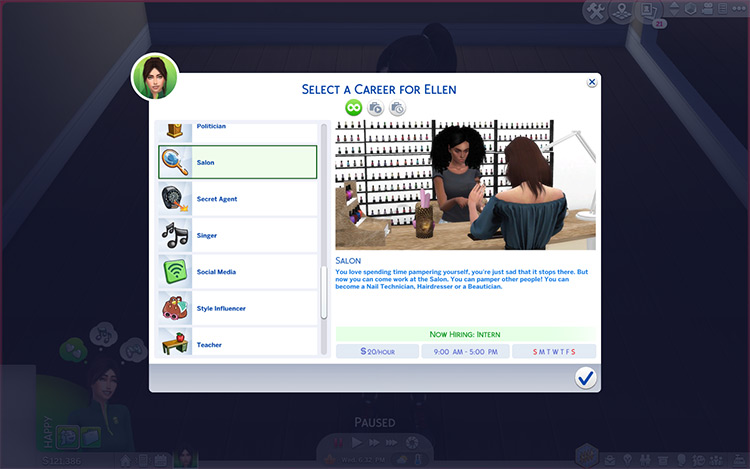 We're starting off with something that could really change the game, and that's a new career for your Sims!
This salon career gives you the opportunity to pick between three different tracks, and has fifteen different levels total.
The three tracks you can pick from are Beautician, Hairdresser, or Nail Technician. And honestly, all three sound amazing.
Now your Sims can climb that career ladder and look good doing it!
This career mod could be paired with hobbies such as painting, to make for a more realistic profession for your Sims.
2.

BrittPinkiesims' Beauty Salon Stuff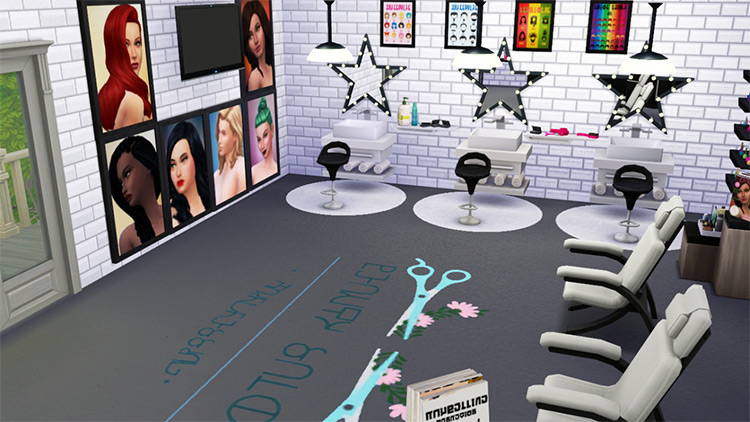 While compiling this list, I decided this was the absolute best group of décor items I've seen in a while.
This creator has put together a CC pack that could help you make a nail salon, hair salon, or even a barber shop.
The décor items are also able to be sold if you want to use Get to Work and create your own shop in combination with the other items in this pack.
It includes multiple posters, signs, logos, various makeup sets, and nail polish sets, plus many other things to bring your dreams of a beauty shop to life.
These items could also look fantastic in your Sim's home as well!
3.

Soloriya's Barber Shop Décor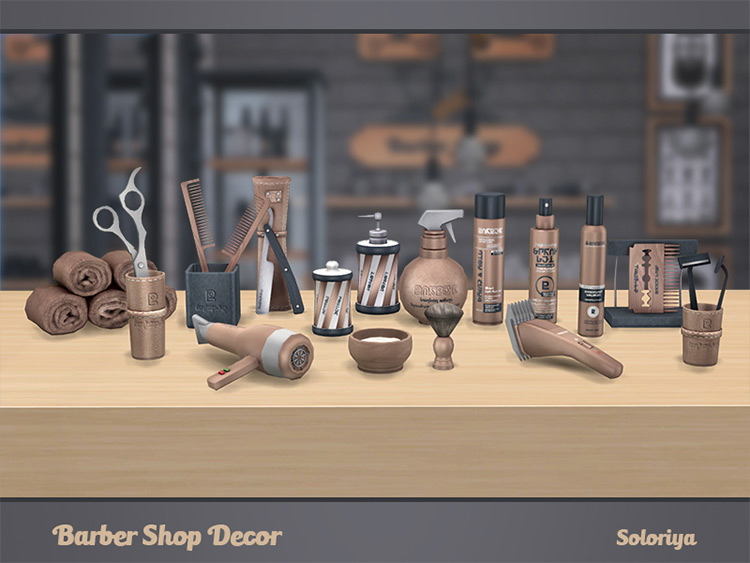 Soloriya brings a completely different vibe to the salon counter with this CC set.
Unlike the last set, this group of décor items is geared towards everything your male Sims will need to look their very best.
From rolled towels to razors to straight blades and clippers, these items can expand your client base significantly.
The set includes 16 décor objects in two color palettes with a variety of color swatches as well.
4.

Grimcookies' Retail Therapy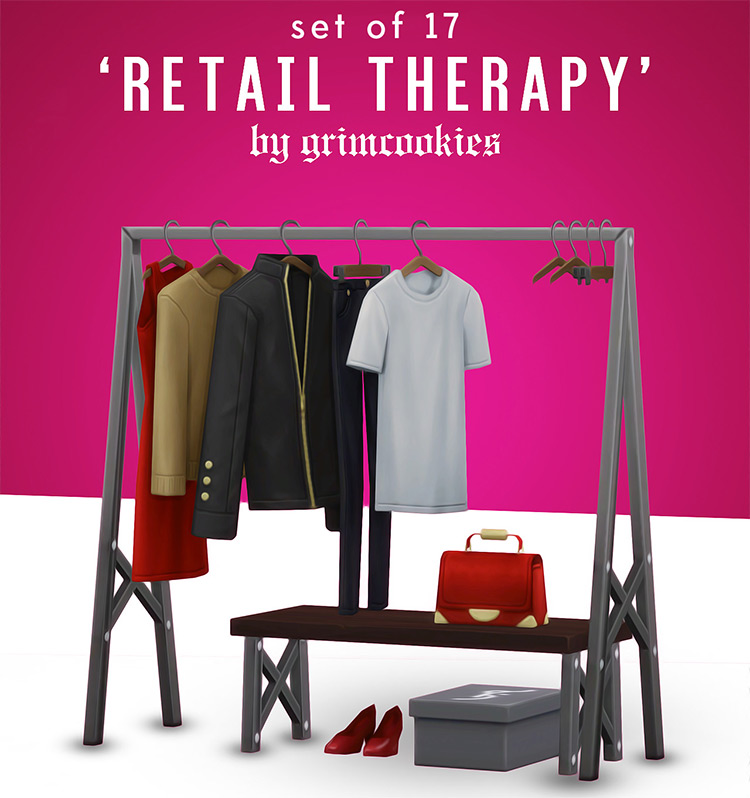 If you don't want to keep your salon glued to one area, then Grimcookies' Retail Therapy set is going to really bring your shop to the next level.
It has 17 items that could be mixed and matched to create any stylist's dream salon.
This creator always makes really nice objects, so they're bound to match all the vanilla game objects too.
5.

Pralinesims' Rebal Nails N25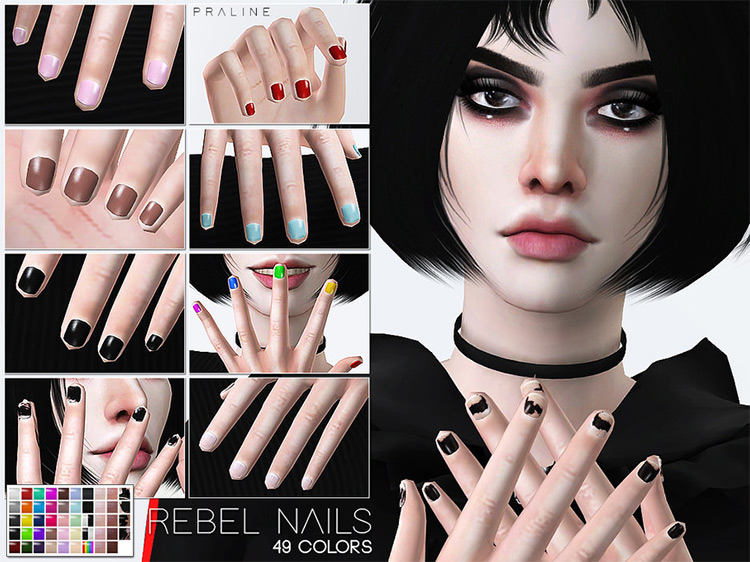 Sometimes your Sims just deserve the chance to treat themselves.
And even if getting their nails done isn't exactly a thing they can do in-game, that doesn't mean we can't pretend, right?
This nail set comes with 49 swatches, and one of them is even a realistic chipped nail look.
Let's think of those nails by Pralinesims as a possible "before-the-salon" look.
6.

Zeussim's Skin Detail Nails NO. 3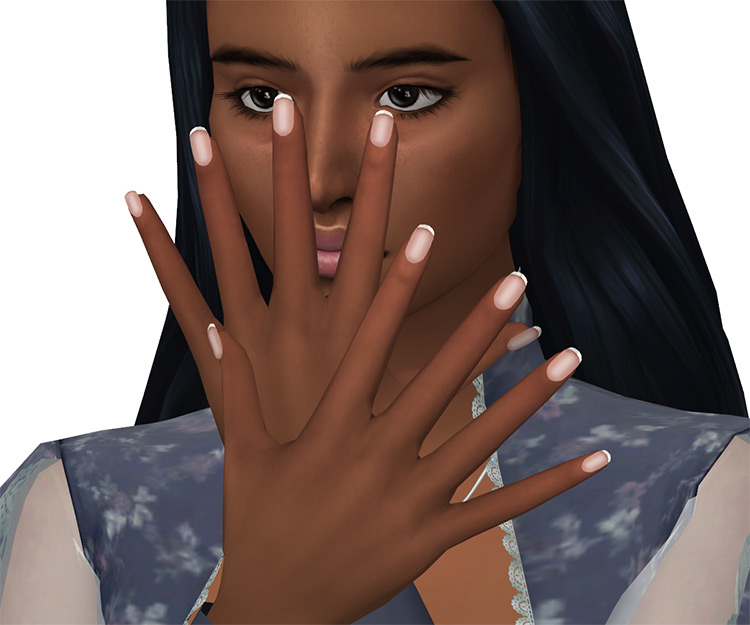 Now these nails by Zeussim are particularly impressive, because instead of them being listed in accessories like a lot of other nail colors, instead they're under skin details!
This leaves you with even more opportunity to accessorize your Sims for their day at the salon.
This CC is also for sims of all ages, from young adult to elders, and has 12 swatches.
7.

Lily's Boutique's Hair Dye Set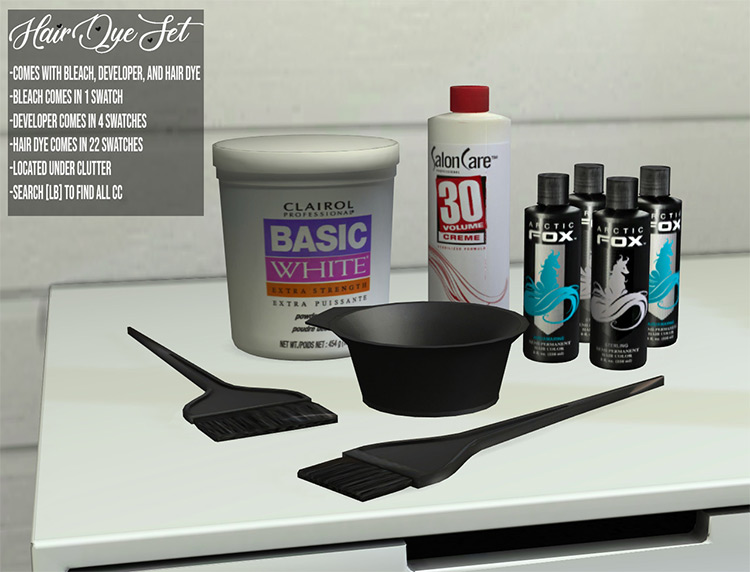 Just seeing these clutter items by Lily's Boutique makes me wish I was in a hair salon myself.
These would look great sitting on any surface in your salon, and this CC would really give a realistic feel to your build.
The set has three items in varying swatches, so your Sims will all plenty of options as to which color they want their hair.
8.

Kijiko's 3D Lashes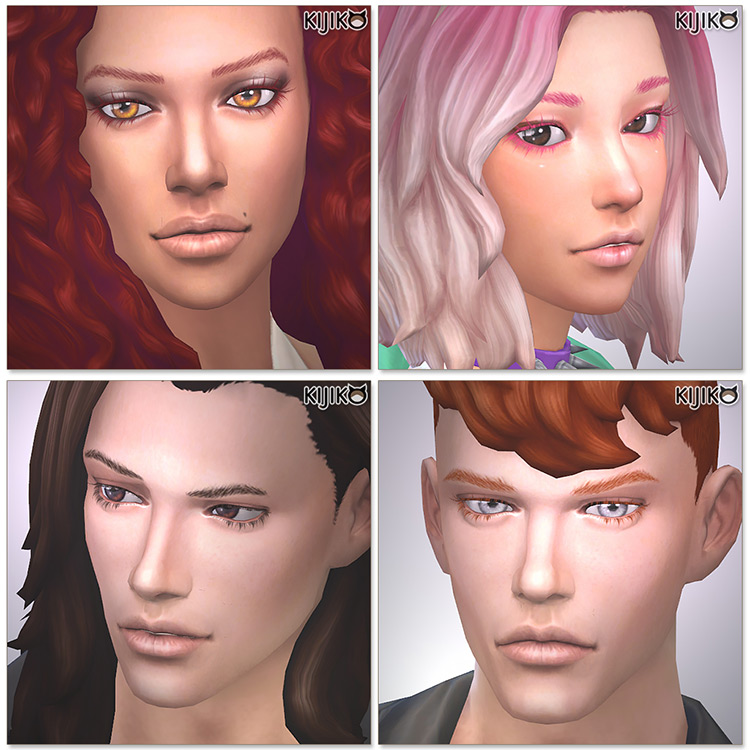 If I had to pick a singular piece of CC to have in my personal game, it would be these eyelashes.
They are, hands down, the most important item that I always make sure to give my Sims. And trust me, there's a lot of custom eyelashes out there.
In a salon setting, these could really add a lot to your makeup designs.
They come in multiple lengths, colors, and styles, and can be found in either the accessories section in Create-A-Sim, or in skin details.
So they'll work with a wide variety of your existing CC.
9.

Leo 4 Sims' Wigs and Hair Dryers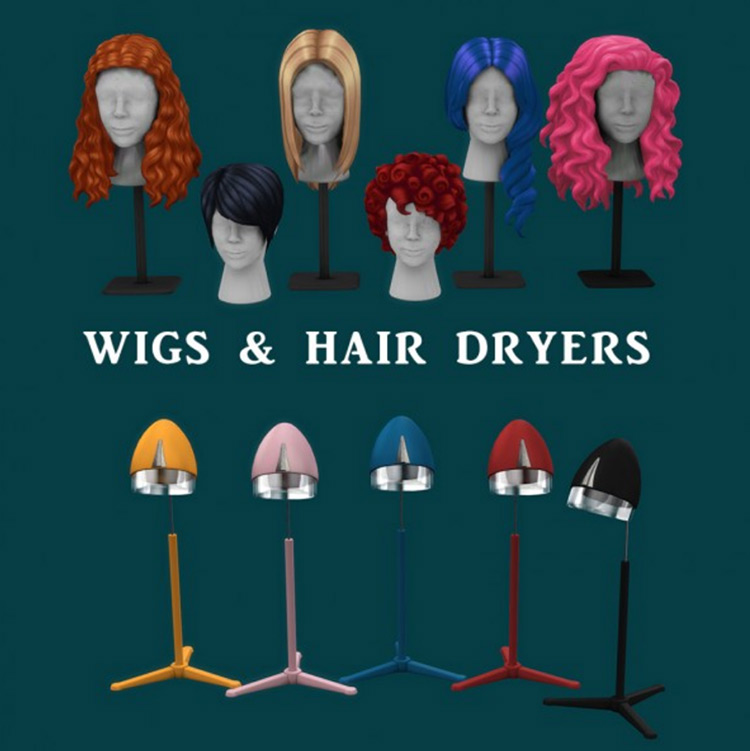 If I had to name two iconic objects in a real-life salon, it would obviously be a hair dryer and a mannequin head with hair.
I can picture these two decorative items by Leo 4 Sims in a wide variety of builds… maybe even in your Sim's home!
The wigs feature hair designs that are very similar to EA's styles, and come in multiple colors to boot.
Whether you're designing a salon for fun, or maybe you're starting a business for your Sims, both items are going to work perfectly.
10.

Caesarsims' Sunday Nights Skincare Set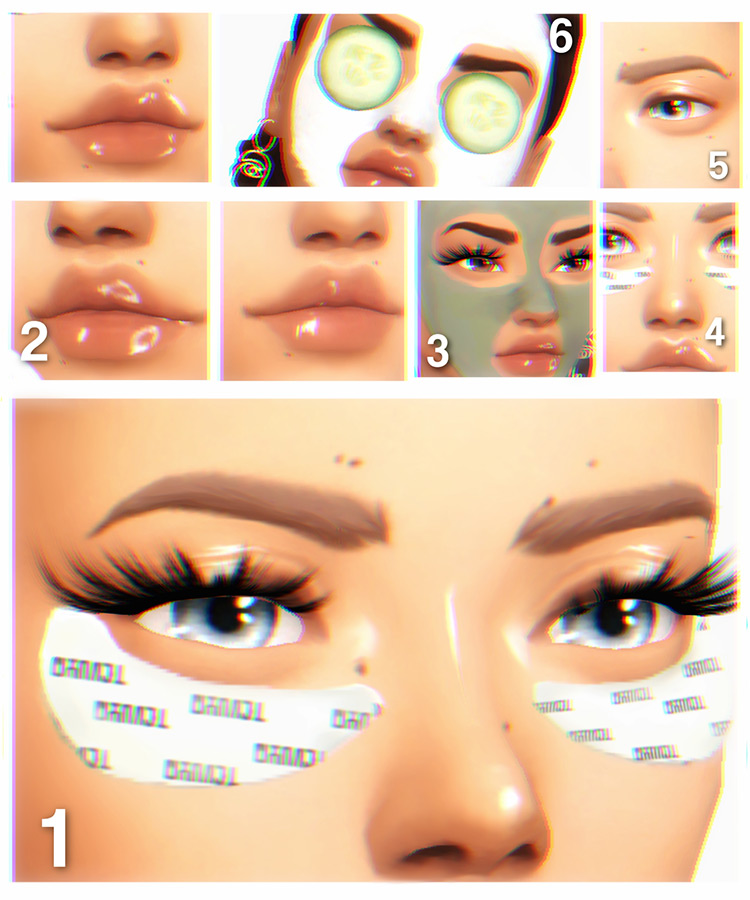 This skincare CC set could be for the patrons of your salon, or this could be for your Sims to get some selfcare in after a long day of work.
They're all found in Create-A-Sim and can be customized to your liking.
A great idea for this set would be to add these to a pajama look, or even a swimwear look that your Sim can take with them to the spa.
They would make for great photos as well. And you could use those images to hang on the wall of your build.
The options are truly endless with this set.
Browse:
Lists
The Sims 4
Video Games