Sims 4 Suits & Tuxedos For Guys: Best CC & Mods
This post may contain affiliate links. If you buy something we may get a small commission at no extra cost to you. (Learn more).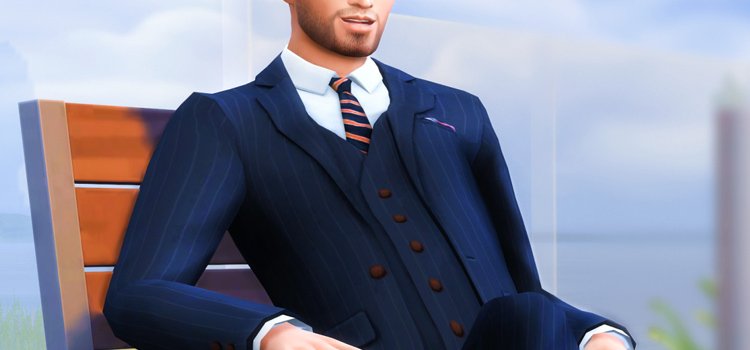 Men are a bit limited in terms of formal wear. Especially compared to women, who have more varied formal fashion choices, men can either turn to suits or… button downs?
These may be limited, but the visual impact of each is huge. I mean, have you seen James Bond? Don Draper?
These men, albeit fictional (like our Sims) practically live in their tuxedos. Now your Sims can too.
We're bringing you the best Sims 4 custom content formal wear for guys! From business suits to fancy tuxes, it's all here.
10.

Toddler Tuxedo Set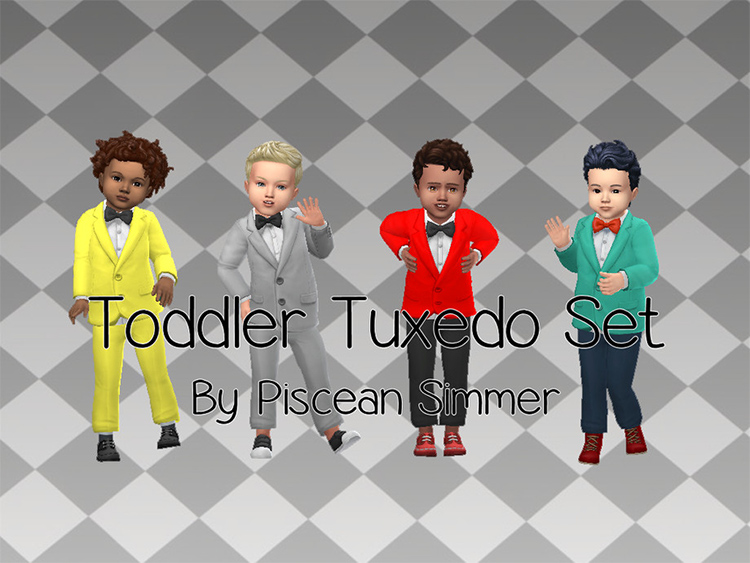 Give your Sim toddler a preview of how a fine gentleman should look like.
Or, at least teach them how a super-spy should look like.
Piscean Simmer created the Toddler Tuxedo Set for when your little boys need some cleaning up. No ill-fitting children's wear here, as this tux CC will look like it was tailor-fit for your little Sim.
There are 26 playful swatches for the tuxedo top and 25 for the dress pants.
Mix and match and let your kid break some rules a little.
9.

Men's Open Front Suit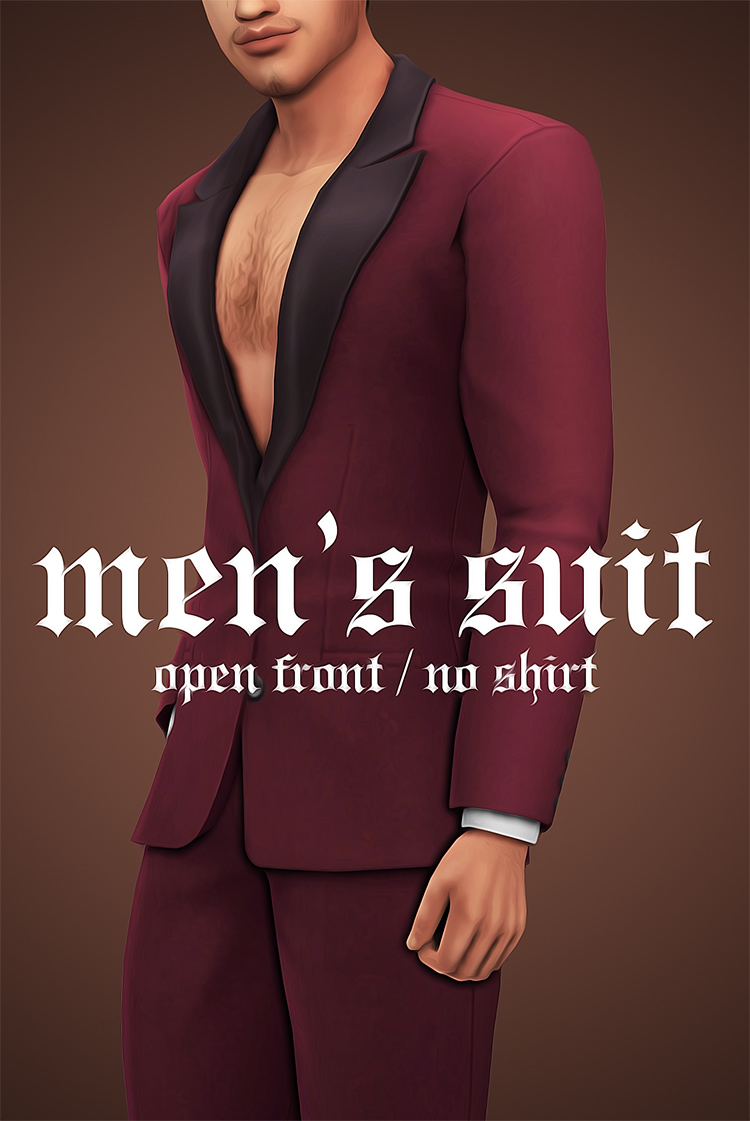 This is one look you can't really wear in a formal setting… but we dare you to!
Your Sim doesn't need to have luxurious chest hair to look like a Casanova with Grim Cookies' Open Front Suit. They just need a bit of courage.
This is your traditional suit, without the shirt.
How's that for sexy?
Celebrities have been doing it, and since your Sim could very well be a star themselves…
8.

White Tuxedo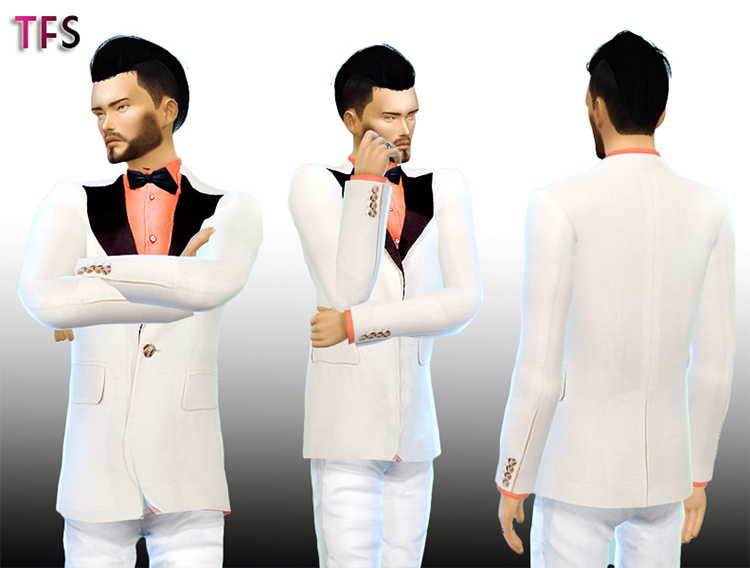 Oh, so you think tuxedos are formal?
Let's introduce you to the other end of the spectrum: the white tuxedo.
White tuxedos were once reserved from the most formal events. But now men who want to avoid (ironically) vanilla tuxedos, can wear this white tux CC by TwistedFate Sims.
Be a daring debonair that catches every Sim's attention with this white jacket, black collar, tie, and even up the ante: a coral shirt.
They can never say you blended in with the background!
7.

Vest Suit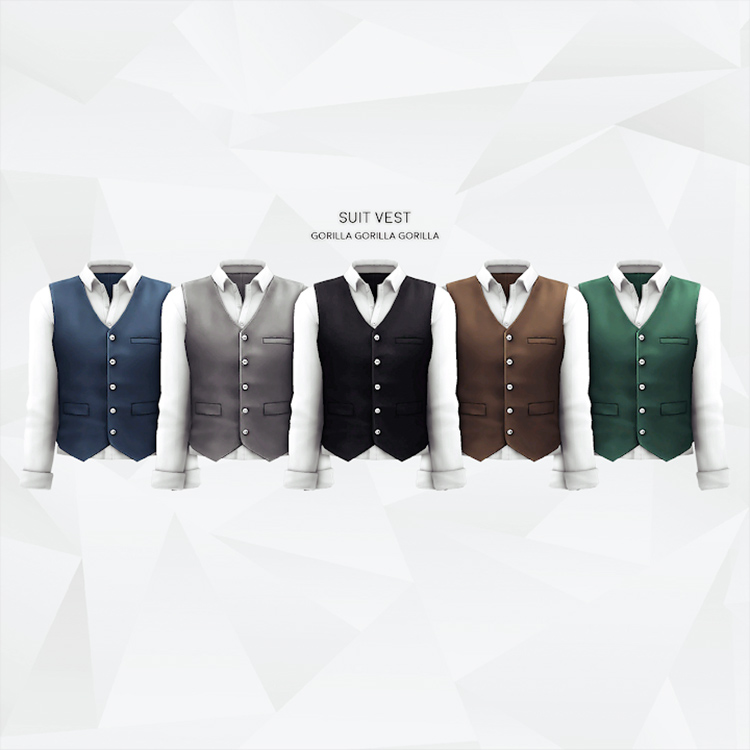 Are you going for the chill after-party look?
If the formal event is a laid-back one, you might want to skip the tux and just go with Gorilla Gorilla Gorilla's Vest Suit.
Picture wearing this after the party, with your Sim just hanging out by the bar drinking some whisky.
You get a long white polo underneath a classic button-down vest, and fitted suit pants with a belt.
These are available in 5 swatches too: blue, gray, black, tan, and green.
6.

Regency Suit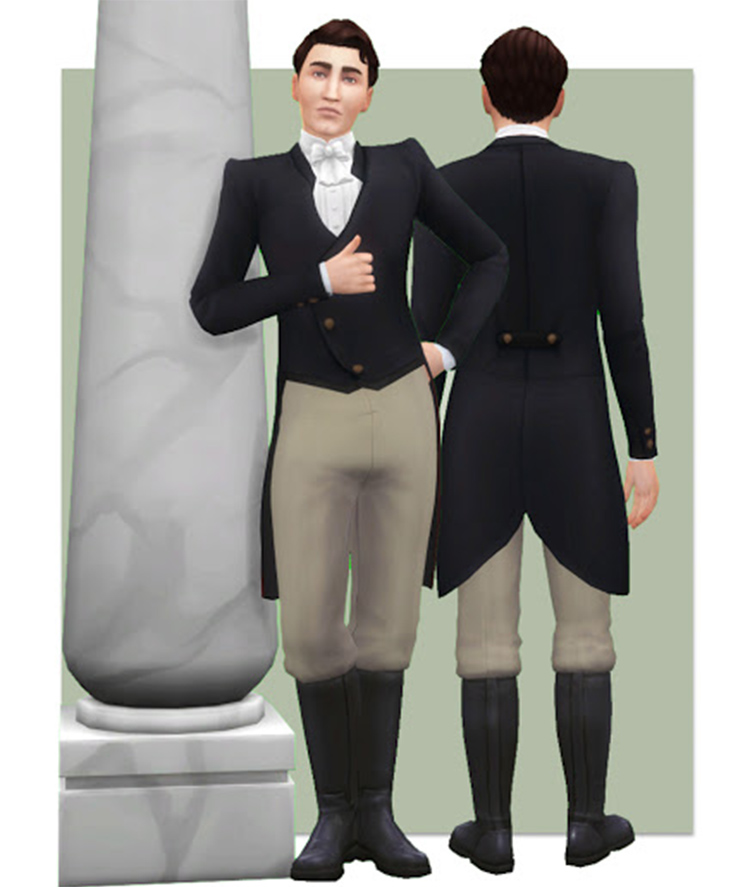 Bring back the ole' fine gent when you wear Historical Sims Life's Regency Suit.
This CC will totally make fedora-tipping acceptable. Well, kinda acceptable.
Wear this every day when your game's theme is historical.
Wear it to your formal gatherings too.
Even wear it to go and party (imagine how fun it is to dance with that tail…)
Your fancy Sim guy will get five swatches at his disposal. And don't forget some shoes to go with it!
5.

Male Suit (Full Body)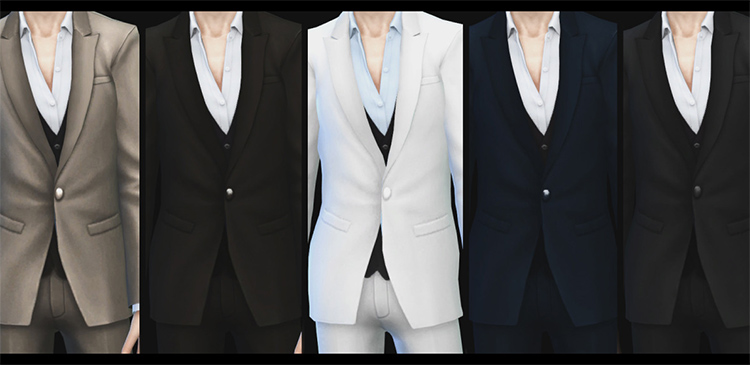 A good-fitting, well-tailored suit can do wonders.
No one wants a baggy suit. Flaunt those bodies, men! Whatever shape they may be.
Be the man that the bridesmaids fight over with this super stylish Male Suit CC from Azentase.
It's a sleek suit + vest combo with a v-neck under polo.
Nothing fancy, just pure pheromones with muted swatches in beige, black, white, navy blue, and dark grey.
4.

IDOL Suit Jacket + Pants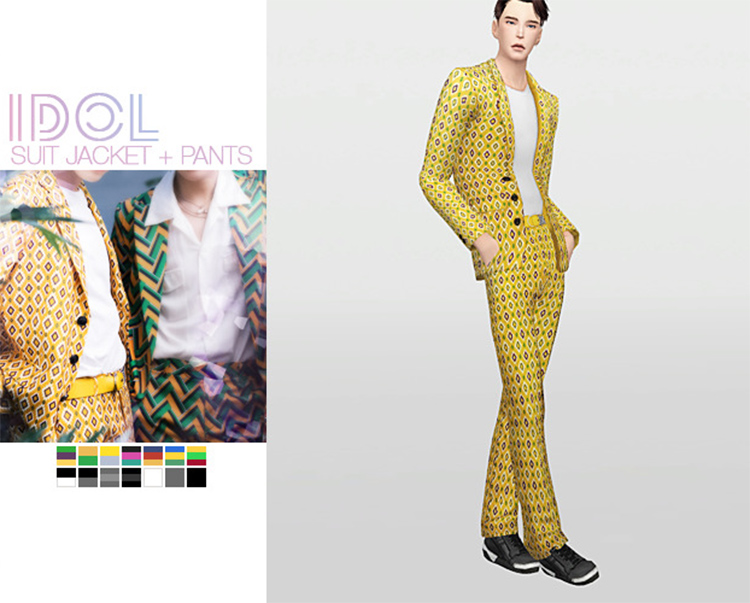 Fortune favors the bold.
And bold you shall be sporting this suit created in collaboration by Begdorf and Waekey!
These are inspired by the Korean boyband BTS, and they have a ton of screaming girls behind them – so they must be doing something right.
This is for the Sim who's unapologetically into loud prints.
Get 14 jacket swatches and 11 pant swatches with this CC set, available for teens through elders. Imagine a grandpa wearing this. He be flossin.
3.

Men's Casual Edwardian Suit
In the good old days, casual also meant being dressed to the nines.
You won't get caught wearing clothes with a wrinkle in sight.
If Historical Sims Life's "Casual Edwardian Suit" was really the standard of casual in the olden times, then our ancestors would be spinning in their graves if they could see our casual style now!
This pack contains eight recolors of the suit, with only the tops varying and the pants staying black.
Now you know what to wear on the next casual Fridays at work.
2.

King Formal Tuxedo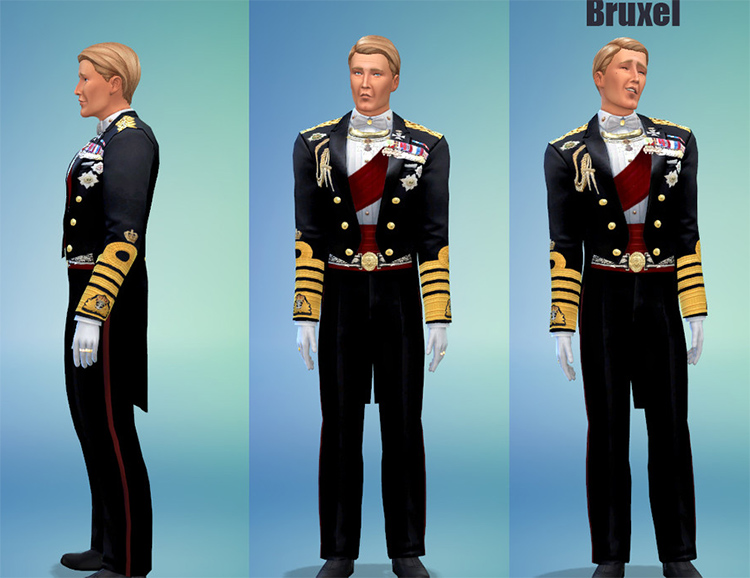 They say you should dress for the job you want.
But what if the job you want isn't technically a job… but your whole life?
Want to be like royalty, but can't take the trials and tribulations that come with it? (seriously, have you seen The Crown? Cause child… those royals be messy)
Well you can always role play with this King Formal Tuxedo by Bruxel.
The royal suit contains badges, medals, and insignias befitting to your Sim's perceived regal stature. Ostensibly.
But we'll just ask everyone to bow before us anyways.
1.

County Suit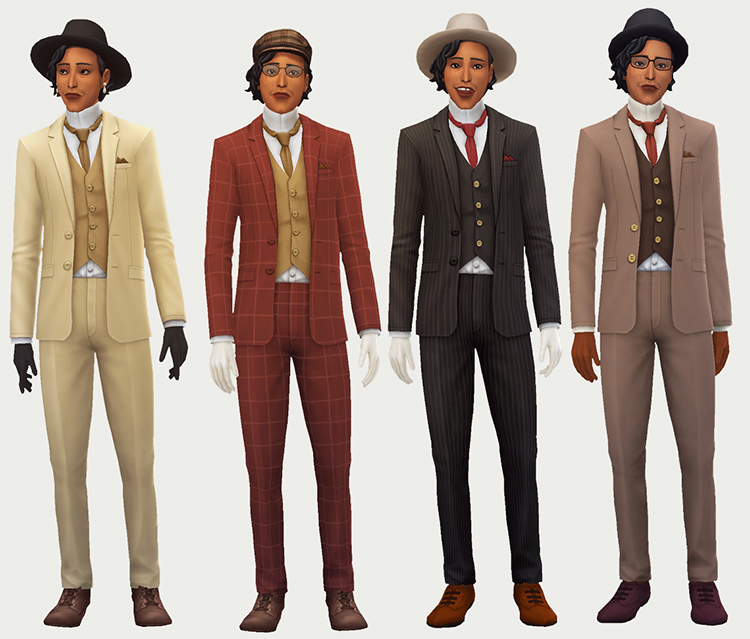 This top pick is what I imagine a Victorian nerd would wear. One who invents the cure to cholera or something life-changing like that.
Or maybe a gambler who just struck it big in the city.
The possibilities are quite endless! Especially if you're big into TS4 roleplay.
Homelot created this Country Suit CC that's obviously Victorian-inspired, but can also totally pass off as modern.
The look is made up of a turtleneck polo, a slim tie, a vest, and a sleek jacket and bottoms.
Choose from 4 colors and top it off with some gloves (linked in the page description!), plus some round glasses, and maybe even a pocket watch.
Browse:
Lists
The Sims 4
Video Games