Best Sims 4 Sweatpants & Joggers CC (Guys + Girls)
This post may contain affiliate links. If you buy something we may get a small commission at no extra cost to you. (Learn more).
Nowadays, comfort is the priority when it comes to clothing.
People would often sacrifice that for appearance's sake in the past, but that won't fly anymore.
Everyone has realized life is too short to wear uncomfortable, scratchy, or otherwise unpleasant attire.
There's nothing wrong with simply slipping on a pair of sweats. From streetwear to athleisure, people of all walks of life and age groups have turned to these flexible & casual pants.
And our Sims are no exception, of course. There's a reason the sweats & joggers in the base game can be used for almost every outfit category.
So with this list, you can broaden your Sim's wardrobe horizons in some pretty big ways.
1.

Angel Joggers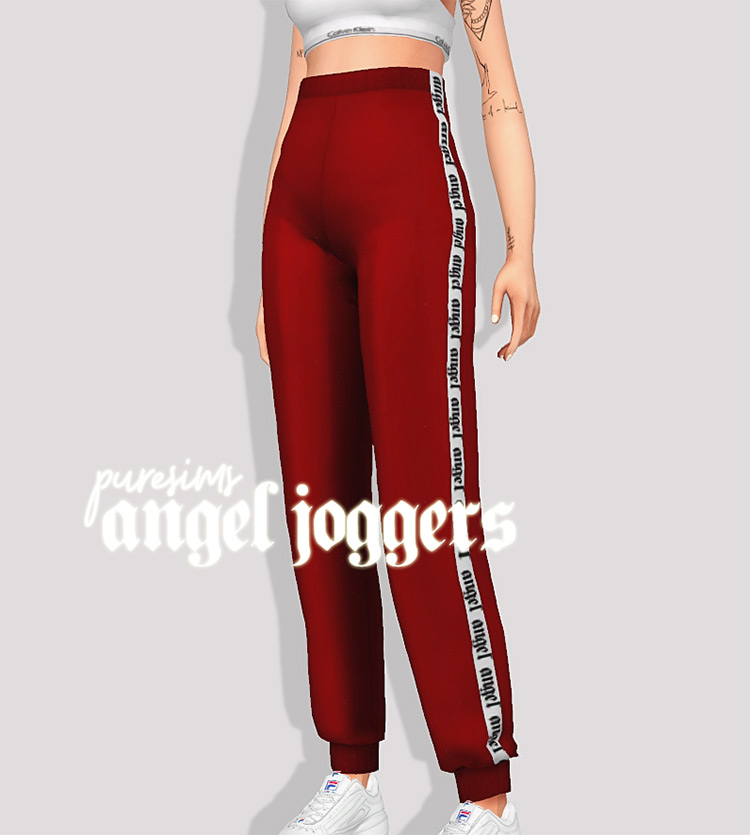 Colored joggers just hit different, don't they?
These are a nice change from the typical gray sweats you usually see… as I sit here actually wearing gray sweats typing this.
Well the joggers in this CC are a lot cooler.
What stands out about these is that they're high-waisted.
Now for real-world people, you can usually just pull your pants up to the desired locations.
Sims, however, are stuck with however far the mesh reaches.
Thankfully, these pants going so high up allows a ton of possibilities with tops.
If you're like me and don't like a Sim to show too much torso, then a much wider array of blouses, tees, and tanks will be available to you.
2.

Comfy Joggers
Keeping a Sim happy isn't easy.
In fact, my Sim's most frequent emotion is 'uncomfortable'.
It's just hard to keep up with their needs sometimes.
Hunger, bladder, energy, fun. They expect so darn much.
But I guess the least we can do is throw them a bone now and again and dress them in something nice.
These comfy joggers definitely look like they've been named accordingly. Your Sim will be ready to take on the world, even if they're hungry and exhausted.
There's a matching cuffed texture at both the waist and the ankles that really creates an 'athleisure' vibe.
3.

Lazy Pants
While it's true the clothes don't really make the man (or woman), sometimes you do just want to spend the day binge-watching TV in your favorite pair of sweatpants.
Aptly dubbed 'lazy pants', these sweats from CandySims are a great choice for some simple & stylish bottoms.
Your Sim will thank you for a day spent chilling around the house in these.
These work for jogging or going to the gym as well, but come on… give them a break!
4.

Baggy Sweats
It seems that many of the pants in-game are geared towards sleepwear. And to be fair, there are many people who do think sweats and joggers are to be worn exclusively around the house.
Well, those people are crazy.
I wouldn't survive if I didn't occasionally accept going to the grocery store in sweatpants.
Opting for sweatpants over jeans doesn't mean you're a slob, however. There are many ways to go about wearing them as part of a broader outfit, and a good start is with the size.
Like with any clothing, you don't want your pants to be too big or too small.
But there's something to be said for having them a little baggy.
These pants are the perfect compromise, with a well-fitting waist and looser wrinkles at the legs.
The colors here are great as well, from classic black and gray to more colorful shades of yellow, pink, and blue.
5.

Comfy Sweatpants
We'll see some more outlandish designs later on this list, but for this CC let's stick with simplicity.
Sometimes you just want some soft pants that will get the job done – that job being to make your Sim look cool and comfy, of course.
You can count on these sweatpants from Blushchat to do just that.
They have a very smooth texture, and I especially like the floppy look of the drawstrings.
It's just a nice little detail since they can really aid in this aesthetic. Nothing says "casual" like drawstrings in a little bow.
6.

Brushed NY Sweatpants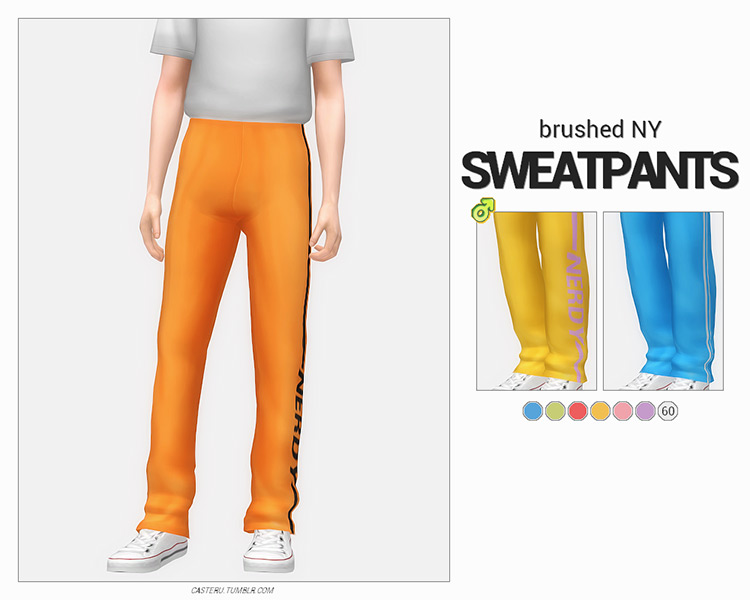 I don't think I've ever seen a CC item that looks this comfy.
Your guy Sims will be very lucky to have these sweats, available in many bright colors.
These also have a pretty soft appearance. You can almost feel it, I swear!
Unlike the pants for gals, these are a bit baggier around the ankles, and will rest around your Sim's feet.
No exposed skin, no cold ankles.
7.

Slouchie Sweatpants
You're probably already realizing that there are quite a few different types of sweatpants.
I always kind of thought if you've seen one pair, you've seen them all… but that's clearly not the case.
These slouchy sweatpants from Peacemaker are a little more tailored than most of the others we've seen so far.
They'll hug your Sim in all the right places, with the shadows and wrinkles really giving them a realistic look.
And I suppose most guys don't care for high-waisted pants, so it makes sense that these are very low-riders.
8.

Dalla Dalla Sweatpants
If it's unique designs you want, Trillyke has you covered.
This just proves that sweats can be as much of a fashion statement as anything else.
If you want to stick to the classics, this CC set has plain gray, white, and black options.
However, the dozens of creative swatches are too good to pass up.
For those bolder Sims, there are plenty of camo, abstract, and animal prints. If they want something a little more cheerful and fun, the galaxy, floral, or banana pants will be perfect.
And that's not even close to everything here.
I'm telling you, this is like the holy grail of sweatpants CC. It might sound silly but I'm serious!
9.

Booster Sweatpants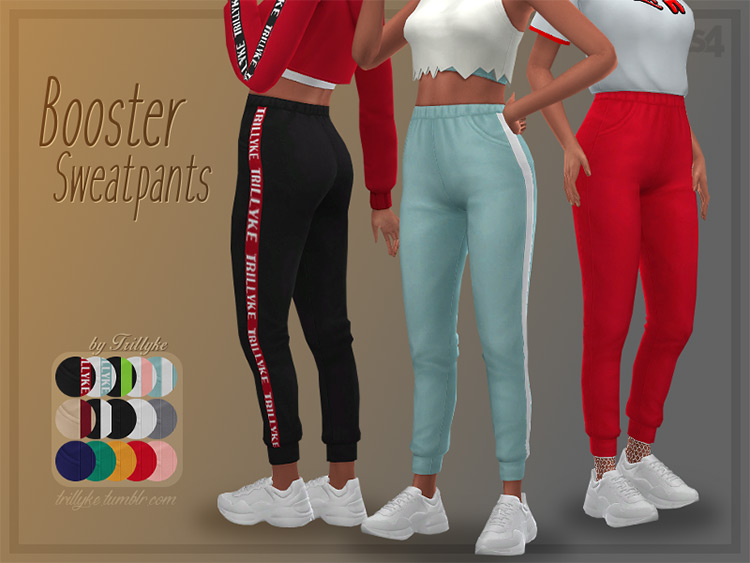 Now here we have some snug sweats with minimal waistband, and perhaps the best thing of all: pockets!
I know, I know, it's not like Sims even need pockets.
They have an inventory that holds way more than pockets ever could… at least in women's pants.
But these pockets are still a nice touch!
There are a few different styles available to you here. First, there are the solid swatches, which are all one beautiful, bold color.
Then there are those with a simple stripe running along the legs, like many athletic pants have.
Lastly, your Sim can rock sweatpants with the name of the creator, Trillyke, in the stripe.
This is the Sim's version of designer clothing, when you think about it.
In real life we rely on big name brands like Nike and Adidas to give us our cool clothes. Our Sims rely on custom content makers.
10.

Izme Sweatpants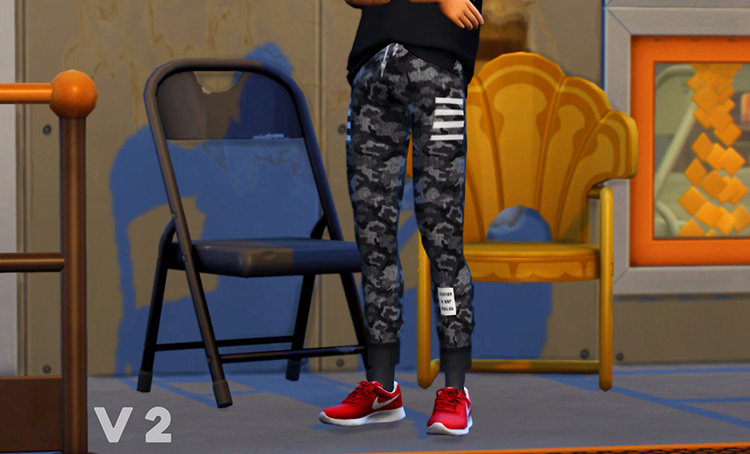 We all know guy Sims get a little forgotten sometimes, at least when it comes to clothes and custom content.
With so many different things to explore with the women's wardrobes, focusing on pants and tops, which is what makes up most of a masculine wardrobe, can be a little boring.
Well, these pants from llazyneiph are an absolute necessity.
Seriously, they're so new and fresh, combining a streetwear style with unique striped accents.
There are two options: plain black or dark camouflage, and both look fantastic.
They have a semi-skinny fit, but are still plenty relaxed enough to work as every day wear.
11.

Jogger Pants
Man, joggers & sweats for guys actually take a lot of different forms.
These are a totally different style from the others we've seen on this list.
And they're a little bit saggy and have zipper pockets at the hip, as well as a rough, scrunched texture along the thighs.
Your Sims will surely have the best athletic outfit in town thanks to this CC.
There are ten swatches in total, mostly dark shades of brown or blue, that definitely say "lean, mean, weight-lifting machine".
They'll be a nice addition to any casual outfit, too.
The only thing these probably won't work for is formal wear.
12.

Slim Fit Joggers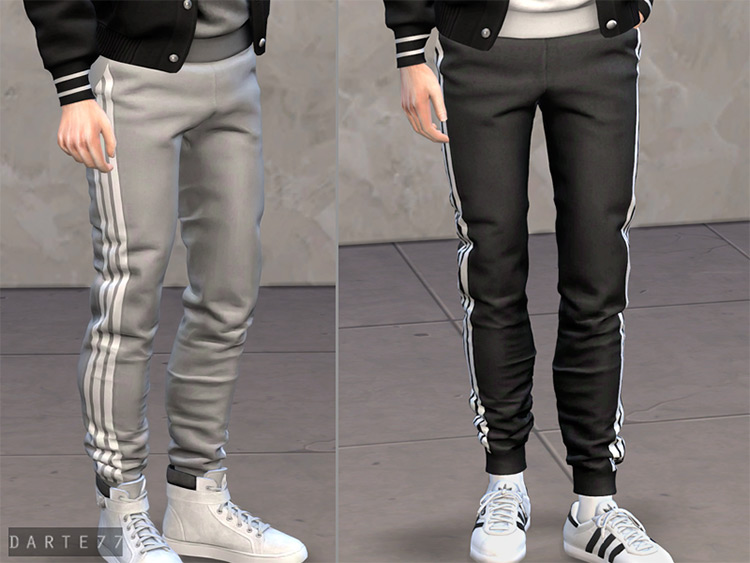 Ooh, I love the sight of wrinkles!
Erm, that only goes for Sims clothes. As far as myself or others… you know what let's just move on.
The way these form-fitting joggers gather around the knees and calves is another example of CC edging towards realism, without straying too far from the game's style.
The texture throughout this CC looks pretty silky and stretchy.
They may be a slim fit, but no one will ever say they're too tight.
Each of the swatches has three stripes running along the legs mostly in white, but in green, red, or blue as well, depending on what color pants you choose.
13.

Slim Cuffed Sweatpants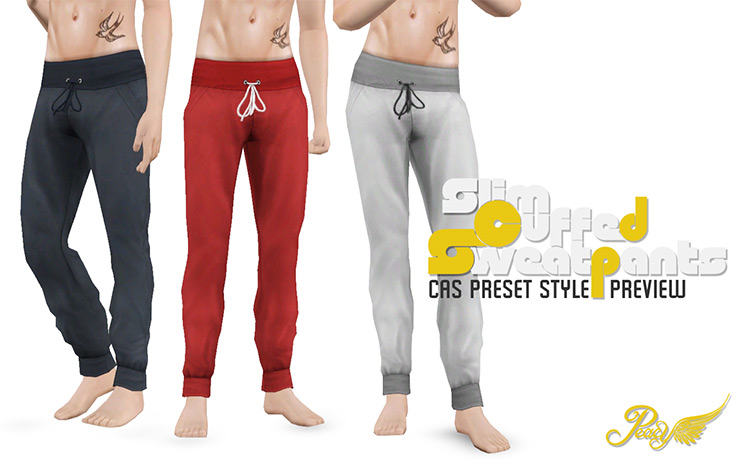 Now these dark sweats for guys have a wide waistband and cuffed ankles, creating a really "sturdy" appearance.
They aren't going anywhere.
No worries about them falling off, or riding up above your shoes.
Not that our Sims really have to worry about that, but still. It's always nice to see pants that would believably hold up.
There are red and white swatches available in this set.
14.

Ader Error Colorblock Sweatpants
You won't find anything much more stylish than this when it comes to sweatpants.
This CC features some of the most unique designs we've seen!
There are large, bi-colored stripes going vertically along one leg, and a single colored stripe wrapped around the other.
I'd say these are some very bold and contrasting colors, in the best way. Yellow and blue against orange, or red and white against black.
They might be combos you'd normally never put together… but clearly creator Shunga knew what they were doing, because these pants definitely do look awesome.
15.

Holographic Pants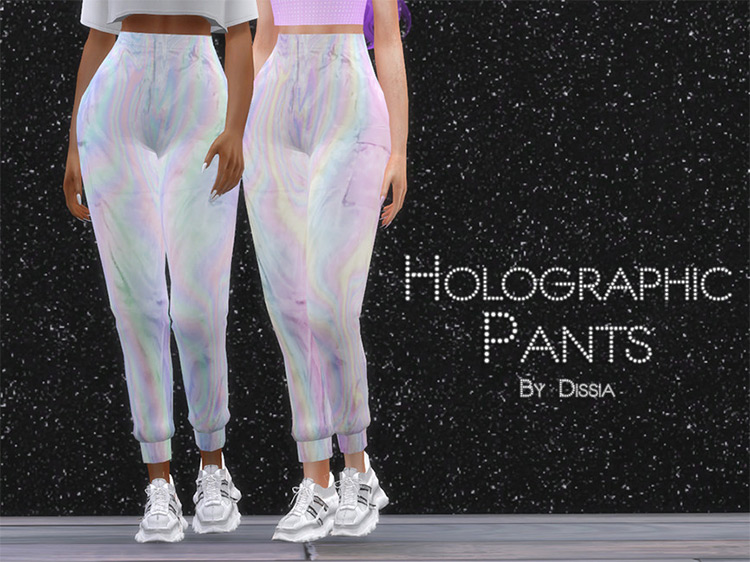 Well we've seen almost every type of sweatpants you could imagine – traditional blacks and grays, creative color combinations, and crazy prints.
So what could be left?
Holograms!
It's easy to see why this design has become so popular in recent years.
The swirling blends of bright pastel colors is simply beautiful. These patterns sometimes show up in art, but clearly it works very well for pants, too!
And really, these practically are a work of art.
Browse:
Lists
The Sims 4
Video Games