Best Sims 4 Tomboy CAS CC To Download (Clothes + Hair)
This post may contain affiliate links. If you buy something we may get a small commission at no extra cost to you. (Learn more).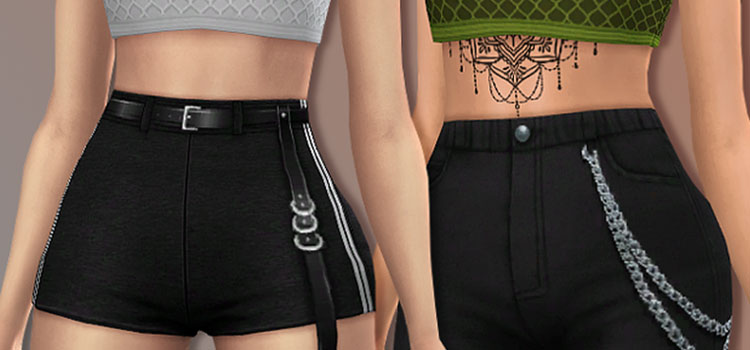 The Sims is well known as a game that prides itself on inclusivity, so you can play as anyone!
No matter if it's your Sim-self or her super sporty girlfriend, a gothic alien or a pastel pink vampire, your feminine son or your tomboy daughter, anyone you can imagine, you can bring to life as a Sim!
That being said, it's also a game well-known for hip and fashionable clothing that makes even the skinniest of sims look frumpy, shoes that distort your feet, and some rather… questionable hairstyles.
If you're reading this, it's likely you're looking to revamp your female sim's boy-ish style without resorting solely to men's wear – believe me we've all been there! But to help you out, here's our picks of some of the best tomboy CAS items that are sure to make your girls look great!
10.

Destroyed Boyfriend Jeans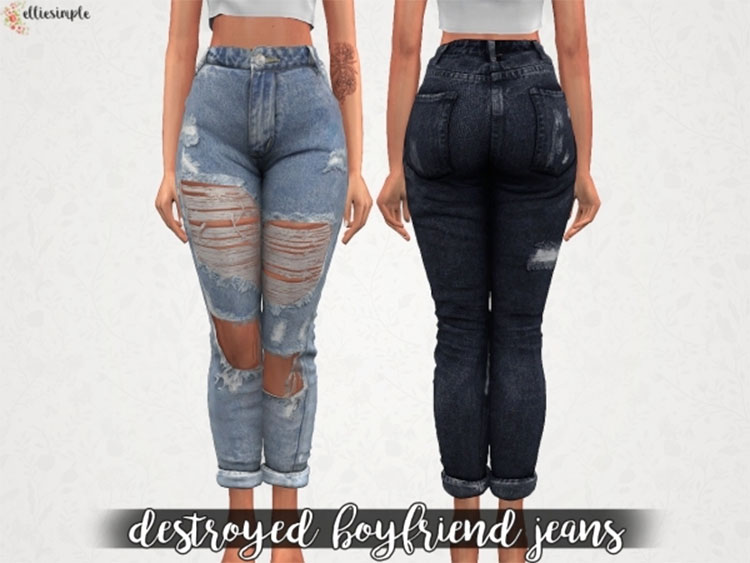 First are these destroyed boyfriend Jeans.
The amount of ripped jean CC out there seems never ending… but with the majority of these looking super tight and sexy, sometimes your Sims just want to put comfort over a classy look. I mean, some of us just want to be able to breathe, am I right?
This is where the destroyed boyfriend Jeans come in. Created by elliesimple, these jeans fit great with the contour of your Sims' body, but the amazing detail in the creases and cuts makes them appear super comfy and well-loved.
They're also high waisted, meaning they go great with a turtleneck and plaid shirt combo, or even an oversized sweater! And the turned up ankles look super cute with both sneakers and boots.
9.

Tsminh`s Lee Hair Retextured
It's not just adult sims that love the tomboy look.
This Tsmin's Lee hair retexture by Simiracle is perfect for both children and toddlers!
Short and kind of messy? It's perfect for any little girl who flat out refuses to brush her hair, plus it dries a little faster on the rare occasion you can finally force her out of the mud puddles and into the bath!
8.

Daisysims Male & Female Hair G23
Staying on the topic of hairstyles, this gorgeous choppy style is designed for both male and female sims!
If it's a snazzy skater girl style you're after, look no further than this gorgeous mullet-esque trim by Daisy-Sims.
And with 21 different color swatches, your sim can express herself exactly how she likes.
7.

Child Overalls
Let's face it:
It's every tomboy's worst nightmare to be forced into dresses and skirts.
Sure they're cute and all, but they're just not her. It's also a nightmare for her parents to find them ripped to shreds every laundry day.
That's where these overalls by Nell come in. These 15 different colored overalls and the 25 different colored t-shirts all look great, and make this outfit super customizable so your little sim can find the perfect look for her.
6.

Revamped EA Bombshell Hair
The EA bombshell hair is definitely a questionable cut… Who is that style even aimed at? Seriously!
It's horrific, and this revamp by subtlestubble does more than just fix it!
This new and improved 'do is sure to make any sim with a short trim look super cute and stylish! It can be downloaded as either an override to EA's version, or added separately, so if you're one of the few people who actually use that hair… then you don't need to replace it!
5.

Athletic Dept. Sweatshirt Collection
This gorgeous cropped sweater set is tailor-made for your sporty tomboy sims, and includes so many swatches (24 to be exact) that even your girly sims might be able to find a style they like.
CC creator Pinkzombiecupcakes has really outdone themselves with this gorgeous collection of sportswear, which features both unique looks and well-known sweatshirts from popular real-life brands such as Adidas and Puma.
Make sure to download the original mesh in the description of this link too! This comes with an even bigger choice of cute cropped sweaters.
4.

Adidas Cap
Sticking with the sportswear theme, something every tomboy-styled Sim needs in her wardrobe is a cap.
You can't complete a sporty look without one. And they even go well with a plaid shirt and jeans combo!
In short, a baseball cap goes with anything. And it's a standard accessory for any bad hair day.
And let's face it: when you have such a bad relationship with hair straighteners, you tend to have more bad hair days than most.
I firmly believe CC maker Milky/Way created this cap understanding our need for an in-game baseball cap with style. And if you're going all out and downloading a few of the items from this list, there's a certain sweater in this list that this cap would be a solid match for!
3.

Vans Short Sneakers
I can't lie here: personally I am a huge fan of the sneakers included with the Sims 4 already.
But that doesn't mean I don't also love finding even more to download! After all, I can't think of any that EA have created that come with a floral swatch.
Wait, did I just say a floral swatch? In a list for tomboys?!
You bet I did!
These vans come in both the basic black and white version, and the black and white with roses version. So these are suitable for any Sim's style, be it simple or snazzy. Or just a big fan of Vans.
2.

GPME Oversized T-Shirt
Okay, first of all let me just say this: Tomboy style or not, I just absolutely love this oversized T-shirt.
Let's face it, most tomboys aim for comfort when choosing their clothing.
And the relaxed loose fit of this shirt, combined with the darker colors and sports brand swatches, are nothing short of perfection.
1.

Lucky Girl CC Pack
Wow.
If anything screams "tomboy" it's most certainly this CC pack by clumsy alien.
Consisting of some cute jeans, a short denim skirt, an adorable jacket, and every tomboy's signature flannel, this CC set has an outfit combination for any girl with a masculine look, no matter their style.
Browse:
Lists
The Sims 4
Video Games