30 ACNH Forestcore Design Ideas: The Ultimate List
This post may contain affiliate links. If you buy something we may get a small commission at no extra cost to you. (Learn more).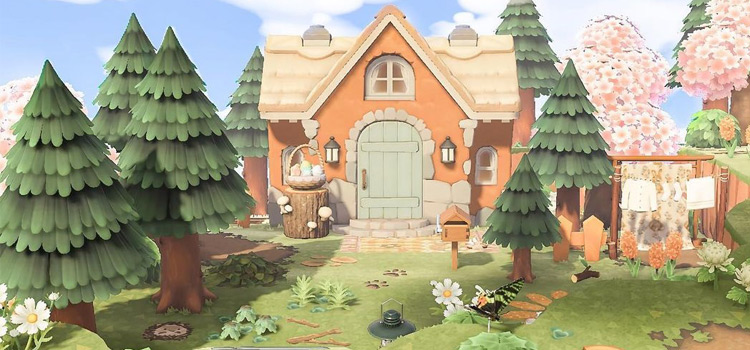 New Horizons players can find lots of ways to personalize their islands.
If you're more of a city dweller, you can transform your island into a concrete jungle to suit your needs. Or if you prefer the suburbs, well that's an option too.
But there's also a pretty popular aesthetic theme going around: forestcore.
These builds focus on the natural beauty and the raw nature on your island. And if you're diving into your own ACNH forestcore build, we've got a huge collection of ideas right here to get you started.
30.

Peaceful Woods House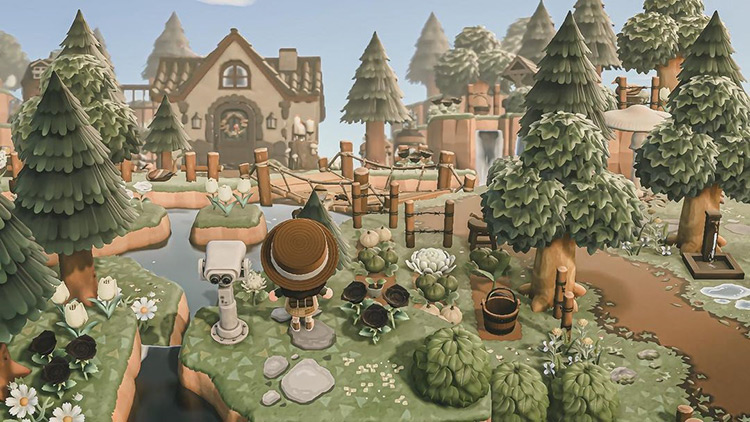 If you enjoy peaceful, beautiful scenery, you'll love this build.
Skilled terraforming makes a very natural-looking stream going through these woods.
And with a suspended bridge and a telescope, this could be a brilliant way to embrace nature, without overdoing it.
I can't blame this player for putting their house out here, either. It's a gorgeous spot. Can you imagine how fresh the air smells in these woods?
29.

Forest Chicken Coop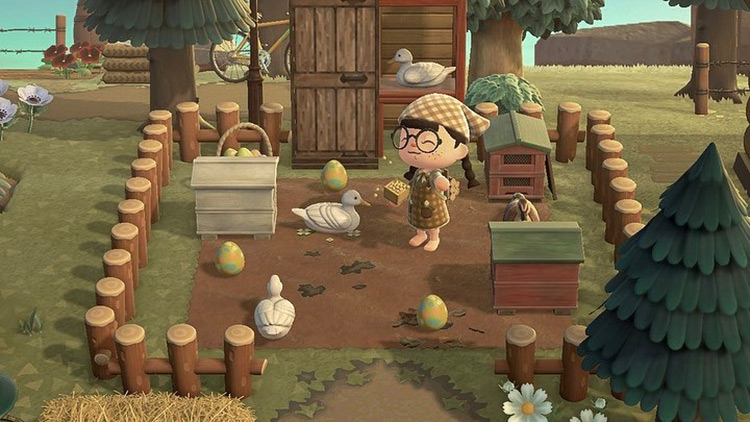 Not to be confused with a cabin in the woods, this cottage in the woods is a wonderful retreat from the humdrum norm of daily life.
And what does every good cottage need?
Chickens, of course!
Now unfortunately, Animal Crossing has not yet graced us with farm animals (unless you count fencing in villagers…)
So this player got creative with duck figures and Easter eggs.
Hey, you gotta do what you gotta do!
28.

Campsite Cookery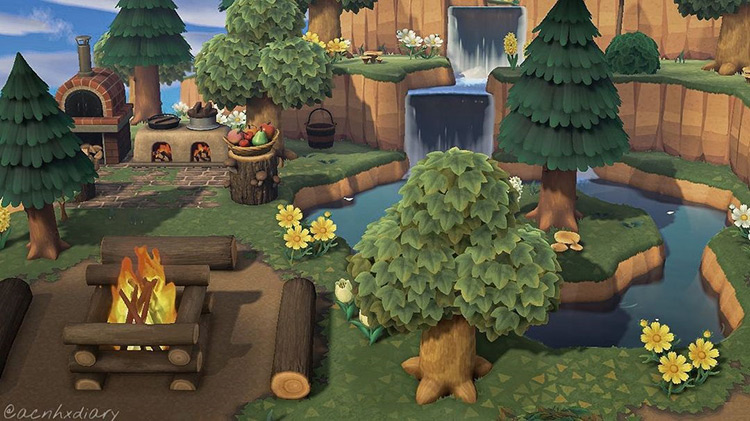 Camping is a great time, super economical, and really gets you in touch with the great outdoors.
But the great outdoors can make you greatly hungry, though. So this cooking pit is a fantastic fix!
With a brick oven, a cooktop, and a roaring fire, you can make the very same dishes you could make from the comfort of your own home. And if roasting hot dogs over the open flame isn't your thing, maybe whip up a pizza, or maybe some sushi with some fresh fish from the stream.
But either way, marshmallows over the fire is an absolute must-try for this idea.
27.

Little Forest Farm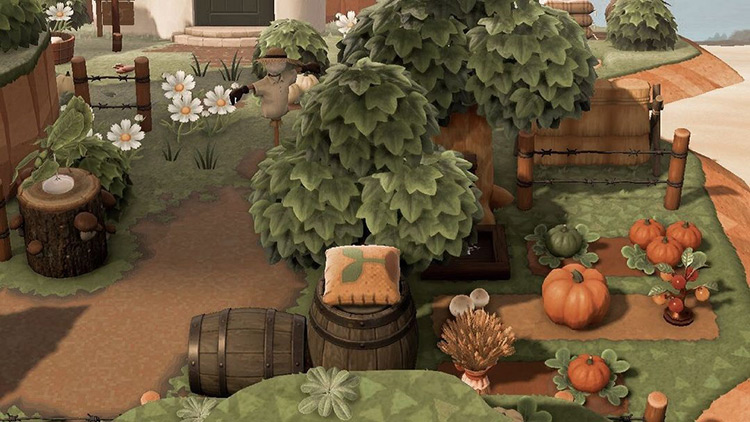 The forest in real life has lots of foreageables.
But Animal Crossing hasn't really graced us with any plants except fruit trees and pumpkins.
Well this build makes use of those pumpkins to make a cute tiny forest farm.
With nice details like a water pump, burlap sack, and some barrels, this is a wonderful little corner for an outdoorsy forestcore (or even cottagecore) build. Give it a try!
26.

Forest Museum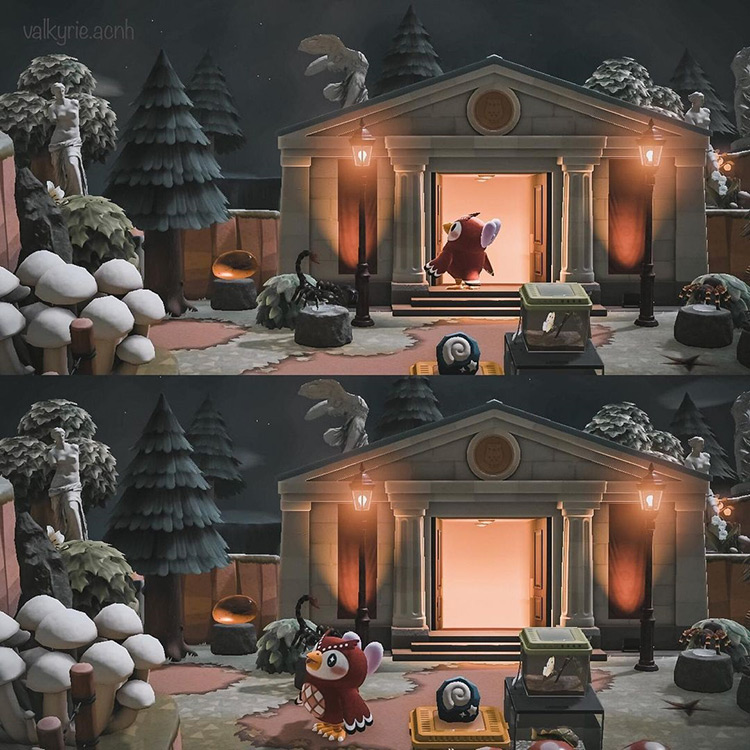 On a forest-themed island, what do you do with the museum?
It's a big stone building. And it kind of sticks out like a sore thumb.
Well this build made the best of an unmodifiable building by merging nature with their island's museum area. And this really works!
By having displays mounted on rocks outside the museum entrance, they've made the divide look way more natural.
Even Celeste approves!
25.

Happy Woodland Path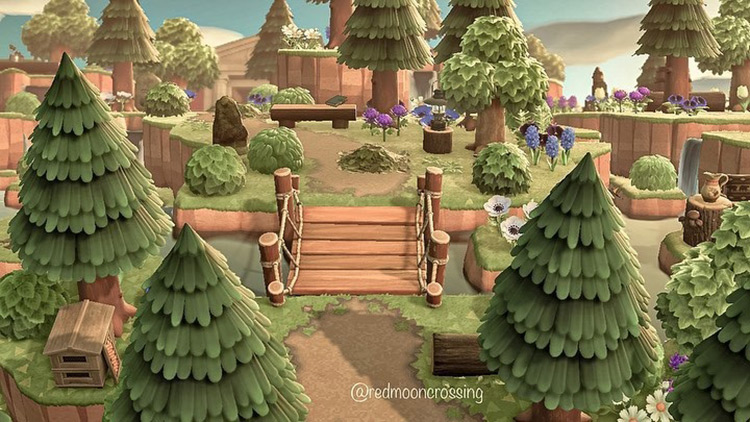 This gorgeous path also leads to a museum, and is dotted with pretty mums, hyacinths, and pansies in blue and purple.
And let me say, the terraforming in this build is really impressive.
Making cliffs look good (and not awkward) can be really difficult sometimes. But this user pulled it off wonderfully.
And with a few man-made touches like a log bench seating area, this natural spot will be a real hit with your villagers. Just be careful not to disturb any of those bees to the left…
24.

Spring Daisy Way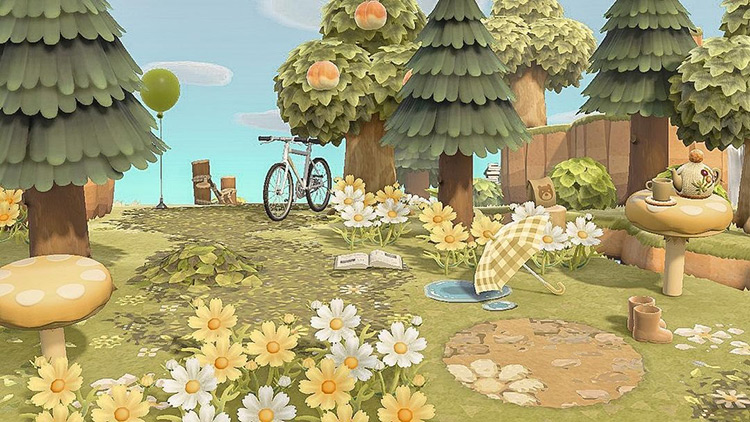 Now this adorable forestcore build has all the best parts of spring:
Peaches, daisies, and a spot for outdoor tea. The addition of those mushroom tables helps to lend a bit of a whimsical fairy vibe, as well.
And the umbrella and puddle, as well as the rainboots, are some cute little details! Very spring-oriented.
Peep that open book by one of the trees: someone clearly found a reading nook!
23.

Forest Campsite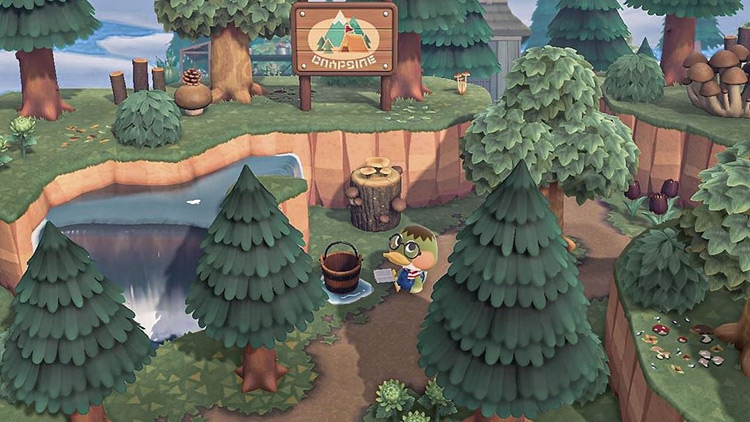 Here's another fun forest campsite, and probably one of the coolest campsite-themed ideas in this list.
This specific idea is located beside a small waterfall, has plenty of mushrooms, and lots of muted colors for a decidedly deciduous vibe.
New Horizons already makes you put up a tent for random villagers to come visit. So why not make that tent into a proper campsite?
This build stresses that you don't really need any fancy items. You can just use whatever nature items you have to make it look great.
22.

Forestcore Picnic Spot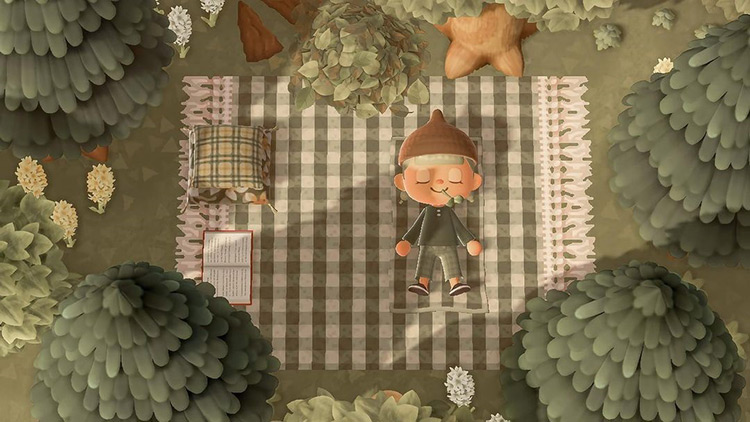 Whether you pack a sandwich, some cheeses and crackers, or anything else, this adorable sunny spot would make for an awesome picnic.
Hopefully, villagers will swing by to water the white hyacinths. Or maybe this could be a secret spot just for yourself.
Either way, it's a fun idea. And a simple addition to your island if you're going for a forestcore look.
Plus it doesn't take too many hard-to-find items. Just put in a rug you like, some little things like books, drinks, or even a radio, then voila!
21.

Log Lounging Spot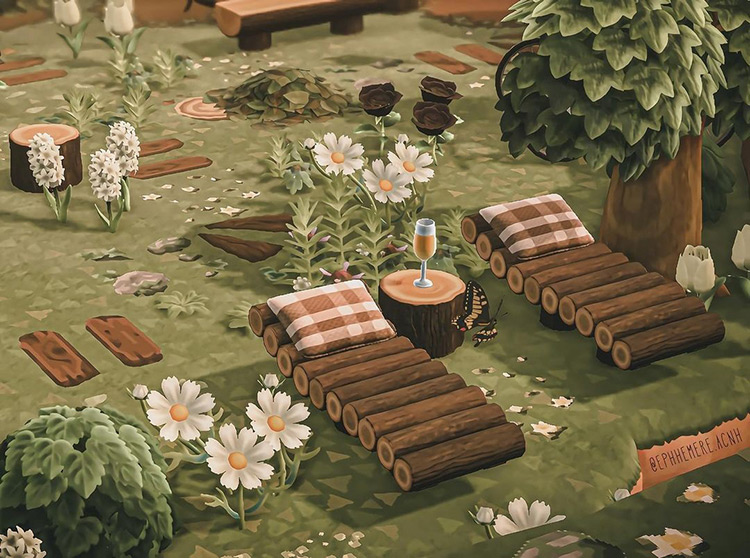 On those sunny days where you just want to soak up some rays, we've got you covered with this foresty lounge spot.
If you have a strict forestcore vibe happening on your island, no need to sacrifice that theme. We have these swanky log loungers!
Maybe your villagers can hang out and a glass of wine and relax. If we don't want to drink, well, apple juice is tasty too!
Maybe invite another friend through the online pass to shoot the breeze, in the breeze.
Just try not to think about how uncomfortable that bark would be.
20.

Forest Koi Pond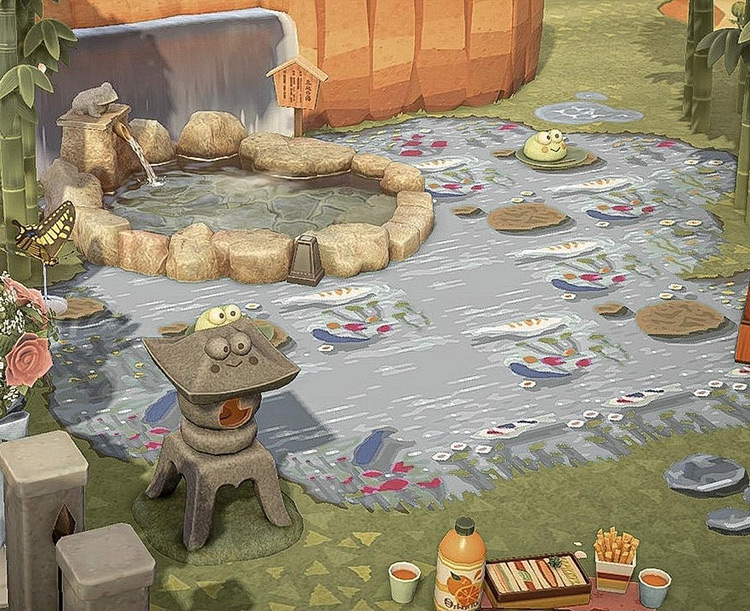 Japanese forestcore is really getting niche – but it looks awesome!
Expand on the basic stone pond with some custom designs to make it into an even bigger pond.
With some creative positioning, you can use an idea like this to make spring rain puddles, overflow areas from rivers, or anything else you like.
There's no water control out here in the forest, no sir.
Also, that little frog is to die for.
19.

Sleepy Magic Forest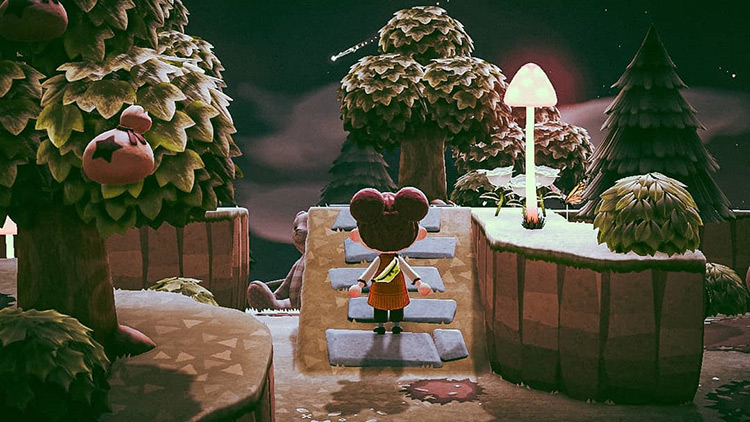 When the sun goes down, the magical mushroom lamps begin to glow, lighting the way through this pretty forest path.
You'll find all sorts of treasures here… like trees that grow money?!
If only things were like that in real life…
This is a great starter idea for new islands, because like others on this list, it doesn't take many special or rare items.
Once you've unlocked inclines, the world is your oyster! Er… island is your forest, anyway.
18.

Grandma's Forest Cottage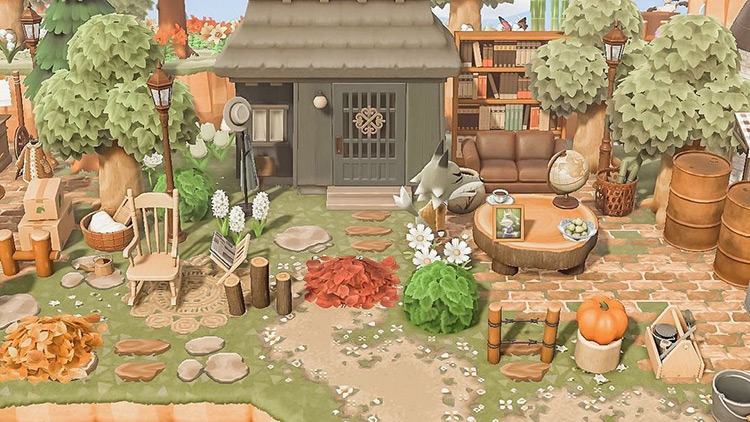 Best be on the lookout for big bad wolves when visiting Grandma in living in this quaint forest cottage.
Forestcore and cottagecore often go hand in hand, and this spot is proof of that.
Embracing the great outdoors is paramount with a fully functional outdoor space, including a living room, bookshelf, and even clothes outside.
Ah, to live without the ever-looming threat of property damage!
17.

Cheerful Forest Museum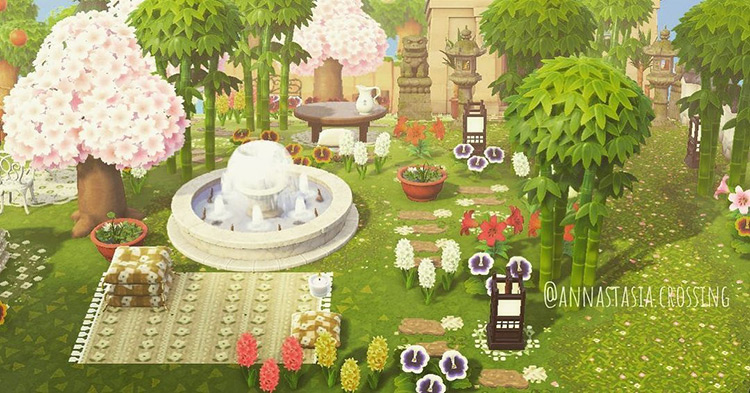 If you're anything like me, you find it really hard to do anything useful with the museum in Animal Crossing.
It's certainly a fun idea that adds lots of gameplay (and lots of stress for completionists) through its catching and fishing requirements.
However, it's also not customizable, and that kind of sucks.
This player used flowers, a fountain, and loads of trees to help understate the building. Which is a really great approach – and hard to do, when the building is that big and grandiose.
Tucking it away behind some bamboo trees helps to hide some of the architecture, and makes it look even a little abandoned, lost in an ever-growing forest.
16.

Secret Snackies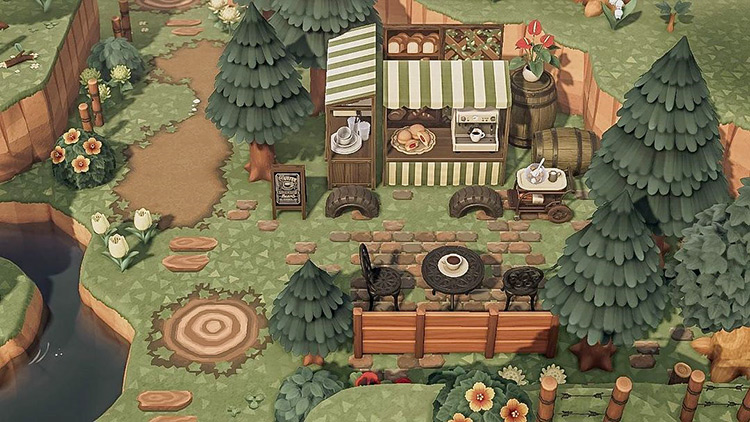 What's better than snacks?
Secret snacks, of course!
This adorable hidden bake stand is laden with the best snackies, doughnuts, and coffee. They seem to be filled with raspberry, too, which is the single most valid option.
With some stalls(which can either be left as-is or customized) and a few custom panels, you can DIY a forest snack haus of your very own.
Maybe keep it simple by sticking with everyday items, or add as many details as you like!
Your villagers will love coming to chill and have a coffee.
15.

Forest Rock Garden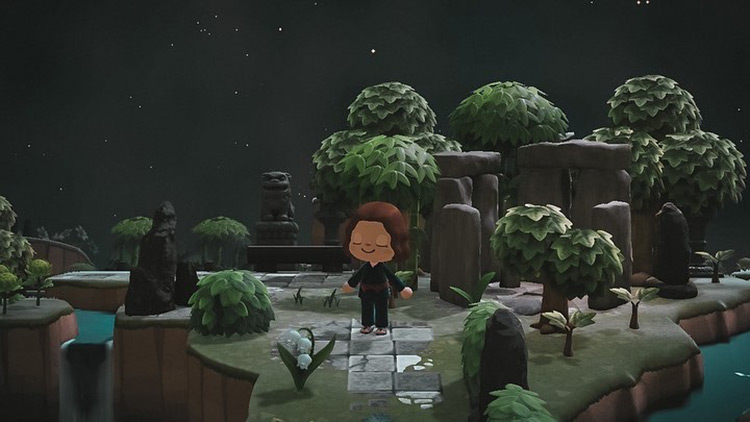 Just imagine it: the weather's warm, there's a nice breeze, and the stars are out.
Where better to go then a high-up rock garden?
This beautiful build features lots of saplings in the growing forest, and a Stonehenge-esque display of tall rocks.
Now you can enjoy the quiet still night in this pretty spot.
You could almost say it ~rocks~. I'll see myself out.
14.

Busy Forest Path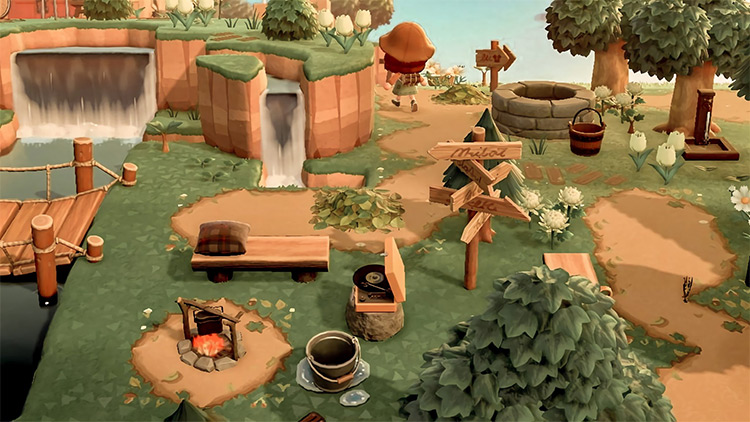 There's a lot going on in this outdoorsy build.
There's a fire pit with seating, and a record player set up, as well as a stone well for water.
And this player is someone after my very own heart with all those flowers, namely daisies, tulips, and mums.
Feeling lost?
No worries, there's a signpost to point you in the right direction. Just don't fall into the river! There's no dryers in the forest.
13.

Snowy Cave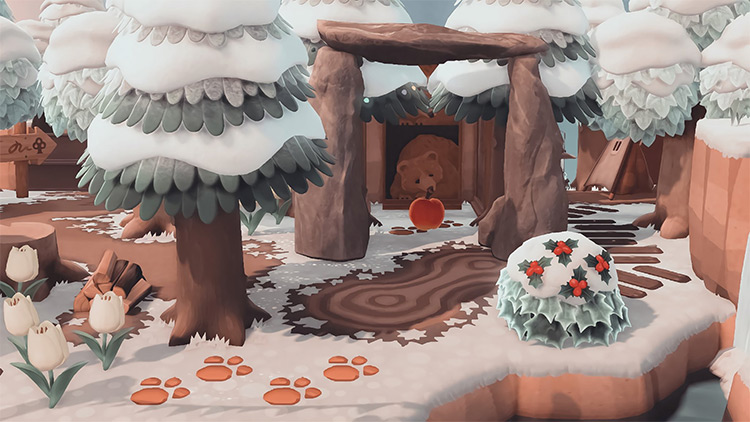 There's creative, and then there's "invent a whole new type of item with custom designs" creative.
Can you guess which this might be?
This adorable forest cave features a ~beary~ convincing cave, using a stone arch and some custom panels to give the image of a sleeping bear.
The details here are fantastic – an apple for when the wittle guy wakes up, tracks leading to the cave, and it all looks even better in the snow!
I mean, what forest is complete without a sleeping bear?
Yeah brb gotta go make a quick change to my island…
12.

Fancy Forestcore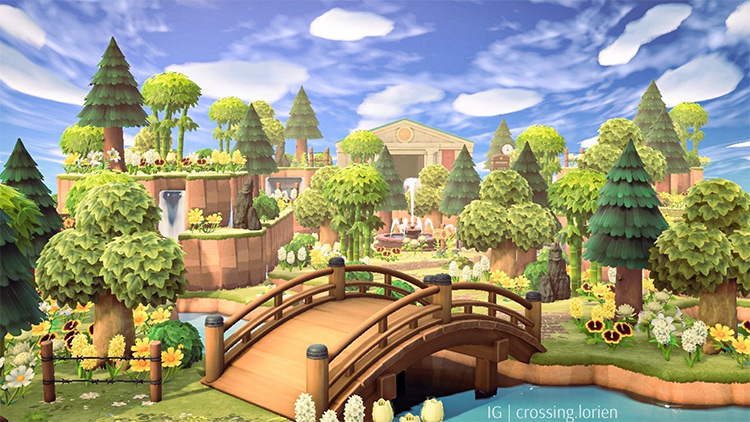 Remember what I said about the museum being kind of the worst?
Here's another build that makes the best of a bad situation.
The museum looks right at home and downright elegant in this bright, busy forest.
Stone paths wind around trees and tall stalks of bamboo, with flowers, of course.
It has the perfect amount of items, and the foliage looks pruned, but not too meticulously manmade.
That fountain is just so fancy, too. And I'm here for it. This spot just looks great with all the bright colors.
I bet the snooty villagers will love this so much!
11.

Woodland Tea Party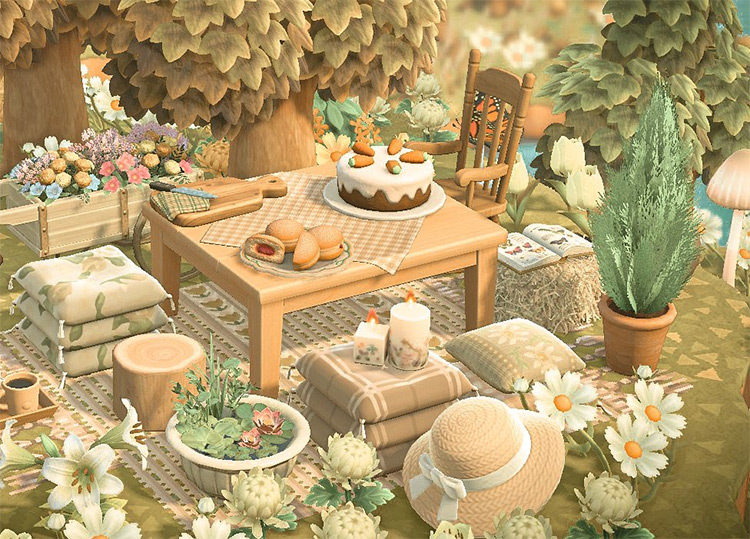 Here's a really bright build that'll look incredible for a forestcore island.
Stacks of cushions and mismatched chairs provide plenty of space for you and your friends to sit and take tea together.
And lots of snacks to eat!
With all the flowers, this is a beautiful spot that will attract plenty of fluttering butterflies. Have some cake, read a book, or just sit and relax!
A tea spot like this would even make Alice and her Wonderland jealous.
10.

Forest Entrance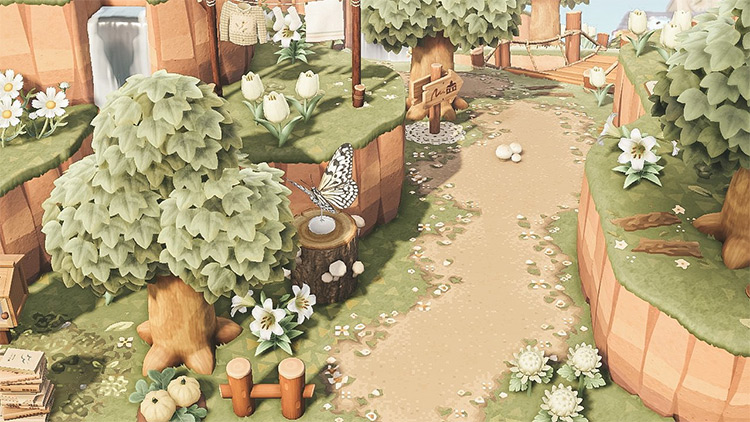 This adorable entrance to this player's island uses a white flower studded custom path.
And it just looks incredible.
Some fun details here are a doily around the signpost, a laundry line to hang clothes on to dry, mushrooms, and a teensy little waterfall.
With all the white flowers, butterflies are bound to come around too. And your villagers will love strolling along the path!
This can be a great introduction to your island, and will wow guests the second they step off the seaplane.
9.

Beautiful Forest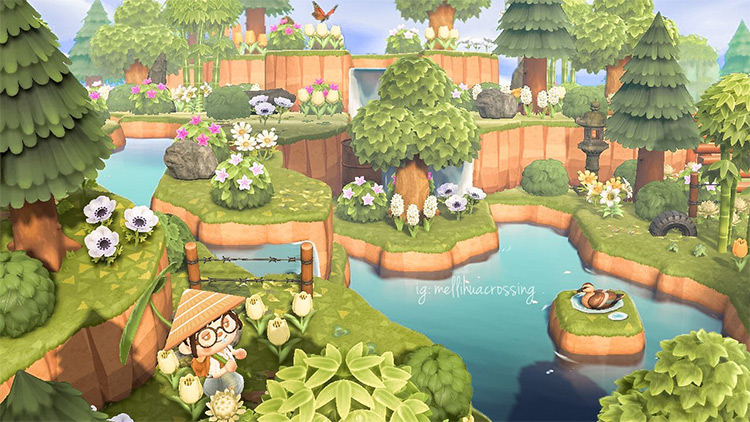 It's hard to have a forestcore masterlist without a few forests.
This one looks busy and alive, chock full of flowers, trees, and even a duck!
Using shrubs instead of just flowers helps to give the landscaping some levels. The pinks, whites, and greens look really great together.
There isn't a lot of lighting here, but can you imagine this lovely spot on a night with a meteor shower? Gorgeous!
8.

Forest Clearing Yard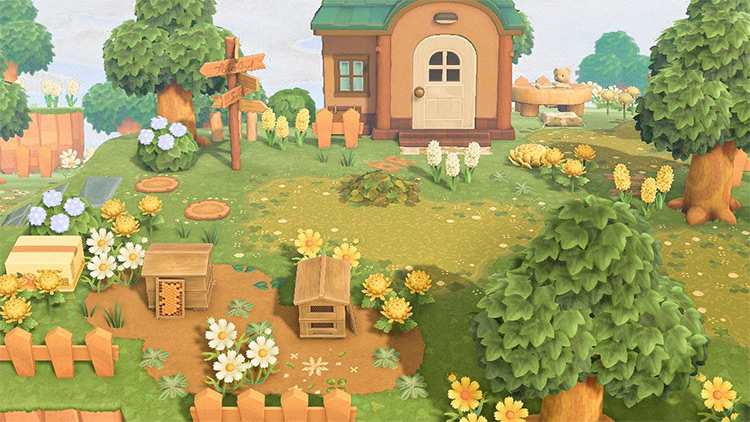 Now this lovely home is situated in a forest clearing. Perfect for a forestcore build.
With the budding weeds (which are even prettier than some of the flowers, IMO) and wildflowers, this idea offers a nice rustic spot to live that ACNH life.
Maybe even save the bees with a few beehives to help pollinate all of those flowers.
With some custom paths, just the right smattering of trees, and little stepping stones, you can really bring this area up on your own island. And it doesn't even require too many items!
Whichever villager gets a yard like this is super lucky!
7.

Forest Flea Market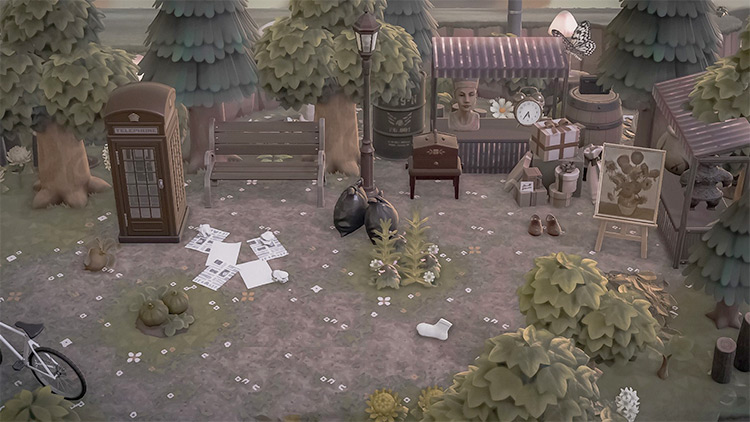 There's something wonderful and whimsical about markets tucked away in the woods… and that's exactly what this idea offers!
Either walk or ride your bike down the woodland trails to find this little treasure, where you can buy novelties like paintings, sculptures, and other artsy things.
It's sort of like Redd's, only you aren't going to accidentally buy any weird Mona Lisas with eyebrows…
This would be the coolest place at night, too, with just the right amount of spooky.
6.

Another Picnic Spot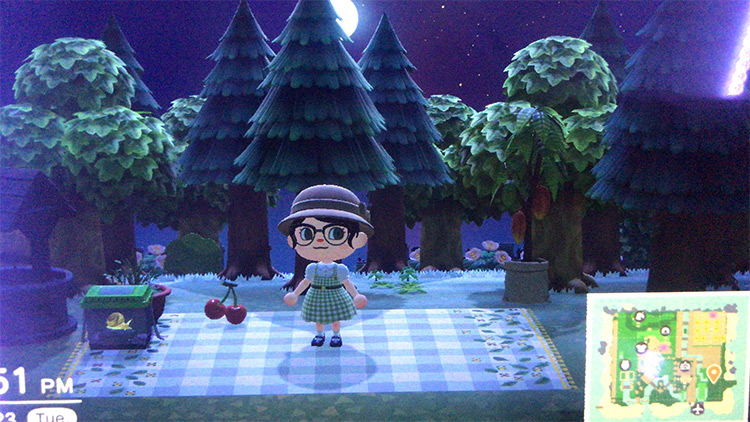 Honestly, there are only so many things to do in the woods.
So picnics are a popular choice.
Here's another fun picnic spot design for any forestcore lovers, with some lovely nighttime lighting from the moon and the stars.
Imagine this on a night with a meteor shower. Celeste would love chilling here till you come to find her for DIY recipes.
And with that wishing well, it's certainly a magical spot!
Maybe invite some friends for hide and seek around here? There's certainly enough trees for it.
5.

Nighttime Woods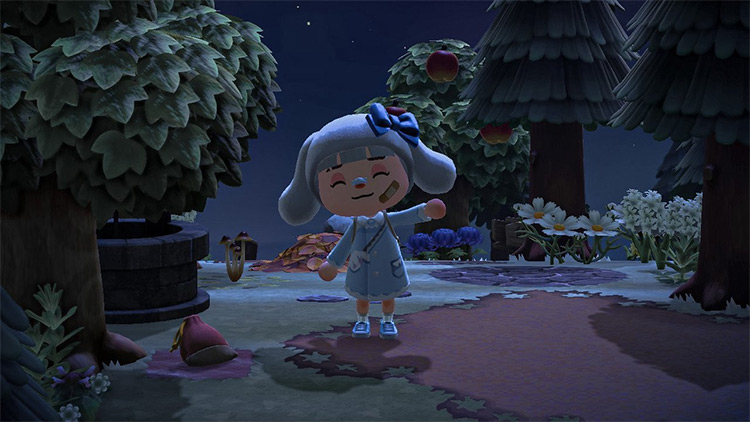 There's a lovely quiet stillness to the woods in the dark.
And this sleepy forest design is a really nice example of that beautiful simplicity.
With a wishing well, leaf pile, and small sack, it isn't totally untouched… I mean, if it were just trees and flowers, that could get a little boring.
Sometimes there can be a bit too much pressure in Animal Crossing to fill every single build with as many items as you can physically cram into it.
And this is a great example of how simpler can be better.
4.

Rainy Forest Rock Pool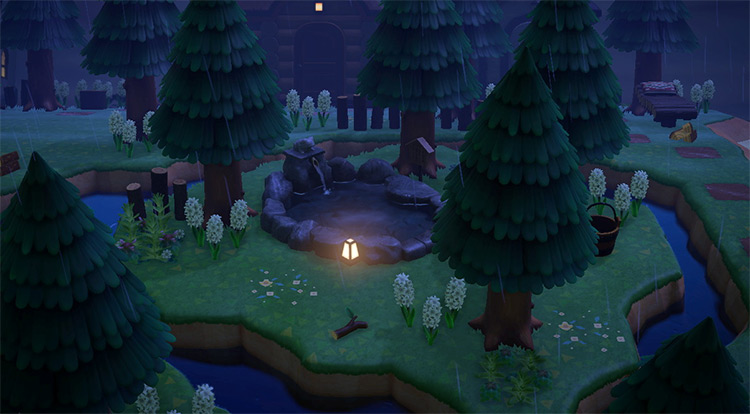 This forest looks so lovely and peaceful in the rain.
And you can't control the weather, but you can at least put together the forest for it!
This player used the river waterscaping tool to put a stream all around a rock pond, which looks totally gorgeous.
And with plenty of pine trees mixed around, this forest build uses pretty white hyacinths to break up all the brown and green.
When there isn't rain, I bet there would be loads of butterflies enjoying the scenery… probably just as much as you and your villagers!
3.

Forest Spa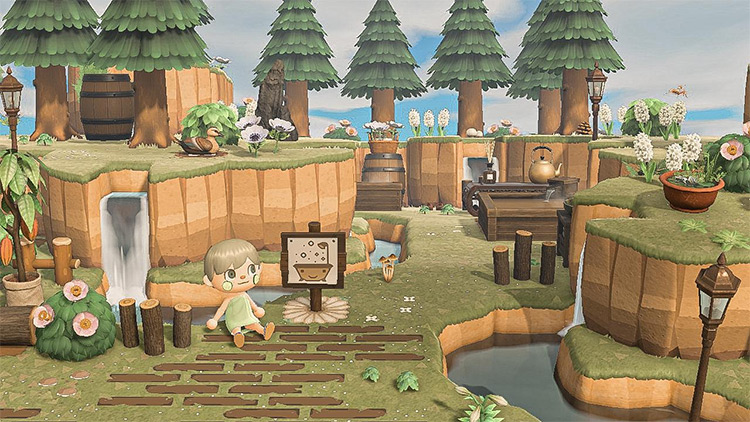 Even if you don't have a Japanese themed island, you can still have outdoor hot springs!
This awesome build uses a wood bath, tea kettle, and lots of flowers for an au naturel outdoor bath.
The custom sign is super cute, too!
Come relax in the hot water in the cooler days of spring, or work up a healthy sweat in the heat.
The sound of rushing waterfalls will help you feel even more zen.
Self-care, here I come!
Also, the duck on the cliff? Cute as heck.
2.

Pastel Forest Campsite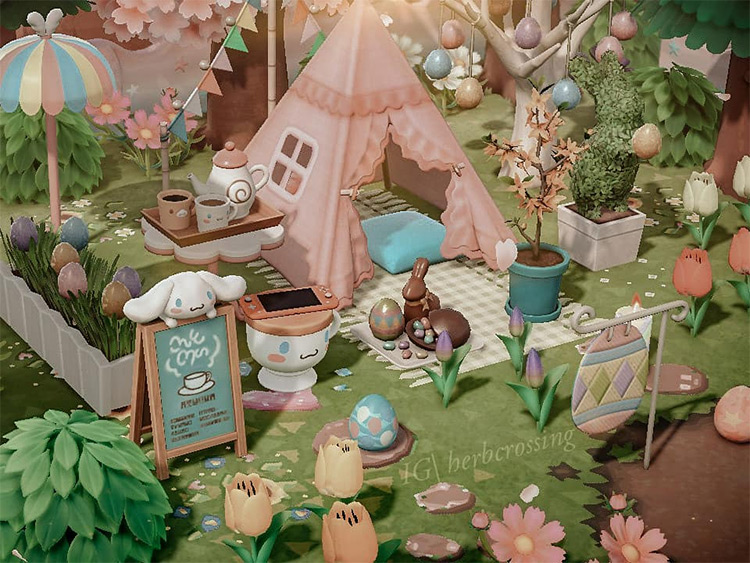 With forestcore themes, I find that players rely on a lot of muted colors. Browns, whites, greys, and greens.
Which are pretty and definitely work, but I am very much so a pink lovin' girl.
Enter this adorable campsite. Squee!
The Easter items, such as the bunny, eggs, chocolate, and tulips, help to add lots of detail and oomph to this cute campsite.
Take tea under the canopied tent, play some Switch (very meta!), or go for a stroll to look at all the dainty tulips. I love this build ~tulip~ much!
1.

Forest Writing Spot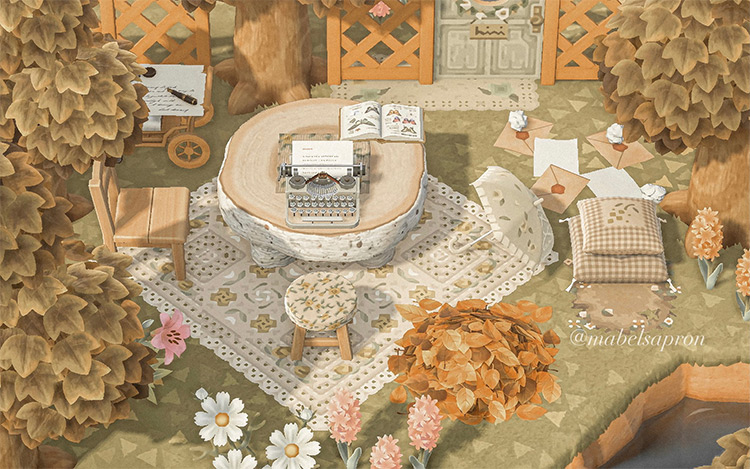 Here it is, folks: the ultimate forestcore build.
This quiet little writing spot has all the important criteria of forestcore: relaxing vibes, an old fashioned feeling, and a healthy dose of nature.
And lots of trees.
Check out the beautiful live wood table with mismatched, but still similar, chairs around it. And all the lace and old-timey things really help to make this a stand-out spot.
Even if you aren't a writer, you can't help but appreciate the effort and matching that must have gone into this idea.
Finding the items you want is hard. But finding the right colors? Sometimes that's next to impossible.
And if you're going for a true forest-y look, this spot would be the perfect place to invite your friends over and take super aesthetic photos. Highly recommend!
Browse:
Animal Crossing
Lists
Video Games