Sims 4 Biker CC: Jackets, Tattoos & More
This post may contain affiliate links. If you buy something we may get a small commission at no extra cost to you. (Learn more).
A lot of hobbies blossom into lifelong passions – and motorcycle riding is no exception.
It's easy to see how someone could get wrapped up in that.
Imagine being out on the open road, wind in your hair, free as a bird.
Well, some people don't have to imagine. And those people fuel the subculture that's very recognizable today. As for your Sims… well, it's a different story.
You'll need some good custom content to really give them the biker image. And fortunately there's no shortage of it out there.
From CAS and beyond, you'll never find yourself wishing you could have a biker Sim again. Let's make it happen – all thanks to the efforts of content creators.
1.

Mr.Mayhem's Tattoos + Scars Pack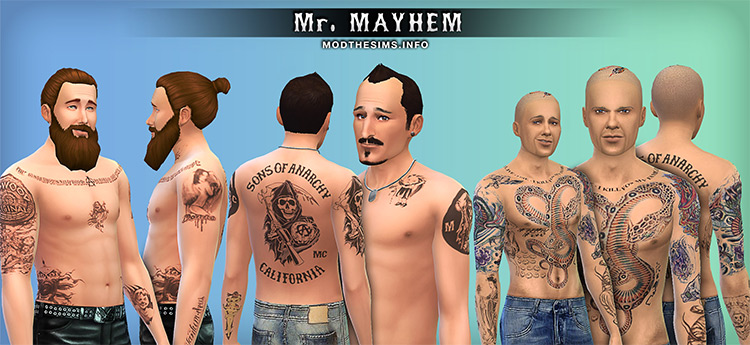 If you happen to be a Sons of Anarchy fan as well as a Simmer, then this pack will be pretty special to you.
Everything is taken right from the characters themselves, and in stunning detail.
But if you've never watched the show, then these tattoos and scars will still be perfect accessories for your biker Sim.
These offer some more customization than the tattoos we have in the base game.
Several of these will cover most of your Sim's torso with skulls, money, and tribal designs. Males and females alike can get tatted up with any of them on their arms and backs as well.
Now, not all bikers have scars.
But it's still a good way to add a little more edge to a Sim's appearance.
The facial scars here are fantastic and real, while still sticking to the Maxis Match look.
2.

Girl Gang Jackets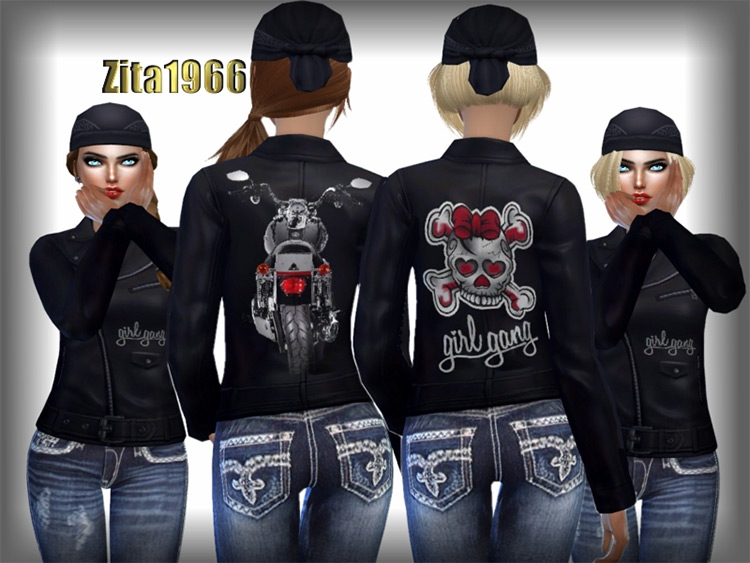 The rough, tough, leather-clad biker lifestyle is no longer just for the guys.
If you've got a female Sim who would feel at home on the back of her own hog, then this is the jacket she needs.
Not only is it an awesome, zipped up type, but the details are just as epic.
There are two swatches to choose from, and both will have "Girl Gang" on the front. Your Sim can take the girl power vibes with her wherever she goes, and do so in style.
One version has a motorcycle on the back, while the other has a really cool skull and crossbones patch.
There's no wrong way to wear a leather jacket. So you should have no problem giving your Sim a great outfit with this right at the forefront.
3.

Sittable Motorcycle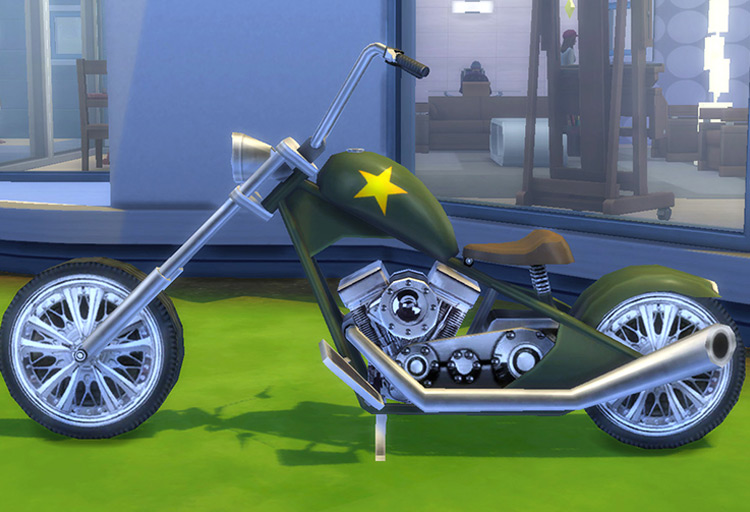 We could talk all day about stereotypes and whether all bikers like leather jackets and tattoos. I'm sure there's someone out there whose favorite riding outfit is a dress and heels. And I say more power to them.
But one thing that's pretty non-negotiable is that a biker needs a bike.
Only problem is that transportation is a fairly new concept to The Sims 4.
Most players were certain we were gonna be left without it forever, and then Discover University introduced bicycles out of nowhere.
So, we're on the right track. But past games also introduced new modes of transportation, like the motorcycles that came with Ambitions – which is exactly what you see here.
Esmeralda not only converted this bike flawlessly from The Sims 3, but they made it usable as well!
No, your Sims can get around on it… yet.
But they can use it like a seat. And you can at least enjoy the implication that they ride (and maybe take some posed photos too…)
It comes with several gnarly swatches that include flames in all sorts of colors, skulls, and more.
4.

Attention III Pose Pack
Poses are amazing. They allow you to portray all sorts of scenarios you otherwise would never get to see your Sims in.
Such as riding a motorcycle!
This is as close to the real thing as you'll be able to get until EA's developers actually make it possible in the game.
With these poses you can have your Sims sitting on the bike holding a helmet, lounging on the seat, doing a wheelie, and a whole lot more.
Several of these incorporate the "Sittable Motorcycle" listed above, which as a version specifically made so you can use poses. There are others you can find listed in the Description tab that aren't as typical for bikers as Esmeralda's conversion, but for The Sims 4, you aren't gonna find any better variety.
You'll be able to grab some really nice screenshots if you arrange the motorcycles and poses in the right areas!
On streets, beaches, and front yards at sunset are all good choices.
5.

Rambler Leather Jacket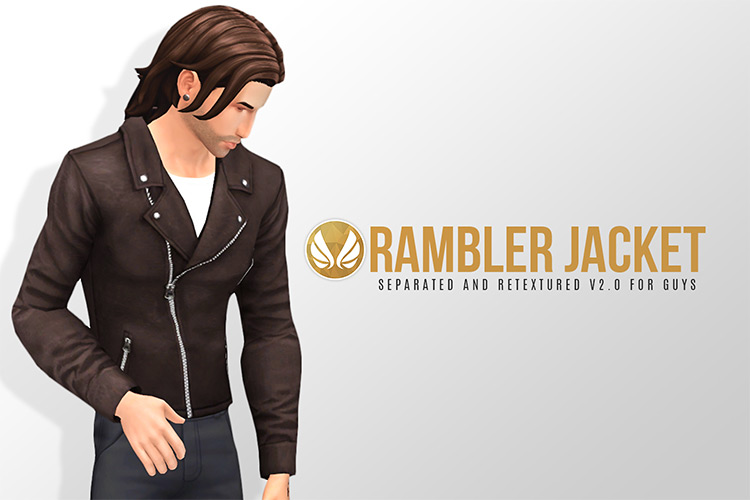 The Sims 4 has lacked good leather threads for a long time.
A great one came with the Vampires game pack, but it's forever linked with the dusty looking shirt beneath.
City Living brought us a nice one as well, but paired with a hoodie.
None of them quite achieve that simple but rugged feeling like Peacemaker did with this Rambler Jacket.
This is just separated from the base game outfit that kept it attached to leather chaps, and it got a little makeover with some texture edits.
As they say, the proof is in the pudding.
That's all this needed to become the ideal masculine jacket for your studly Sims.
These 10 swatches will offer some nice variation as well. Not only do you get the classic black and brown options, but shades of white, gray, and beige, too.
6.

WyattSims' Leather Jacket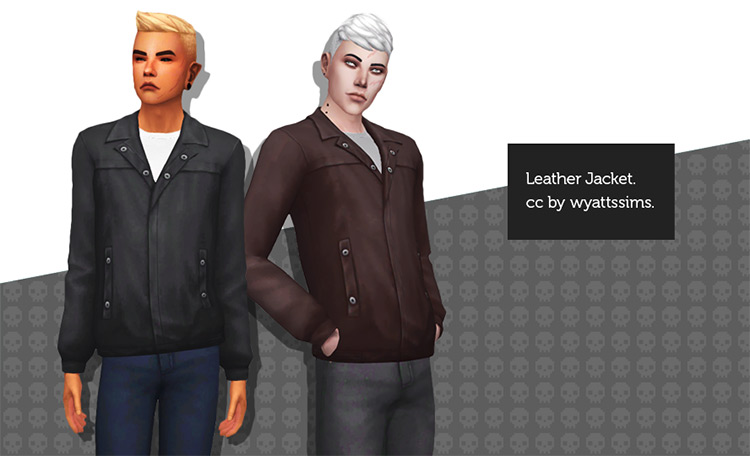 Here's a more relaxed style jacket, with a loose fit and old school design.
Something worth noting is that the creator brilliantly made it available for both hot and cold weather.
At last, your Sim's fashion doesn't have to be sacrificed due to the temperature. That's always the worst.
The simplicity of this one is what makes it so great.
It's very much a typical leather jacket, no frills or extras… and that's why I love it!
Sims of all ages can wear this day and night.
And you know what never goes out of style?
Leather, of course. It's not going anywhere until something equally cool comes along.
7.

Mathcope Biker Vest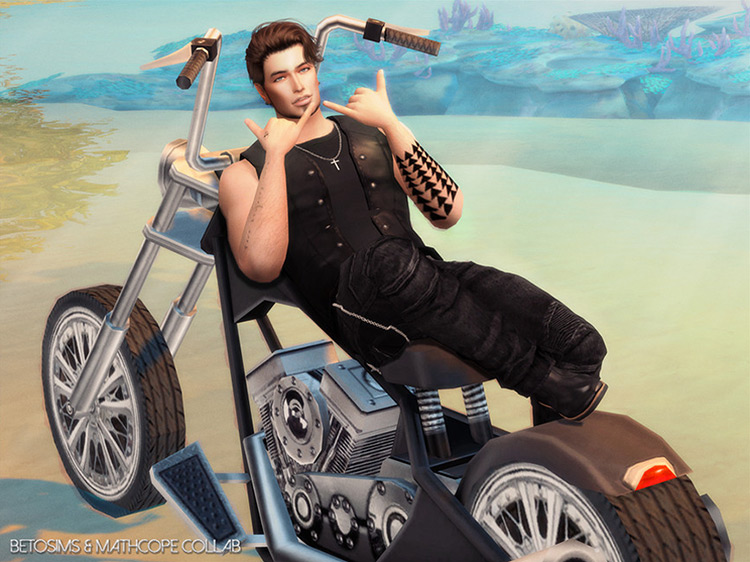 You know what The Sims 4 is lacking? (aside from functional vehicles)
Vests.
They're spectacular in so many ways. Back in the day, puffy vests were part of everyday fashion for teens.
And not much later, furry animal print versions were a staple of any girly girl's wardrobe.
Okay, so maybe they're not the most "in" thing right now… but they create a distinct look that just can't be achieved with anything else.
A dude will never look as wild and rugged as when he's wearing a vest and no shirt. I can't explain it, but it's something our Sims deserve.
This CC really does offer a fantastic design, with detailed stitching and a natural subtly-worn look to the leather.
You can fully integrate this into your Sim's wardrobe by layering it over accessory tops or letting it stand on its own.
8.

Wolfgang Sleeve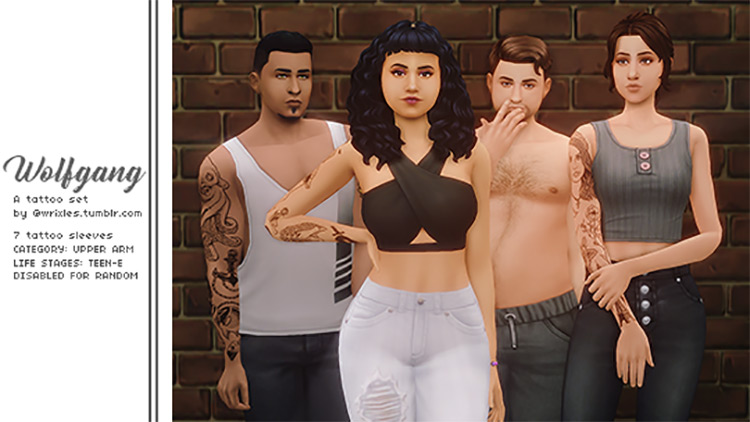 Real-life biker's tattoos probably have meaning most of the time.
But in The Sims 4 it's always just about your Sims looking cool.
There's a lot to be said for custom tattoos. Creators do a great job of making something that's really worthy of being on your Sim's body forever… although tattoo removal is a lot simpler in this game than the real deal.
Just a few clicks dictate whether your Sim is totally tattoo free, or covered from head to toe. Sleeves have always been my favorite tattoos in the game, because they get a lot done in a hurry.
Well these ones are available for both men and women, with a focus on dark artwork like skulls, eyeballs, snakes, and alcohol.
Standard biker stuff, ya know?
You can actually mix and match these to give your Sim two full sleeves. Now just imagine that paired with Mathcope's Biker Vest… whoo! They'll be the talk of the town.
9.

Mortimer Biker Pants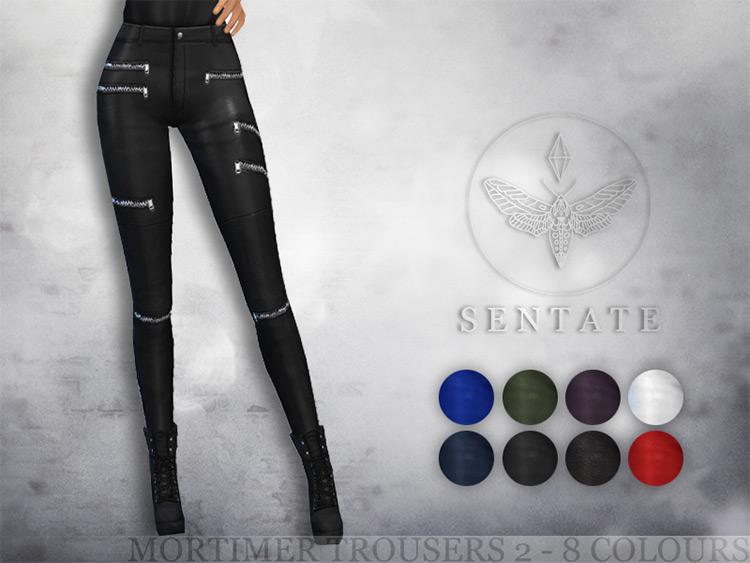 You may think bikers just wear leather as a fashion thing.
But as I recently learned, this all actually started out as a way to protect their skin from road rash in the event of an accident.
All this time I just thought it was part of the aesthetic.
But hey, as practical as leather is, it looks even better.
These super skinny pants not only have a fantastic, sleek leather texture, but several stylish zippers as well. A lack of pockets will never be a problem again for the Sim who wears these… even in the hypothetical sense.
They're bold, they're edgy, and they're just for the gals.
You can make some rockin' outfits for sure with these pants, which are pretty unique.
10.

Cropped Biker Jacket
A full outfit made of black leather is clearly a big part of the biker look.
But for a more modern twist, a few pops of color could be the way to go.
Here we have one last CC option for the gals – and this cropped sleeveless jacket is another reminder how creators can come up with some truly original clothes.
Sometimes all a jacket needs is to have the sleeves ripped off and the hem brought up a few inches.
Does that technically make it a vest? Perhaps.
But it's a worthwhile journey.
Sims have enough jackets, honestly. And not enough sleeveless items.
Your Sims can wear this on its own, or you can use some accessory tops beneath for even more layers of custom fashion.
Browse:
Lists
The Sims 4
Video Games