Sims 4 Maxis Match CC Dresses: The Ultimate List
This post may contain affiliate links. If you buy something we may get a small commission at no extra cost to you. (Learn more).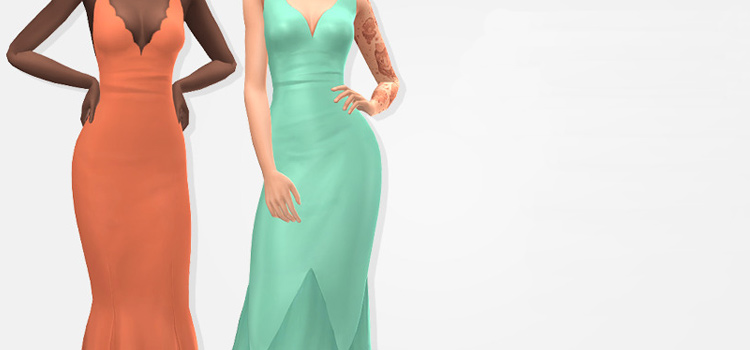 You don't have to be a fashion expert to know that when it comes to dresses, there's a lot to choose from.
Different lengths, necklines, styles, material… all of that and more has led to this being among the most broad types of clothing ever.
That's just as true for Sims as it is for us, so set them up right with this top-knotch collection!
1.

Crepe Midi Dress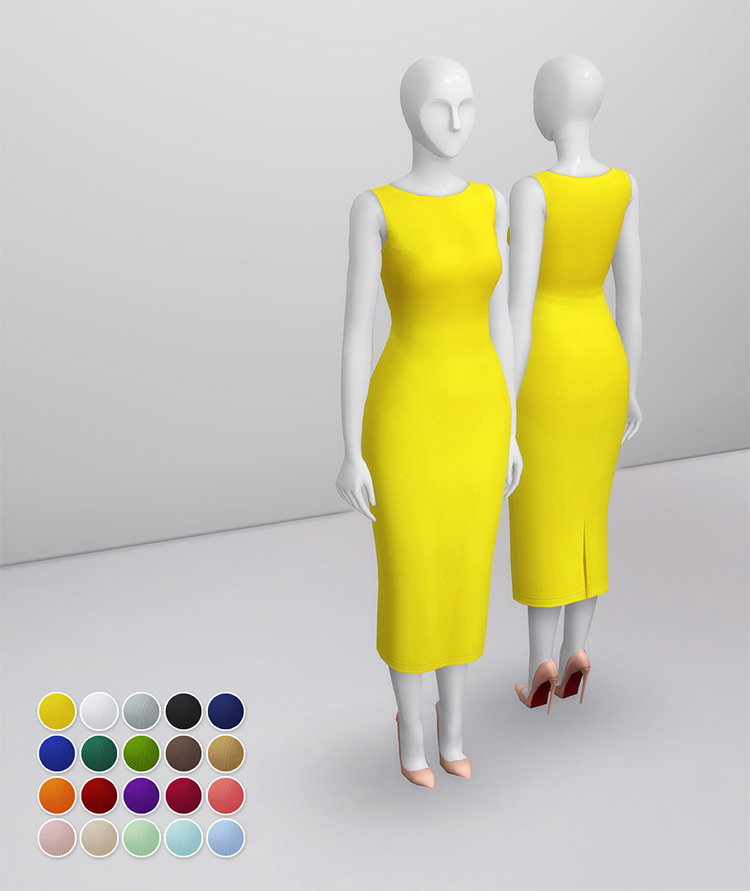 For something super classy and elegant, you may want to start with this gorgeous creation from Rusty. I totally get Kate Middleton vibes, but your mileage may vary on that.
It'll work for everything, from more upscale everyday ensembles to formal events.
2.

Off-Shoulder Midi Dress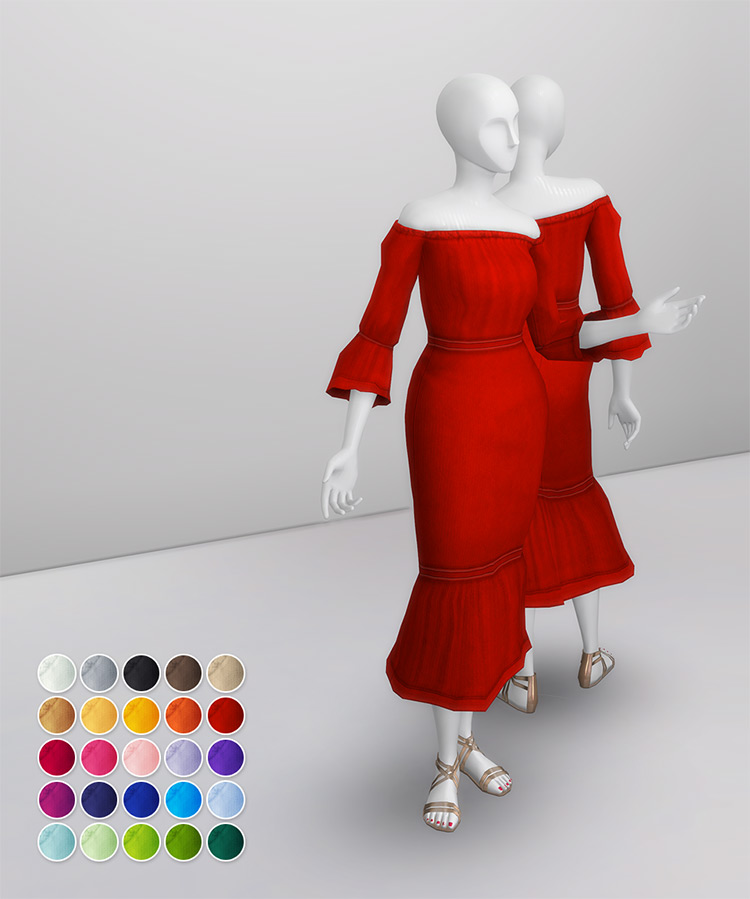 One look at this stunning dress and you're sure to be envisioning your Sim in a cute pair of sandals and a nice necklace, too.
This just screams "summer" and the 25 bold swatches support that. All of them are solid colors, so you'll have plenty no matter the occasion.
3.

Tina Mod Dress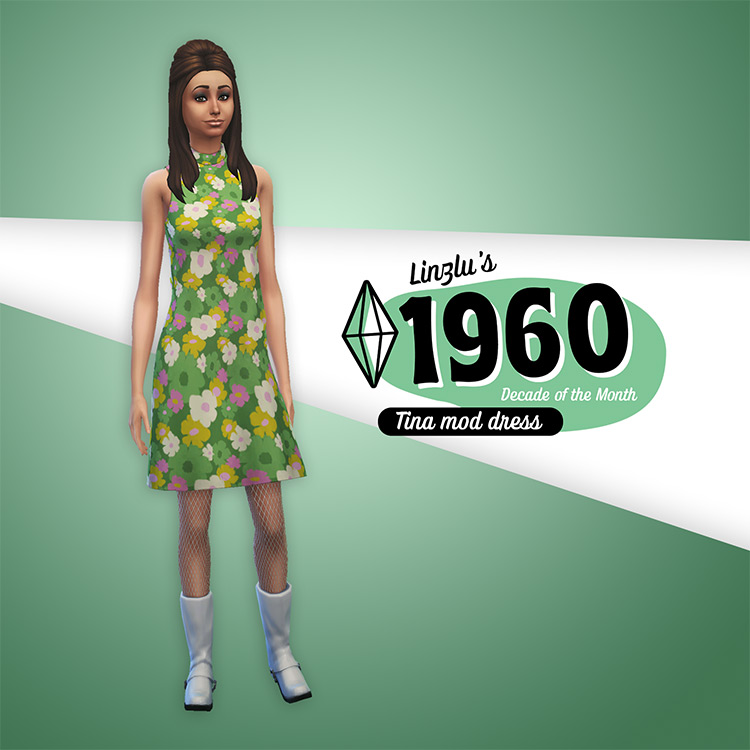 With or without a trippy floral print, the cut of this dress is iconic.
Some Go-Go boots might seem like the obvious choice to pair with this, but you can easily modernize the look with a chic hairdo and some heels.
The retro patterns are amazing, but there are a few more subtle options, too.
4.

Strappy Summer Dress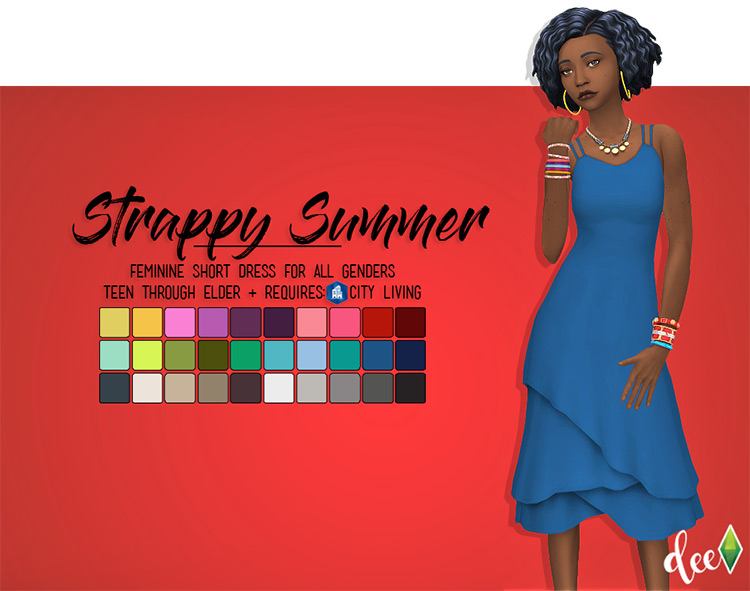 Your Sim's summer probably looks a lot like your own. Barbecues, hanging out with friends, maybe a road trip.
Whatever their calendar looks like, something comfy like this casual dress is the perfect choice. It's like a super extra long tank top with ruffles!
5.

Overalls Dress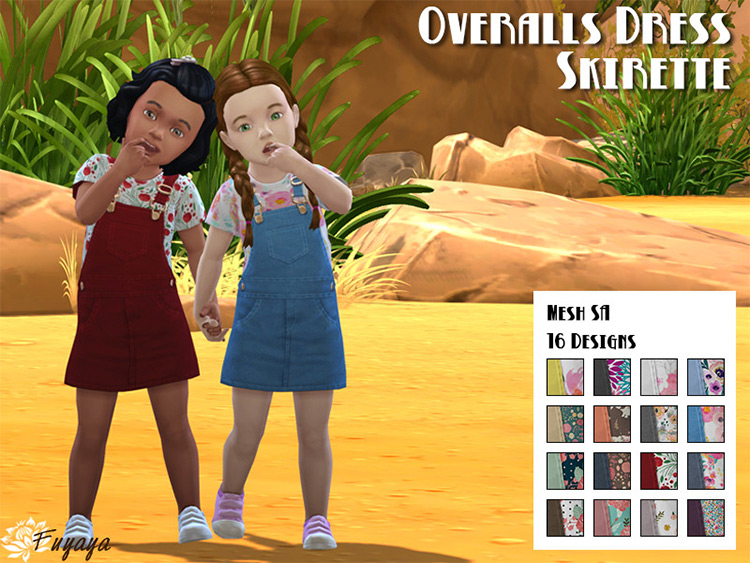 Overalls on a toddler are already insanely adorable, but an overall dress? This is almost too much! No one who's still being potty trained should have this much style!
Okay, that's not true. They totally should, and you can't go wrong with this floral and denim combo.
6.

Rosee Dress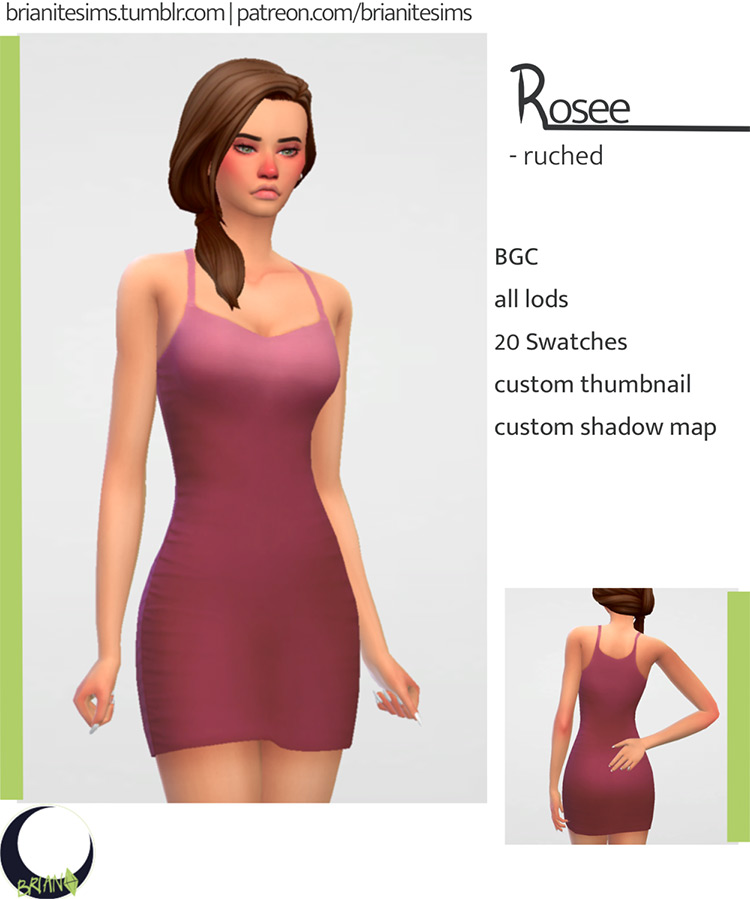 For date nights and going out on the town, your Sim needs this saucy dress by BrianiteSims.
It will be a breeze to accessorize or you can go light on that front and let it speak for itself. Either way, your Sim will definitely stand out.
7.

Peach Silk Gown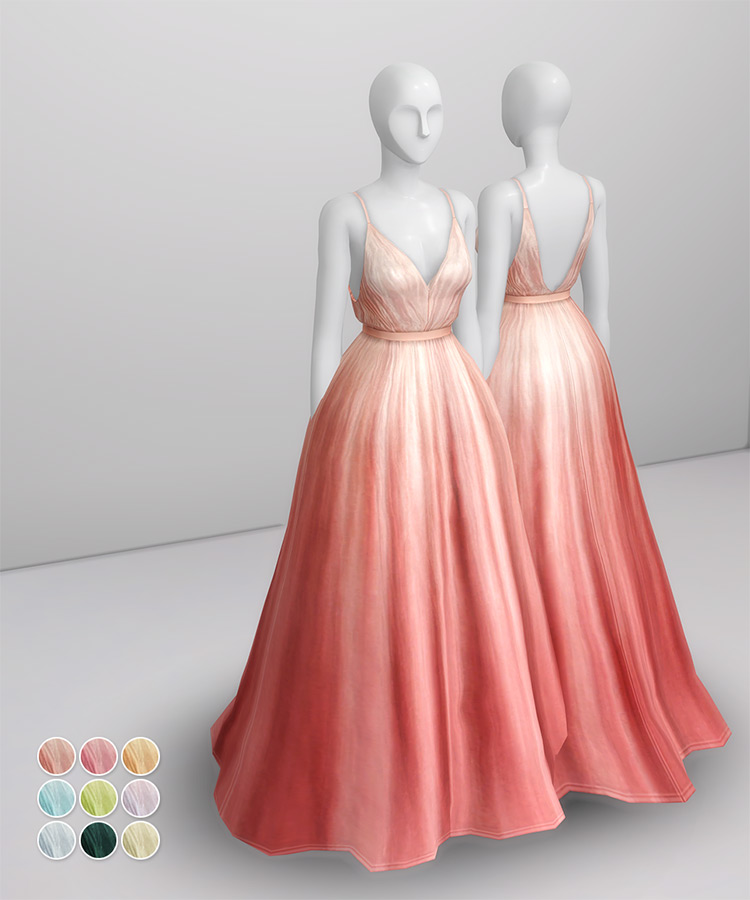 I come back to this magnificent gown time and time again.
The designer inspiration is clear not just in the quality, but in the style.
You don't see color blending like this often and it's truly a sight to behold. Your Sim will be the star of any formal occasion.
8.

Nik's Dress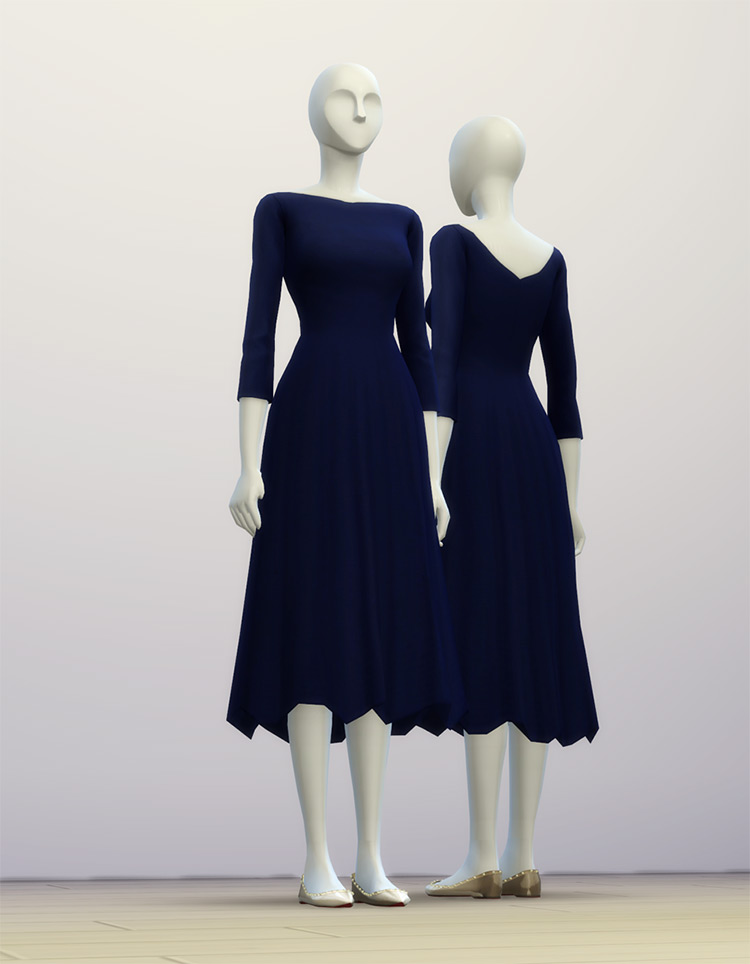 Despite being incredibly elegant, this does have a casual feel. The long sleeves and length make it a nice fit for the colder seasons.
There's definitely somewhat of a vintage vibe, especially with the flower patterns, but that's never a bad thing.
9.

Dakota Dress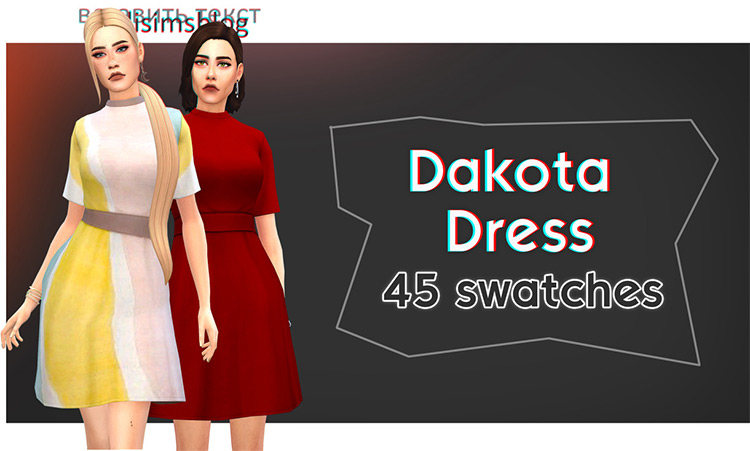 For something a little different, you've gotta grab this unique t-shirt dress. It'll be flattering on all body types, and the belted waist really adds something special.
Oh, and there's a whole boatload of swatches. There's truly something for everyone!
10.

Mary Sue Dress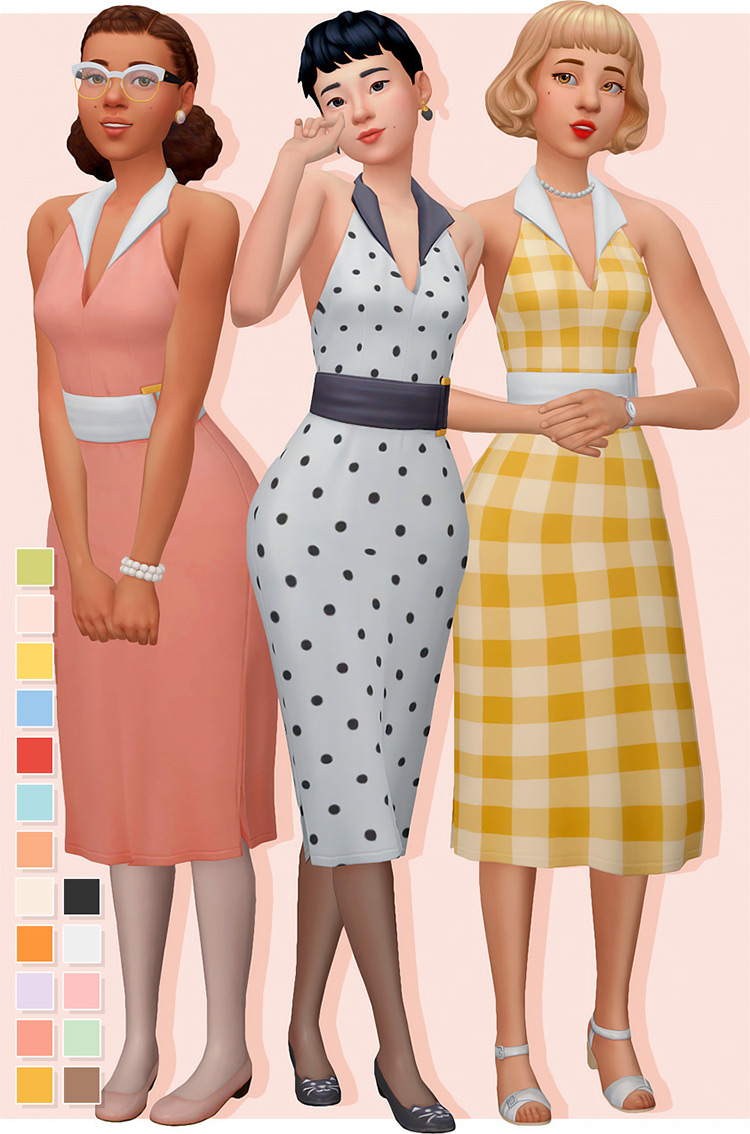 With a name like Mary Sue, it should come as no surprise that this is another vintage-inspired piece.
The collar? The belt? Plaid and polka dot swatches?
I'm obsessed, honestly, and I'm sure any Simmer who likes retro fashion will feel the same!
11.

Sparkle V-Neck Maxi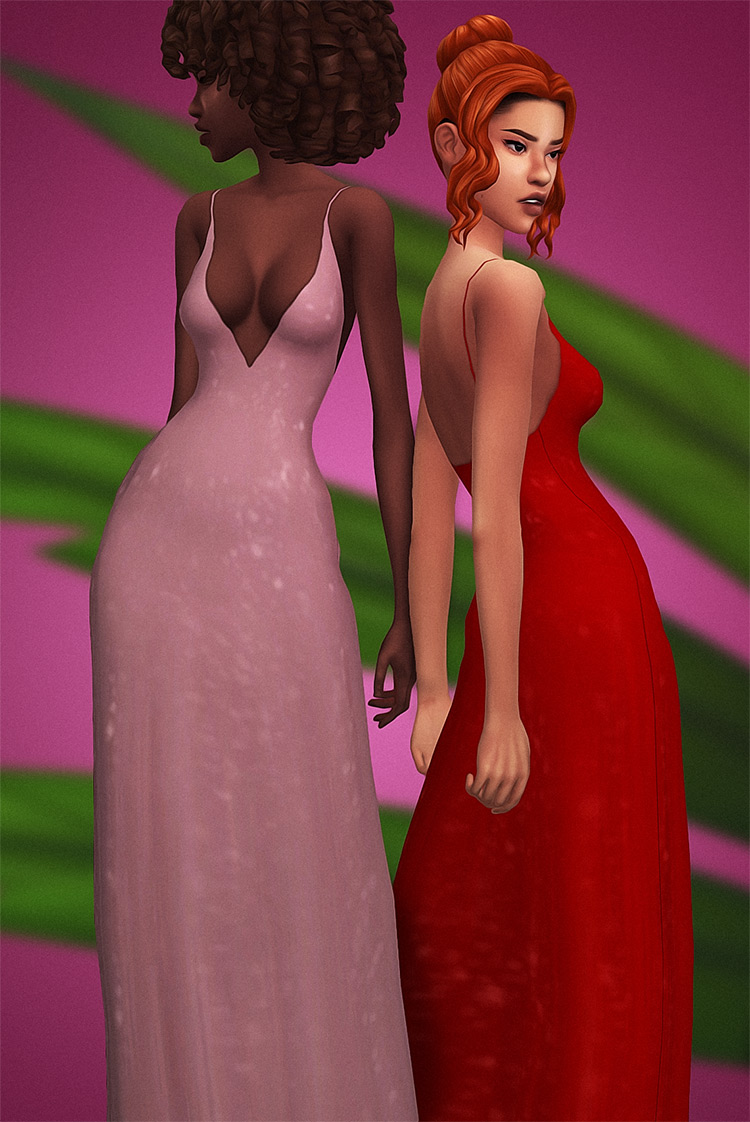 Oh. My. Gosh. There are sparkles, guys!
If there's anything The Sims 4 has got to have more of, it's this. It's just such a fun look, especially on a maxi dress. The glitter just seems to go on and on.
12.

Stella Dress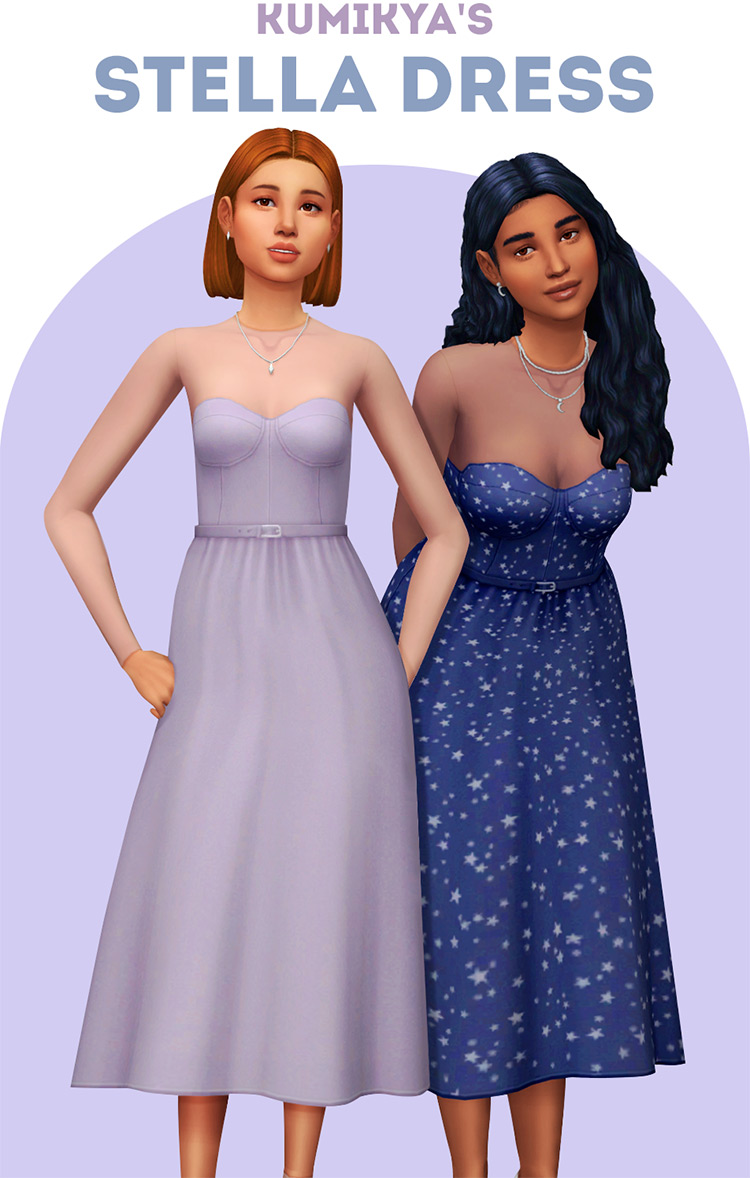 No straps? No problem.
In fact, that might even add to the allure of Kumikya's mid-length creation.
The simple belt in the middle really brings everything together. Whatever you have in mind, be it everyday outfits or formal ones, most of the 20 swatches will work both ways.
13.

Daria Dress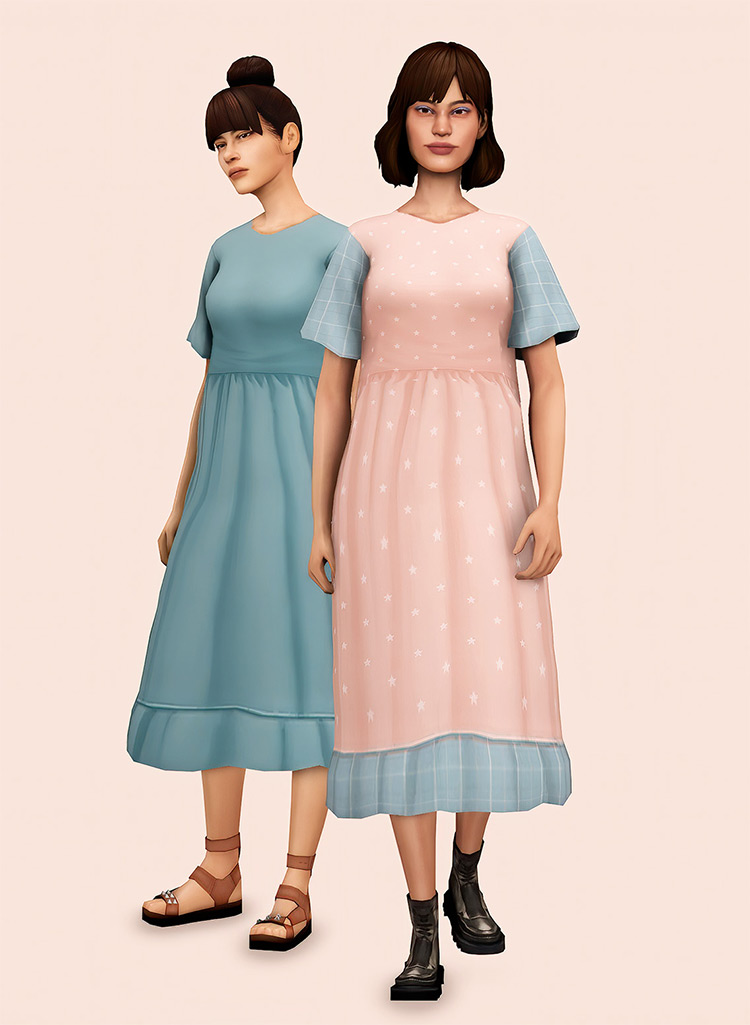 Smock dresses have such a recognizable look.
It's one of originality and stylishness, which this real life-inspired design shows well.
It will really be a unique addition to your game, especially since each swatch is completely different.
14.

Square Neck Dress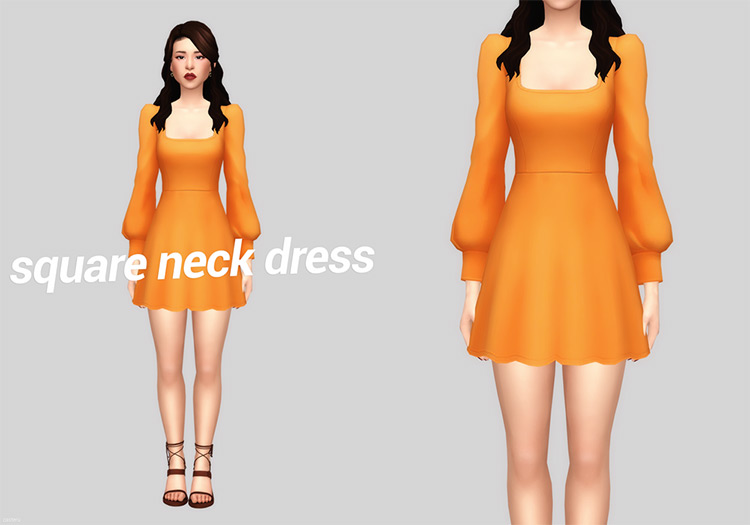 If it's not the bold, rich colors that catch your eye with this one, the poofy sleeves will do it. They're really cute, and so is the scalloped hemline.
The square neck cut also will allow for some necklaces if you like your Sims to have accessories.
15.

Satin Dress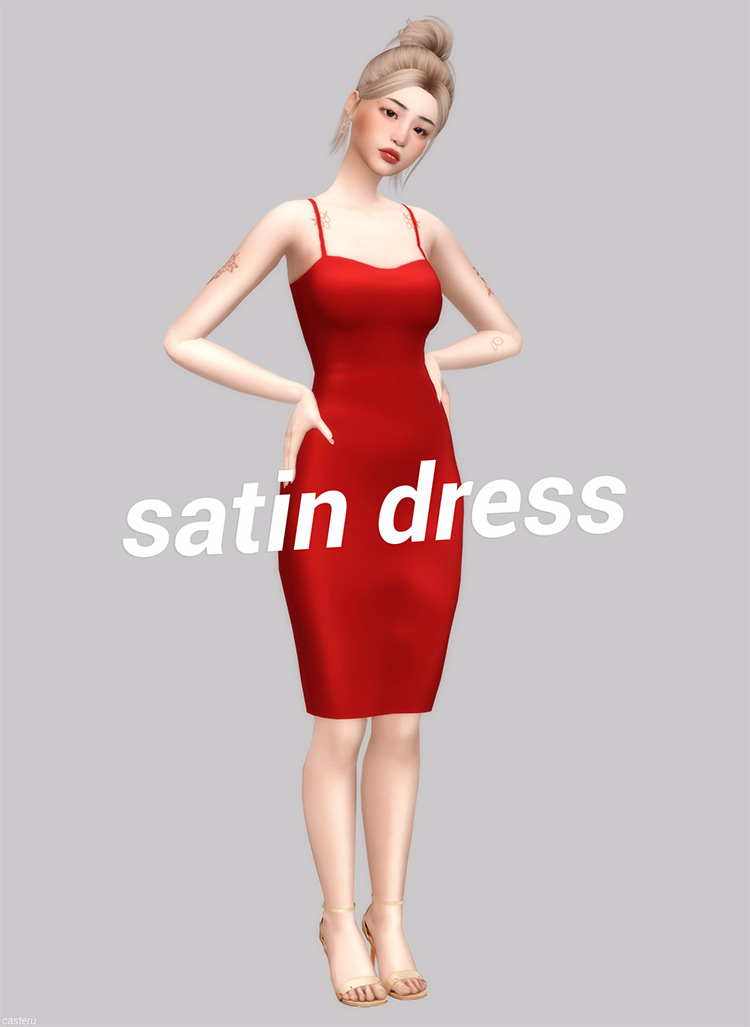 Satin is synonymous with sophistication and that's plain to see here. The texture really makes this one, since there's no mistaking that silky smooth material.
It may be a simple look overall, but any Sim who rocks it will be absolutely breathtaking.
16.

Renata Dress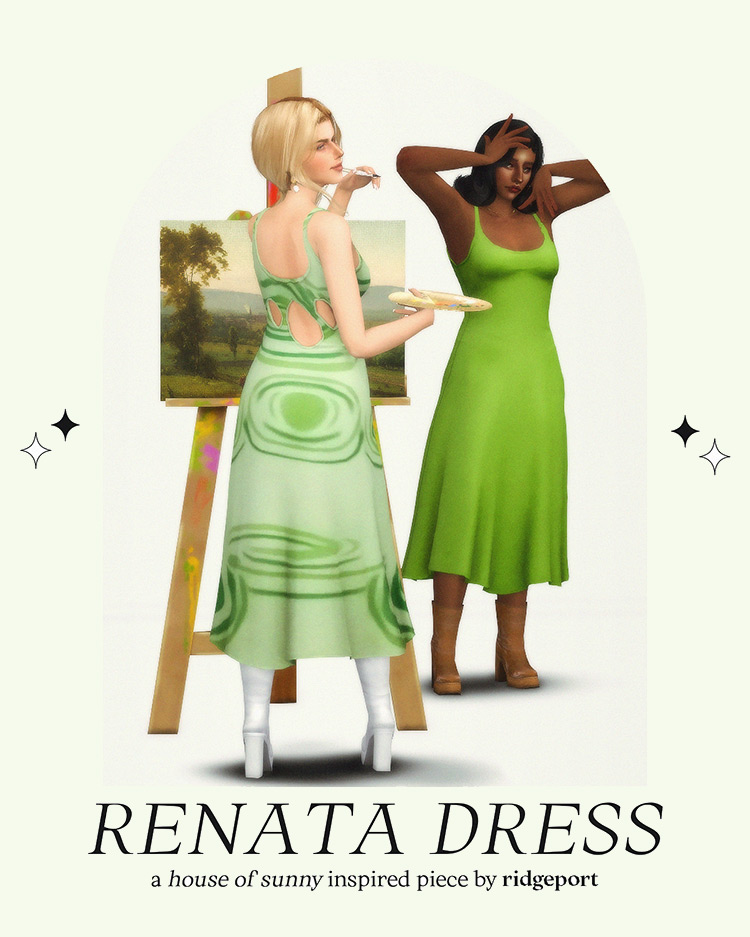 Calling all vibrant color lovers! You will adore this dress and the 18 different bold options that come courtesy of Twikkii's Hot Date Palette.
All the basics are here, plus striking shades of pink, red, blue, and green.
17.

Ribbon Sweater Dress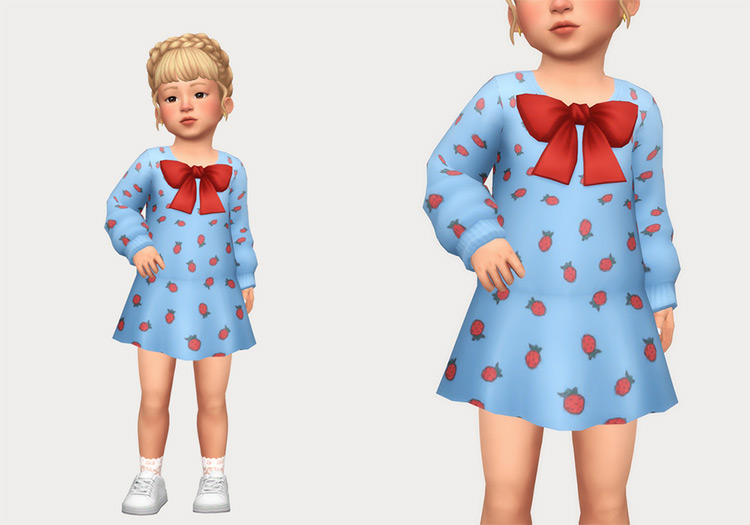 Your littlest Sims will melt your heart in this sweater dress.
As if the big bow isn't precious enough, many of the available options have a strawberry print, which is just lovely.
Plaid, polka dot, and flower designs are also included. And the sweater texture just seems so cozy!
18.

Layered Dress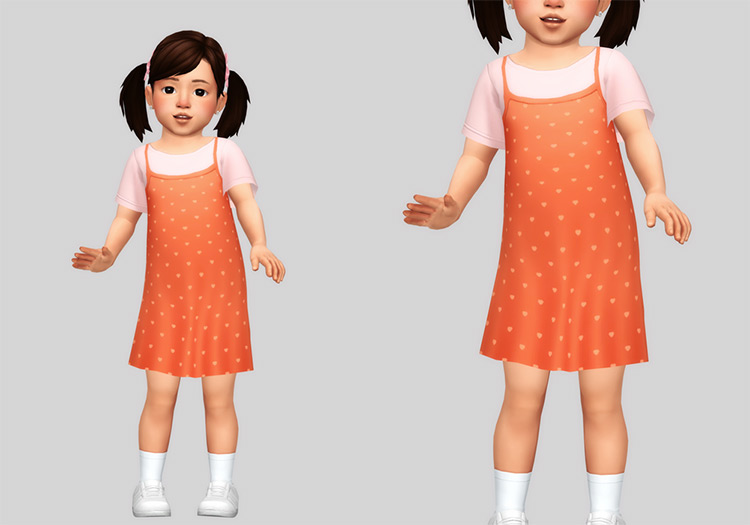 This super casual t-shirt and dress combo is honestly a must-have if you'd like your tots to have something new. Doesn't it look just perfect for play time?
Each swatch is so vastly different, it will really be like you're getting 30 new dresses.
19.

Miri Dress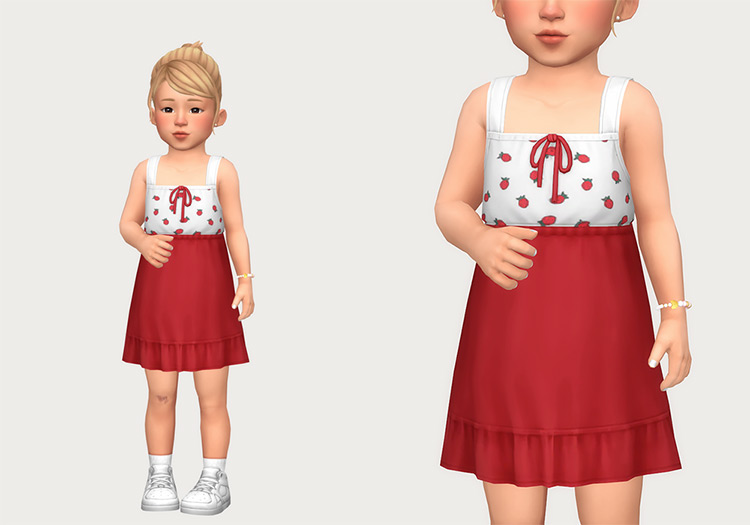 Casteru is a creator who always goes all out with the details, and their Miri Dress is a prime example. From the ruffled hem to the small ribbon, this is nothing but adorable and unique through and through.
It's another one with a lot of variation that just seems perfect for the everyday toddler.
20.

Ribbon Gown For Kids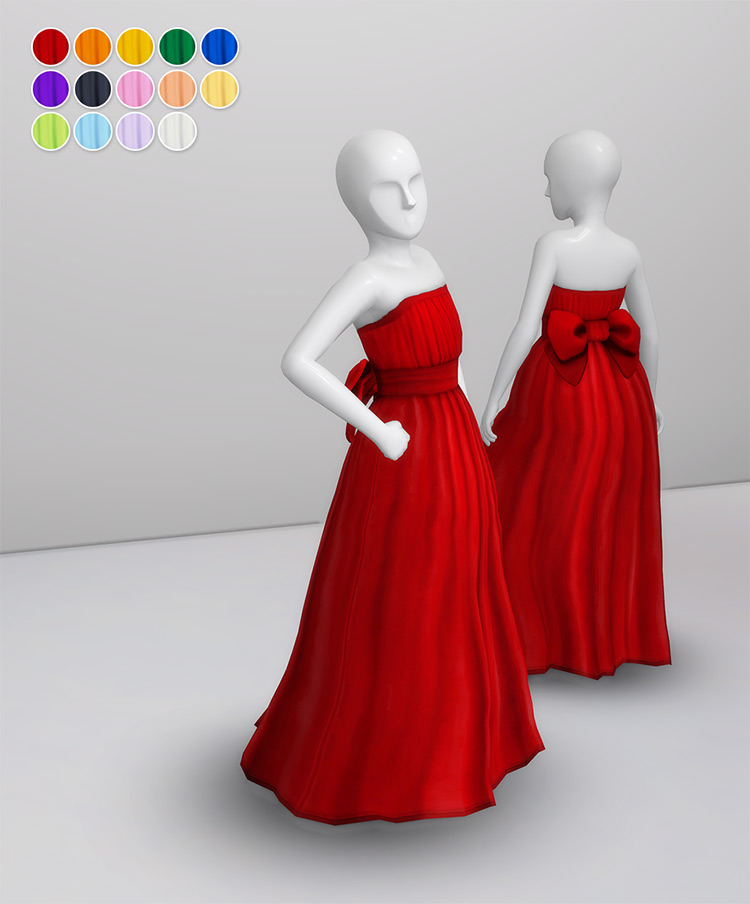 Here's something to upgrade the formal wardrobe of your Sim's kids. This big, incredible gown will make anyone look like a princess.
The large bow on the back makes it even better and all 14 of the color options will work for weddings, fancy dinner parties, or whatever else the kiddos get up to.
21.

Evelina Dress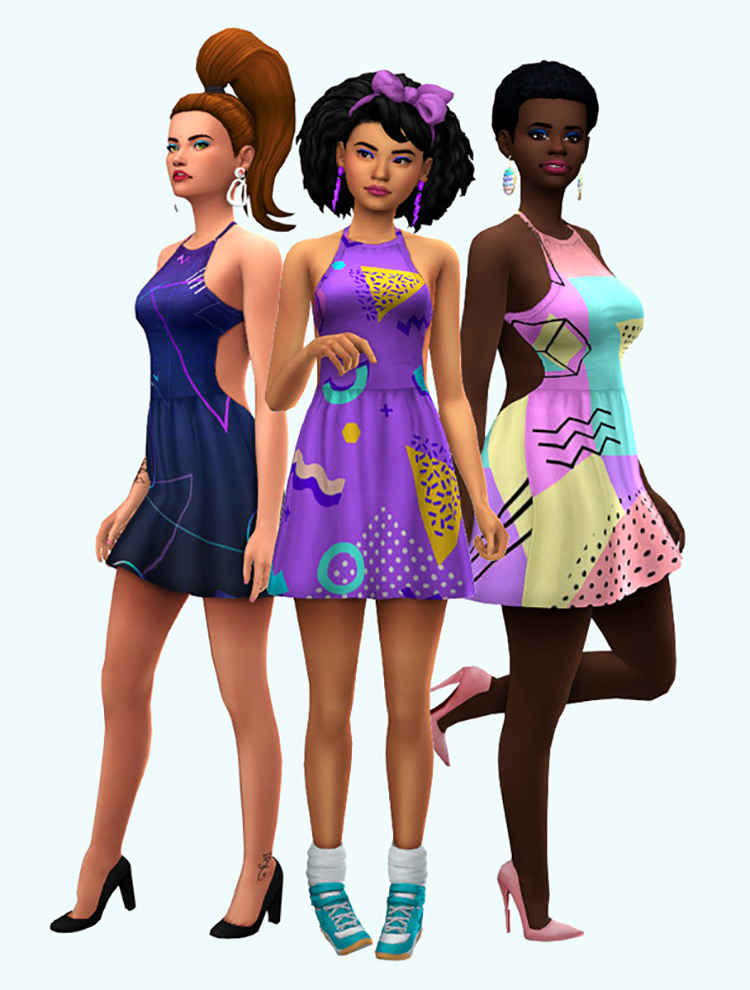 The Stranger Things vibes are off the charts.
These busy, in-your-face '80s and '90s patterns are a must for any retro loving Summer.
They'll really stand out, since you don't see designs like this much anymore. But that's tragic, so let's bring it back!
22.

Emma Dress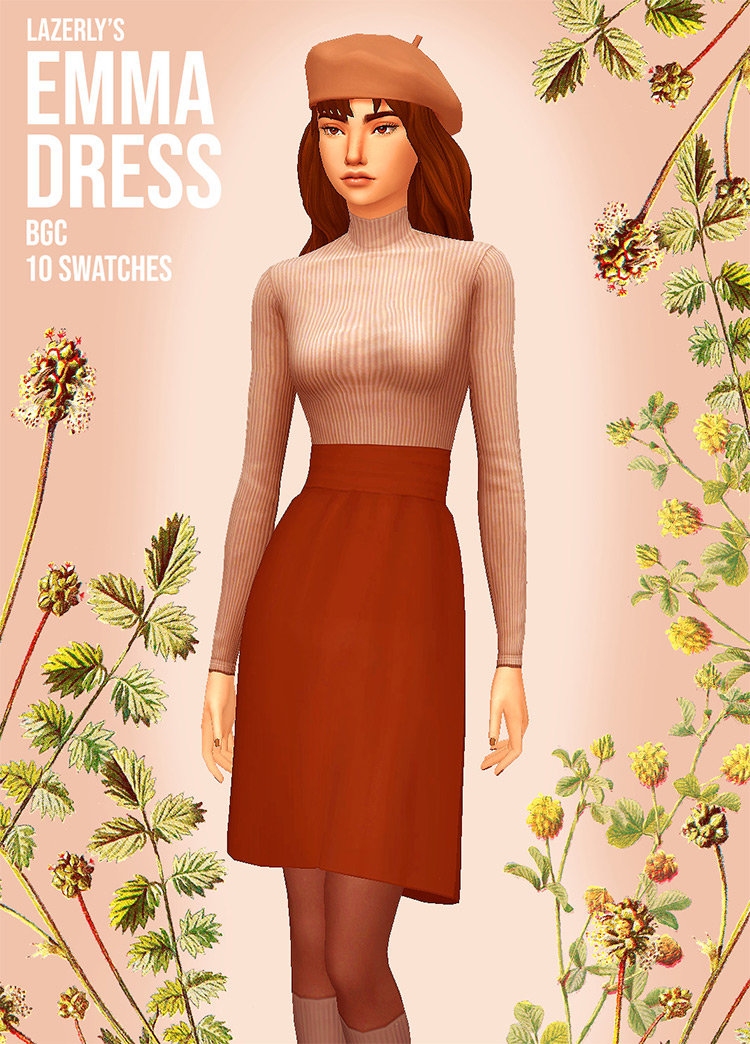 Anyone who's ever struggled to figure out what sweater goes best with a skirt, and vice versa, will be glad this is simply an outfit.
It's very autumn and looks so wonderfully cozy. Add some tights and boots, then your Sim will really look the part.
23.

Addy's Dress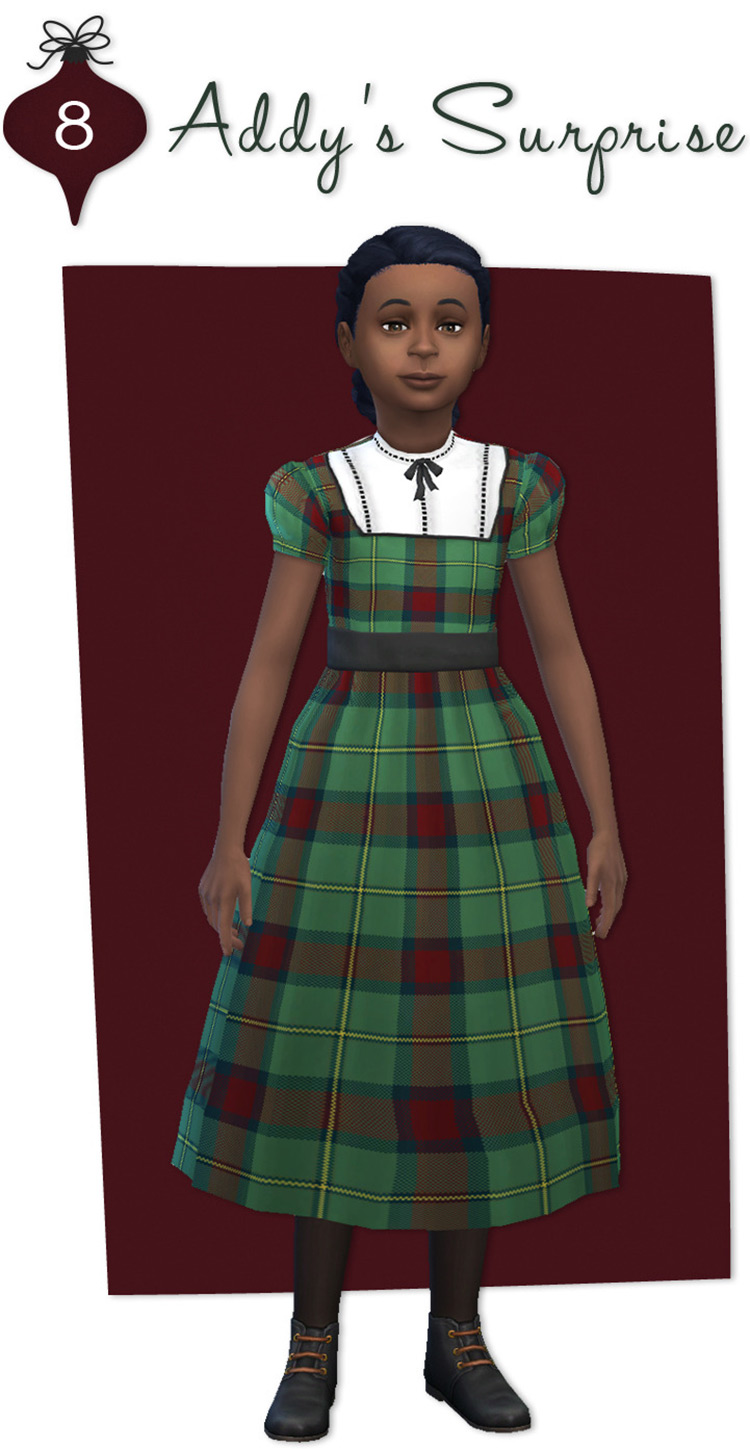 Addy, the American Girl doll this dress was based on, was supposed to be from the 1800s. So this may not be the chicest of options, but I think it's actually really cute for WinterFest.
I mean, one of the plaid swatches is green and red. That's just begging to be worn with a Santa hat!
24.

Bloome Gown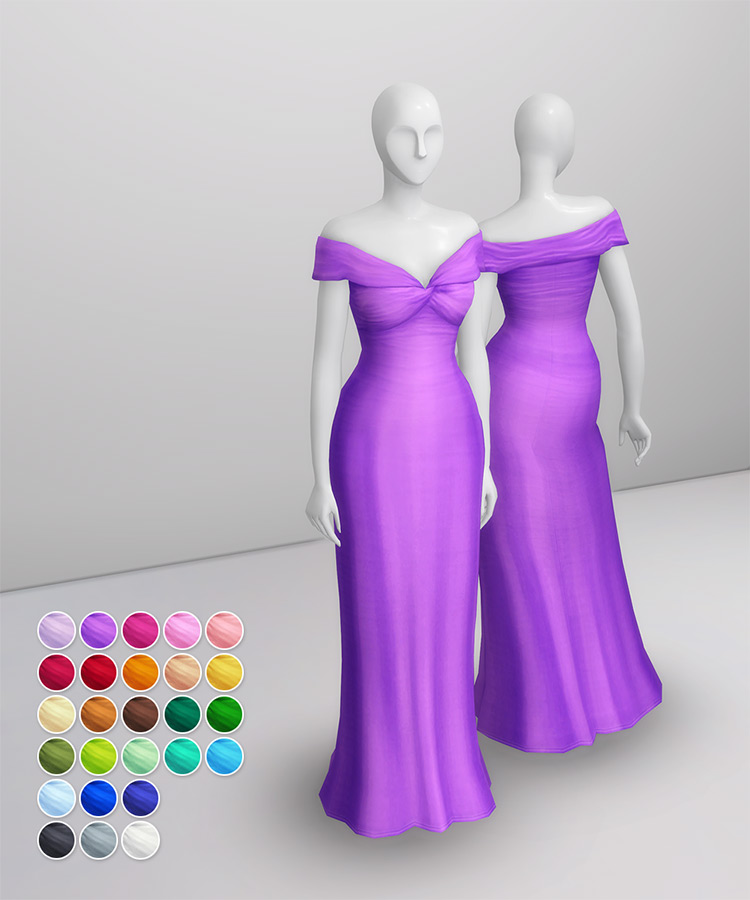 The unique, overlapping effect at the top of this is the perfect way to start such a gorgeous gown.
It's super long and the detail of every inch is just so impressive. The wrinkles, shadowing, and material texture are truly awe-inspiring.
25.

Dotty Dress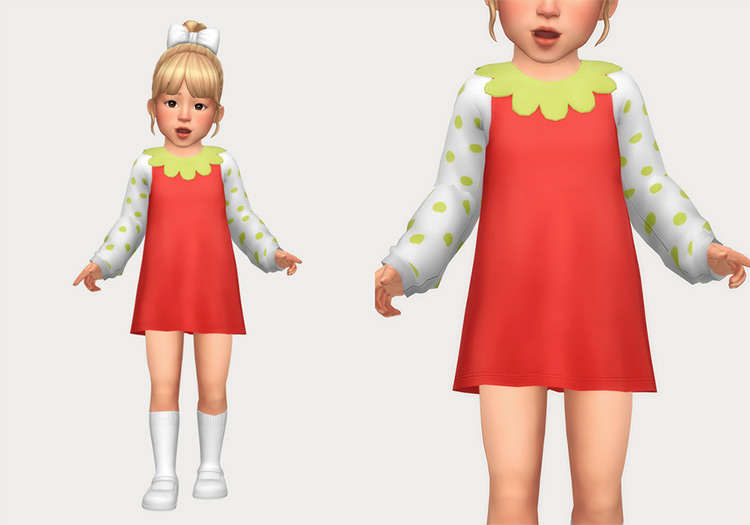 It's the collar of this toddler smock dress that sets it apart, thanks to the leaf-like appearance. So unique, and even more adorable!
Although the colors may vary, each swatch features a dotted pattern on the sleeves.
26.

Love Spell Dress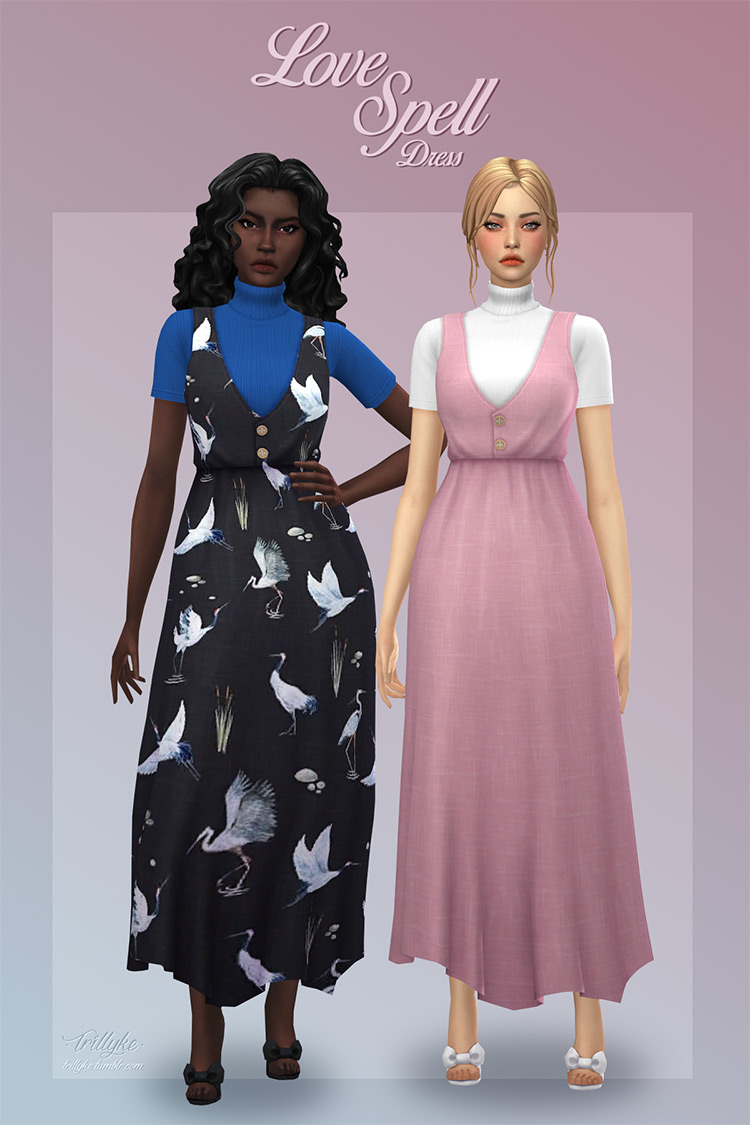 Here's a layered dress for adults. This pairing of a short sleeved turtleneck sweater and a long dress is one you won't want to miss.
It just looks so unbelievably good, and the swatches only make it better.
27.

Fleur Dress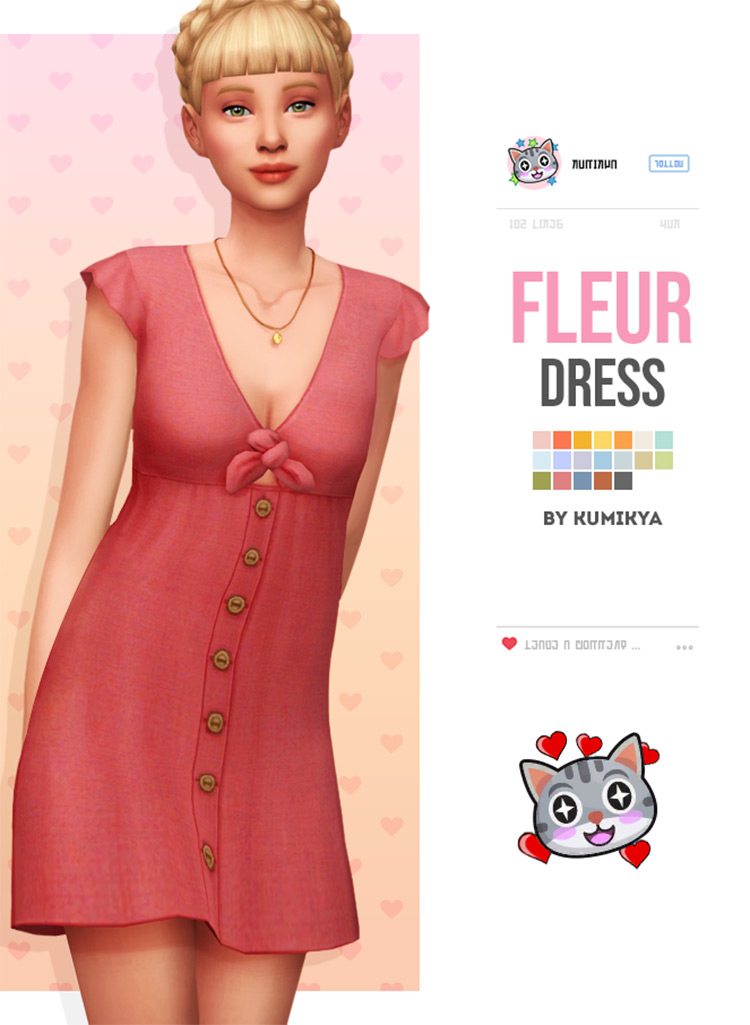 This cute little dress from Kumikya is perfect if you're wanting to expand your Sim's spring and summer attire.
The low cut neckline leads to the cutest little knot, and the entire front is fastened with buttons. It doesn't get much more chic than this!
28.

Papillon Garden Dress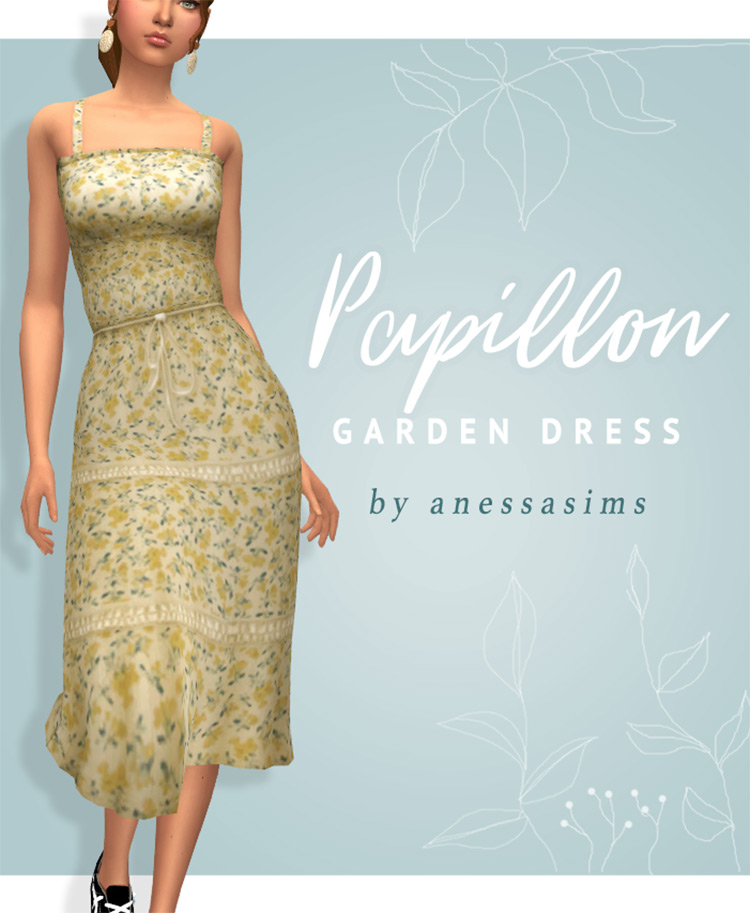 Maybe it's just the small floral print, but I'm getting cottagecore vibes.
And there's nothing better than that!
The lowkey design makes this ideal for the laidback days of spring and summer. Best of all, it'll suit Sims of all ages, from teens to elders.
29.

Mircarah Gown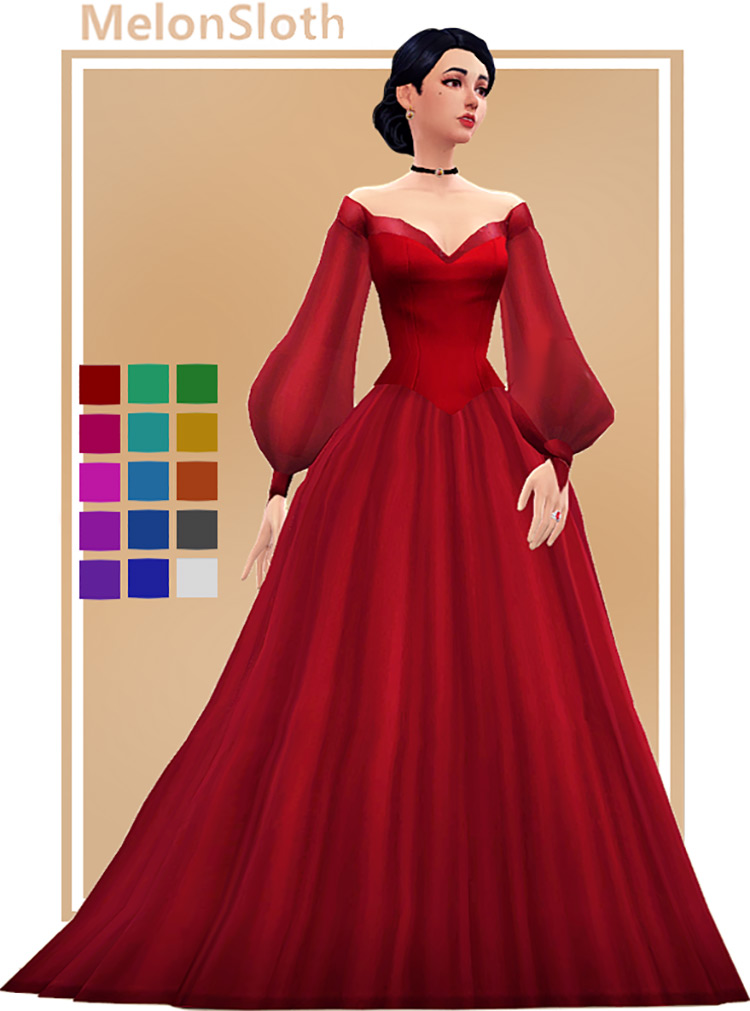 Sure, this is a fun everyday outfit… assuming your Sim is related to the Landgraabs.
For most saves, you'll want to reserve this super fancy gown for special occasions. There's no doubt that it's straight up gorgeous, though!
30.

Rachel Dress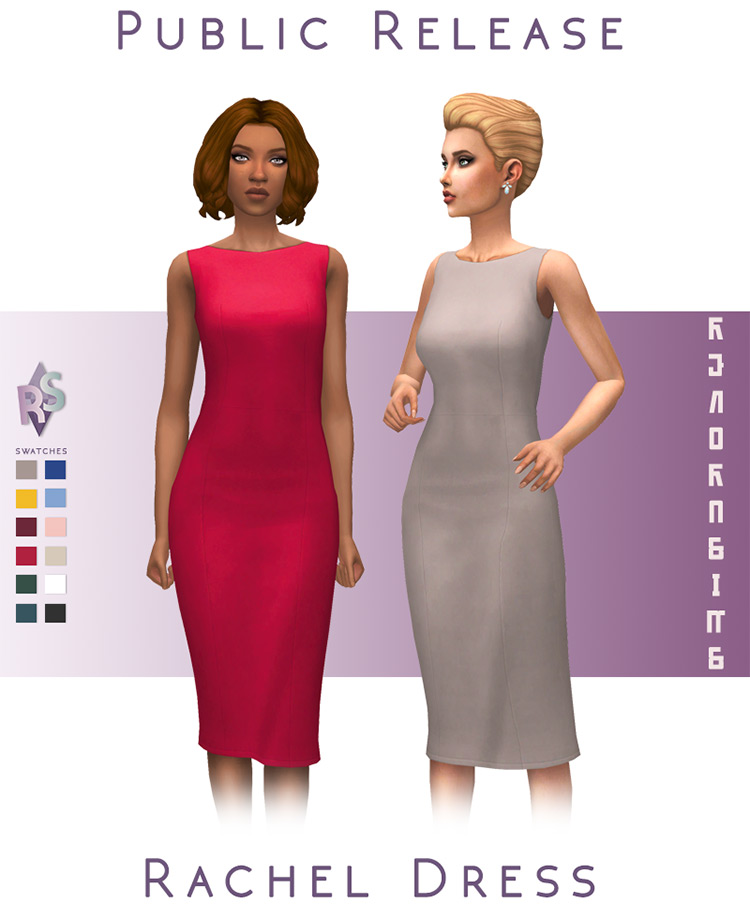 There's no question about the royal inspo this time. RenoraSims herself confirmed that it's based on one worn by the Duchess of Sussex herself.
So if you'd like to bring the same sophistication and elegance of royalty to your game, this is a good way to do it. The color palette is awesome as well.
31.

Celeste Dress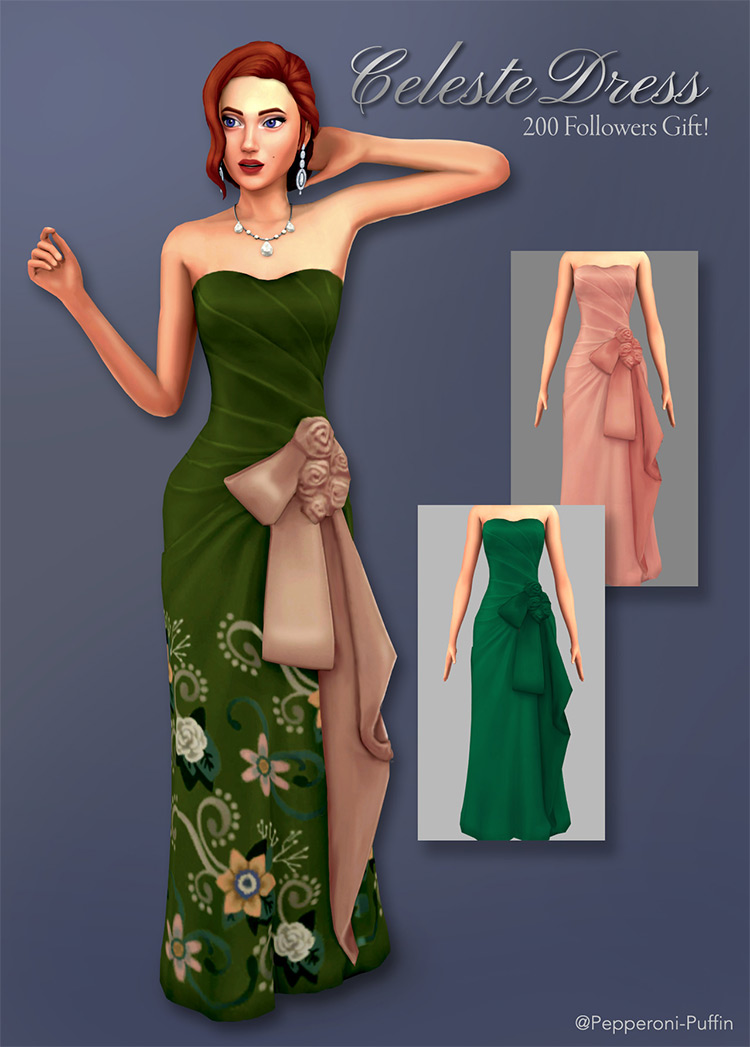 Pepperoni-Puffin has really got the whole package here. Her Celeste Dress is unique, with classy strapless design and a big, bold bow.
But it's not just any bow… it's partially made of roses!
Now that's something new to Sims.
32.

Gardenia Dress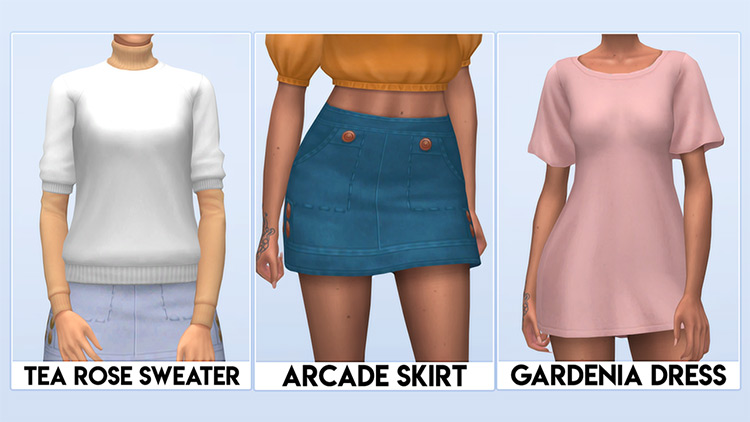 A lot of great stuff can be found in this mini CC pack, but it's the Gardena Dress that made it into this collection.
More or less, it's an oversized t-shirt. So this is one way to make something seemingly oversized more fashionable than anyone could've imagined.
33.

V-Shape Midi Dress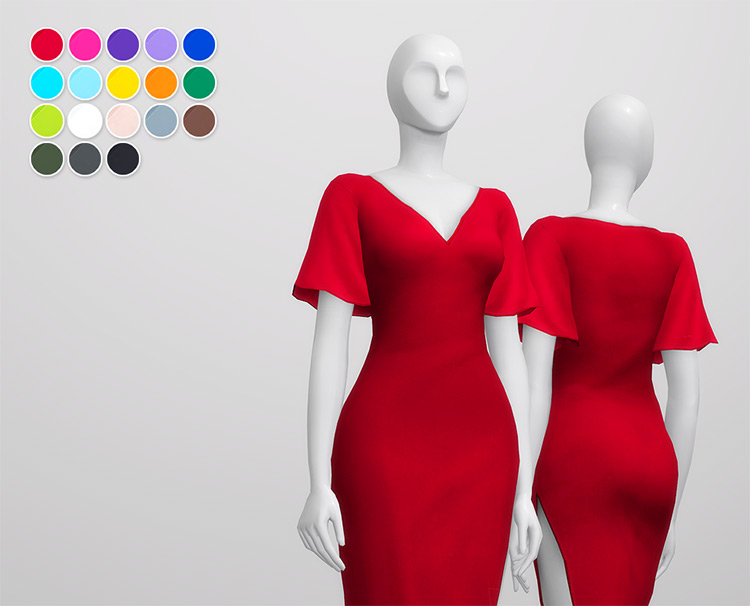 If your Sim has curves, nothing will accentuate them quite like Rusty's form-fitting midi dress.
The v-neck and slightly baggy sleeves really pull the whole thing together. When you're after a more mature look, this one won't let you down.
34.

Walk On The Wild Side Dress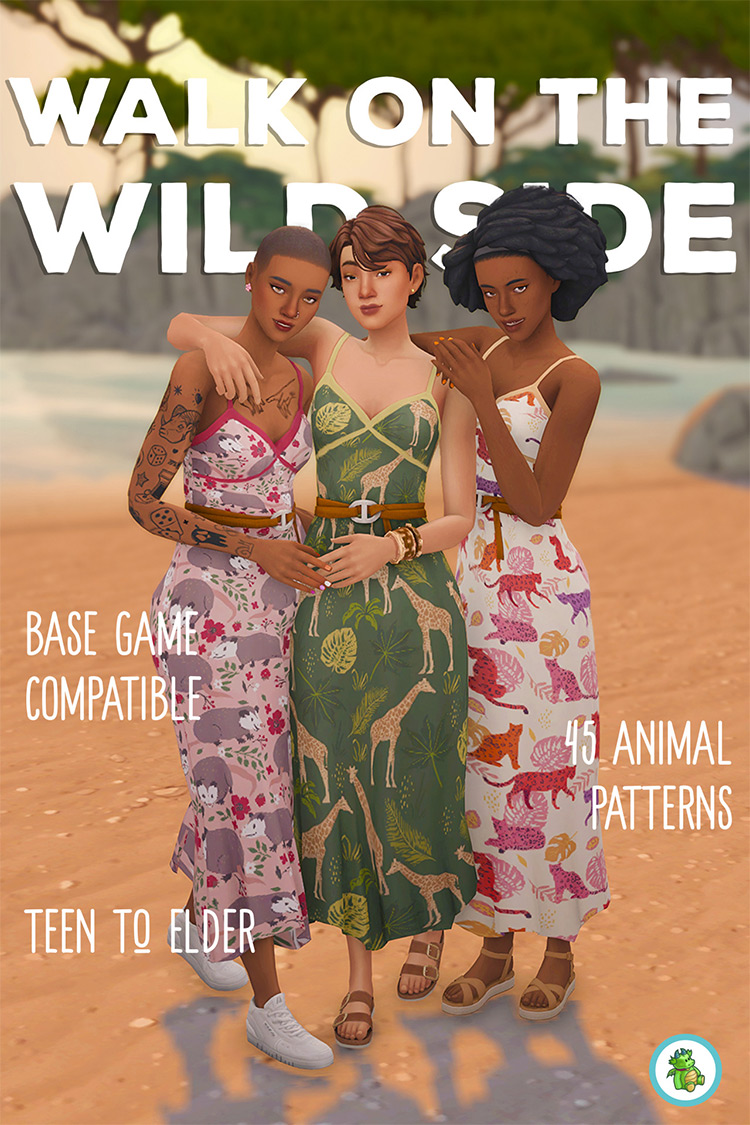 Who says clothes covered in cute critters are only for kids? Well, I don't know. But it's nonsense.
Any animal lover is sure to love these 45 animal-themed swatches. That's right, almost four dozen options including giraffes, possums, bears, birds, and much more!
35.

Mushroom Masky Dress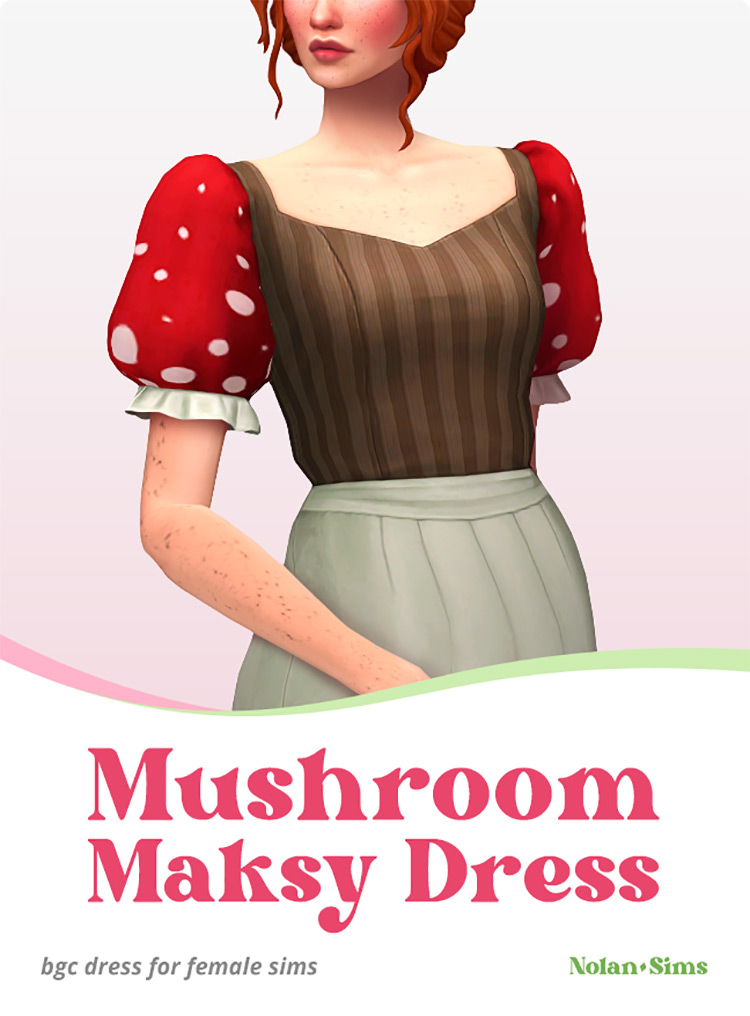 I've said it once, I'll say it again.
Cottage. Core.
Those two words have really had a grip on Simmers for a while now and it's easy to see why. All of the trademarks are here, like practical pockets, some subtle ruffles, and a couple of mushroom swatches.
36.

Agos Dress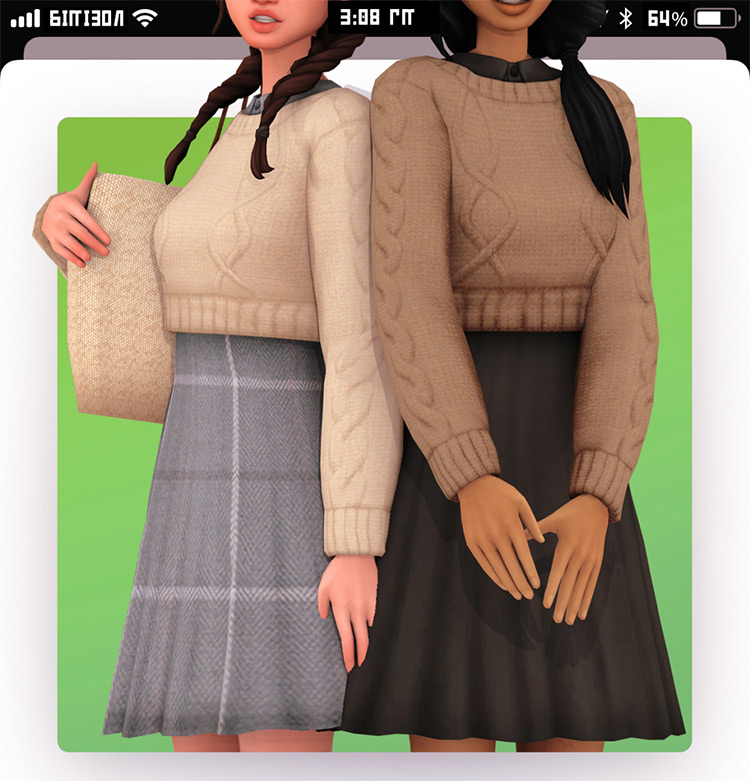 Note that this isn't a sweater dress. It's a sweater AND a dress. Even better for a slightly more put-together ensemble!
Both aspects have a super cozy, comfy look. All your Sim needs is a cup of coffee and they're set for chilly fall days.
37.

Sunny Days Dress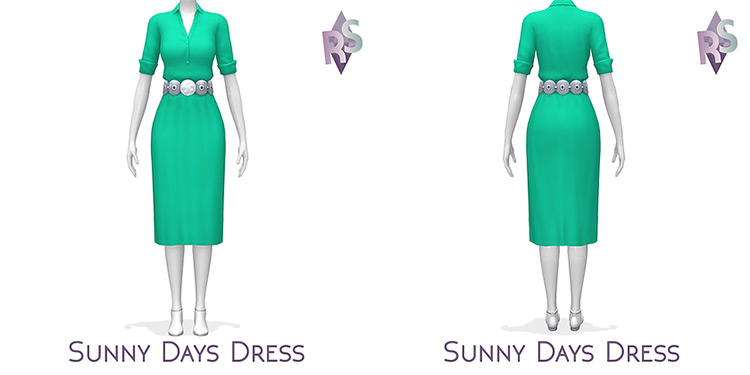 This edited Dine Out dress might actually make you want to let your Sims leave the house. It's too cool not to show off.
The entire thing is a classic, but the shiny belt adds a modern touch. That's actually a separate overlay, found with the gloves in CAS.
38.

White Clover Embroidered Gown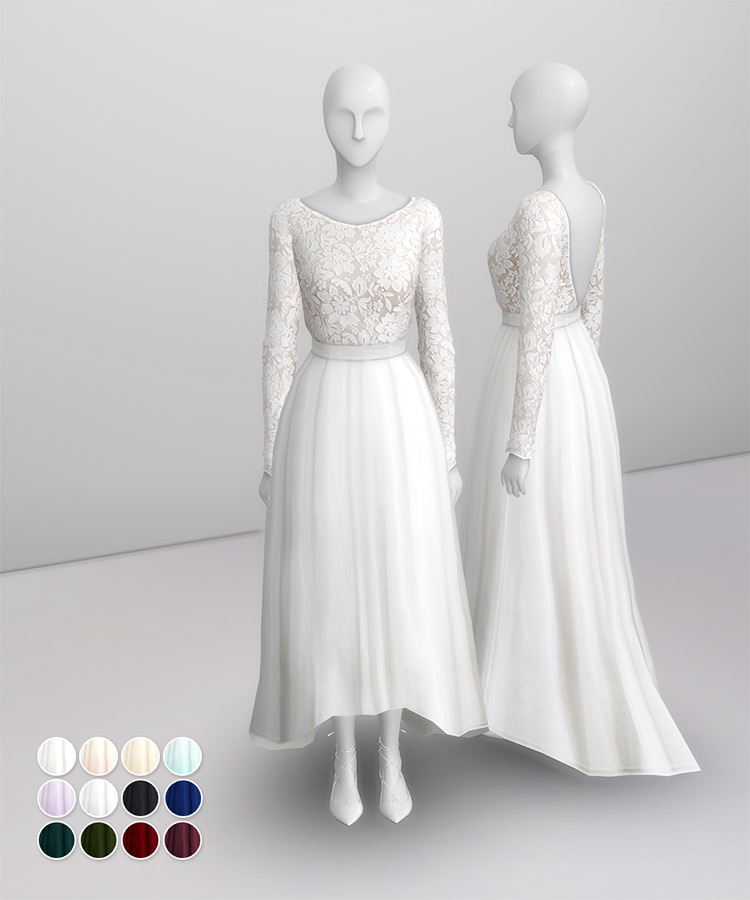 We all had the same first thought here, right? Custom wedding dress!
Those lacy clovers are just too pretty to pass up.
Only the white swatch really has that feel, though. The other 11 colors will work for just about any occasion.
39.

Test of Friendship Dress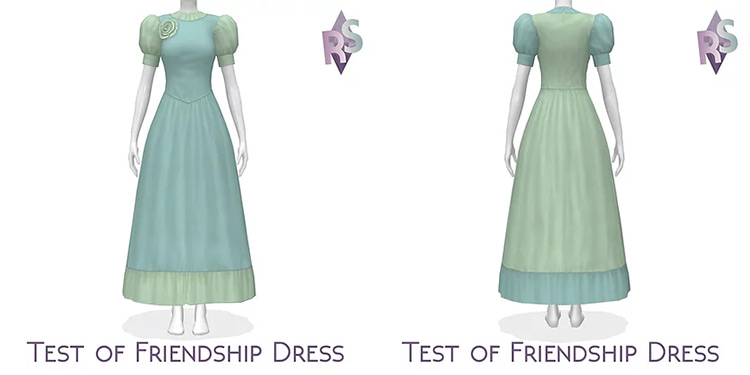 RenoraSims made this specifically to be a typical tacky bridesmaid dress, so she won't take away from the bride's big day… but it's not so bad, right?
Style is subjective, of course, and that decorative rose is pretty sweet. It may be a little old-fashioned but that's an aesthetic for some.
40.

Comfy Cashmere Dress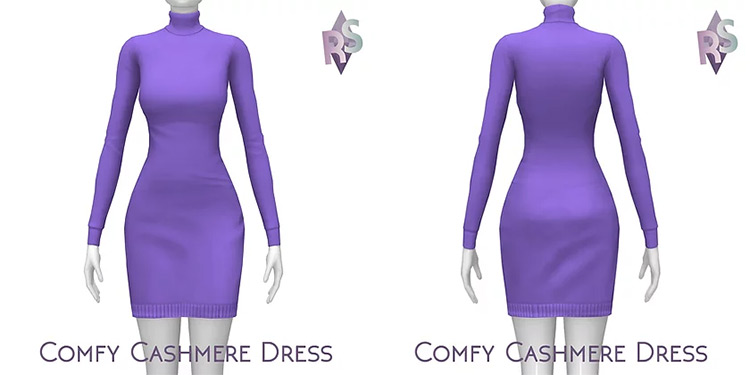 Let's not mince words, this is one hot dress.
With some heels and a good pair of earrings, your Sim will be unstoppable.
Something about that turtleneck just sets this beauty apart, giving it a little extra boost. The length is honestly perfect as well. Not too short, and not too long.
41.

Sussex Chic Dress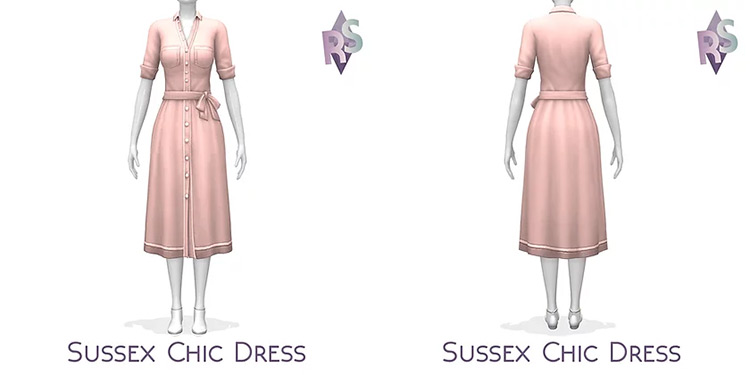 Who knew so many of the best custom dresses would be based on stuff worn by the British royal family?
They do have to be dressed to impress, so it's really no surprise.
The overall appearance is very practical, and the ribbon belt ties it together… literally.
42.

Annika Dress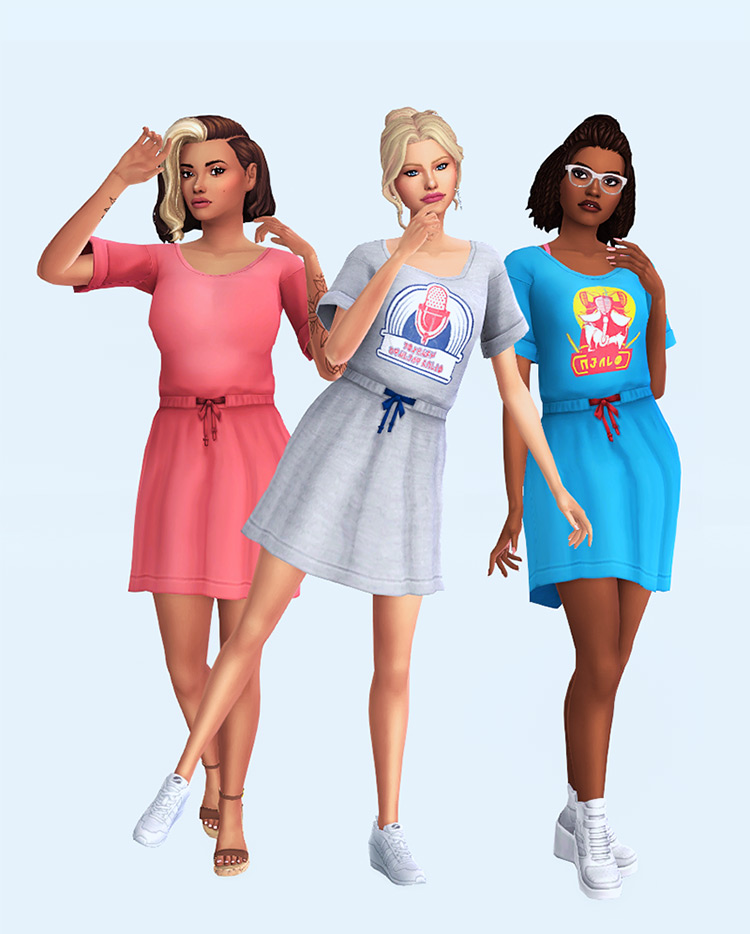 We've all familiar with graphic tees, so why not graphic dresses? That's brilliant!
These Simlish logos really are awesome. 24 total swatches are included, with half being solid and half having these cool designs. For an everyday outfit, the Annika Dress is one of the most original options around.
43.

Leather Jacket Ruffle Dress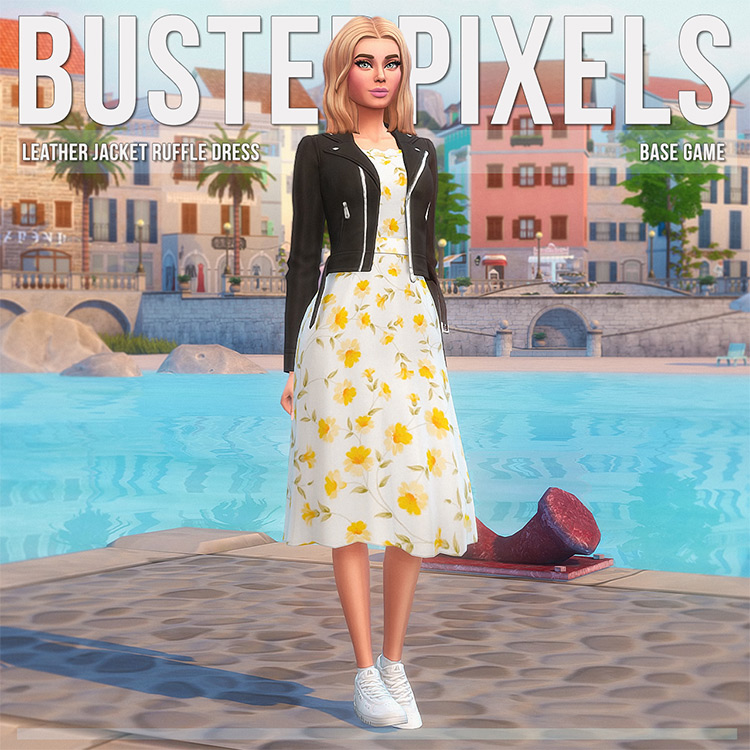 Outfits that include accessories are really a lifesaver. Otherwise, multiple pieces of CC are usually required.
Here's a cute sundress that comes complete with a leather jacket. Now not only will your Sim be set for cold weather, she'll look incredibly cool.
44.

Chunky Sweater Dress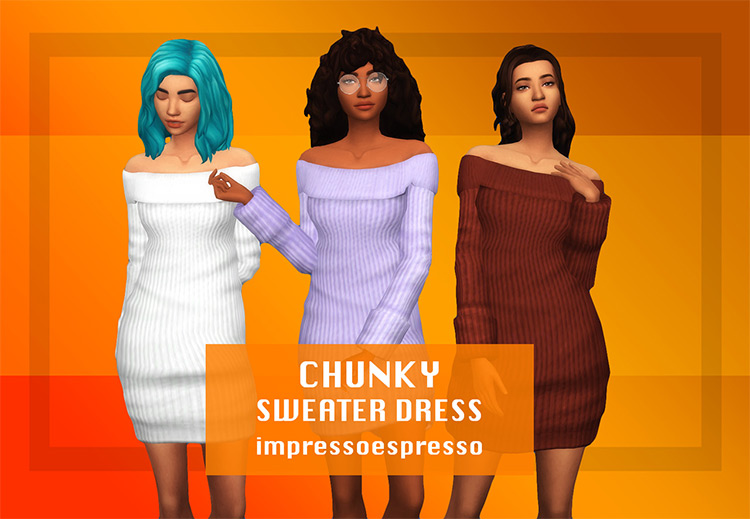 Since this is technically just one big, long sweater, it's kind of the ultimate sweater dress.
The knit texture seems like it would be so warm. All you'll have to do if you want to put your own personalized flair on this is perhaps add some tights or leggings, and a pair of boots.
45.

Sweet Dress & Beret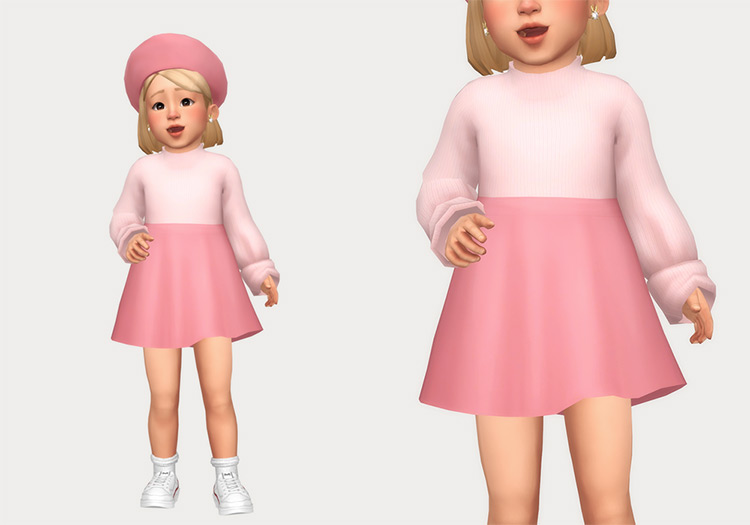 As utterly adorable as this toddler dress is on its own, it might be made even better by the fact there's a matching beret.
All 45 of these swatches are so vibrant and beautiful, you'll definitely want to make use of the dress for more than one Sim.
46.

Bodycon Ruched Dress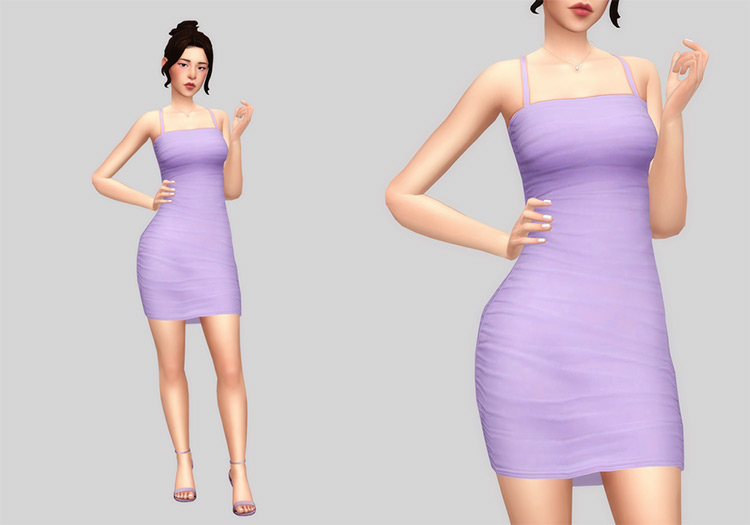 You can honestly never have too many basic dresses like this.
Each one offers something a little different, and the ruched style is very trendy at the moment.
Casteru's version has some awesome details, like the flawless wrinkly texture.
47.

Sweet Dreams Night Dress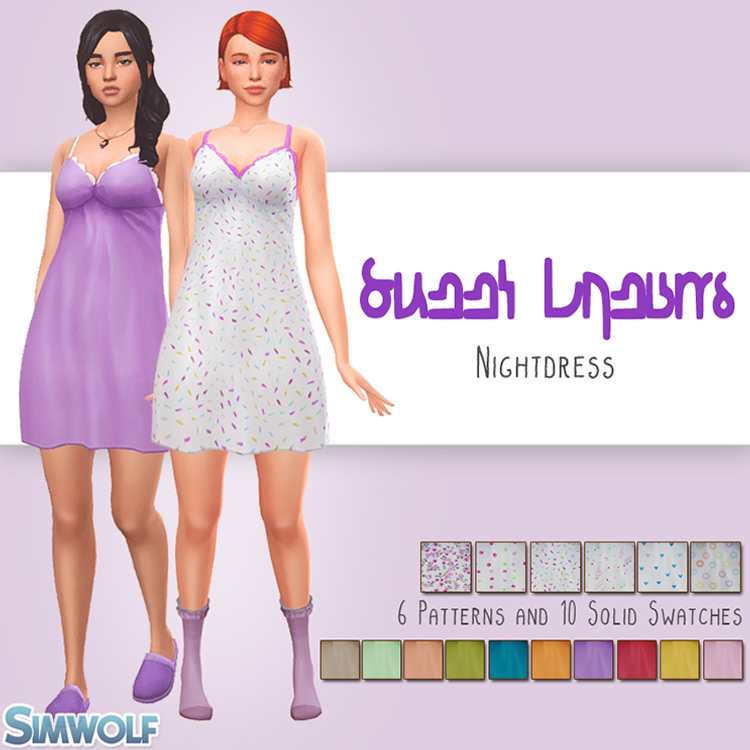 Sims can wear dresses all day every day if you want them to, and even into the night.
And why shouldn't they? Nightgowns are a timeless PJ choice. Everyone looks cute in them and they aren't as warm as a full top and bottom set.
48.

Eunwoo Dress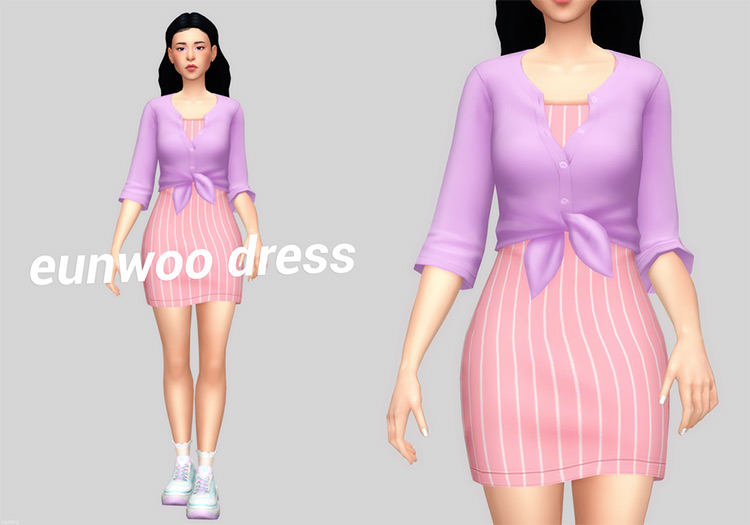 At first this might seem like a separate blouse and skirt, but nope! The tied top gives this full body outfit from Casteru a solid everyday flair.
The iconic Sol palette is used again here, blessing us with 45 swatches that cover a massive range of hues.
49.

Kelly Dress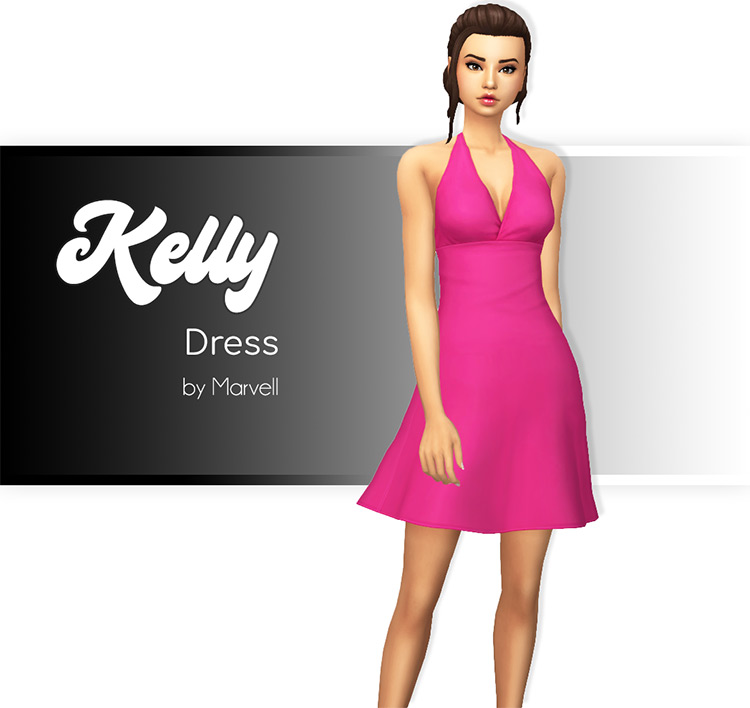 Here's something that simply looks fun.
Whenever your Sim is down for a good time, Marvell's brightly colored halter neck dress is always a safe choice.
In fact, it might just become your go-to for adventures in San Myshuno or date nights!
50.

Diva Gown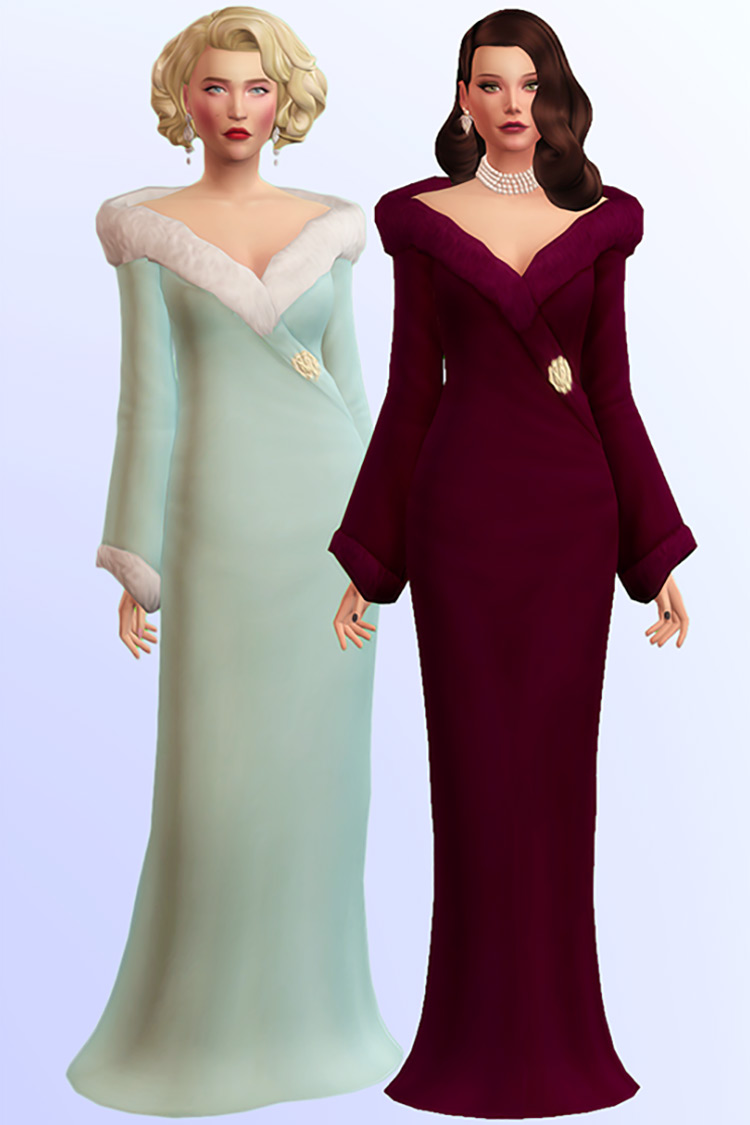 Hmm… strangely enough, this doesn't automatically apply the Snob trait when worn by a Sim.
As extra as something like this gown may seem these days, there's no arguing what a defined look it is. I mean, a fur collar?!
Hopefully it's faux. We can't have the critters in Henford-On-Bagley seeing this.
Browse:
Lists
Maxis Match
The Sims 4
Video Games