Sims 4 Maxis Match Couch CC: The Ultimate Collection
This post may contain affiliate links. If you buy something we may get a small commission at no extra cost to you. (Learn more).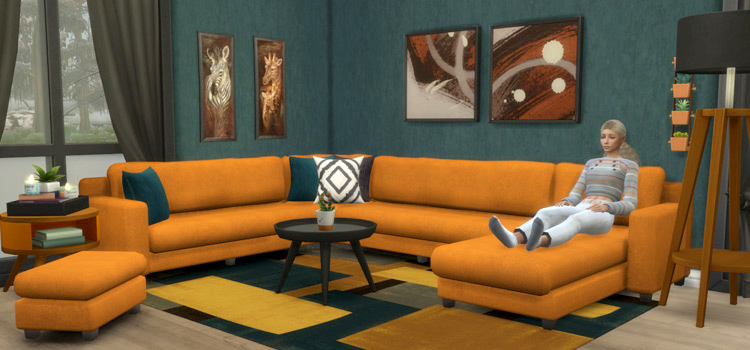 Couches, sofas, and futons are the glorious center pieces to so many different rooms.
And with living rooms they're truly non-negotiable.
Often I'll pick out a couch CC and build the rest of the room around it – that's how important they are to me!
Even if you have a more laissez-faire style of Sims interior design than I do (and I can't fault you for that), couches are still undoubtedly important.
And when Maxis-original just isn't cutting it, it's time to look at some Maxis-match CC.
1.

Moku Seating Suite Modern Sofas
Individual sofas will have plenty of room to shine on this list.
But seating sets are equally as deserving of a place here.
After all, they're literally just sofas plus more seating. There's no drawback!
The Moku Seating Suite features 6 modern seating designs (most of which are indeed sofas) with a whopping 32 fabric swatches to go along with them. Since there's such a wide range of sofa sizes and shapes, you'll easily be able to fill out an entire room with appropriately sized seating.
2.

Retro-ish Couches
There are some pretty wacky styles that were popularized in the past – especially in America (does anyone know the eyeball dress?)
So it's probably for the best that this couch is only retro-ish.
To its credit, this CC turns some of the most fun retro styles, patterns, and color palettes into a great couch – and leaves out the weirder ones.
That means you'll have exactly as much retro as you want, and not a stitch more.
It has 11 recolors, and most of them are wildly different in color from each other, so there'll be a retro pattern to match any living room you can dream up.
3.

Never Get Up Sofa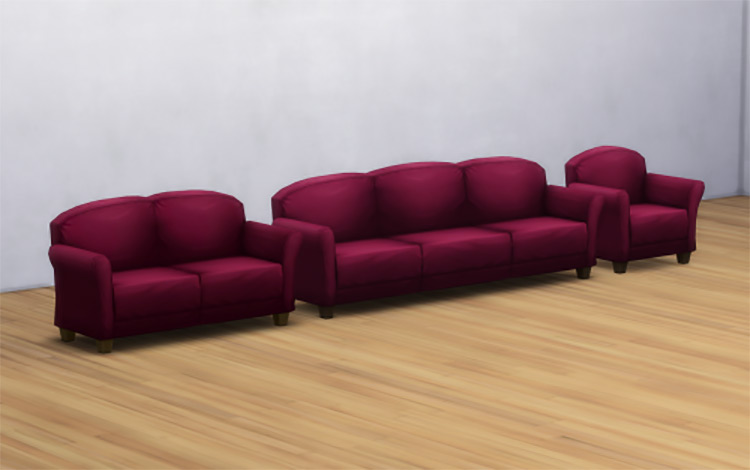 Some sofas are made to steal the spotlight, but not this one.
This one is made to steal your sims' butts and never give them back.
This CC is a straightforward set of sofa, loveseat, and armchair. It comes with both 24 swatches and the promise that your sim will never want to get up.
I mean, really now. If your sofa doesn't make you want to stay seated forever, is it even a sofa?
I think it's safe to say that with 3 set pieces and so many swatches, this CC is versatile and comfy enough to seat whoever you need it to.
4.

Cozy Days Livingroom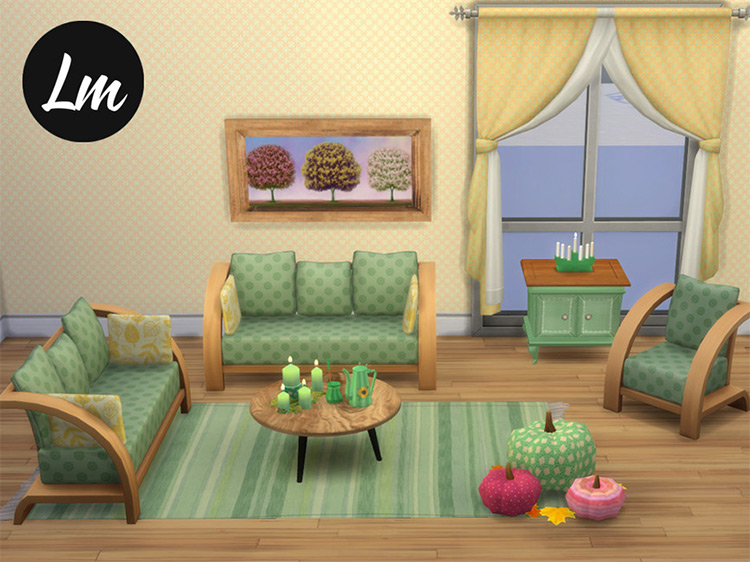 Here's some cozy CC that's a blend of rustic and modern designs, with a pop of color thanks to the creative swatches.
It makes pumpkins look like a pattern you can reasonably have around your house year-round!
As a set, this includes both a sofa and an armchair – and it can really fit into any space because of that.
The living room is an obvious choice. But armchairs work well for bedrooms, while sofas and loveseats work for sitting rooms, so on and so forth – you get the idea.
5.

Alexander Sofa
I feel like I can say with certainty that even Alexander the Great didn't have a sofa quite like this – you know, what with him being from Ancient Greece and all that.
Alexander aside, this modern sofa will be a great addition to any equally modern sitting room.
The design itself will fit with many Maxis items, and the style is definitely Maxis-match.
Plus, it's a modular sofa. So you can build it out to whatever size you need. And there are 5 swatches to pick from.
6.

Parenthood Sofa Addons
Country living and parenthood might not necessarily go together in your mind – but content creator MrMonty96 makes it work seamlessly.
Remember the lonely Parenthood Sofa from the Parenthood gamepack?
Well now it actually matches with other stuff thanks to this addon set.
Although the new theme is country living, all of the new items could work just as well in a parenthood themed home – whatever that means.
In addition to the original Parenthood Sofa (now dubbed the Country Living Sofa), this CC pack has 3 more seatings and 3 cushions to match. Predictably, all of them have the country living prefix.
7.

Could Use More Taste Sofa
For better or for worse, TS4 content creators often fill in the gaps that EA has left behind.
Usually, though, these gaps are filled without the creators making any remarks towards EA.
This CC is different.
The 'Could Use More Taste' Sofa is a spinoff of the Maxis original 'Could Use More Pillows' Sofa, with an obvious dig at the goofy design of the original sofa.
Although the name is clearly in good fun, there's no denying that this version is leagues more tasteful.
Since this is based off of a "Cats and Dogs" pack item, you'll need to own that gamepack in order to install this CC.
8.

Back to Retro Sofa Set
There may already be a retro sofa on this list. But the Back to Retro Sofa Set deserves its own spot, because it emphasizes retro design over retro patterns and fabrics.
Not to mention that this mesh has also been around for a while. So it's a retro sims item in more ways than one!
The mesh was first made by Psyzny for a different sims game, and then was later converted to The Sims 4 by mio-sims. This CC is a recolor of the conversion.
As far as sofa sets go, this one is pretty traditional with one loveseat mesh and one 3-seater mesh; but because this version is a recolor CC, it has 48 colors and 2 different wood swatches (dark brown and whitewashed).
9.

Comfultimate Sofa & Cozofa Loveseat Recolor and Retexture
If I'm looking specifically for Maxis-match CC, then chances are I'm looking to keep things as CC-less as possible.
That generally means recolors, retextures, and revamps of Maxis original items are high on the menu.
This recolor and retexture of the Comfultimate Sofa & Cozofa Loveseat are right up my alley for times like those.
At a glance you can tell the texture quality is improved upon, which does wonders for making this sofa more visually appealing.
In all honesty, though, the real appeal of this CC is the recolor options.
There are 64 swatches introduced in this pack, including both patterns and solid colors.
10.

Milas Modular Sofa
Modular sofas really take the effort out of finding the right CC for your room.
No matter what size your room is or which corner you need filled, modular sofas can transform to save the day.
They're like magical girls, but in sofa form!
The Milas Modular Sofa includes ottomans, backed pieces, and corner pieces of varying sizes in a total of 8 meshes. Even for a modular sofa set, that's an impressive number.
To make up for the number of meshes, this CC only has 4 swatches. Thankfully they cover most of the usual colors a modern living room might have.
11.

Garbage Find Sofa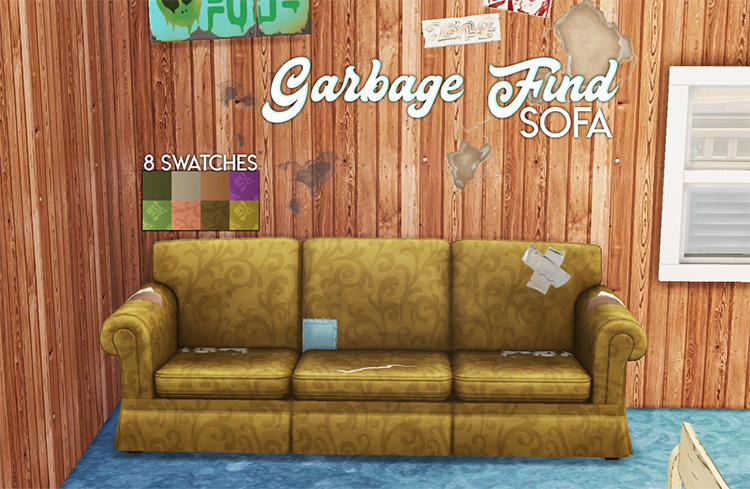 You know what they say: one man's trash is another man's treasure.
I think in this case one man's trash is another man's trash, too… but I suppose some sims might regard this sofa as "usable" (even if not a treasure).
Either way, it's safe to say that this sofa goes beyond basic frugality or environmental friendliness – since it's absolutely coated in rips, tears, and stains.
If this weren't for The Sims, I'd be concerned about getting bedbugs from this sofa.
But this CC offers 8 very beat up swatches, to match your sims favorite flavor of trashy.
12.

The Love Bug Loveseat
Have you ever wanted the love blessing of a car from the 1960s?
Me neither, but you can have it with this CC.
Herbie the Love Bug has never looked so comfortable (or stationary) as he does in this loveseat rendition of him. Love Bug fan or not, there's no denying that this is certainly a creative sofa design!
This loveseat is a standalone download, but if you're really loving its aesthetic, you can download the rest of the Car Scrap furniture set by Cyclonesue.
13.

Tough and Tufted Sectional Sofa and Lounge Recolours
TS4's Dream Home Decorator game pack blessed us with plenty of fun furniture (hence the name).
But there are never enough swatches for me to be satisfied.
If you're the same way then you'll definitely want to check out this recolor CC for the Tough and Tufted Sectional Sofa.
It uses meshes originally from the gamepack, which means ottomans, chaises, corner pieces, straight pieces, etc.
My favorite part of the Dream Home Decorator sofa was how many Sims you can fit on it.
Making huge sim families comes with the inevitable drawback of struggling to seat them all – well no more!
The only issue with that sofa was the lack of swatches. But with this CC you'll have 11 new bright colors to pick from.
14.

Ikea Livingroom Set
This Ikea Livingroom Set includes everything you'd ever need to fill out a basic living room.
Of course, that also includes 3 seating meshes to keep your Sims comfortable while they laze about or meet with friends.
More importantly, any Sims 4 furniture that's based off of Ikea is bound to be Maxis-match. Ikea furniture is like a Maxis-match in real life.
Just take one look at Ikea furniture and tell me I'm wrong.
15.

Portland Living Set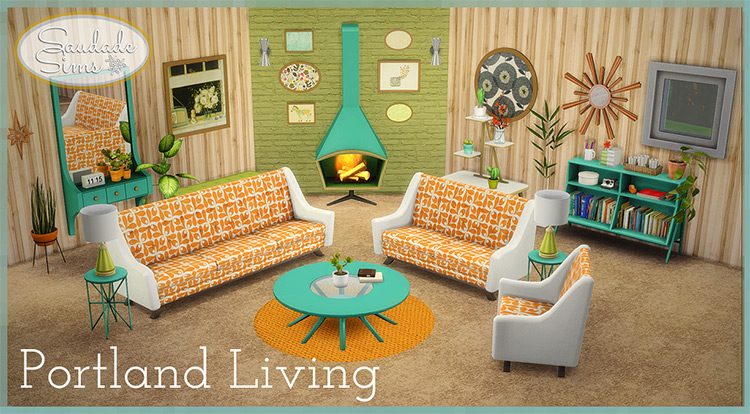 In the real world, Portland, Oregon is full of quality furniture.
Apparently it's no different in The Sims 4.
This Portland Living CC Set includes a ton of different Maxis-match living room pieces for a total of 12 new meshes.
Though all of the furniture is really worth taking a look at, the seating alone is good enough to warrant a download.
Like most other living room sets, this CC pack includes a 3-seater couch, a loveseat, and an armchair. These seating items all come in 28 colors (both patterns and solid colors), but some of the other items have more or less swatches.
16.

Flamingo Bay Couch Set
Tropical pastels aren't the most common living room color palette.
But this isn't your first time decorating a sim's living room, is it?
This custom couch has 12 swatches that change the fabric pattern, the cushions, and even the wood color.
No matter what swatch you choose, you'll be inundated with pastel.
Violablu has made a ton of flamingo bay CC, so don't be concerned about not finding anything to match with this couch set. Trust me, there's more Flamingo Bay CC out there than you'll know what to do with.
17.

Life in a Forest Corner Sofa Recolors
This CC is a color expansion of blackcatphoenix's Life in a Forest Corner Sofa – because even in the forest, you can never have too much color.
The original item is a vintage looking sofa and ottoman duo, and none of that charm has been lost in the recolor set.
With this CC you'll now have access to 15 bold colors, 15 muted colors, black, and white for a total of 32 swatches.
The only downside is that it likely isn't representative of actual life in a forest, unless the forests near you have gorgeous Maxis-match furniture growing in them.
18.

Sofa So Good Sectional Set
Let me introduce you to the Sofa So Good Sectional Set.
This custom-made sofa set is comprised of sectionals (AKA modules), so you can piece it together in the way that suits you best.
And what sets it apart from other sectionals is not the design (which is pretty, but doesn't exactly break the mold), but rather it's the functionality of the sofa.
Obviously, most CC sofas are functional because they need to be sat on.
This takes things a step further. How?
Well firstly, it has a functional corner piece. That might not seem important to some of you, but as a diehard corner sitter, it's definitely important to some of us.
And secondly, your sims can nap and cuddle on the double pieces.
So cute!
Browse:
Lists
Maxis Match
The Sims 4
Video Games