Sims 4 Maxis Match Female Shoes: The Ultimate Collection
This post may contain affiliate links. If you buy something we may get a small commission at no extra cost to you. (Learn more).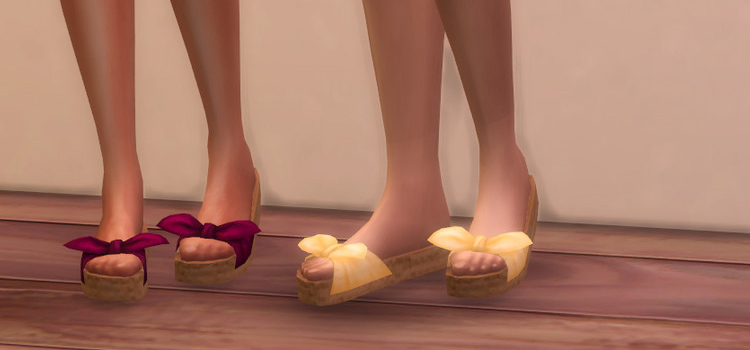 Every category in CAS is equally important. But I think every Simmer can agree we'll never have enough shoe options.
And why should there be such a limited selection?
It's not like Sims have to shell out Simoleons for each pair!
So if expanding your Sim's wardrobe is your main focus, there's a ton of free CC that's just as high quality as the real deal.
We've collected a big variety of shoes here, including sandals, sneakers, and heels. So if you want it for your lady Sims, chances are good that someone out there has already made it.
1.

Take A Bow Wedges
These strappy textured wedges are already a great choice for warm days.
Whether your Sim spends her summer on a sandy beach or at backyard barbecues, there's no way for these sandals to disappoint.
They look fantastic with maxi dresses, mini dresses, skirts, and shorts alike.
That's partially thanks to the classic design of the traps and heels. But what really seals the deal is the adorable bow near the front.
It sits just behind your Sim's toes and provides the perfect finish.
This creator included several different versions, including a vibrant yellow, retro red, white polka dot, and pink, among others.
2.

Basic Sneakers (Female)
A lot of players turn to custom content for outlandish things we could never expect to see in the game officially.
But sometimes, CC is just a matter of filling in the blanks.
We just want about a billion swatches for everything. I think that's totally fair.
Half the fun of shoe shopping is finding that one pair that's really distinct. And luckily, Pleyita's recolors bring no less than 80 brand new swatches to the table.
This creator recolored two base game sneakers. And now you'll not only have basically every solid color you could want, but tons of lovely floral patterns as well.
3.

Shoes Pack #15
These heels are just one pair of many for Artlos, the creator.
But if you've been yearning for some new formal shoes, they are one of a kind.
If Sims had dictionaries, there'd be a picture of these under the word "timeless".
That might be a rather outdated saying, but you get the idea.
Block heels have ruled women's fashion for generations – and there's no better way to add a sophisticated touch to an outfit.
The shape of these floss as smoothly and naturally as a river.
Not one bit is choppy here.
And a small bow completes the feminine feel.
4.

Platform Flip Flops
They say hindsight is 20/20.
And it's plain as day now what defines early 2000s fashion. It really brought some trends just as iconic as '80s leg warmers or the go-go boots of the '60s.
Nothing quite embodies that tumultuous time of the world beginning to navigate a new century quite like platform flip-flops.
Who decided the most casual inexpensive footwear ever needed some height, and why?
I guess that's not important. It's all irrelevant to the fact that Sims lack originality in their wardrobe – and these flip flops offer more personalization than you'd expect!
And the creator included an option with a slider too – so you can decide the height of the platforms for yourself.
5.

Rosie Sandals
Here are some simple sandals, with the trusty straps around the ankle and toe.
But the twist is, one of them is lined with little roses of all different colors!
It's amazing how alterations like that can make all the difference in the world. At first glance you may not even realize that these are the base game sandals – but they are.
You're sure to love these if you're a fan of flowers.
No matter the color, the roses are small but mighty and always look fantastic against the sandal itself.
6.

Not So Flat Flats
So these are some of the most needed and versatile shoes you could download.
To me, the base game flats have always looked a little too much like slippers… which makes sense considering that's the very category they're in.
Flats honestly could and should have their own tab.
Plus they're incredible – you can use them for Sims of all ages, from all eras.
And these will go great with dresses, skirts, jeans, and shorts… truly one shoe to suit them all!
The small heel on these really makes all the difference in the world.
RenoraSims has transformed them into the tried and true flats everyone knows. And as for the swatches, all 20 of them are lovely – and you'll never be let down trying to pair these with an outfit.
7.

Buffalo Sneakers
Fashion is constantly evolving.
But that doesn't happen overnight, and chunky shoes have been having their moment for a good few years now.
I think it's safe to assume they're here to stay.
The massive popularity of this style, surprisingly, has never been reflected in TS4 in any official capacity.
If you want your Sims' footwear to go chunky, you've got to go custom.
Everything about this CC is big, from the ultra-thick sole to the wide width.
You'll have a good range to choose from with the swatches, which offer the standard white, black, and gray, plus several brighter colors.
8.

High Society Shoes
A lot of people don't realize just how many types of heels there are.
The shape, height, and size all contribute to the overall vibe.
Something about these just screams "sophistication" with their thin heels and pointed toe.
Your Sim won't look out of place brushing elbows with the Landgraabs with these on her feet.
It'll be quite an elegant look when paired with any sort of dress and some nice accessories.
Formal events and dinner parties alike will be the perfect time to show these off. Plus it never hurts to give your Sim a dressy everyday outfit!
9.

Grandma Heels
What makes something a "grandma" shoe or sweater is entirely up to each individual.
Most of the time, it's just stuff that looks outdated – because Grandma's been wearing it since her heyday and she's not about to stop now.
That's not a bad thing. Especially if we can give them appropriate heels like these.
They're short, simple, and come in basic neutrals that'll work with almost anything.
What more could Granny want?
And don't be afraid to use them on younger Sims now and again, too.
At the end of the day, these are a modest old school style that anyone can appreciate.
10.

Ivy Heels
Straps play a huge role in the look of heels.
And this criss-crossing overlapping design is too cool to miss.
They'll snake around your Sim's feet and ankles, not unlike the ivy they're named for.
This open toe block heel style is about as versatile as it gets.
It's entirely up to your discretion when, wear, and how your Sims should wear them.
In other words, it's all good.
Even if the rest of their outfit just consists of a skirt and blouse, these heels will be just as lovely as they will when worn with an elaborate gown.
11.

Basic Slip-on
Nothing beats a good slip-on when you want convenience.
Tying up laces is just too much of a hassle to run errands, take out trash, walk the dog… honestly, most activities will do just fine with basic slip-on footwear.
Life really is too short to deal with shoelaces if you don't need to.
This creator made these shoes highly detailed while still sticking to the Maxis style.
The canvas portion is available in various solid colors, as well as some patterns, like daisies and plaid.
12.

Oxford Heels
Bringing vintage-inspired pieces into your game is never a bad idea.
Even if these heels look a bit out of place with the typical trendy outfits of young Sims, there are a lot of fun ways you can experiment with them for a new ensemble.
As always, what's popular comes and goes – and that's been the story for Oxford shoes since the 1800s.
Now here we are centuries later with a Sim version that offers the best of both worlds.
They're a little bit old school, but also with slight modern twists like the color schemes. 19th century ladies definitely weren't rocking pink Oxfords, that much is for certain.
You'll love these for whenever you want to add a vintage touch to your Sim's outfit. And don't forget to experiment with different socks, stockings, and tights!
13.

Color Block Vans
Simple as they may be, Vans have been ruling casual footwear for a long time.
And as iconic as the original basics are like black or checkers, the way this Simmer has switched things up is awesome.
Pixicat made these years ago for The Sims 3, and the conversion for the current game is flawless.
But Alexaarr has completely revamped them with 50 new swatches
And we all know the motto is "the more, the merrier" as far as that goes!
These recolors are all about… color. Imagine that.
These are bright and vivid with tons of shades for males and females alike, and cool designs like tie-dye to really make the most of it.
14.

Chanel Slingbacks
It's a mystery where footwear names come from unless you head to Google.
All I know is that "slingback" sounds more like a weapon than a shoe, and doesn't adequately describe the elegance offered by these.
CC Creator theslyd made the shoe itself here, based off a real Chanel design – and it's spot on.
As awesome as that is, more swatches are always a plus.
And that's exactly what Renorasims brings to the table.
With the combination of the timeless square heel, thin straps, and variety of colors, this is a must-try.
15.

Lazy Loafers Edit
The City Living Expansion Pack is one of the most beloved DLCs out there. And here's an item edited straight from that pack.
Loafers aren't exactly known for getting too crazy, so it makes sense that most Simmers want to keep it that way.
Well this CC creator made these even simpler by removing the buttons and flower decals.
Best of all, since the creator did so much tweaking, these are now base game compatible!
They're plain with lots of neutral shades, so your Sims can use them for everyday wear throughout the year.
16.

Summer Fling Flip Flops
Flip flops might just be the most definitive warm weather footwear that exists.
Especially if you have Seasons.
That pack deems all sneakers and socks as unfit for hot weather – so whatever sandals you have will be what you're left with.
I'll take all the flip flops I can get, honestly.
RenoraSims has brought a fresh new look to them anyways, with these cute beads and flower accents along the strap.
These embody the carefree vibe that every gal strives for during the summer. And they're quite unique compared to the plain ones that have been around since the base game was released.
17.

Platted Mule Sandals
Yep, more sandals.
What makes these sandals special is the glittery braided strap. It's a very unique touch – and it's flawlessly done, you can really zoom in close and appreciate the details.
Through all of the swatches with both dark and light colors, the thin sole maintains the minimalist look typical of most "mule" shoes.
Now I have no idea why they're actually called that.
They don't look like donkey hooves or anything. They're a lot classier, thanks to the slightly squared toe very slim heel.
But your Sim can rock these in any warm weather.
Or in the winter if you happen to not like that Sim.
18.

Adidas Gazelle
Some good recolors can completely transform shoes – and this is proof.
Believe it or not, these aren't new meshes, but the basegame sneakers.
I think it's always been clear they were based off Adidas, but now you can fully appreciate these shoes for what they offer.
All these new swatches breathe new life into every pair.
You'll find 10 total feminine swatches here, with several pastel shades that you won't find anywhere else in CAS.
If you're really in love with these, you can even find additional swatches from the creator.
Recolors for your recolors, basically.
And I can personally vouch for their awesomeness.
19.

Birkie Sandals
Birkenstocks are quite recognizable whether you're familiar with the name or not.
They manufacture all kinds of stuff, but are probably best known for these very bulky sandals created by BrianiteSims.
They're quite distinct, with those thick leather straps, buckles, and rounded soles.
There's something very boho about them – so they're perfect for hippie vibes, as well as no-nonsense gals who just want some durable sandals.
I'm surprised these haven't been added to the game in some capacity before now… because they're pretty iconic.
I mean, these might be the only sandals that can be worn camping, grocery shopping, and to school without anyone batting an eye.
Well now you can use the most multi-faceted sandal available for your Sims, whenever and however you please.
20.

TS4 Crocs
Move out the way Adidas and Nike.
Everyone is loving the convenience of these sturdy slip-ons.
The Sims 4 is in desperate need of some Crocs, given how widespread they are by now.
It's a mystery how these got so popular, and why it happened so suddenly… Not all that long ago these were anything but widely loved.
Well this Simmer Llazyneiph released 3 varieties, two of which are quite unique.
The first two are just large platform Crocs available, available with or without spikes on the back.
But the third version is your standard Croc in all its rubber-y glory.
These are as accurate as you could ever want – and they're perfectly Maxis Match.
Plus all three options come with 10 swatches each.
Browse:
Lists
Maxis Match
The Sims 4
Video Games