40 Best Maxis Match CC Recolors for The Sims 4
This post may contain affiliate links. If you buy something we may get a small commission at no extra cost to you. (Learn more).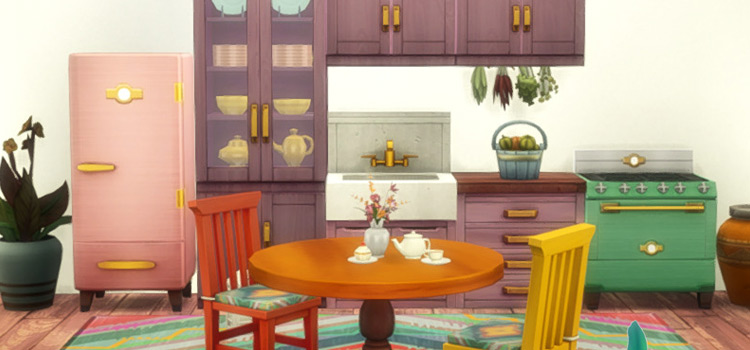 Let me say, for the record, that I'm a big fan of Sims 4 recolors.
Since Create a Style is strictly kept to TS3, the color options for CAS and Build/Buy items have always felt… limited. Don't get me wrong; I do realize that having a limited number of options is incredibly convenient. Decision paralysis is a thing, after all.
But sometimes, the design options EA feel sorely lacking.
Enter recolors! I've split this article up into CAS items and Build/Buy items, so feel free to jump to whichever section you need!
Base Game CAS Recolors
1.

Unisex Base Game Eyebrows by Deeliteful Simmer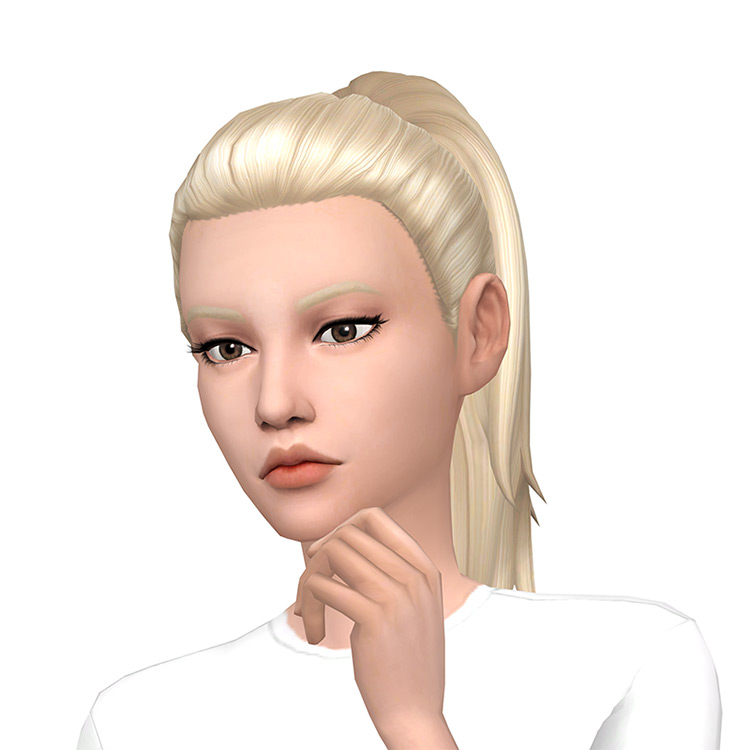 Listen; if runway models can dye their eyebrows to match whatever crazy color cocktail the designers cook up, your Sims can definitely do the same.
Who knows? Your Sim may be the rare breed that can pull off pastel pink and mint green eyebrows ridiculously well!
2.

Sweater Skirt Recolors by springsims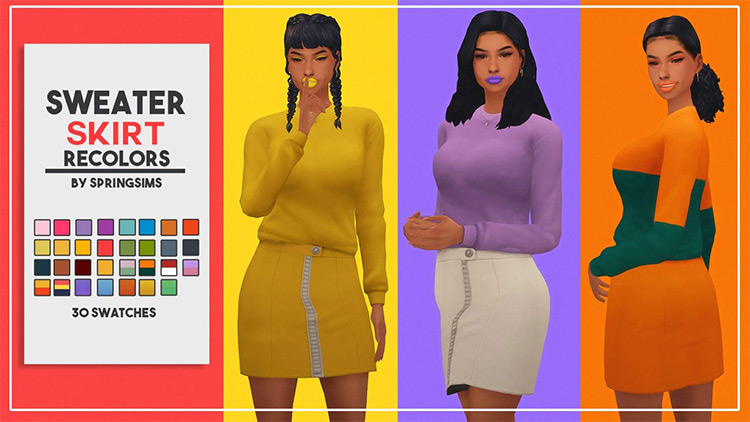 Springsims' recolor of this full body outfit (available via a TS4 patch update in 2019) adds 30 gorgeous new swatches; 19 solid colors, six patterns, and five ombre options.
They're all stunning shades, and I think there's a solid representation for brights, neutrals, naturals, etc. to consider it sufficiently versatile.
3.

Base Game Fitted Tank Recolor by justkeepsimming
Fitted tank tops are a closet staple; period.
Whether as a protective undergarment or a simple no-fuss top, they will always be useful. Ergo, it makes sense to have multiple shade options for them so that they match literally any color scheme you've got going on.
This recolor adds 60 swatches, so I'd be surprised if you don't find the shade you need.
4.

Basegame PJ Pants by beth sims
Pajama pants are also a closet staple. Even if your Sims like to lounge in lacy lingerie, everyone needs a comfy pair of loose cotton pants.
They're soft, multipurpose, and strong enough to last several thousand washes.
If the limited color options are stopping you, grab beth sims' recolor. It adds 40+ more options!
CAS Recolors that Require Packs
5.

Snowy Escape Yukata Recolour by biffybobs
Must Have: Snowy Escape
The Sims 4: Snowy Escape is hands-down one of my favorite packs, so I'm glad the CAS stuff in it are getting some CC creator love.
Specifically, the yukata. Biffybobs' did a full recolor for it for both Male and Female frames, so no one's left out! Twelve solid colors and twelve blossom patterns make for a total of 24 new swatch options.
You can download the Male Yukata Recolors here!
6.

Gotta Go + Dorm Dweller by cupidjuicecc
Must Have: Laundry Day Stuff
Cupidjuicecc actually offers two CAS items in this post.
One is a pair of shoes (Gotta Go Mismatched Shoes) that is fully BGC. You can get them simply by downloading the mesh and recolors via the same link.
The other is the Dorm Dweller top, which is a recolor of the tied tees from the Laundry Day stuff pack.
If you've got the pack, this recolor offers some great new design options!
7.

Get to Work in Sorbets Remix – Alien Outfits by i-heart-pudding
Must Have: Get to Work
Aliens are one of the missed Occult races in TS4, in my opinion.
There's not a lot you can do with them, short of randomly getting abducted by them and (potentially) giving birth to extraterrestrial spawn.
So they might as well get some much-deserved color upgrades to their wardrobe, right?
8.

Laundry Day Stuff – CAS Recolor Pack by blindingechoes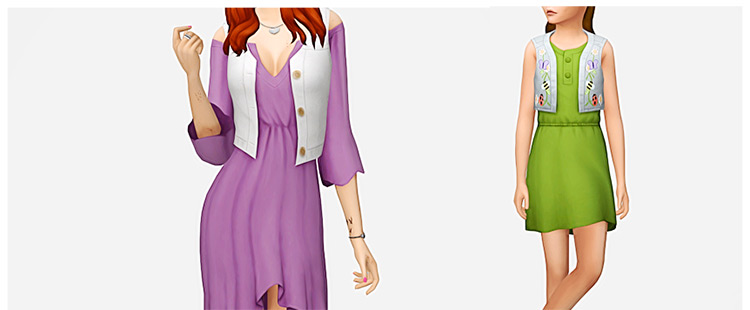 Must Have: Laundry Day Stuff
The Laundry Day stuff pack introduced a handful of cool new CAS items to the game.
Likewise, blindingechoes' recolor introduces a handful of cool new color swatches to said items.
They used @nerdychibimonster's palette to recolor ten clothes from the pack (check preview pics to know which ones), adding a total of 30 more options for each item.
9.

Gingersnaps: A Hat Recolor by Captain Saltypants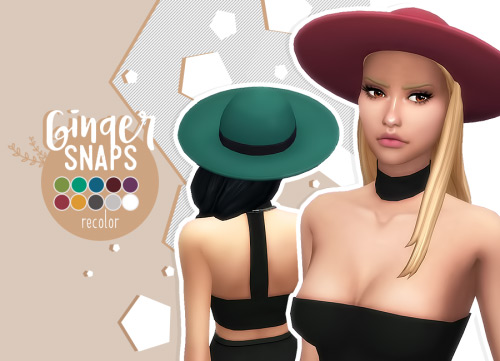 Must Have: Movie Hangout Stuff
Gotta agree with the creator; this hat is super cute. And chic!
If you're also a big fan of it, why not have it in a couple new colors? Captain Saltypants' jewel-toned swatches are gorgeous!
10.

My Wedding Stories Hairs in Sorbet Remix by bearphase

Must Have: My Wedding Stories
Despite the pack's problematic initial release, My Wedding Stories adds a lot of beautiful new CAS items to the game.
The hairs, in particular, are definitely worth mentioning.
If you've got the pack, I highly recommend these recolors by bearphase. They use CC creator noodles' Sorbet Remix palette, meaning those pretty, pretty hairstyles can be available in 76 new berry candy colors!
11.

Toddler Stuff Overall (Recolor) by Standardheld
Must Have: Toddler Stuff
I am pretty openly biased towards anything that adds more content for the often overlooked Sims life stages (which is basically anything that's not Young Adult or Adult).
So this recolor for the cute Toddler Stuff jumpsuit gets an A in my book.
Standardheld's recolor adds 52 solid colors and 39 patterned swatches, for a grand total of 91 new design options!
12.

Spa Day Twisted Tank Recolours by soaringsparrows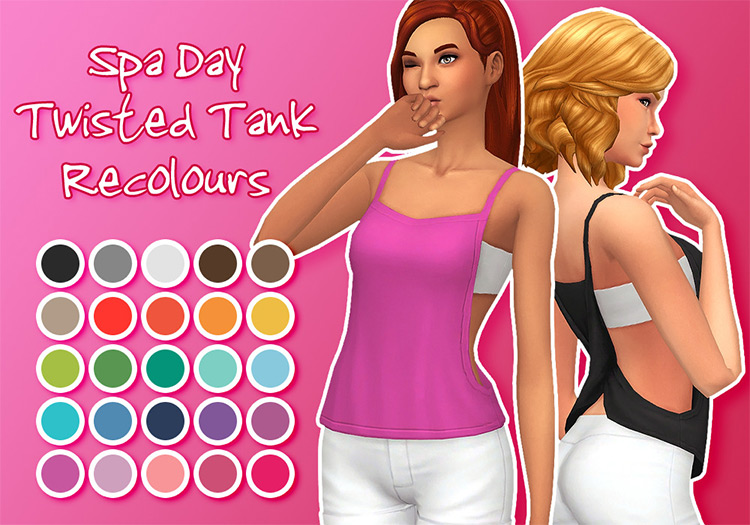 Must Have: Spa Day
This spaghetti-strap tank top with the bandeau undergarment is actually one of my favorite vanilla EA tops.
It's pretty close to my personal style.
I also think it looks great on most of my Sims. Thankfully, soaringsparrows' recolor gives me more mileage from this tee without having to reuse the same eight colors multiple times.
CAS Recolors with Custom Mesh
13.

Neutral Hijab Recolours by citrish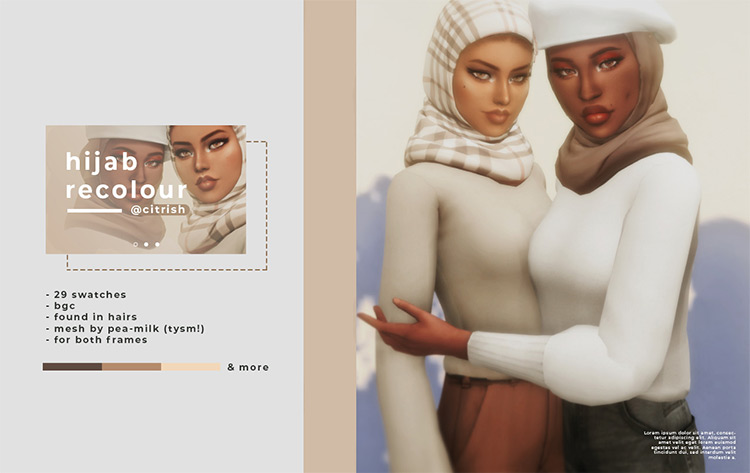 CC creator @pea-milk took the TS4 base game hijabi and turned it into hair — which is just plain genius!
This allows your Sim to wear it with other head accessories, like hats and caps.
The OG mesh has 40 solid-colored swatches. Citrish's recolor adds an extra 29 swatches of neutrals, suede, and clever prints!
14.

Clay Hair Recolors by Aveira
This post is long, detailed, and is packed with a lot of different download links. But! I can promise you it's super worth it.
If you prefer Maxis Match/clayified textures for your Sims' hair, this custom hair + recolor dump by Aveira is a gift that keeps on giving.
It contains eighteen original hairs with 65 new colors each. The color options contain a mix of natural hair colors and unnatural hair colors, and the unnatural is further split into deeps, neons, pastels, etc. It's an overall great selection that I'm confident you'll love!
15.

Fluffy Ponytail v2 in Sorbets Remix by KissaLopa
I can always appreciate a cute apple ponytail (even though the bright recolors make the overall look lean more strawberry).
Ravensim's Fluffy Ponytail is a cute, quirky hairstyle that deserves cute, quirky colors!
The mesh has several other recolors linked to it, but Noodles Sorbet's candy-colored palette won me over.
16.

Shiloh Hair in Sorbets Remix by KissaLopa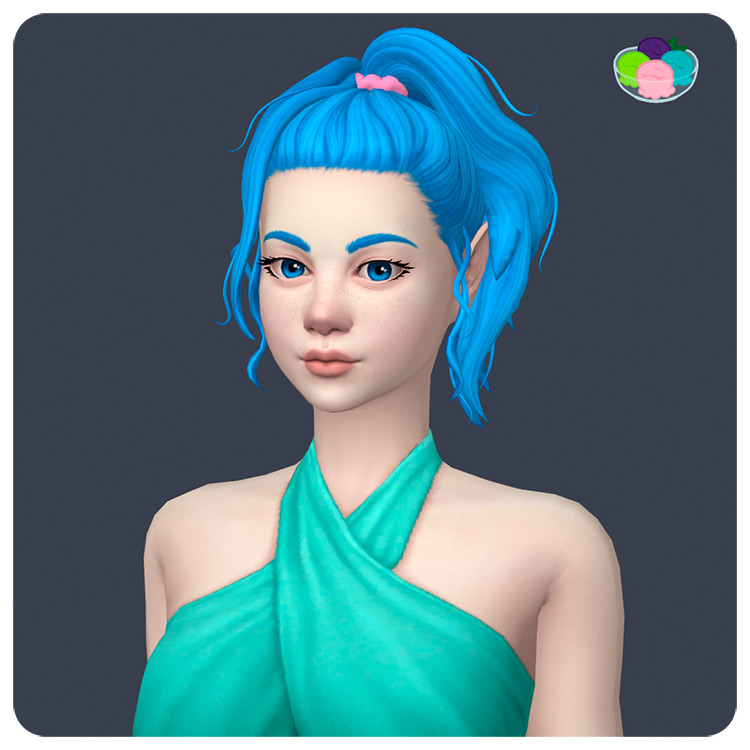 Another Sorbets Remix recolor by KissaLopa with okruee's Shiloh hair.
Okruee is one of my favorite Maxis Match CC creators with tons of quality CAS items in their catalog.
This slightly messy high pony is a cute and versatile hairstyle that's pretty and pretty one-of-a-kind, so I definitely see the need for more color options!
17.

Ombre Hair Recolor by aquarius4sun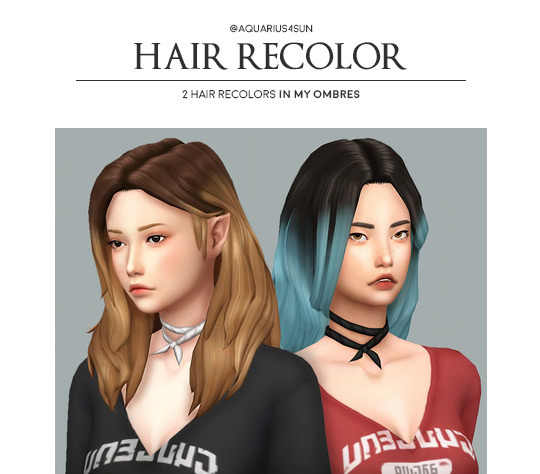 Ombre hairstyles are pretty trendy right now. And I don't see them losing popularity any time soon.
So before they go the way of chunky colored highlights and become but a memory that everyone cringes at, why not add a couple to your game? I really like the simplicity of both hairstyles, and I think aquarius4sun's recolors look really pretty (even with Laptop Mode on!).
18.

Ravensims Hairs in Academia Palettes by Witheringsims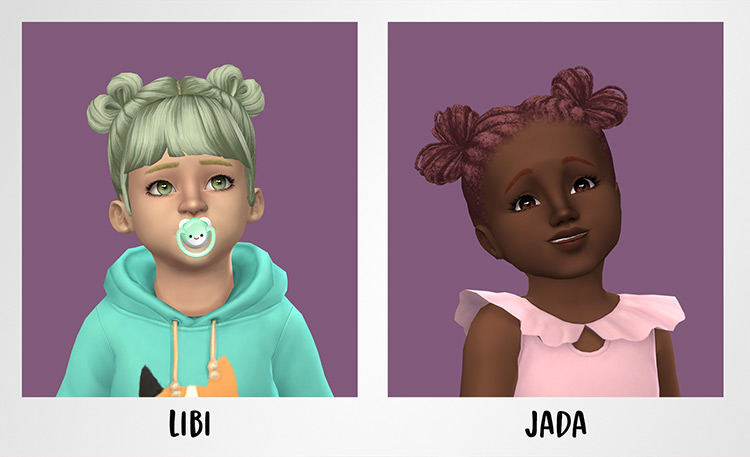 More Toddler hair recolors? Yes, please!
Witheringsims' recolor of ravensims' Jada and Libi buns adds serendipitysims' Historian Palette to the original mesh's 15 colors, for a total of 43 color options.
And if you've seen the Historian Palette, then you know that it's 28 shades of beautifully muted 'unnatural' hair colors — think orange, green, lilac, and cornflower blue.
19.

Jenna; Oblivion Recolour by evoxyr
This half-and-half hairstyle by feralpoodles is a crowd favorite, for sure. I see it used a lot for e-girl (or e-Sims?) builds, and I'm fairly certain there are Alpha CC retextures of it.
Evoxyr's Oblivion Recolour adds a lot of new, unique shades for the hair that are pretty varied.
There's a whole category of neutrals and browns, some colorful dyes, and a fairly equal representation of bright and muted hues.
20.

Adie's Eyebrows: Saccharine Palette Recolors by ajduckie
Get your Sim some gorgeous new brows in 30 soft pastel swatches! Originally made by adiec, these six eyebrows (with some beautiful arches, might I add!) come in EA's standard 18-color palette.
Ajduckie's recolor adds 23 natural colors and 7 unnatural/dyed colors to the options.
A definite must-have for Sims and Simmers who prefer lighter brows.
21.

Matte Lip Recolor by plumbhilda
You can't go wrong with a solid red lip, so long as the red compliments your skintone.
With plumbhilda's recolor adding about 30 different swatches of red to weepingsimmer's custom matte lipstick, I don't think finding your Sim's shade will be a problem.
Who even knew red could have thirty variations?
22.

Horizon Clothes in Candy Shoppe! By berryconfetti
Clumsyalienn's Horizons set contains casual closet staples in muted stripes and earthy colors.
Absolutely nothing wrong with that if that's your preferred palette! Heck, I am 100% team neutrals, so I get it.
But if you'd love the Luna cardigan or the River shirt in brighter, cheerier candy colors, you're in luck.
Berryconfetti's recolor adds 36 candy swatches from berrygameplay's Candy Shoppe palette and a couple extra pastels from the Sweethearts swatches!
23.

Starfall Sweater Recolour by citrontart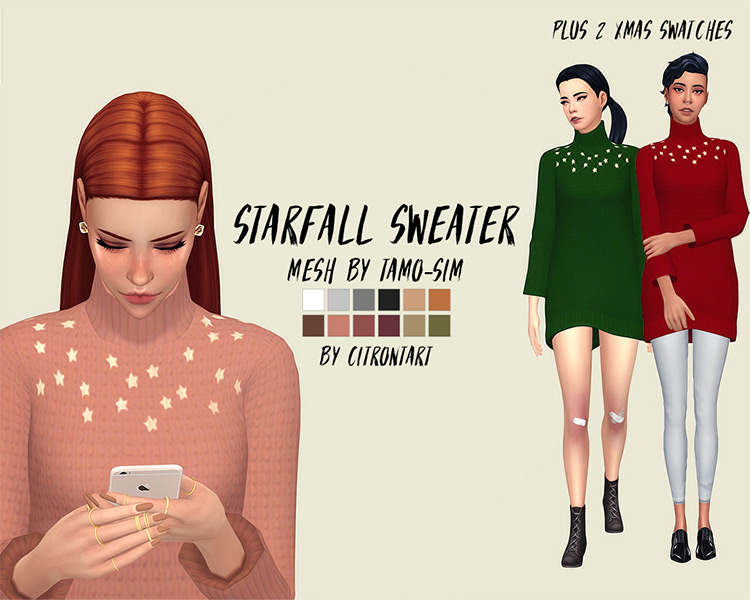 Tamosim's long, boxy sweater is a custom clothing item I personally use a lot in my game, so I can attest that it's every bit as cute and cozy as the preview photos make it look!
Citrontart's Starfall recolor adds a festive sprinkling of stars across the sweater's collarbones and shoulders, making it the perfect option for a quiet, tasteful holiday sweater.
24.

Midnight Mystique by viiavi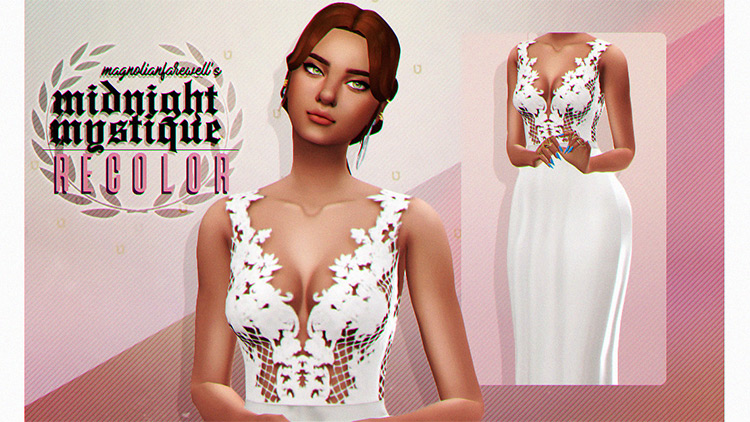 Magnolian Farewell's Midnight Mystique dress is a gorgeous, photskinned number with a loose mermaid cut and stunning lace bodice with 3D elements.
Viiavi's Maxis Match recolor adds lighter cream colors using @pastry-box's 8Bitto palette (plus two original swatches), making it less of a Vampire Wedding guest dress and more of a, well, regular wedding guest gown.
25.

Puddle by simsthatsparkle
I'm not very good at keeping track of new clothes that roll out with different Sims 4 packs. So I don't know if there's an existing vanilla EA version of this.
What I do know is that this cropped-jacket-plus-shirt combo looks awesome in soft, cotton colors — hence the recommendation!
The mesh is included in the recolor file, so you won't have to download @ridgeport's original Puddle Jacket.
Build & Buy Base Game Recolors
26.

Carefully Crafted Kitchen by LittlePinkDino
Need solid BGC kitchen cabinets in quiet greens, matte blues, and unassuming neutrals?
LittlePinkDino's set is exactly what you're looking for.
They added what I'm considering a modern minimalist palette to the base game's counters, cabinets, and islands.
The colors may not be cheery per se, but they definitely look like they belong in a large metropolitan penthouse apartment.
27.

Come Back Home by ohmypominit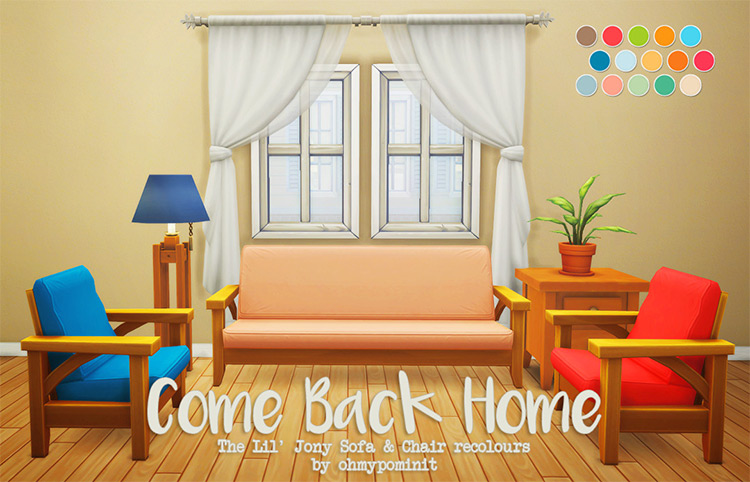 Since Create a Style is no longer a thing in TS4, base game furniture and décor recolors are always welcome.
Seriously; creating a cohesive color scheme with EA's limited swatch options per object is tough.
With ohmypominit's recolor of the Li'l Jony Sofa & Chairs, we at least get an extra 15 solid colors to work with.
28.

Base Game Sofas and Chairs Rainbow Recolors by rainbow sparkles
The name of the set is pretty self-explanatory.
Some of the Sims 4 base game sofas, chairs, and loveseats were in dire need of happier, more vibrant colors.
Rainbow sparkles stayed true to their name and delivered seven additional. The ROYGBIV theme may be intimidating for those who prefer quiet palettes. But for those who've been dying for more color options? This one's a keeper!
29.

Matching Recolors for 9 Base Game Plants by simsi45
Plants, according to the creator, can "simply turn ANY room, 10 times prettier".
I never really got the art of placing plants in TS4 builds, but I have to agree. A hint of green can make a room look decorated well.
If the lack of design options for base game plants frustrates you, this mod will make you feel better. It introduces several new color add-ons to nine decorative BGC plants. More color options means more chances of having a cohesive color scheme!
30.

Berry Counters by Noodles CC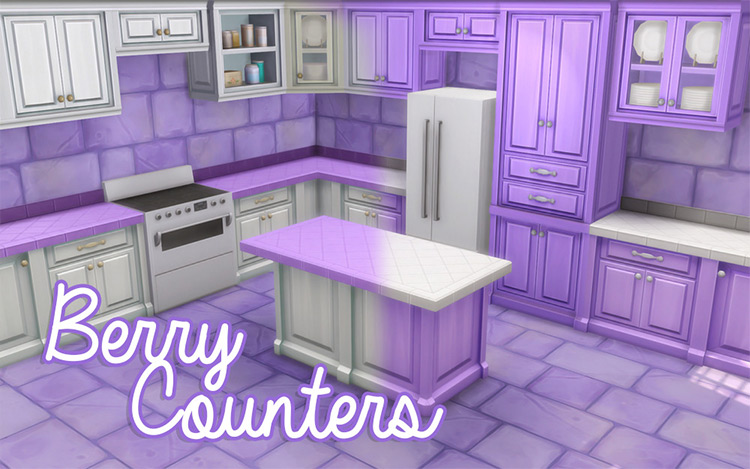 Need more berry candy in your (Sims) life? Say no more.
Noodles CC recolors the base game's S. Cargeaux kitchen set – islands, counters, and cabinets – in fifteen gorgeous pastel shades.
It's fitting that it's for the kitchen, as the swatches are definitely reminiscent of lemon gum drops, blue lemonade, and lime candy!
31.

Tall Order Vintage Kitchen Recolor by Miss Ruby Bird
Here's another recolor set for some base game kitchen items. This time, done by the fabulous Miss Ruby Bird.
The sixteen swatches introduced have a very soft, mellow country cottage vibe — especially the faded yellow swatch and the super-light cerulean.
There also seems to be a lot of brown and red shades in this pack (about half, if I'm counting correctly), which should make them easy to match!
32.

Book Trio by hamburgercakes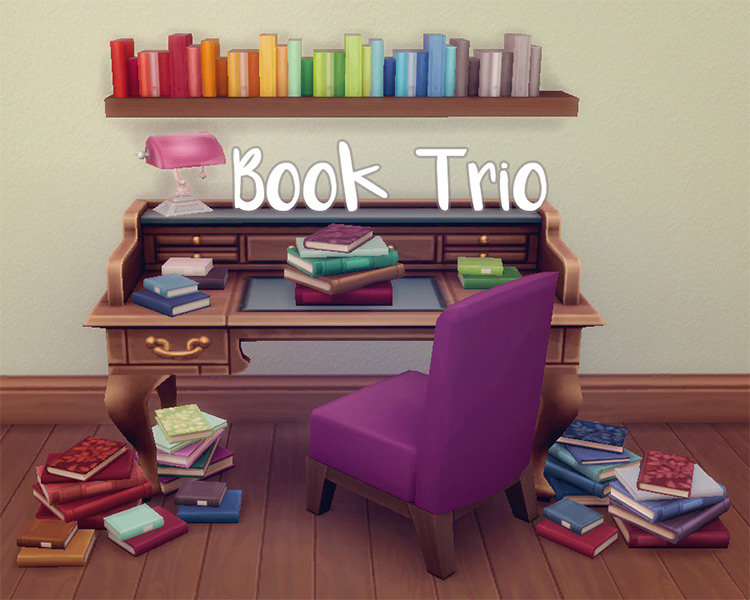 Some lovely book clutter for your bibliophilic Sims!
These decorative base game book stacks now have a more matte and colorful aesthetic thanks to this recolor. The haphazardly piled book stacks have fifteen new swatches while the lined-up books have eight. Feel free to mix, match, and clutter as you see fit!
Build & Buy Recolors that Require Packs
33.

Jungle Adventure Kitchen Recolor by Miss Ruby Bird
Must Have: Jungle Adventures
The Sims 4: Jungle Adventure introduced a lovely color palette to the game; bright yellows and burnt oranges, all with a healthy sprinkling of green and wood.
You know; jungle colors.
Miss Ruby Bird injects that same aesthetic into the pack's kitchen items via this recolor set; twelve shiny new shades for seven meshes.
34.

Vintage Chic Set Recolor by so87g
Must Have: Kids Room Stuff
If there's anything I've learned looking through all these recolors, it that matte and Maxis Match textures work incredibly well together.
These six items from the Kids Room Stuff pack each have five new color options, courtesy of so87g, and they're all rich, gorgeous, natural shades. Very vintage, indeed!
35.

Wildflower Set Recolor by so87g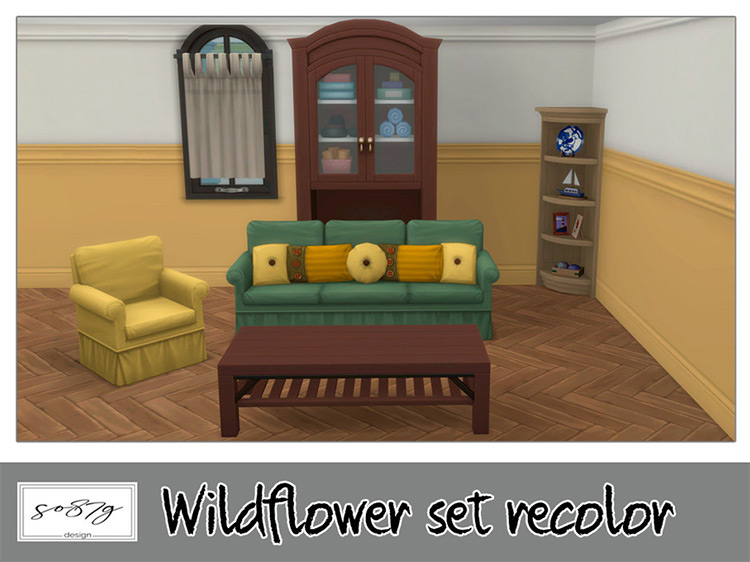 Must Have: Cats & Dogs
The sofa with the multiple throw pillows is one my favorite Buy items from the Cats & Dogs pack. So having more color options for it is great.
There are only so many times I can cycle through the same swatches without feeling sick, after all.
So87g's recolor adds five new swatches to this and five other living room set items from the same pack.
36.

Dining Recolors by lina-cherie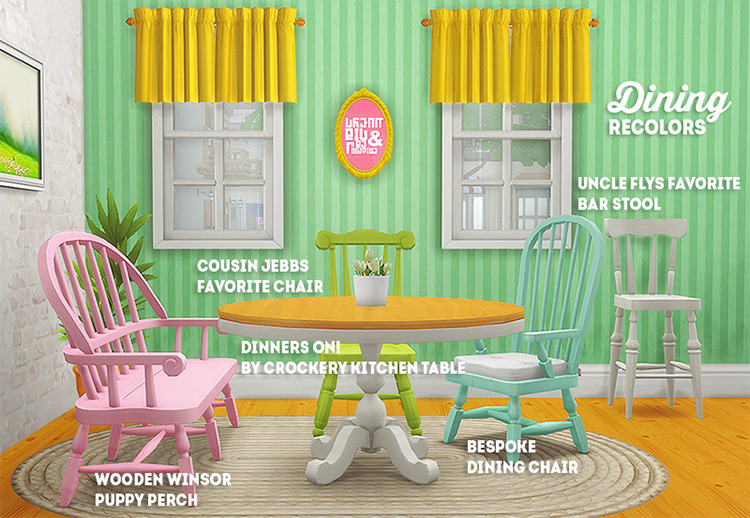 Must Have: Cats & Dogs, Laundry Day
This pack contains a number of dining items from Cats & Dogs and Laundry Day, and I think it's adorable how well they work together!
Achieving a seamless color scheme for builds when you're working with different packs is pretty difficult considering the swatch options are often miles apart. So something like lina-cherie's recolor set makes it much, much easier to match stuff from.
37.

Tiny Nifty Recolors by desimny
Must Have: Tiny Living, Nifty Knitting
As with lina-cherie's Dining Recolors set, desimny's recolor contains stuff from two different packs.
Honestly, if they hadn't pointed it out, I never would have guessed.
The items work so well with each other — especially in their shiny new designs!
Each object in this set has 10 to 15 extra swatches courtesy of desimny and, as you can see, pretty patterns play a huge role.
38.

Living Room Set by mana-tea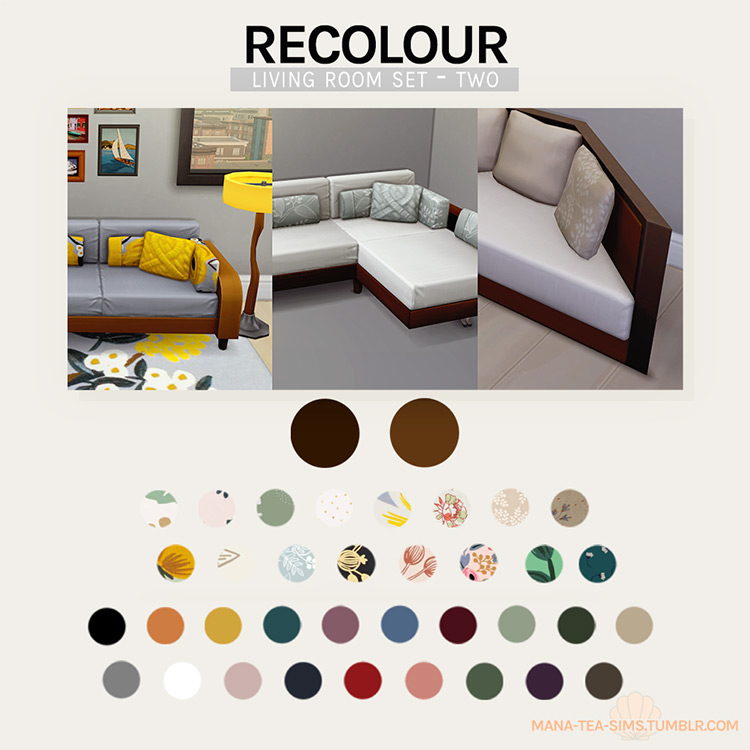 Must Have: Seasons, Backyard Stuff
I really do love the idea of combining pieces from different packs and recoloring them to have the same prints and/or color combos.
Mana-tea executes the concept perfectly with this set.
It contains three items from Seasons, one from Backyard Stuff, and one custom mesh.
Check the preview photos to see the gorgeous palette and patterns the creator used.
Build & Buy Recolors with Custom Mesh
39.

Roarsome Bedding in Sorbets Remix by i-heart-pudding
The beds in peacemaker's Roarsome Kids Bedroom set set already come in plenty of colored and themed options (20 swatches each, methinks).
However, it's my personal belief that you can never have too many design options.
So i-heart-pudding's recolor (which adds 76 shades from the Sorbets Remix palette) is perfectly acceptable. And super cute!
40.

ATS4 the A Shelf with Light String – Recolor by lina-cherie
This unique shelving unit – courtesy of Around the Sims 4 – definitely makes for an interesting interior theme.
I don't use a lot of display surfaces due to the limited number of deco slots they have. But I could make an exception for this A-shaped shelf.
Line-cherie's recolor seems to emphasize the clayified texture too, which I love. The string lights are definitely a nice touch!
Browse:
Lists
Maxis Match
The Sims 4
Video Games