Sims 4 Teen Girl Bedroom CC: The Ultimate Collection
This post may contain affiliate links. If you buy something we may get a small commission at no extra cost to you. (Learn more).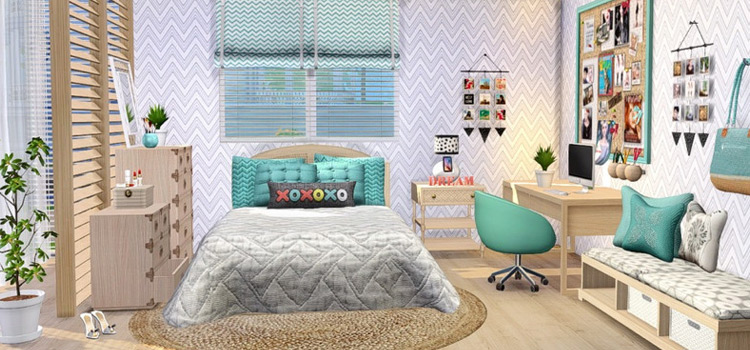 As much as we don't like subscribing to stereotypes, a typical teenage girl's bedroom does have a certain aesthetic that's instantly recognizable.
If your Female Sim is in the Teen life stage, it could be time for a bedroom makeover.
So let's check out a handful of CC to help you with that.
1.

Fond Femmories Mirror by littlecakes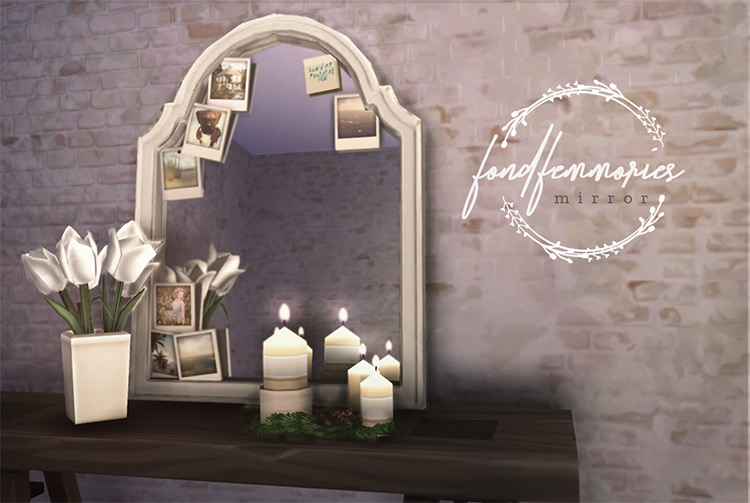 This mirror is for the sentimental gal who keeps all the polaroid pictures.
First sleepover with friends?
First unsupervised camping trip?
If it got caught on instant film, it's probably now tucked away safely in her mirror frame.
P.S. You'll need The Sims 4: Movie Hangout Stuff for this to work.
2.

Surfer Girl Teen Bedroom by Chicklet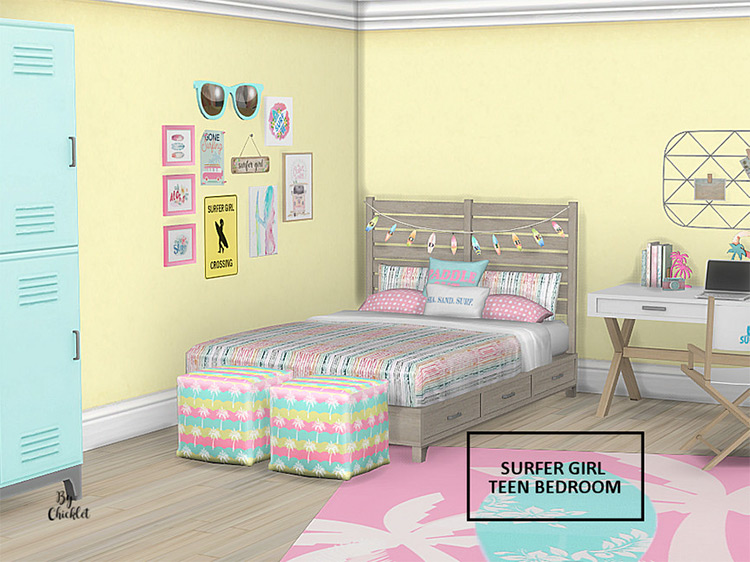 For the sea-loving, beach-hopping, summer-vibing coastal teen who just can't get enough of her hobby, I present: Chicklet's Surfer Girl Teen bedroom pack.
It contains 8 custom items which are a mix of usable furniture and cute, surfing-themed décor.
Plus c'mon, the color scheme of this room? So lovely.
3.

Yayasimblr MAC Makeup Set (TS3 to TS4) by ddaengsims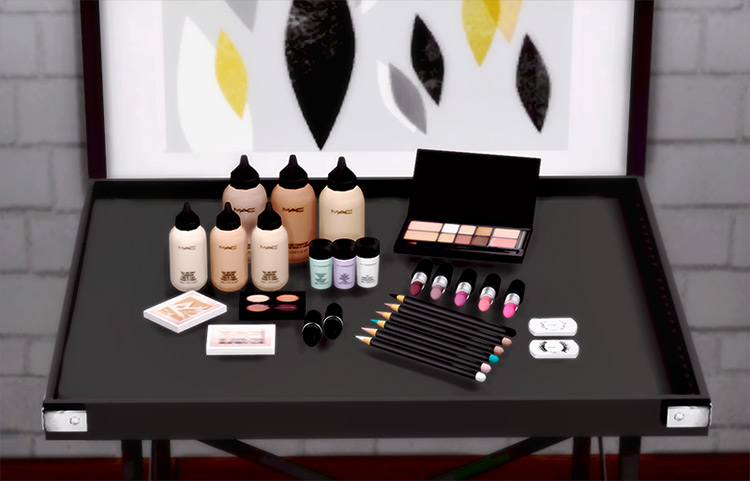 MAC is one of those staple makeup brands that some (if not most) teenage girls dream of owning — especially since their favorite beauty guru YouTubers have nothing but high praise for it.
I love the fairly wide range of color options with the foundation bottles, but I definitely would have loved to see a deeper shade.
I'm not gonna nitpick, though, when the set's already pretty extensive as is. It's a great clutter item for the desk, dresser, or even bed!
4.

Valerie Sims 4 + Valerie Part 2 by soloriya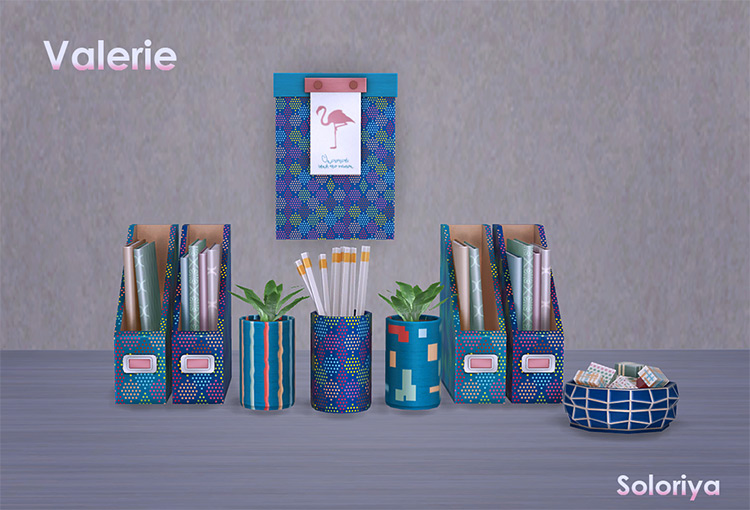 Add some bright pinks, sunny yellows, or calming blues to your game with these desk clutter sets by soloriya.
Honestly, the concept couldn't be more perfect for the theme of this article.
A notebook organizer, pen holder, clipboard, and potted plant? I've definitely had those on my student desk way back in the day.
You can download part 2 here, which follows the same "colorful study must-haves" theme.
5.

Stationary Haul by pqSim4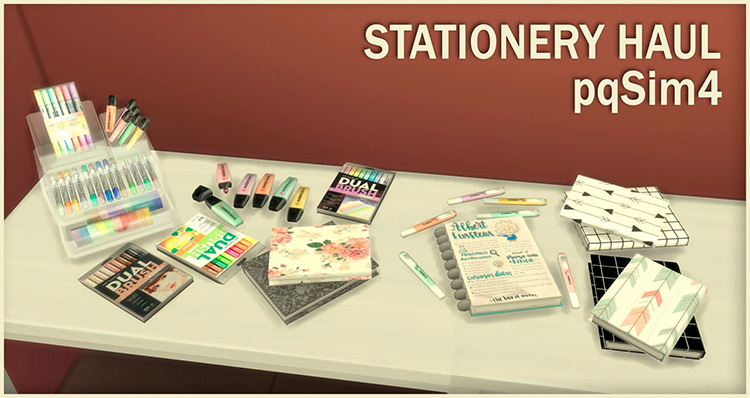 Sure, all teens have a smartphone, tablet, or laptop right now.
What do they need stationary and pens for?
You'd be surprised.
The whole creative, fun-loving, free-spirited teen aesthetic isn't complete without watercolor-covered notebooks, soft pastel notepads, neon highlighters, and colorful markers.
Plus these stationary supplies make for cute and artsy Simstagram posts!
6.

Nieden Nordic Ceiling Dreamcatcher by RightHearted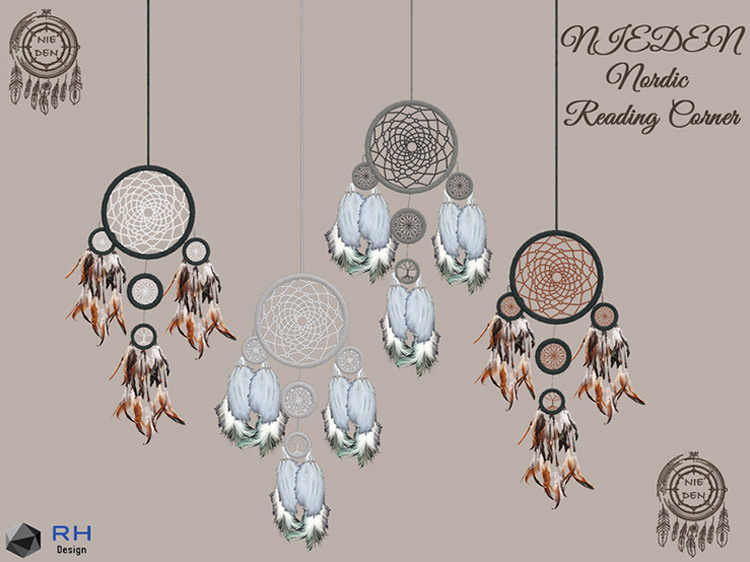 Is it just me, or does every teenage girl in most every teenage movie have some form of dreamcatcher in their bedroom?
Dunno if I'm remembering wrong or just making stuff up. But I feel like this woven, feathered décor item is a must-have in a girl's bedroom — especially if she's going for a soft, nature-loving Bohemian vibe.
7.

Christmas Bedroom by Severinka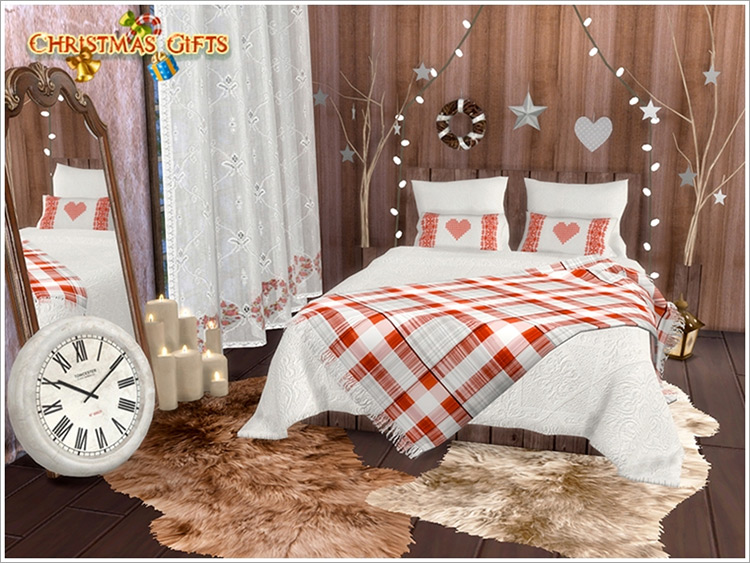 It doesn't need to be Christmas for your Teenage Sim to use this bedroom set.
The festivity, the whimsical décor, the color combinations… trust me; most of these items wouldn't look out of place in a teen girl's bedroom all year round.
Out of all the items in the set, I'm particularly drawn to the candles, the festive wall décor, and the double bed decorative pillows.
8.

Misc. TS2 to TS4 by mxims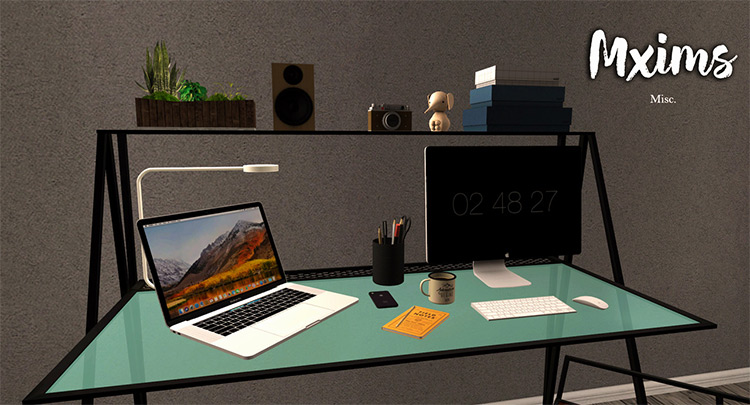 Remember earlier when I mentioned how all teenagers have smartphones, tablets, that kinda stuff?
Yeah; one or two (or more) items from this custom stuff pack are definitely present in your teen Sim's bedroom.
I call the phone on the bed, the laptop on their desk, and maybe the camera peeking out from their bag.
I'm pretty impressed by the variety of items in this download. It's extensive!
9.

Vintage Clutter by littlecakes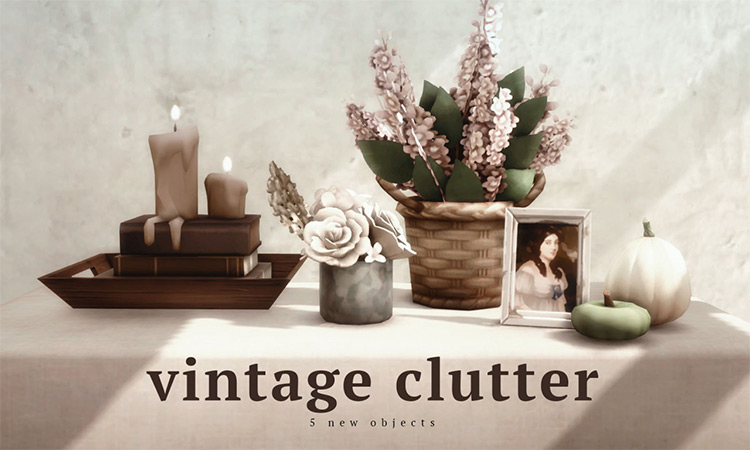 For the old soul trapped in the body of a teenage girl, this Vintage Clutter pack by littlecakes is a right treat.
The Old Family Portraits might not see much use, but the Tabletop Pumpkins?
The Flowers in a Can?
And the Books on a Tray?
Definitely see these being very present on a teen's desk or dresser.
Plus the color swatches of the items are so soft and so gorgeous.
10.

Naturalis Wall Lamps (Left & Right) by SIMcredible!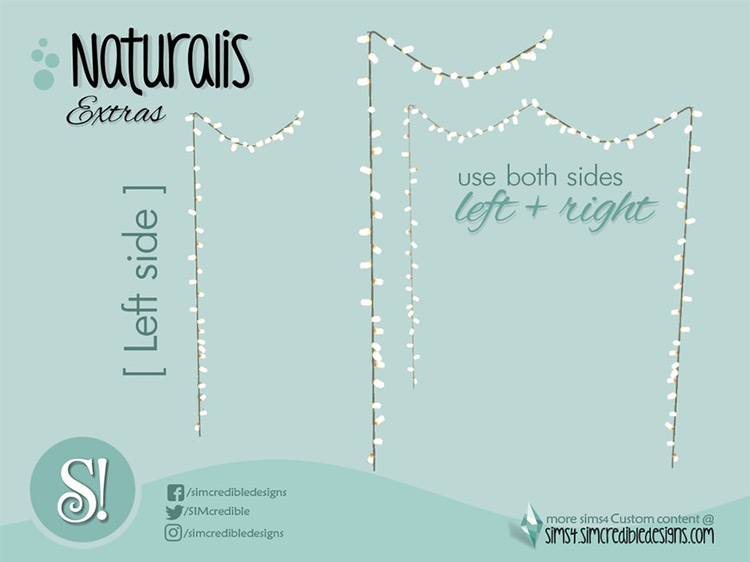 Faerie lights in a teenager's bedroom just makes sense, you know?
Sure, they have a perfectly functional overhead light. They may even have a desk or floor lamp that gives of ten times as much light than these tiny twinkling bulbs.
But that isn't whimsical or aesthetic.
And floor lamps can never give off the right mood lighting.
So faerie lights it is.
P.S. click here for the right side version. You can use both together to create a beautiful lit arch above your Sim's bed!
11.

Zara Wall Sticker by SIMcredible!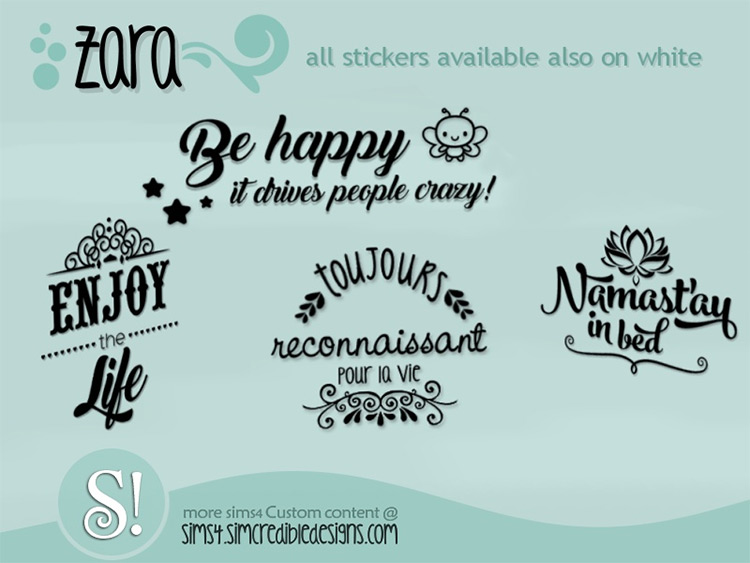 Wall decals of uplifting quotes are basically on the same level as posters of motivational Instagram posts. They're cheesy, they're overused, they can make you roll your eyes… but you're going to stick them up anyway.
Or your teenage Sim is going to stick them up, anyway.
Admittedly, the "be happy; it drives people crazy" decal with the bee caricature is cute. As is the "namast'ay in bed" one.
12.

Zara Wall Magazines by SIMcredible!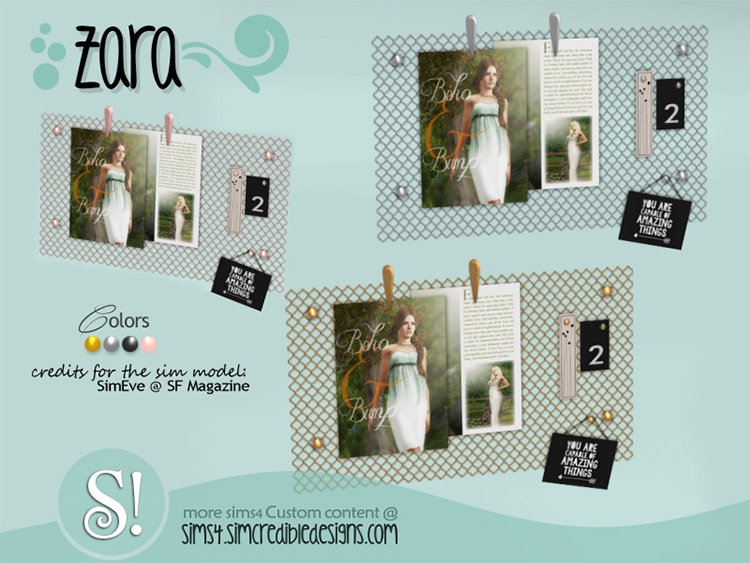 Do teenage girls still hang up magazine clippings for outfit/hair/style inspo?
Or is everyone on Pinterest now?
I'd like to think inspiration boards aren't so obsolete. Ergo, I'm going to keep this CC on the list.
Somewhere out there, there's that rare Teen Sim who still enjoys the process of carefully cutting out pictures from magazines and painstakingly adding them to a display board.
Plus I really like the tiny "you are capable of amazing things!" sign on the lower right. Made me feel all fuzzy.
13.

Zara Blanket by SIMcredible!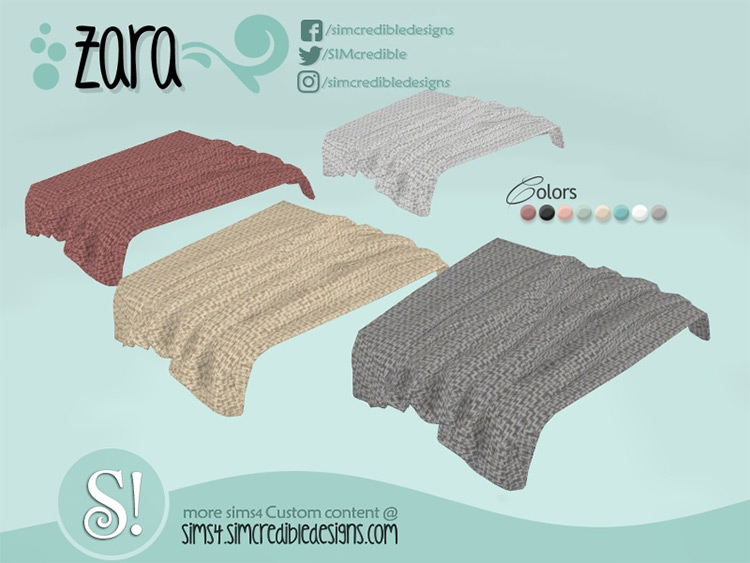 A nice, comfortable throw blanket is always a good choice for décor.
It's cozy, it's practical, and with the right color combinations it can really help accentuate a regular bedspread.
This Zara blanket from SIMcredible! looks like it's made of a thick, woolen, cable-knit-type material.
It also comes in 8 color variations ranging from deep black, pure white, soft teal, and a nice pastel peach.
14.

Billyjean Wall Clutter Conversions by Mio-Sims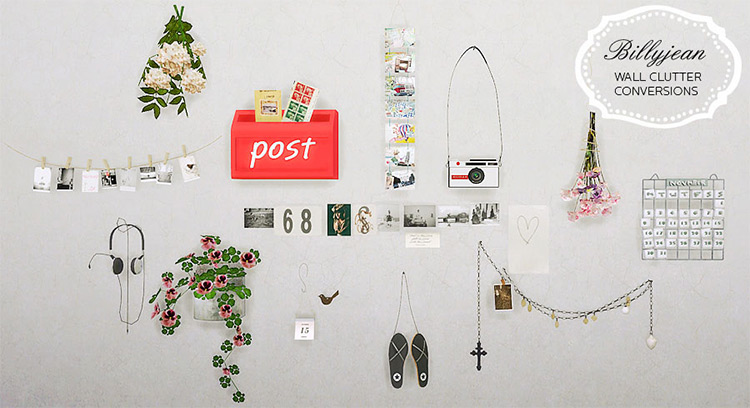 Just a grab bag of fun, artsy, and whimsical wall clutter that you'd find on a teenage dreamer's bedroom wall.
You know, the kind of Teen Sim Teen who wears a beret unironically, knows really obscure picture destinations, and knows the works of at least three different French artists.
That's the vibe I'm getting from these pretty wall-mounted clutter items.
Note: adfly is pretty heavy here, but you'll get to the download page eventually. Only use this direct download link if you're in a hurry (support CC creators, folks!)
15.

Cassandre Bedroom S4 by Pilar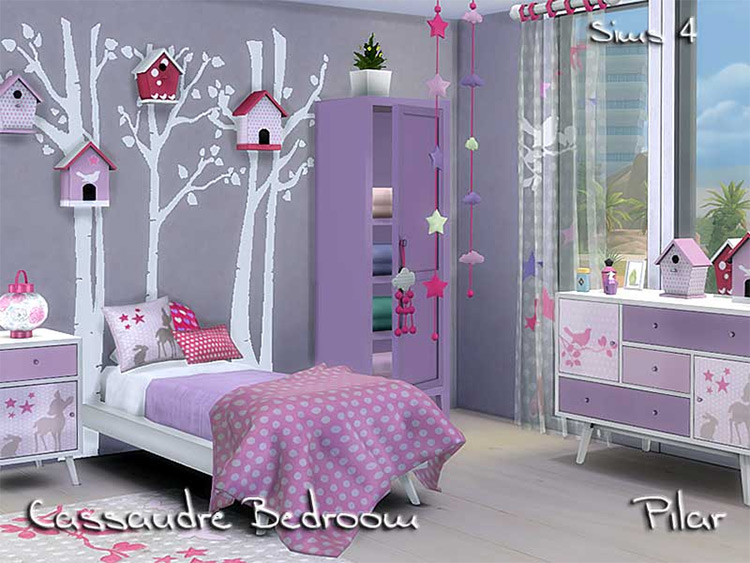 The description for this Sims 4 Build & Buy set reads: "girl things, stories and fantasy."
Honestly, looking at the bedroom? I agree.
It's soft, it's whimsical, and it looks like the teenage girl living here probably clings to faerie tales and loves Disney like nothing else.
My favorite items (from the 14 available) are:
The dresser (with Bambi silhouettes)
The stars n' clouds mobile
And the tree wall decals
16.

TS4 Wall Tapestry by helen-sims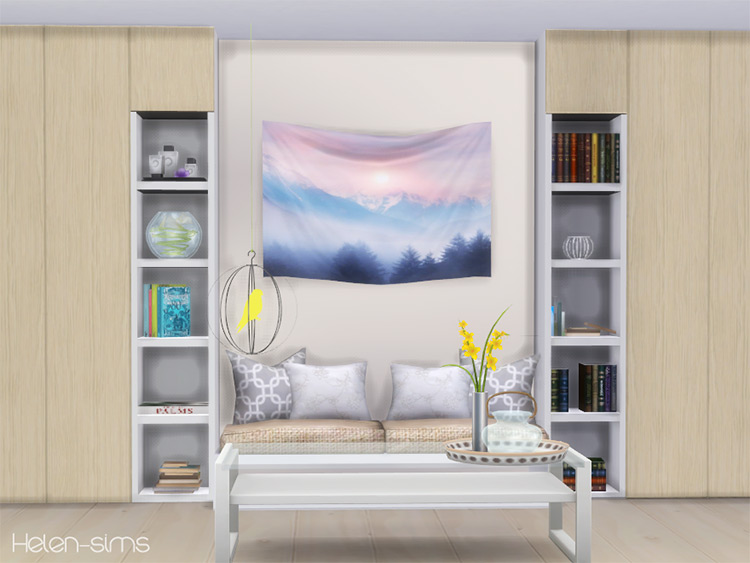 This wall tapestry is gorgeous.
I know I say that about a lot of custom content, but seriously. Really look at it. The drapes, the folds, the texture, the designs?
A tapestry is a ridiculously simple decoration that can easily tie an entire wall (if not an entire room) together. This is no exception.
It comes with 20 breathtaking variations. They're all some form of soft watercolor, gorgeous scenic landscape, or stunning geometric designs.
There's also a lone stylized scene from what looks to be The Last of Us. I could be wrong on that one, though.
17.

Kids Set: A Little Lovely Company by helen-sims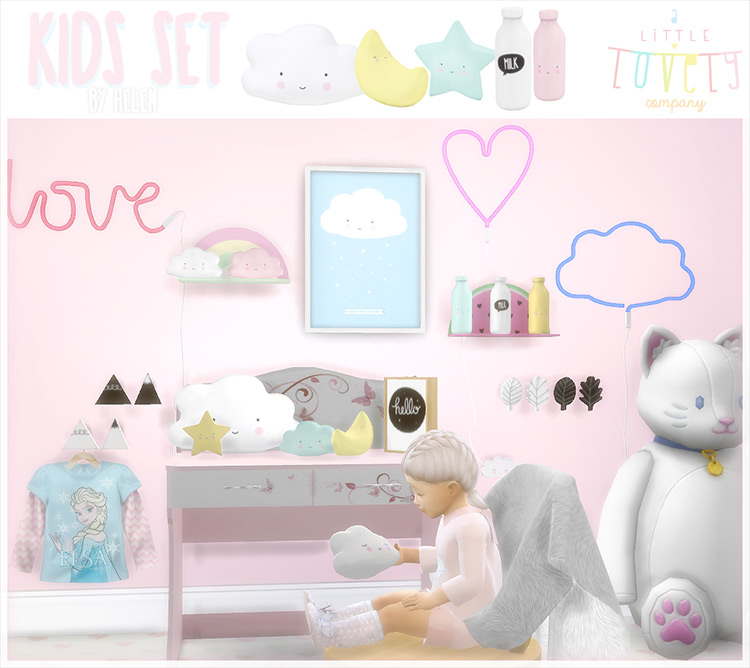 So I know that this says it's for kids.
But I, as a former teenager girl, can confirm that a lot of the décor pieces in this set have a place in a teenage girl's bedroom.
The small posters with the cute, hand-drawn cartoon critters?
The novelty blushing cloud wall hooks?
The cloud-shaped nightlights?
The neon Love lights?
Yeah, these items can delight even older Sims. Trust me.
18.

Polaroid Pictures, Books, and Lights by littlecakes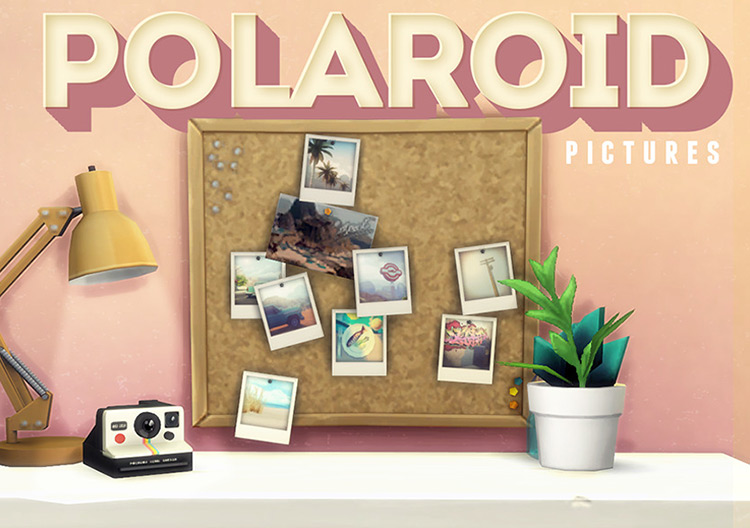 More odds n' ends that can help clutter up a teenage Female Sim's bedroom.
Decorative polaroid pictures (available in both wall-mounted and tabletop-scattered versions), stacks of random books (that your Sim will eventually get around to reading, hopefully), and some decorative light bulbs to frame vintage movie posters.
19.

French Teen Room Furniture by Severinka_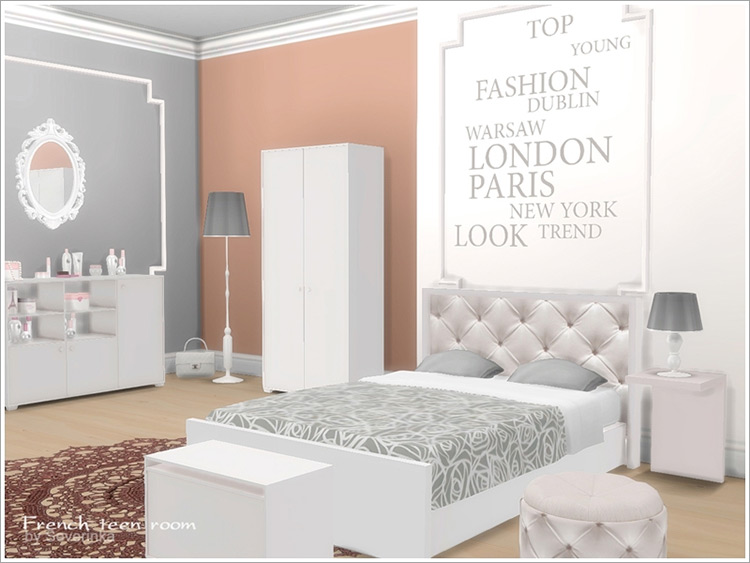 This furniture pack couldn't be more on-brand with this article if it tried.
Aside from the fact that all the CC items in it come in shades of pastel pink, rose, and soft grey, the meshes themselves fit a feminine aesthetic so well.
Delicate lines, soft silhouettes, clean palettes, and a wall molding proudly listing all the dreamiest fashion getaways…
And I'm not even going to pick individual favorite objects from this pack — I'm recommending the whole darn set.
20.

Jules Set by SIMcredible!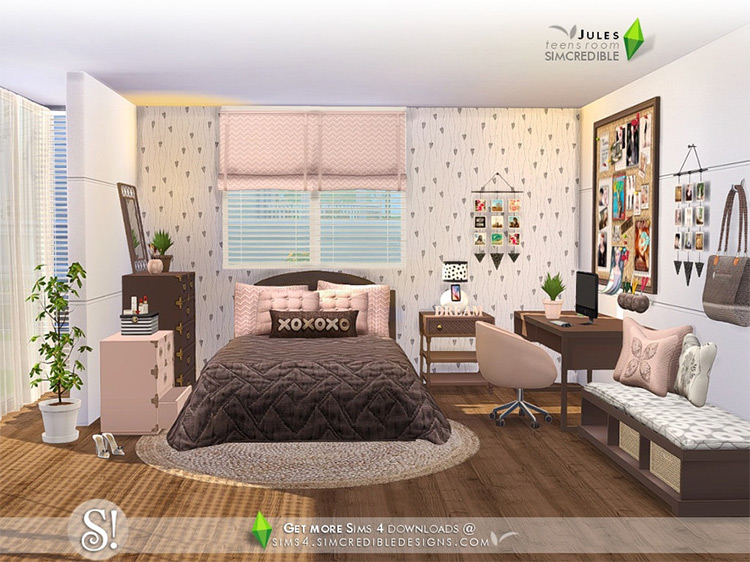 Same sentiment here as with Severinka_'s French Teen Room kit.
This CC set is fairly gender-neutral, but I'd argue that most of the items' swatches and designs land it squarely in "teen girl bedroom" territory.
Special mentions? The XOXO cushion, the candy lamp with built-in phone holder, and the beautiful loveseat cushions.
Browse:
Lists
The Sims 4
Video Games