Sims 4 Maxis Match '90s CC: The Ultimate Collection
This post may contain affiliate links. If you buy something we may get a small commission at no extra cost to you. (Learn more).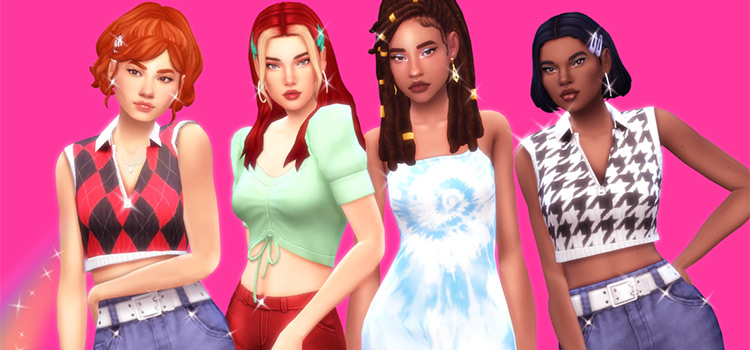 Sometimes, a Simmer gets tired of modern life.
It's easier than ever before to embrace the past in The Sims 4, thanks to all of the content out there that's made so we can do just that.
This beloved era has already been experiencing a resurgence and nostalgia is at an all-time high, so there are plenty of ways to integrate 90s styles into your Sim's lives.
1.

Chandler Hair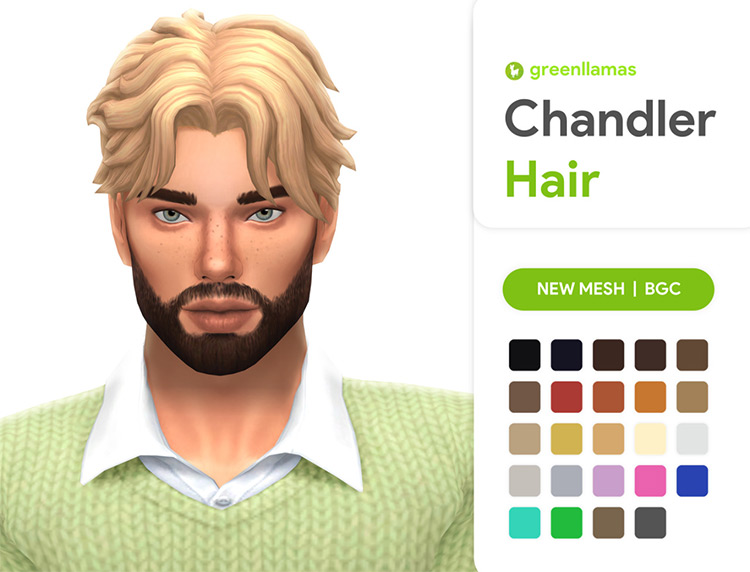 It doesn't matter how long it's been, nothing will make a girl swoon like these choppy surfer 'dos of the 1990s.
Actual surfing is not required, of course.
Something about this style just has such a youthful feel and Greenllamas captured that perfectly here.
2.

Home Phones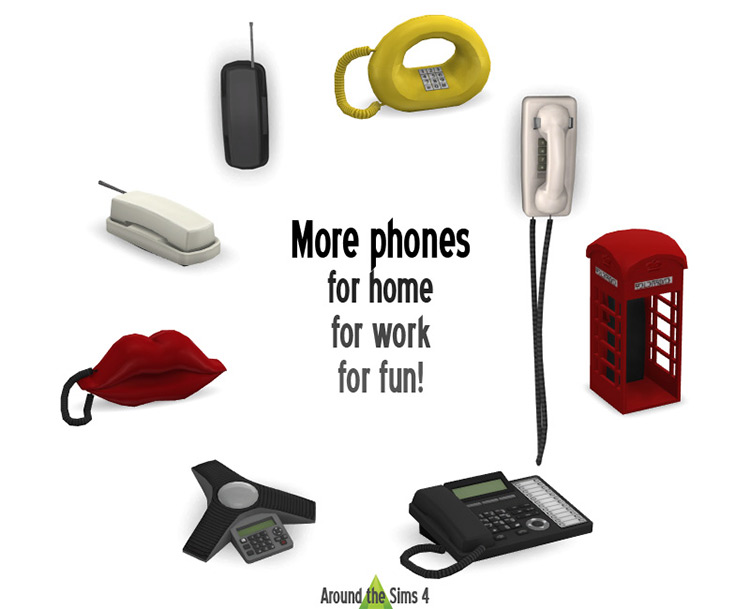 Obviously if you're planning on taking your Sim's home back a few decades, tech is gonna be an issue real fast.
But all your Sim's home phone needs will be met with these, which include both wall phones and fun tabletop models.
They all come in lots of fun colors!
3.

Female '90s Bob Hairdo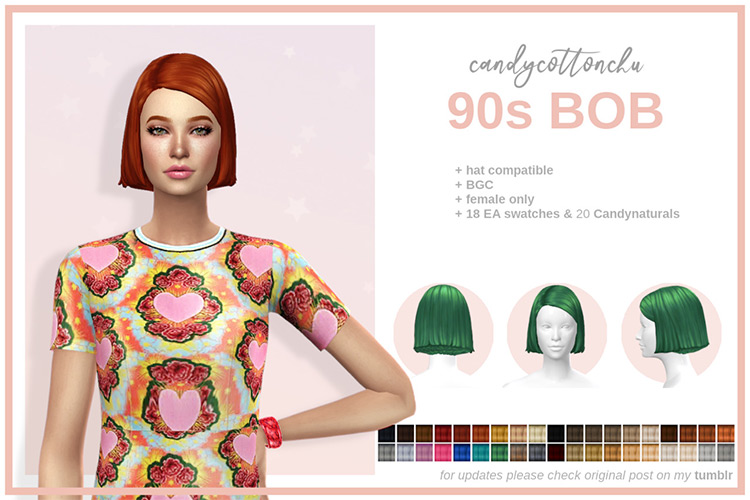 The bob hairstyle has a long history but it has never been sleeker than in the '90s.
Here, it's side parted and simply flawless.
It's subtle enough that it would fit well on a modern Sim on its own, but once you start adding retro fashion, the goal will be clear.
4.

French Sweater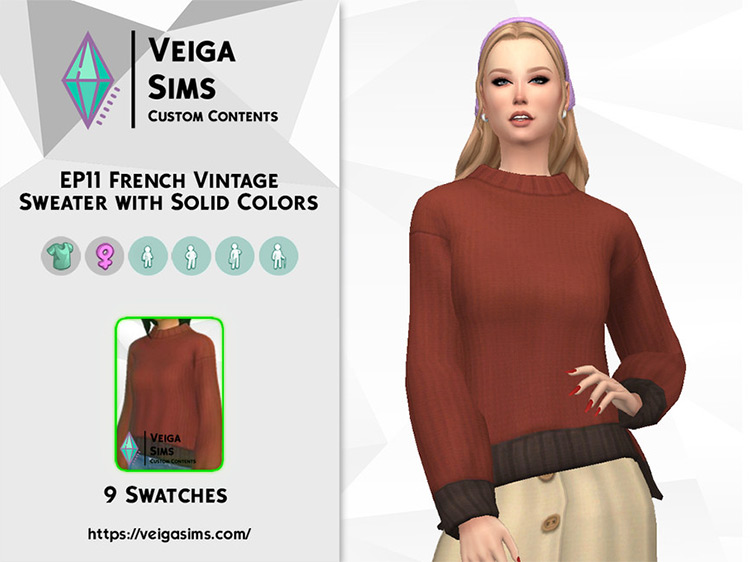 Some bulky, retro sweaters are a must if you want your Sims to fully embrace the '90s aesthetic throughout the year.
It's no exaggeration that these are some of the most versatile, stylish, and well done sweaters out there. You'll never grow tired of them, especially when there are so many swatches!
5.

'90s Classic Long Dress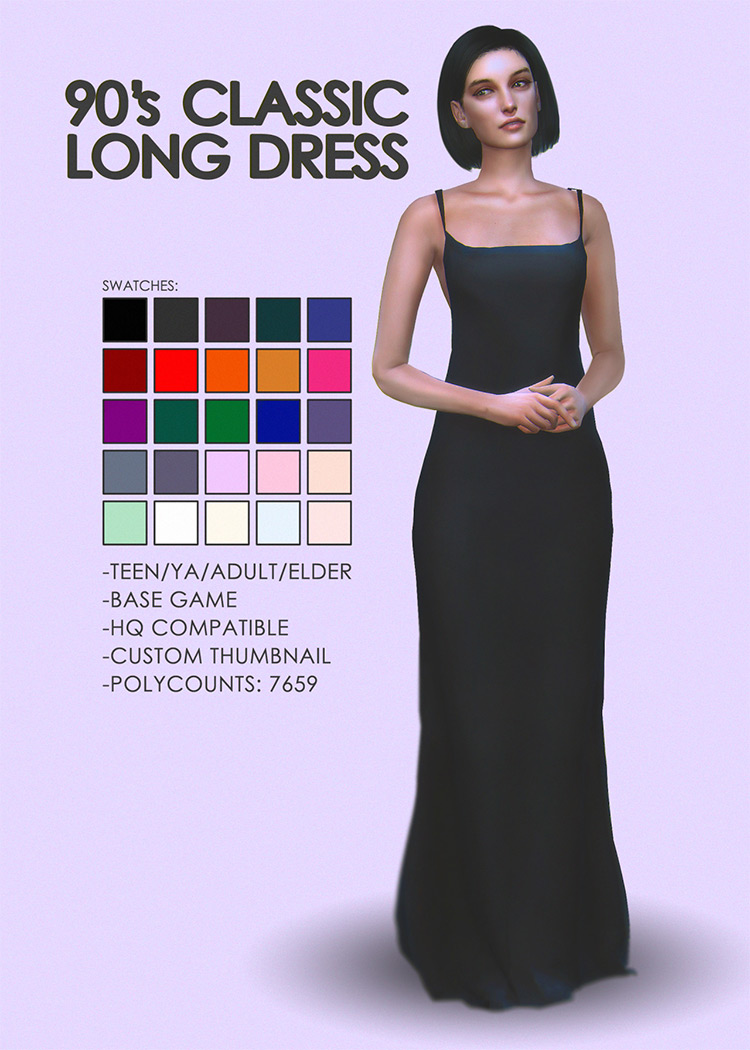 Although this era had its fair share of bold new fashions and innovative designs, a girl still needed some basics like a little black dress.
But thanks to the 24 other swatches in this CC, you'll have plenty of colors to choose from. This gown is simple but pretty with its long length and spaghetti straps – what more could a Sim gal need?
6.

Cyber Cargos
Back in the day, the rule of thumb with pants was "the bigger, the better".
It was popular enough to become one of the most defining looks of this time.
These cargos don't get too crazy with the bagginess, but they're still a stark contrast to today's skinny jeans.
7.

Denise Hair with Scrunchie
Any hairstyle can seem like a throwback with enough scrunchies, but for this high pony, one is enough!
This updo may be simple, but it's no doubt a classic.
Ponytails are already pretty timeless but the '90s inspiration is clear in this CC.
8.

Kat Top & Stitch Pants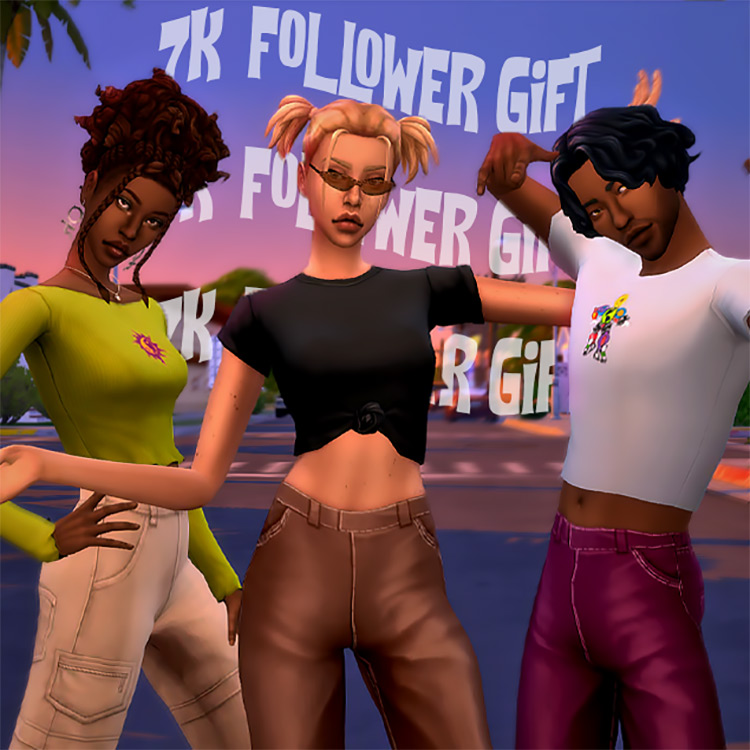 Most of this set could work for a '90s Sim, but I think the form-fitted top and high waisted pants look the part most of all.
The ruffled hem and small icons of the shirt make it so cute.
As for the pants, each swatch really stands out, from the cow print to leather textures.
9.

Glitter Set (1990s)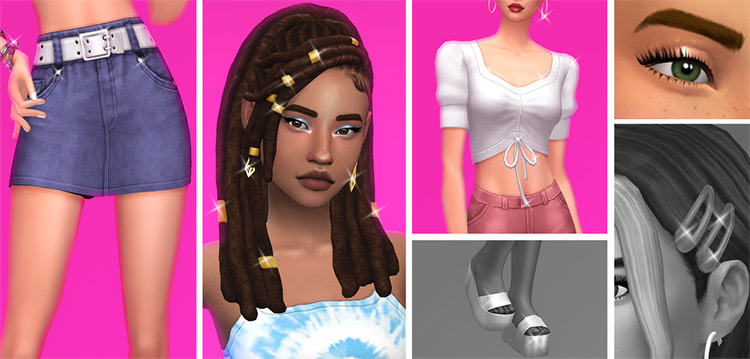 Here's a great way to get your Sim all decked out some of this period's most iconic looks, and fast.
Tye-dye minidresses, crop tops, and baggy jeans with big belts are just some of the attire included. You'll have enough to work with from head to toe.
10.

The '90s Male Hair Set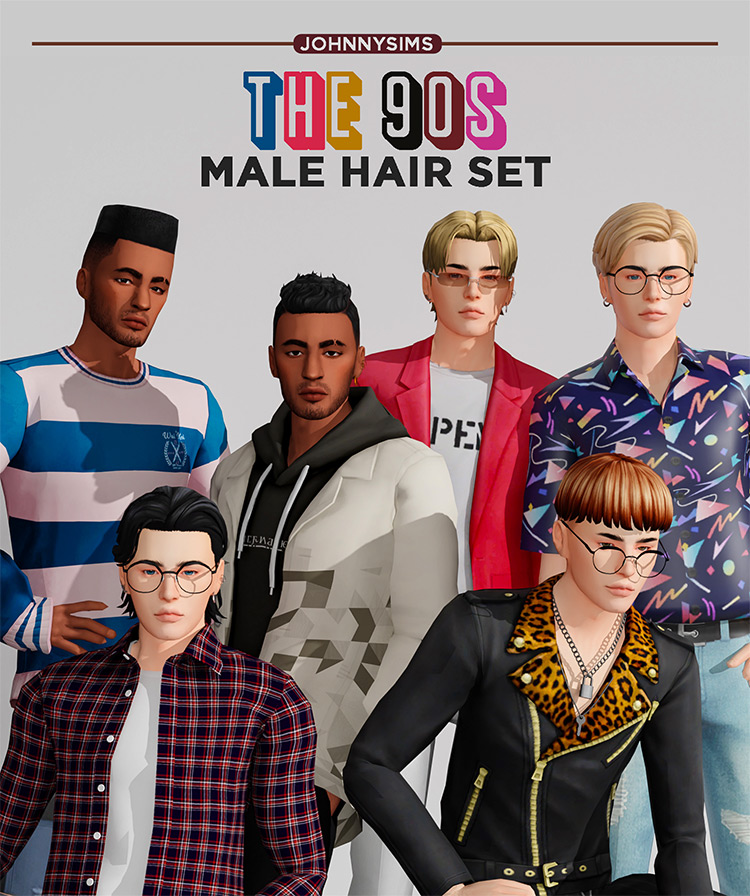 Some of the most iconic and recognizable men's haircuts are included in this CC set.
Like a tall fade, bowl cut, and slicked back look, amongst others.
Six total brand new styles are included and if you're into this decade, you'll want to grab them all. Truthfully, this set is hard to top!
11.

Classic '90s Wall Decor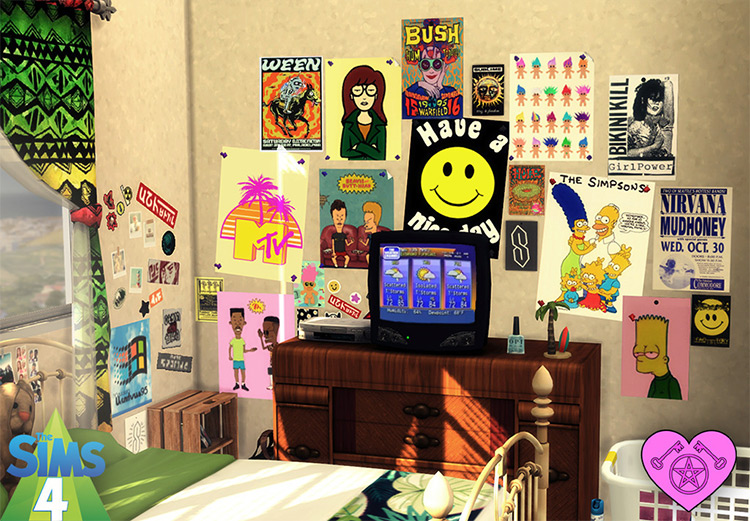 When it comes to pop culture, few eras are as packed with big names as the '90s.
These posters include a bunch of beloved bands, singers and fictional characters,
There are some just thrown in for Nostalgia's sake too, like a very aesthetically pleasing MTV poster.
12.

Men's Shirt 1999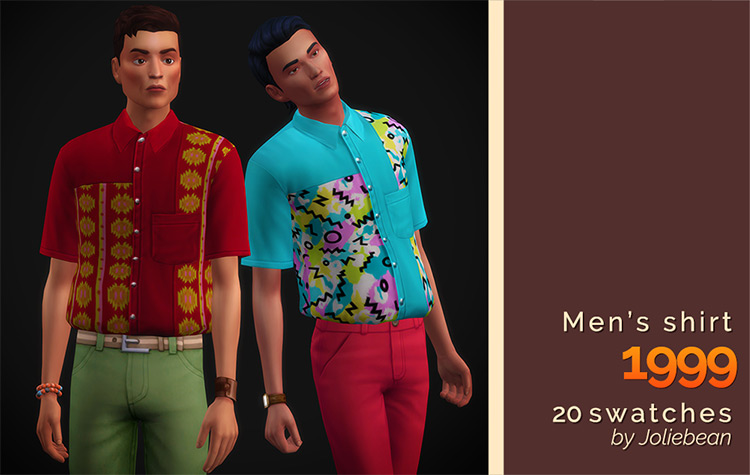 Sure, it's at the tail end of the decade.
But '99 still brought us some distinct looks.
Joliebean's tucked button up will never fail to look dapper no matter what your Sim wears for bottoms. But the swatches have all sorts of bright, unique patterns that keep it casual.
13.

Remember The 1990s Carpet
These two carpet patterns are horrifically tacky, busy, and dated.
It's awesome.
Builders with a passion for vintage interior design will really love them. Whether you're brave enough to try an old school arcade or just a kid's hangout right in your Sim's home, you can't miss this bold flooring.
14.

Gini Top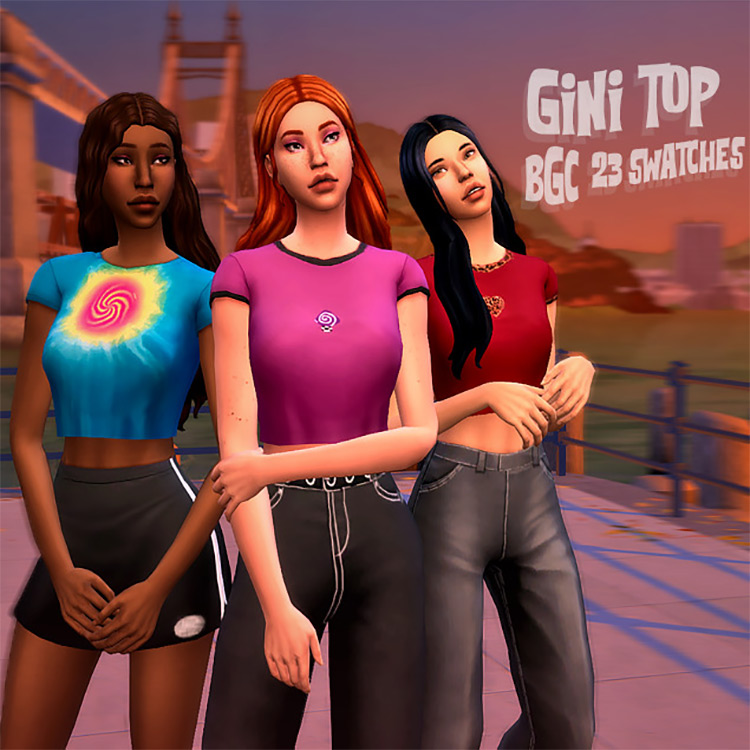 Few periods can rival the combination of bold colors and unique graphics quite like this one.
The Gini Top isn't your average tee… it's cropped! Any Sim can rock them, and so they should, especially with 23 swatches at your fingertips.
15.

'90s Babe Braids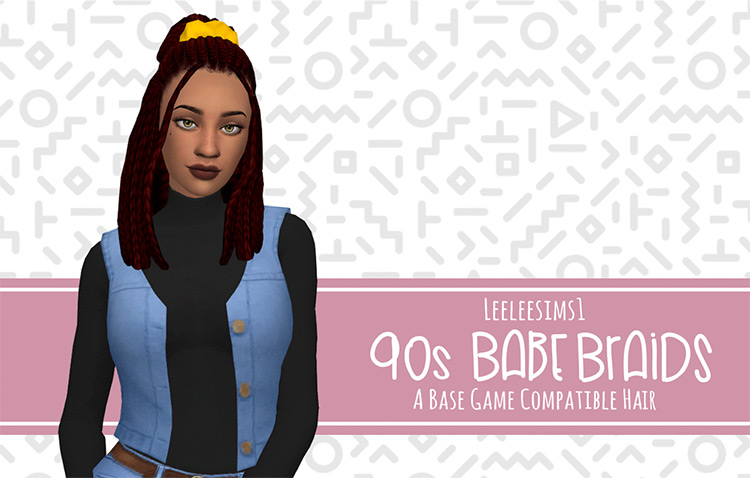 These braids are incredibly detailed any way you look at it.
There's not a hair out of place, they're all neatly braided up!
(And still totally Maxis-matched).
Really, these are very stylish and there are multiple ways to personalize them. LeeLeeSims includes an optional scrunchie and metal beads.
16.

Grandma's Couch Recolor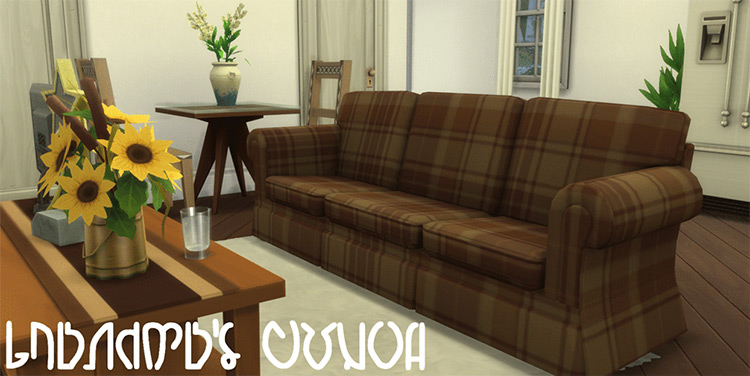 Grandma's weird not-so-cute couch wasn't always like that.
Once upon a time, that was very chic.
This recolor of the base game couch has got all of the vintage sofa looks. Big floral prints, dark plaid, and material that has the same texture as the carpet… ah, feels like home!
17.

Jessica Hair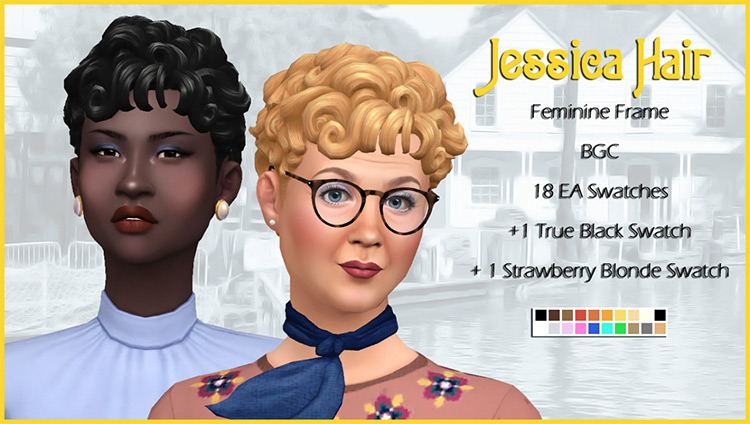 Perms and rollers were once the cornerstones of popular hairdos. It's tragic we don't have many options readily available for our Sims, but this one is truly a gem.
You can just look at it and see the inspiration. These perfectly coiffed curls are just what any '90s woman needs.
18.

Swoopy '90s Male Hairstyle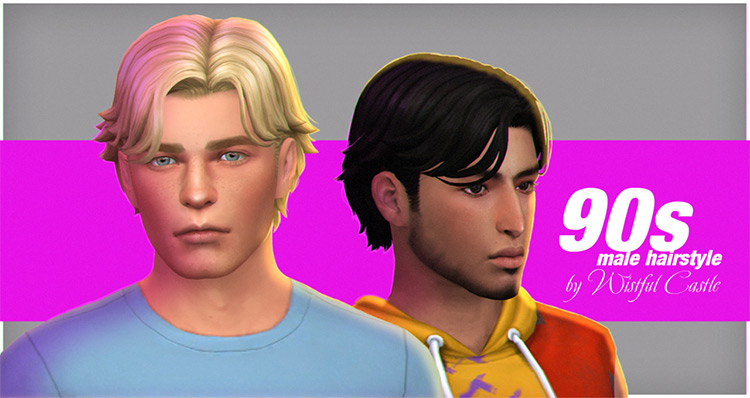 Neat hair just wasn't the "in" thing for '90s dudes, it seems. But that's just fine because the messy look is very handsome, even on Sims.
These feathery layers make for one seriously gorgeous mane.
The part is just slightly off center, which somehow makes it even better.
19.

Dr. Martens 1460 Boots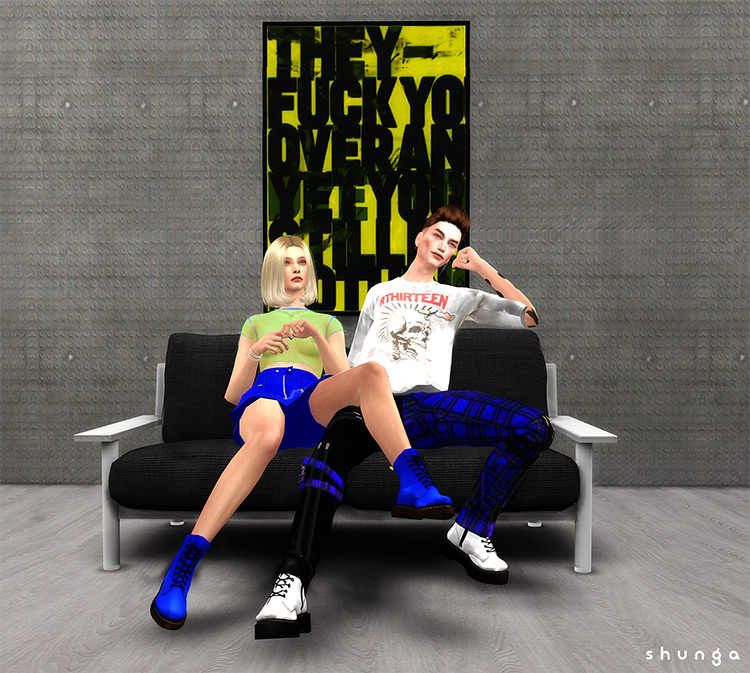 There are certain things you just have to have for a '90s look, and Doc Martens are one of them.
They were insanely popular, especially among the grunge crowd.
Versions of these incredibly high quality boots are available for both male and female Sims. Aside from the classic black, there are plenty of other options!
20.

Jessica Skirt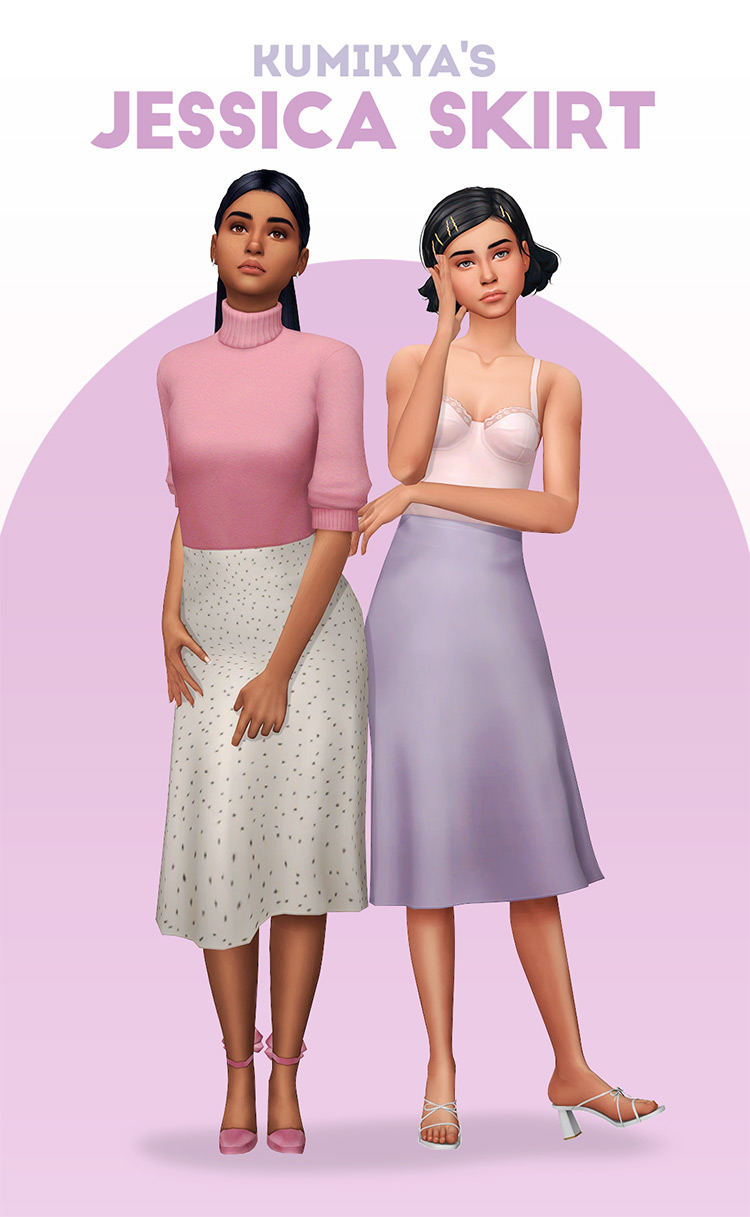 A skirt is always a great foundation for a casual outfit.
And with so many eye-catching tops out there, something neutral might be the way to go.
It'll be a breeze to pair this with all sorts of tees and sweaters thanks to its high waisted style.
21.

The Sticker Fridge Collection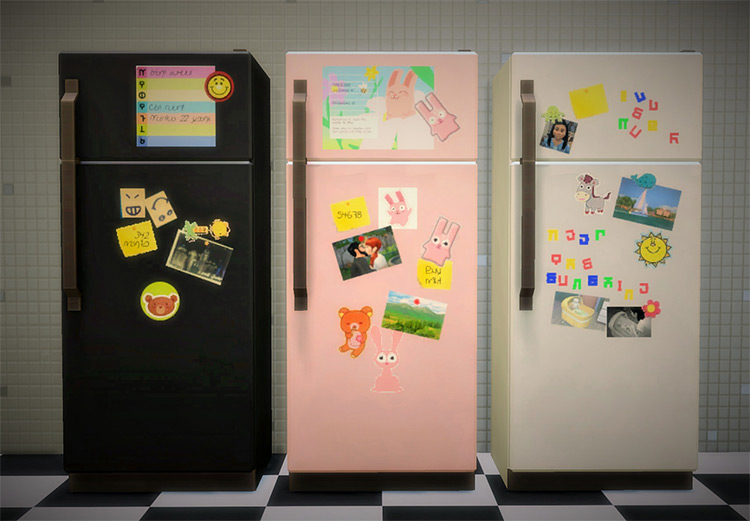 The little things are what really capture the essence of a bygone era, like fridge magnets and coloring pages displayed on the fridge.
Each version is a little different.
And this will bring a fresh look to any kitchen since all fridges currently in the game are sad and boring.
22.

BG Computer Recolors
There aren't many bulky, obsolete CC computers out there – probably because we're all glad to have moved beyond such inconveniences.
However, a clunky PC is all about the aesthetic. So some recolors will do.
I'm pretty sure the original was supposed to be ugly, so some new pastel shades and stickers go a long way.
23.

Monica Dress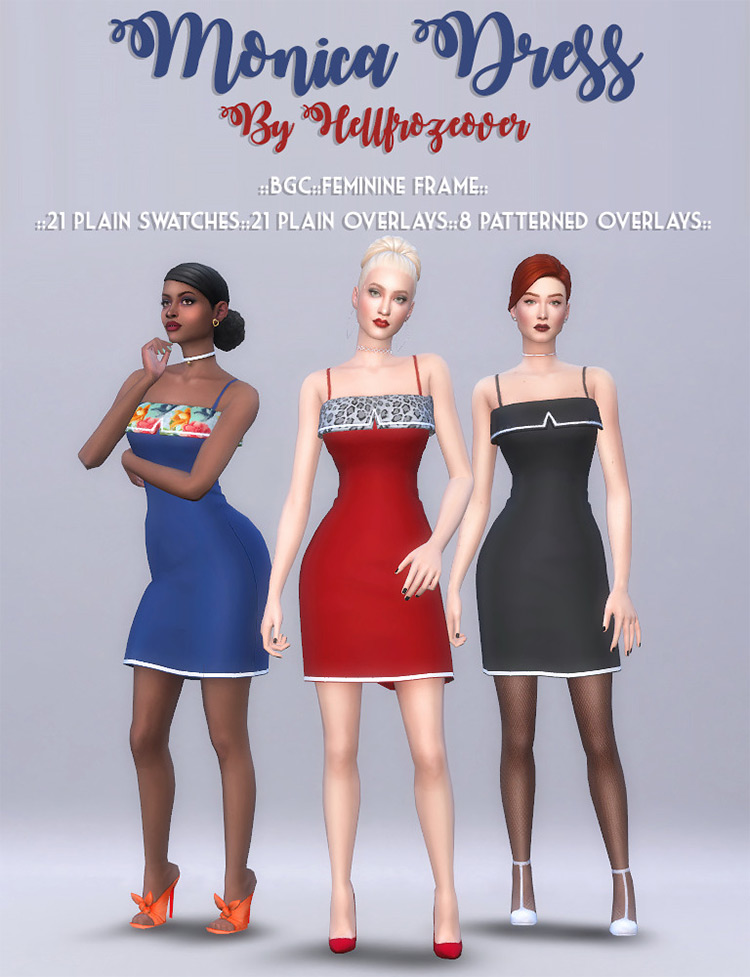 Sims can wear this saucy dress to formal events and wild parties alike.
It all depends on your tastes, and how you want to use the overlays.
The creator included several ways Simmers can change up the style here by applying different patterns and colors to the top.
24.

Jellies (Sandals)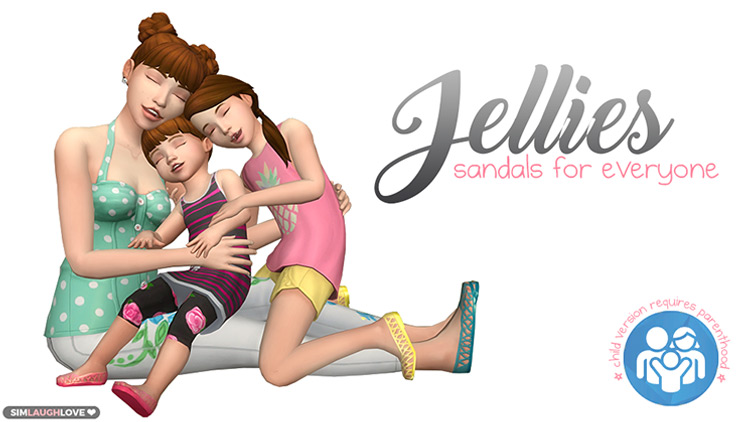 Jelly sandals had their heyday a while ago but for some reason, a flawless recreation was included in Parenthood. And no one's really topped it since.
SimLaughLove has made them available to all ages, and BGC except for the children's version. They still can't be beat, and have 30 colors to choose from.
25.

Super Nintendo (Décor)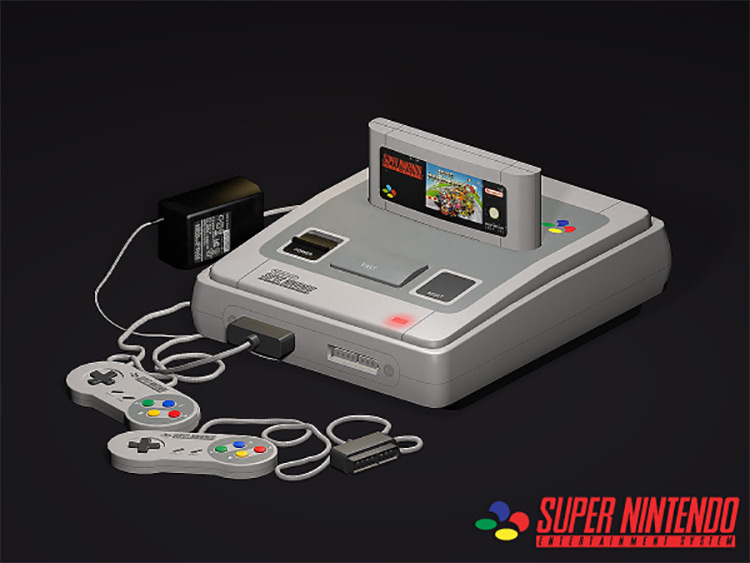 This is one object that needs no introduction.
We're talking about a console that's still renowned and beloved today, and its games have lived on – even though it was first released in the US back in 1991.
Yes, we're talking of course about the SNES – the first love of any 90s kid! Any Sim's living room can benefit from this decorative recreation.
Note that this CC's design is based on the SFC(Super Famicom) which is the Japanese version.
Although there is this CC of an NTSC/USA version of the SNES which comes with a variety of game cartridges!
26.

Grunge Tights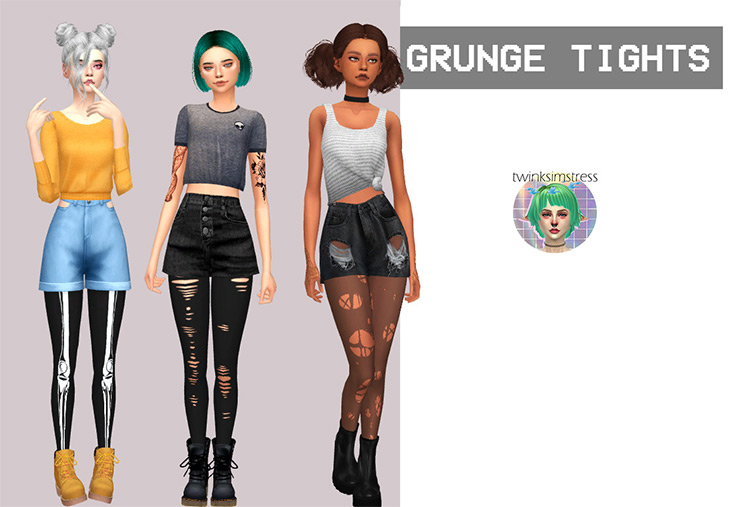 It would be criminal not to circle back to some grunge stuff, so here we are, with five pairs of sufficiently ripped up, raggedy tights.
They vary a ton from one swatch to the next and some even have graphics, like skeleton bones.
27.

Rachel Amber Flannel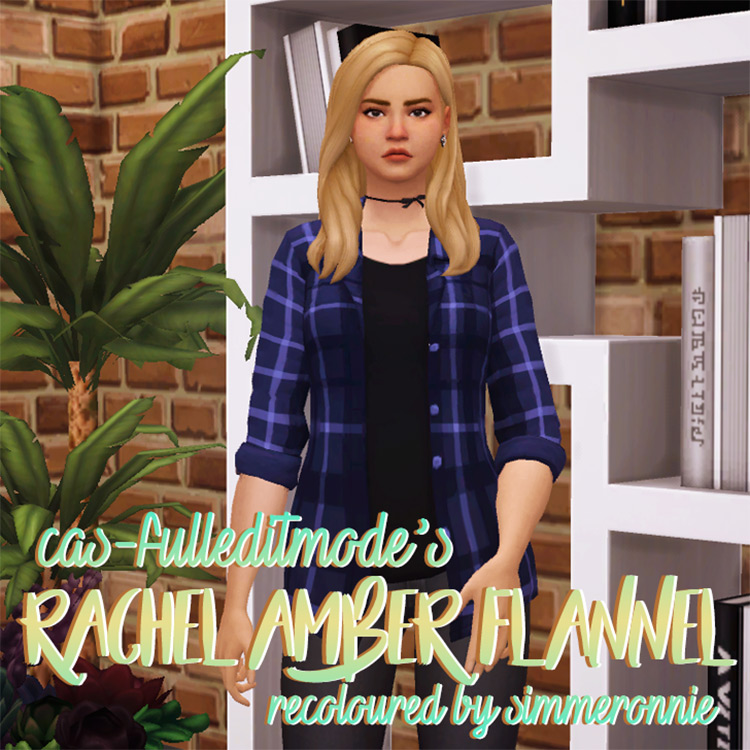 Flannel has been in fashion for like, 40 years straight now.
At this point it's a wardrobe staple, but it was already well on its way to that status in the 1990s.
These recolors will provide your Sims with an array of vibrant yet fashionable flannel tops. More than likely, they'll fit any Sim perfectly.
28.

Flip Phone CC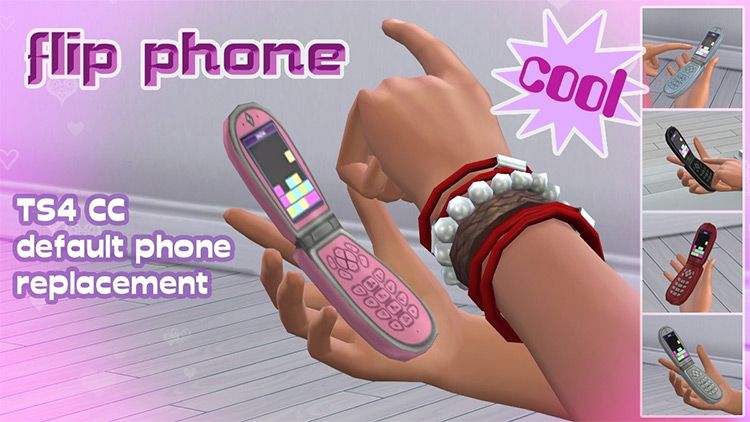 Phones evolved insanely fast through the 20th century and as it came to a close, communication was fully mobile.
If you truly want to commit your game to this decade then you've got to grab this functional flip phone.
It'll replace the base game phone, and it's extremely high quality.
29.

'90s Throwback Tees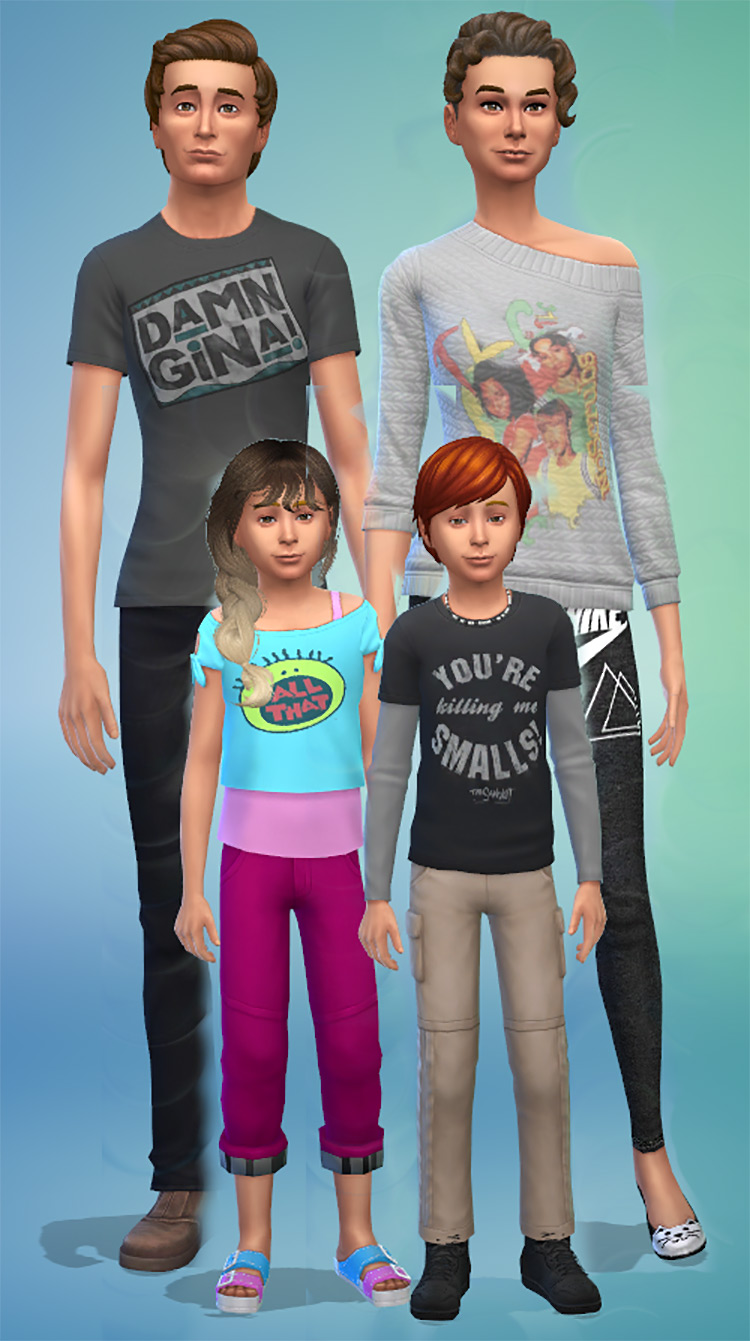 For a lot of people, this was a golden era of television and movies. A lot of them are still popular today, which is probably how this set of tops came to be.
Kids and adults both can wear these nostalgic tees, which all feature various phrases or logos from hit entertainment.
30.

Cheetah Love Top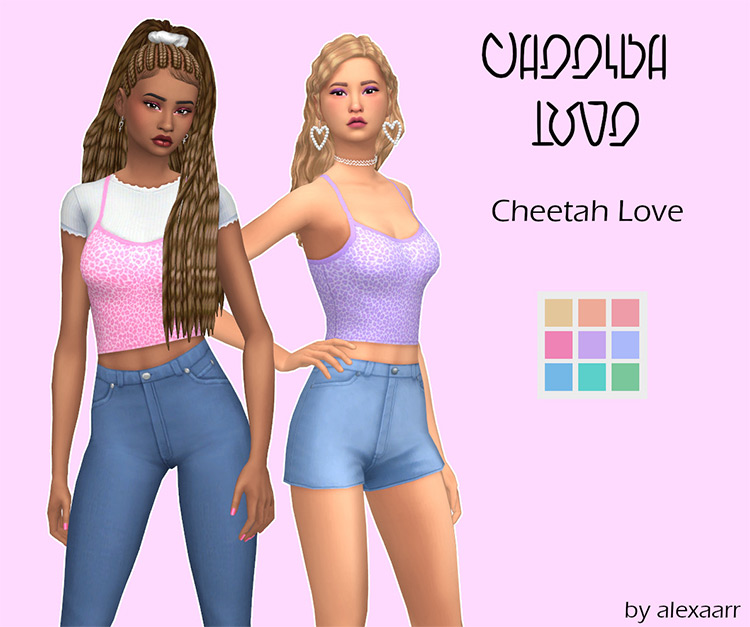 Although CC creator Alexaaarr didn't specify it as such, this tank top has all the makings of a '90s classic.
Spaghetti straps, cropped length, and animal print are all you really need. But the soft color palette really seals the deal!
You can even layer it over accessory tops for maximum effect.
Browse:
1990s
Lists
Maxis Match
The Sims 4
Video Games