Sims 4 Custom Bracelet CC (All Free)
This post may contain affiliate links. If you buy something we may get a small commission at no extra cost to you. (Learn more).
Jewelry is one part of CAS that doesn't get much attention – unless people are hastily heading there to remove the famous eyeball ring.
But what about bracelets?
They're always a great accessory that can complement every type of outfit and offer a bit of personalization.
For both men and women, bracelets are available in a ton of shapes, sizes, and styles, even in The Sims.
Creators have really gone a long way towards making your Sim's hypothetical jewelry box as full as your own.
And you'll never have to be bored accessorizing your Sims with all of this CC at your fingertips.
1.

Laurel Bracelet
With Sims jewelry, it rarely comes alone.
For the sake of taste as well as matching, many items come in multiples or sets.
These five bracelets are considered as one, and they're really dainty and thin.
They come in 8 metallic swatches including various shades of silver and gold, as well as black.
If you want some accessories to bulk up your Sim's look then these are definitely just the thing.
No matter the swatch, they're a nice size with a minimalist design – just some small accents.
2.

Suede Cord Tassel Bracelet
Bracelets come in countless forms.
Precious metals, rubber, plastic… depending on where you look, you can find it all.
But there's just something cool and boho about leather ones. It's simple and fashionably rugged, and this CC from Sims4Marigold is proof.
I also learned thanks to this that suede is a type of leather.
But Elvis Presley didn't sing about his blue leather shoes because it just doesn't have the same ring.
Suede is more about the finish than the fabric itself.
And that's very fitting, since these have a great texture.
You can absolutely tell they aren't metal, and I don't know how the creator did it – because almost all of the in-game bracelets are metal as far as I know.
I guess that's why I'll always be a custom content user, not a creator.
These come in a ton of vibrant swatches, including all of the brown tones you'd expect plus blue, green, pink, and more.
3.

Sapphire Blue Bracelet
Who doesn't love sapphires?
Objectively speaking, they're among the most beautiful and vivid gemstones, always providing a rich blue color.
And obviously that goes with everything, especially typical bracelet material.
You can see here what a nice match it is with silver tones and diamonds.
The gems, while tiny, are stunning. There's no mistaking that gorgeous shade of blue!
This is just the right size for Sims to make the centerpiece of a dressy everyday outfit – and of course, sapphires are never a bad choice when wearing formal attire.
4.

Bobur Bracelet
Here's another simple design for when you just think your Sim's wrist looks too naked.
That sounds funny, but seriously, haven't you even tried to give your Sim a nice outfit only to find there was something about it that didn't seem right?
No matter what you do, sometimes the look you're trying so hard to make work just won't.
And that's because you don't have the right bracelet.
Accessories don't have to be flashy or gaudy to have an impact.
This is a delicate pearl bracelet, small and low-key.
To make it even more versatile you'll have ten colors to choose from.
5.

Neil Bracelet
And finally, here we have a bracelet for men.
It's understandable why there aren't a ton to be found for guy Sims.
Real human guys often may feel like it's not masculine to wear them, and usually opt for a watch instead.
That's not how it has to be, though.
Mathcope's Neil Bracelet is a fantastic beaded design in typically masculine tones like deep blues and earthy browns. This is another one that's technically two in one, stacked together.
It creates a bold but uncomplicated style – one that'll be hard to miss.
6.

El Dorado Bracelets
Bangles are distinct enough that they were given their own specific name.
They're still a bracelet, sure.
But the simplicity of a metal ring is deserving of its own classification.
I have no idea who decided that, but it's a thing. Obviously.
Bangles are more than an '80s pop band – and it'd be a tragic mistake to overlook them.
These ones from CC maker Suzue have a fantastic metallic texture. They come in a set of four with ten swatches, introducing a timeless bit of style to your Sim's life.
7.

Glow Festival Bracelets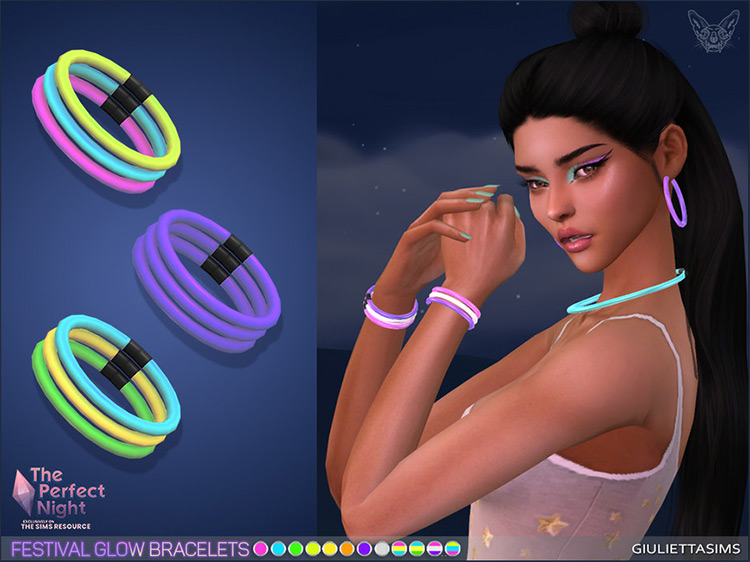 The great thing about jewelry is that it's all about personal taste.
While one person might love real diamonds and gold necklaces, another person would be happy to pass those kinds of things up for something bright and fun.
Well, these bracelets are definitely both of those things.
They look just like the glowing bracelets you can find at festivals, raves, and other events of that nature where they will especially stand out after the sun sets.
And you'll have plenty of options here.
In many swatches, all three bracelets are the same color, but there are several designs where each one is different too.
These are part of a set dubbed "The Perfect Night", where you can find matching earrings and a necklace as well.
I can certainly imagine a perfect night thanks to these!
We all know your appearance can set the tone for some situations, and nobody ever went out with glowing bracelets unless they intended to have a great deal of fun.
8.

Ducal Bracelets
Here's a unique bracelet where several little things add up to something amazing.
There are star and moon accents, which are encrusted with tiny gems.
Three larger diamonds also line the band and stand out super well against the cool silver tone.
This is one of the more realistic designs that are available, too.
It's unclear whether this is the creator's genius alone (Tiffany.Vegas), or if it's based off a real bracelet.
But it sure looks like something you could find at any jewelry store worth their salt.
I believe the term "statement piece" came about with bracelets like this in mind.
It may be small but it's mighty.
And it's sure to be the first thing to catch people's eyes.
9.

Cross Chain Bracelet
Religion is just not something that comes up in the Sims.
Understandable, since this game has reached pretty much every corner of the earth – and everyone has different beliefs.
If you'd like to bring faith to your game, in ways big or small, then CC is the way to go.
Since the cross is a worldwide symbol of various religions, this bracelet will be a lovely way to incorporate that into your Sim's everyday life.
It's classy and straightforward, featuring a simple chain with a little cross. And it's available in two colors: silver and gold.
10.

Male Spiked Bracelet with Chain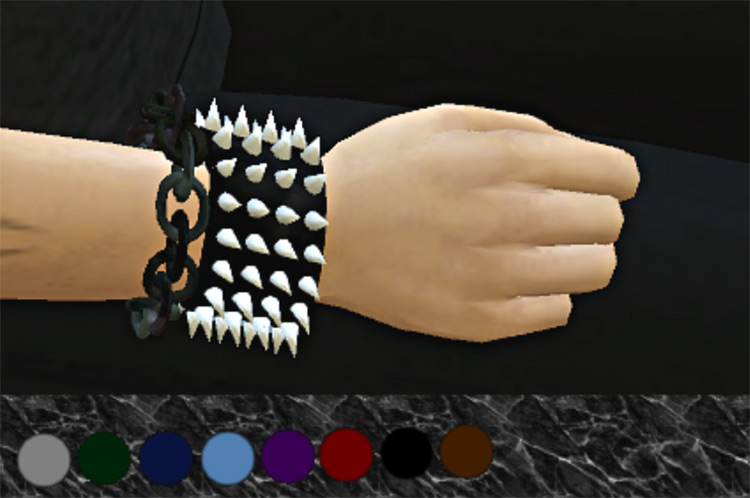 Speaking of statement pieces, nothing makes quite as bold of a statement as spikes and chains.
That's stuff you expect to see on a dog in a 1950s cartoon, not a Sim's wrist!
But jokes aside, this is gold for when you want to make a Sim with punk vibes.
That can be fairly difficult to do without custom content. But just this item alone makes quite the impact.
It's rather hard to miss – and that's exactly what you want out of accessories in this game.
On this one, the spikes are bright, and you can choose from 8 swatches.
These were also made just for males.
And I must say, they're bound to look more dashing than ever.
11.

Less is More Bracelet
If you find yourself wanting something that is classy and elegant, pearls are perhaps the most popular style you could find.
They have been considered a status symbol all the way back to the days of Ancient Rome – and they're still kicking, which certainly says a lot.
Today's trends tend to get their fifteen seconds of fame and that's all.
But these little white balls have remained beloved for eons.
That may be a bit of an oversimplification, though it's not like the reasoning is unfounded… they are really, really pretty.
The version you see here is a more low key version of the pearl bracelet that comes with Get To Work, which has a bit of a reputation for being big.
It's also available in single and double strings.
I must agree with RenoraSims that less really is more!
12.

Glow Bracelets
I didn't know glow bracelets were possible in this game.
So finding two different versions has really been an amazing ride.
As if beautiful jewelry I could only dream of owning in real life wasn't enough for my Sims, they can now have awesome stuff like this as well – all thanks to the ingenuity of the Sims community.
Where there's a will, there's a way.
And Simmers will always find a way!
This is one surefire way to switch up the bracelet selection in your game.
These original pieces come in 10 swatches total, and will stand out during both day and night… but more so at night.
Yes, these actually glow.
My mind is blown here. Again, I have no idea how it works, but it sure is remarkable.
13.

CarlosMG Bracelet
More enlightened individuals probably know the name of this design, but I sure don't.
I just know I've seen it many times before, it's iconic, and it's beautiful.
This has a nice texture that brings out the fabric, making it appear even more vibrant. The colors are truly out of this world, no matter which of the 5 swatches you choose.
Each one is vivid and full of personality.
These are like art for your Sim's wrist, they're so good.
They're also specifically for men, which is another interesting twist. The masculine tagged clothes in the game tend to lean towards the drab side – so a cloth bracelet like these are a great way to incorporate a splash of color.
14.

Metal Cuff Upper Arm Bracelet
Don't forget, bracelets don't necessarily mean something to be worn on a wrist!
Alternatives are rare in The Sims 4, and this here is one of the most elusive items of them all… an upper arm bracelet.
The popularity of these has seemed to fluctuate for the past couple years, ebbing and flowing in and out of style.
It's catching on how cool and original these are all over, from social media influencers to everyday folks like Sims players.
You can use them in a million different ways with just about any type of clothes, especially since the creator enabled these for almost all of the outfit categories in the game.
So these will look fantastic whether your Sim is sporting a dress or overalls.
The cuff has a regal feeling to it, which is aided by the metallic toned swatches and leafy accents.
You can even choose if your Sim wears just one, or one on each arm.
15.

Flip Flop Chain Bracelet
Flip flops have become a ubiquitous symbol of fun in the sun.
A decade ago (or more) I was proud to sport a necklace with a rubber mini flip flop on it.
They remind people of summer – and that's almost always a good thing.
And even in The Sims, summer is arguably the best season.
Sims can enjoy many of the same things we do. Plus there aren't the added chores like you get with raking leaves in the fall, or shoveling snow in the winter…
Thank goodness they didn't give us the task of mowing the lawn with Seasons, right? Oof.
That's one thing there's just no need for, forget realism!
But no matter what your summer plans look like, you probably want to wear nice things – and so do your Sims.
The flip flop charms on this delicate little bracelet are a great size without being too big, and they perfectly capture that care-free feeling that flip flop weather is all about.
For added detail, they even have tiny golden hearts on them.
Browse:
Lists
The Sims 4
Video Games