Sims 4 CC: 50+ Best Maxis Match Hats (Guys + Girls)
This post may contain affiliate links. If you buy something we may get a small commission at no extra cost to you. (Learn more).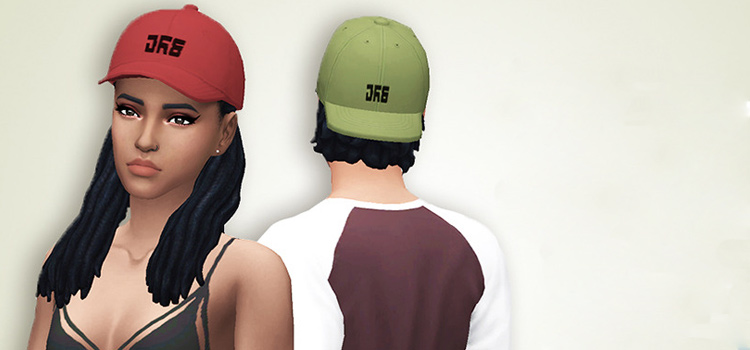 Depending on your own tastes, you may or may not find yourself in the hat section of CAS often.
Either way, every Simmer deserves more to choose from.
Hats are often the best way to round out a look – or they might even be what makes or breaks it. And with this CC you'll be swimming in virtual hats for all occasions.
1.

Daydreamin' DIY Basecap Hats Set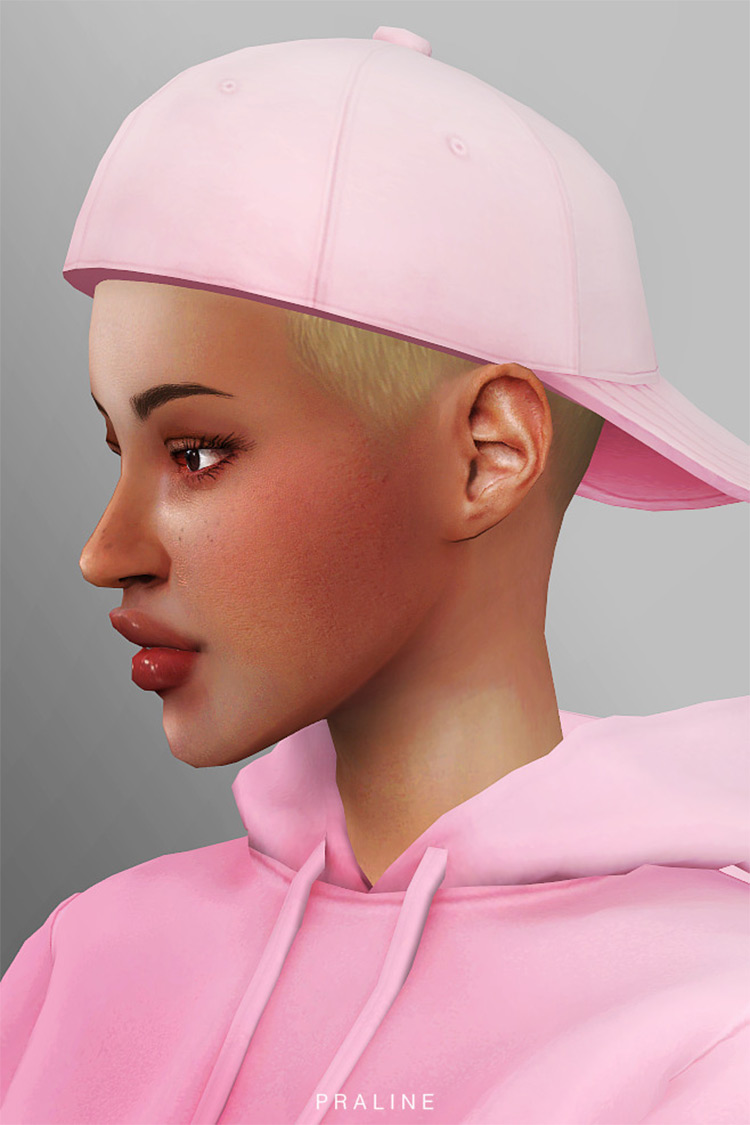 Customization is what this is all really about, right?
Well this is one CC set that will allow you to personalize your Sim's ballcap situation like never before.
With four different hat positions, 100 colors plus 40 extra logos, and optional rings for the brim, there are hundreds of ways to mix-and-match.
2.

Wooly Cap Recolor (Seasons Required)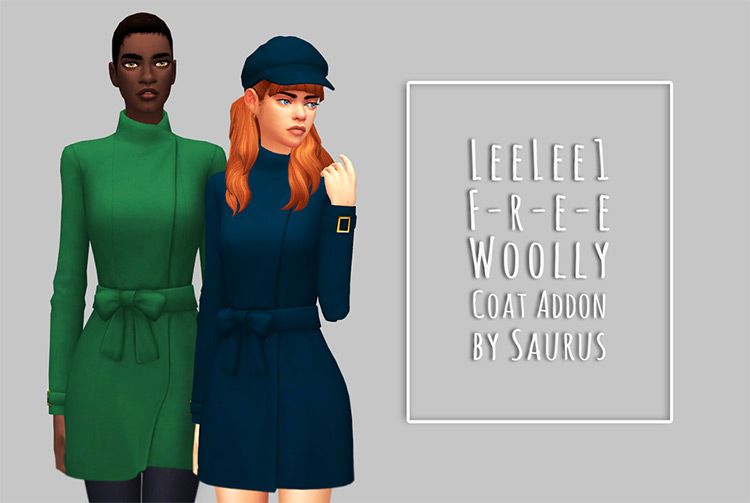 You can't get much more chic than this wooly cap.
No relation to the wooly mammoth, but it looks just as soft!
This is such a quick way to add a fashionable, feminine touch to your Sim's winter attire and all these new colors make it even easier to find the right shade.
3.

Riley Bucket Hat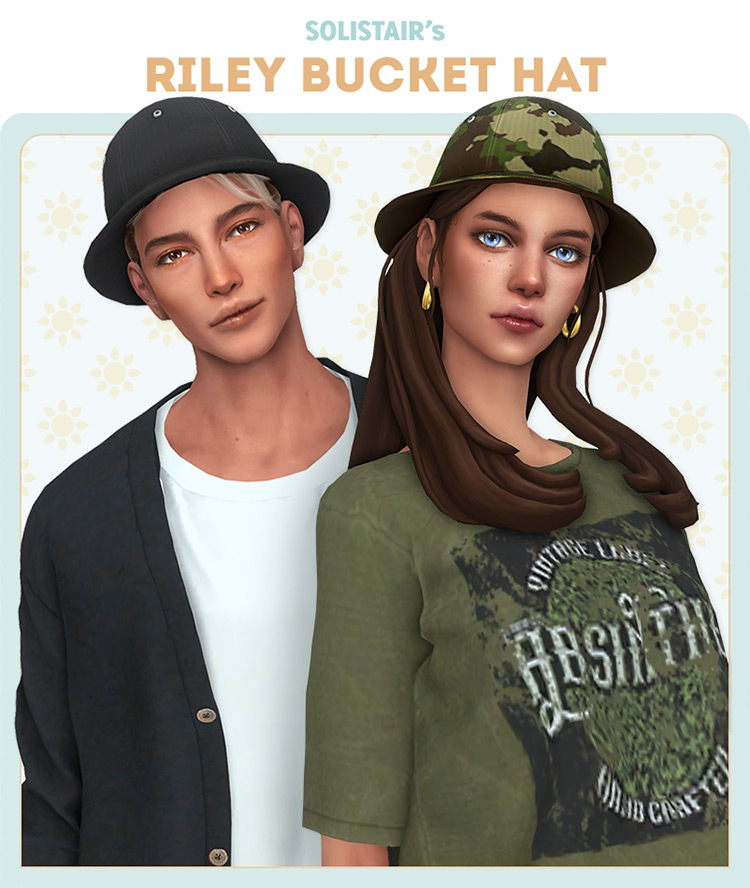 Bucket hats have been having their moment for a few years now, and don't appear to be going anywhere anytime soon.
Solistair's version is a perfect replica of the type that has quickly become iconic. The swatches are equally trendy, including patterns like foxes or fruits in addition to various solid colors.
4.

Beanie Collection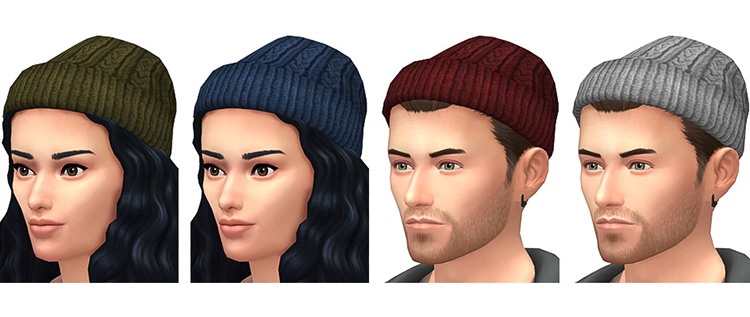 All of your Sim's seasonal headwear needs can be met right here. For both warmth and style, a beanie is the way to go!
By making some small tweaks, the original EA version has a more realistic look that's not quite as slouchy. But the real upgrades come in the form of all the new swatches.
5.

Cowboy Hat Recolors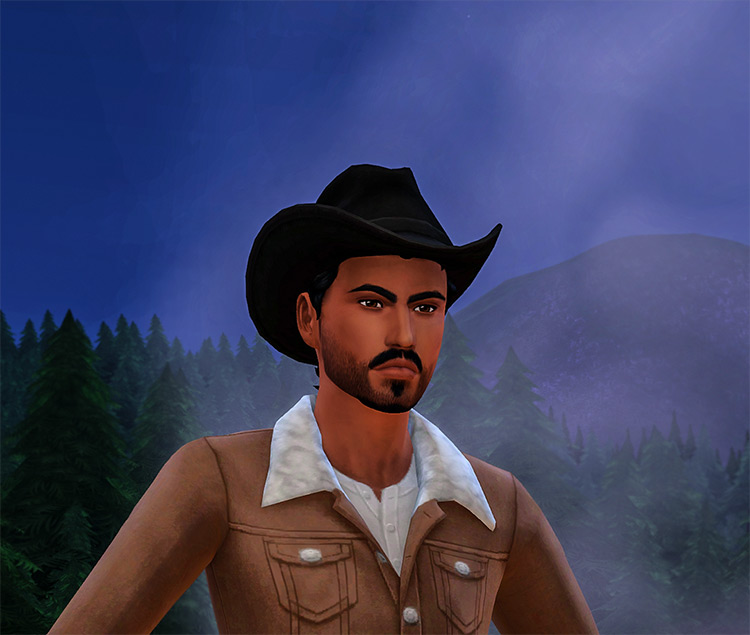 If your Sim says, "I want to be a cowboy, baby" then they'll need a hat.
And nowadays, you don't have to stick to the super basic options in the base game. These recolors give them a more modern flair, even including a Pride hatband.
6.

Unstructured Cotton Caps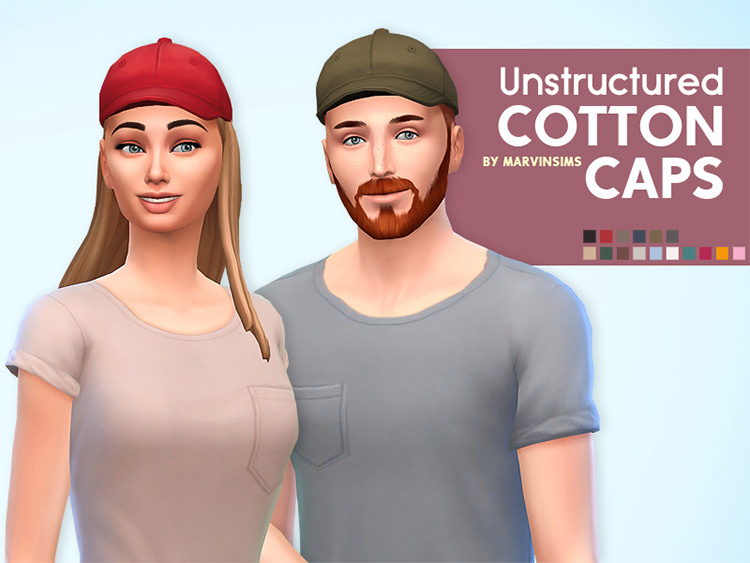 As one of the most popular everyday hats, it's no surprise there are all sorts of custom baseball caps out there.
It's no secret that the ones already in the game are bizarrely tall, so making them more compact is a must. That's just what MarvinSims has done with this collection of toned down caps.
7.

Fisherman Hat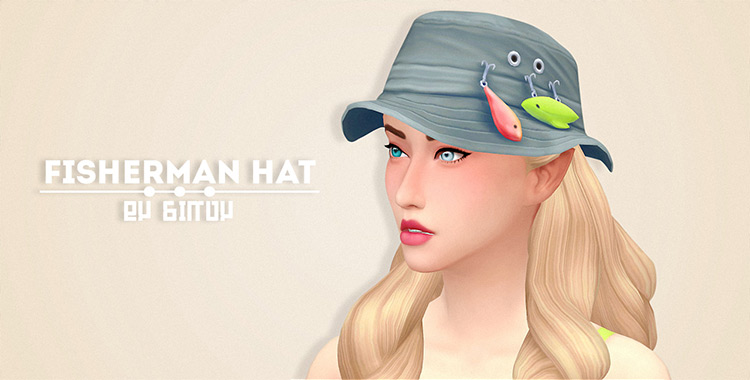 A typical fishing hat complete with lures is a classic.
If you have an outdoorsy Sim, then this is just what they need for their adventures. Although it's BGC, this actually strikes me as a perfect add-on to Outdoor Retreat, with all of its focus on fishing, camping, and enjoying the wonders of nature.
8.

Helene Hat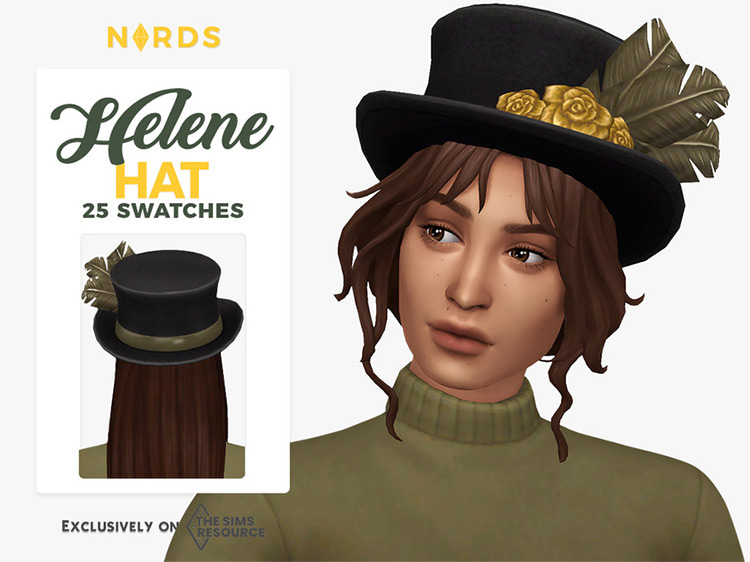 Seeing what kind of unique stuff is out there is half the fun of CC hunting. Sometimes, you can find things you might never think of, like this top hat.
It's adorned with feathers and flowers, solidifying the goth vibes.
Don't limit yourself, though! This could be an original accessory to all sorts of Sims.
9.

Quarrta's Cowboy Hat Recolors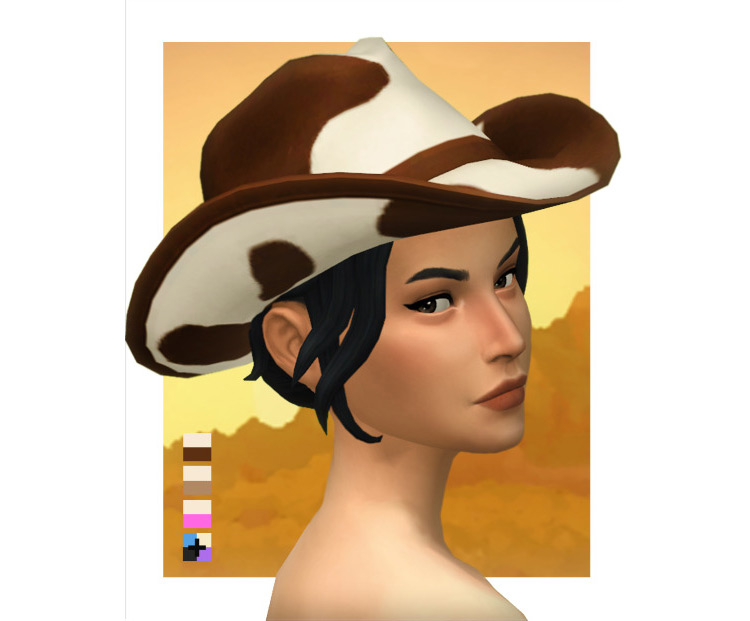 Here are some more base game cowboy hat recolors, this time of the more typical country variety.
I mean, they're cow print. That's the preferred pattern for cowboys, cowgirls, ranchers, farmers, and everyone in between.
Natural shades of brown and black are available, as well as pink and blue.
10.

Cornelia Hat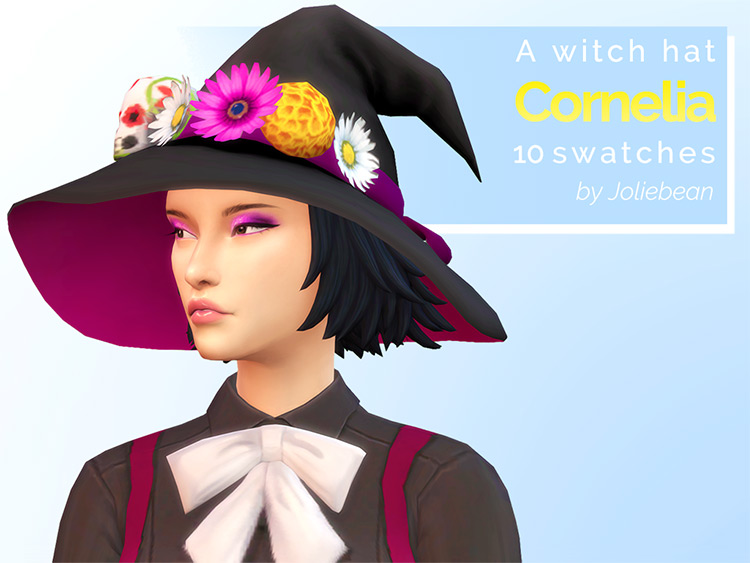 When it's the time of the season for jack-o-lanterns, skeletons, and witches, you'll want your Sim looking the part.
Joliebean's witch hat is just stunning.
For a more modern touch, she gave it an abundance of very vibrant colors, plus it's loaded with flowers.
11.

Felt Hat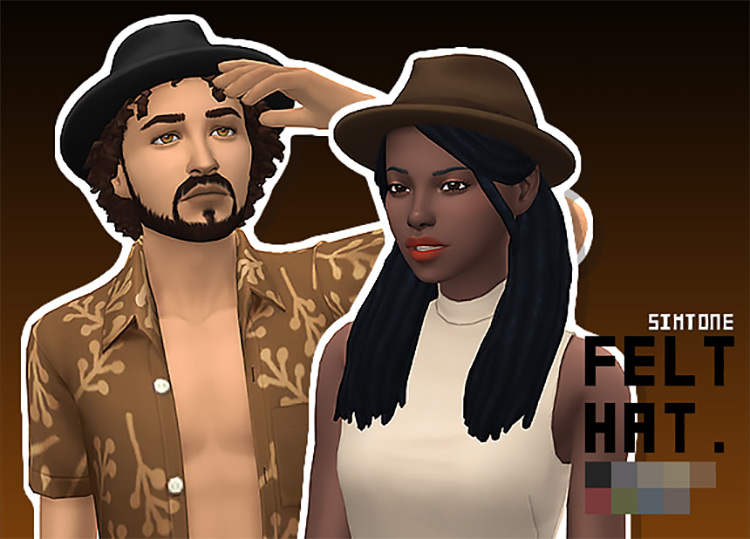 Fedoras have gotten a bad rap in recent years, but all hope is not lost.
Simtone's take on the old school style is nothing short of spectacular. It'll sit in just the right position to be fashionable, and the bow on the side is a really nice touch.
12.

Wear How You Want Cap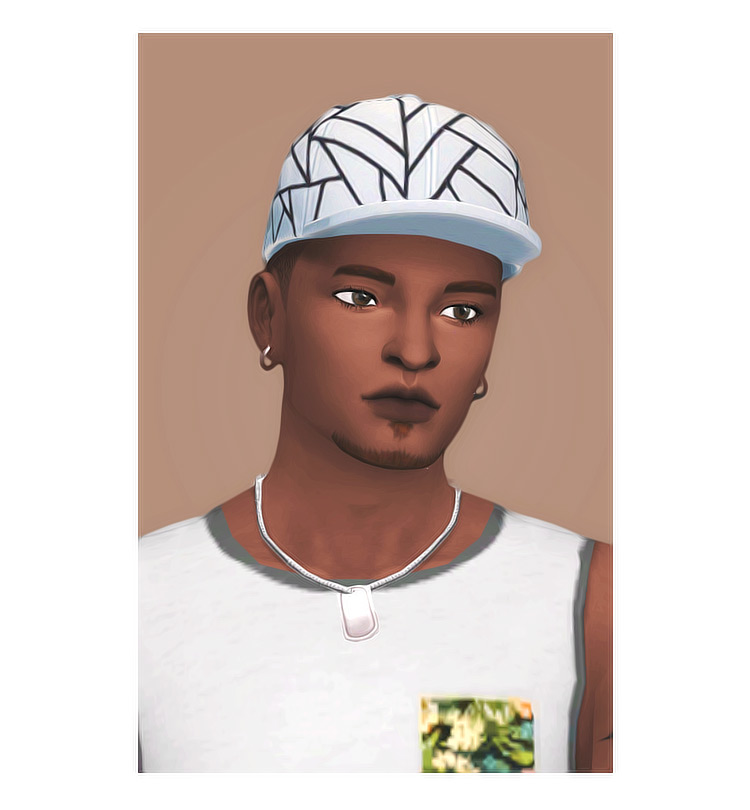 Yep, more edits of the base game hat.
Because quite frankly, we need them!
Players get three new versions of it here, focusing on different angles for Sims to wear them. One is slightly lifted, and the creator even flipped around the backwards cap so there's an angled, flat-billed option.
13.

Froggy Hat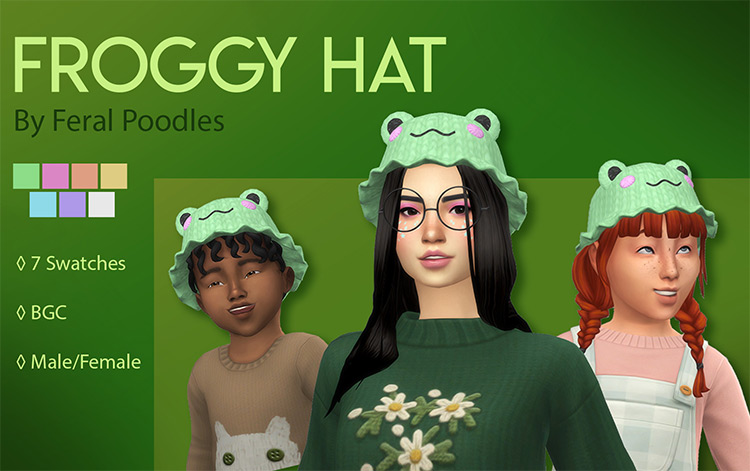 An absolutely adorable knit frog as a hat? Everyone needs this!
And luckily, Sims of all ages and genders can indeed wear it.
The handmade look is so charming, the 7 simple swatches do just fine. This is such a fun accessory for everyday outfits, and particularly for spring!
14.

Pina Colada Hat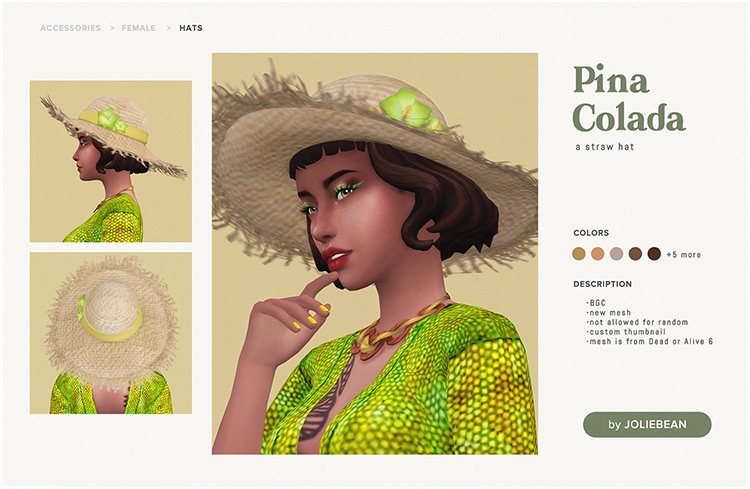 What's a vacation without a new hat? I always love adding accessories like this to a Sim's outfit before they take a trip, it just makes things more memorable!
That definitely describes this, with its unique straw texture and pretty flowers.
15.

Russian Hats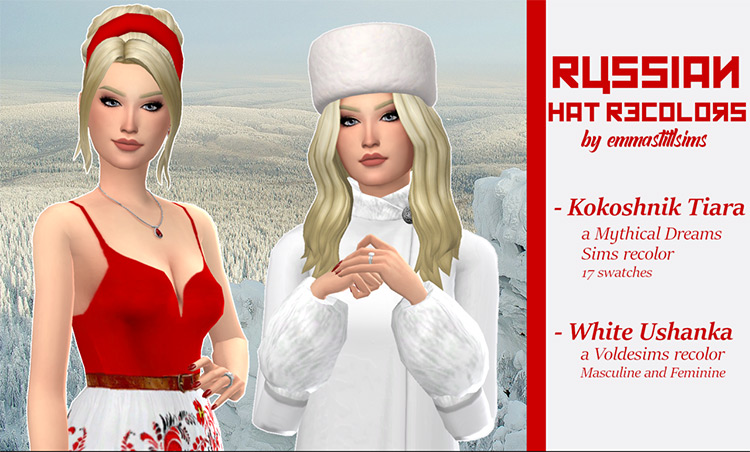 Russian fashion is known for being luxurious, with rich colors and fur out the wazoo.
Both of these original creations are a nice way to add some culture to your Sim's life. The kokoshnik tiara is an elegant headband with 17 swatches, while the sophisticated Ushanka is snow white.
16.

Party Hats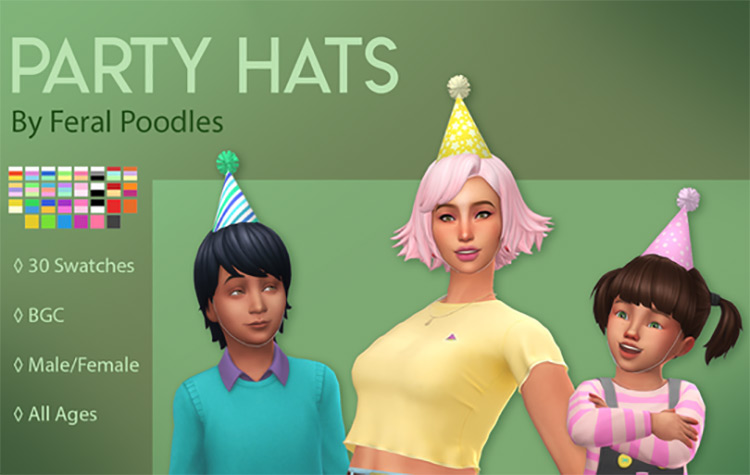 This might not be an everyday style, but it's one that'll add some even more fun to your Sim's special day.
Since birthdays already include presents and cake, only pointy hats could add to it at this point. Sims of all ages can join in the fun thanks to this CC set from Feral Poodles.
17.

Cat Ears Cap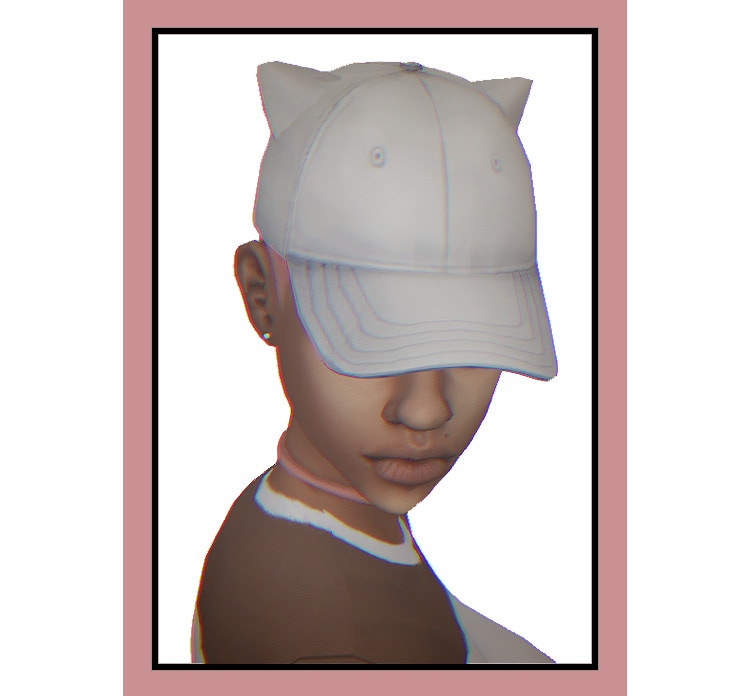 Everybody wants to be a cat, and now your Sims can. Or at least they'll look like one.
Non-Sims' edit just added some pointy cat ears to the baseball cap, and really that's all it took to make it a blessing for feline fans everywhere.
18.

Felicity Hat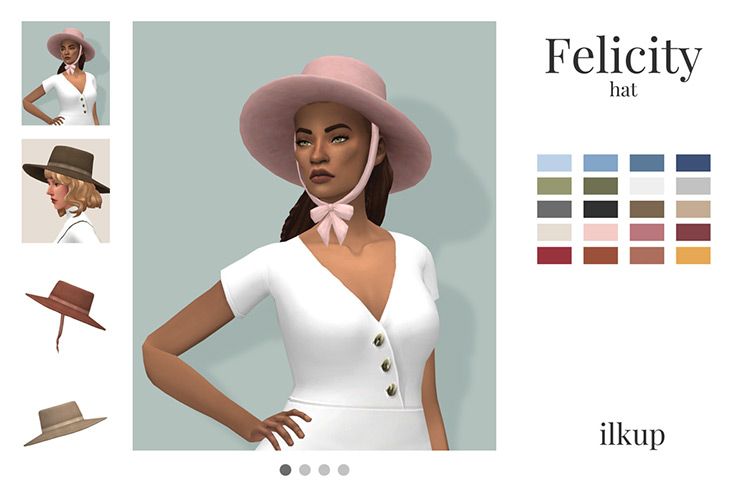 Sometimes you just want something traditional and ladyline for your Sims.
That's exactly what you'll get here, thanks to the wide brim and beautiful ribbon.
With or without that optional bow, this really is lovely. It all depends on what is worn with it whether the end result is trendy or classic.
19.

Brim Patterned Bucket Hat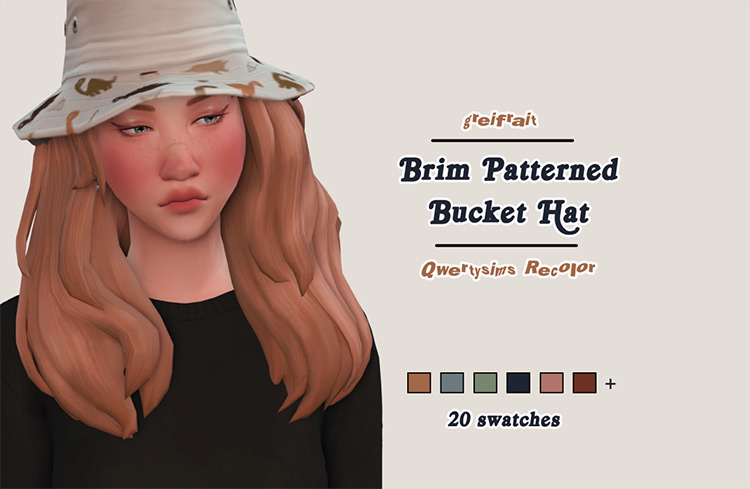 The design of this bucket hat is already perfect, but it's the patterned brim that really makes it cool.
All kinds of cute, fun prints are included in the 20 swatches. They're great at adding a unique touch to this hat without taking away from the everyday feel.
20.

Farmer Hat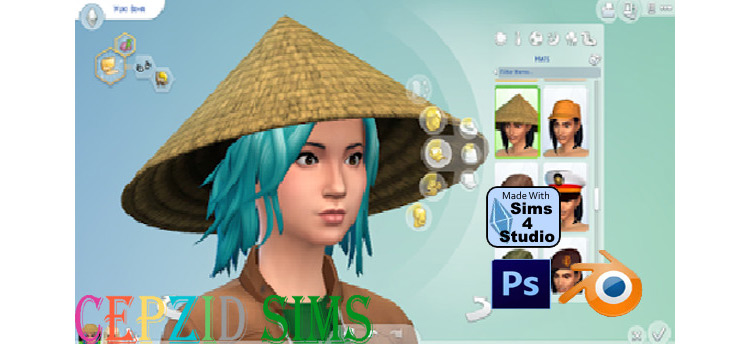 Here's one that's kind of niche, but still definitely worth including.
It's actually a type of sunhat worn in various parts of Asia.
These are really practical, made to protect the wearer from sun and rain. So go ahead and give your Sim one, especially if they're a gardener!
21.

Baylee Bonnet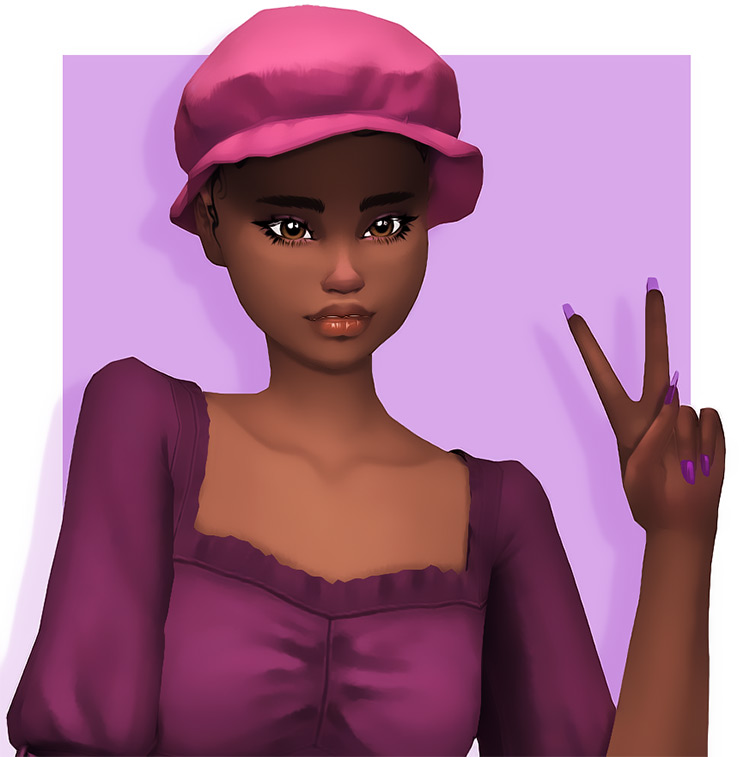 Is this bonnet exactly what the game needs more of?
Quite possibly!
JellyPaws did a superb job here and it'll show both in CAS and in-game. It's a great realistic addition especially for Sims of color.
There may not be dozens of swatches, but the included 7 are really solid.
22.

Jack-O-Lantern Head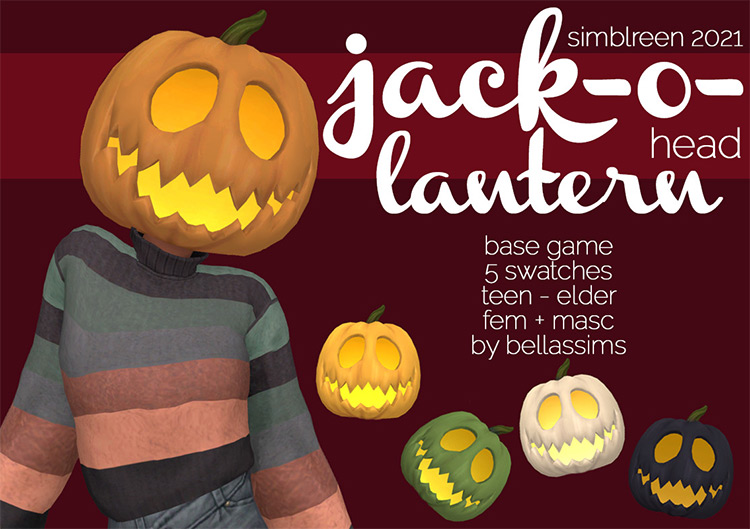 Technically, this might be a mask.
But no such category exists in CAS and you can't commit to Spooky Day festivities much more than this, so we'll just roll with it.
Turn your Sims themselves into a Jack-O-Lantern with this big base game version just for their head.
23.

Pride Beanies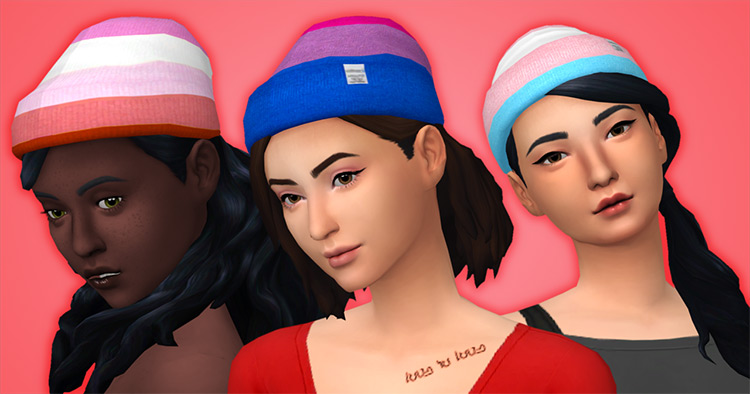 It might be a little warm for these during Pride month, but there's never a bad time to fly your colors.
These are really cute and over a dozen flag swatches are included. They are very vibrant, and make a great accessory no matter the weather.
24.

Nivia Hat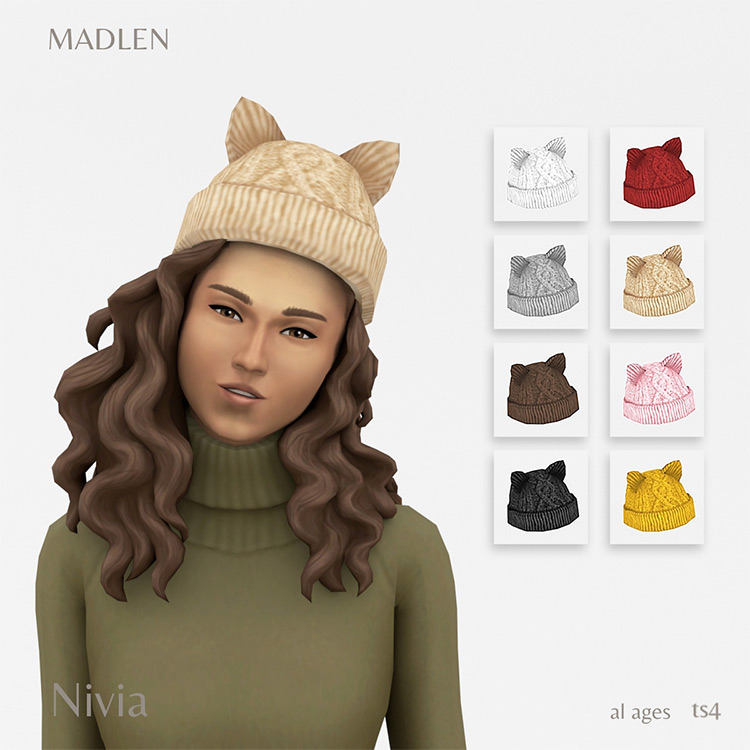 Here's another option for all cat lovers, whether that's you or your Sim.
Madlen's beanie has an incredible cable knit texture that seems super cozy. As great as that is, what really stands out is the cat ears!
8 colors round out this neutral color palette, so Sims can wear them with anything.
25.

Military-Style Cap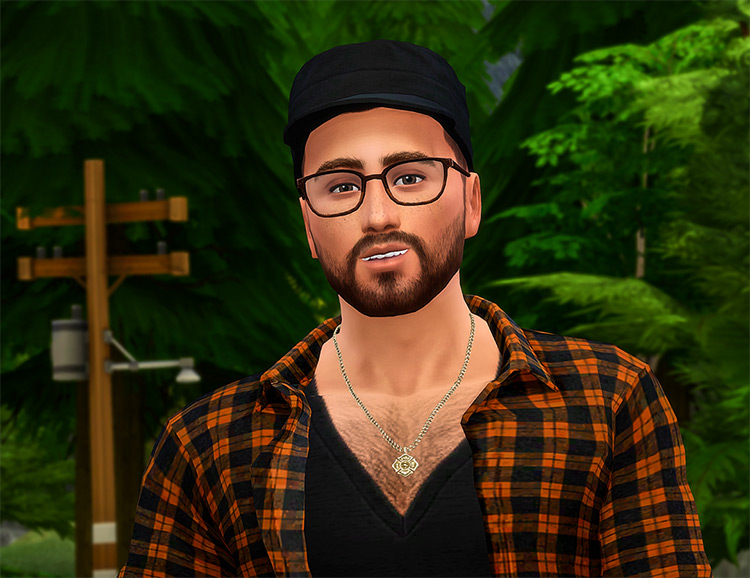 As Simmers will generally agree, the base game hats can use some downsizing. This one looks better than ever now that it's not nearly as big and tall.
It's a great accessory for outdoorsy Sims as well as those who could simply use something unique and bold.
26.

And Yet… I Fish: The Hat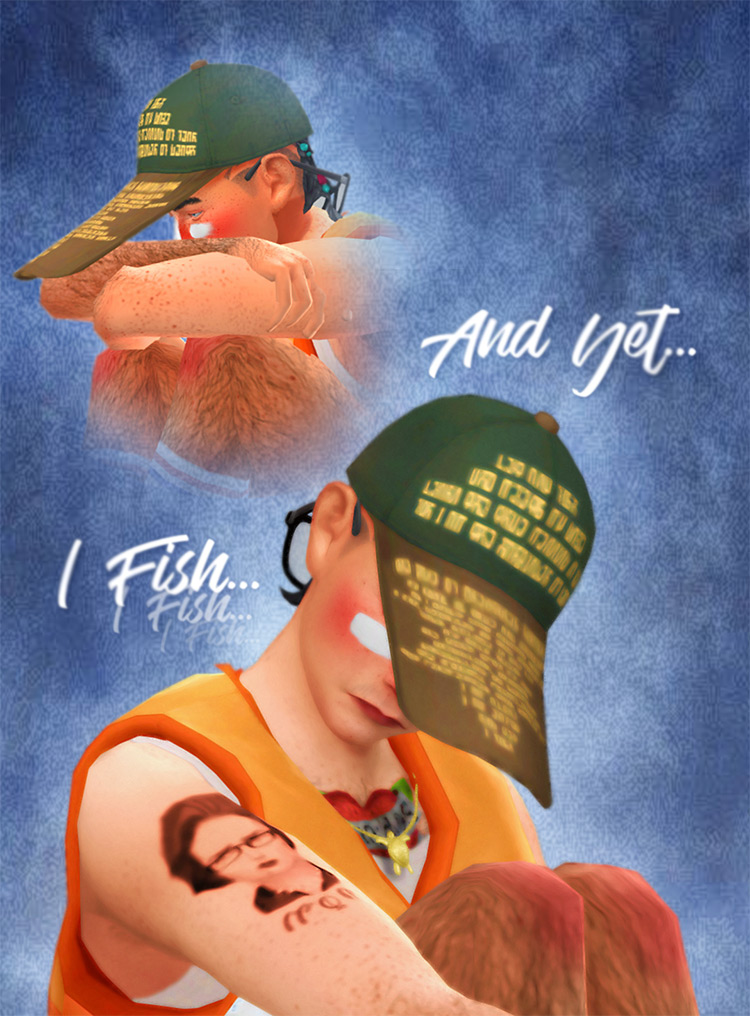 Is this the cap for fishermen we never knew we wanted, but needed all along? Without a doubt.
This is one-of-a-kind, not just because of the comically long bill, but also because of the Simlish manifesto about fishing that covers the entire front. It's pretty intense, and undeniably original.
27.

Cutie Caps (Snapbacks)

These snapbacks are still special as far as Sim's accessories go, but also a standard stylish option. They've got a modern look both in regards to the structure and the swatches.
All sorts of interesting options are available, such as patterns with flowers and dogs, and fresh color combos.
28.

Guidry's Boater Unlocked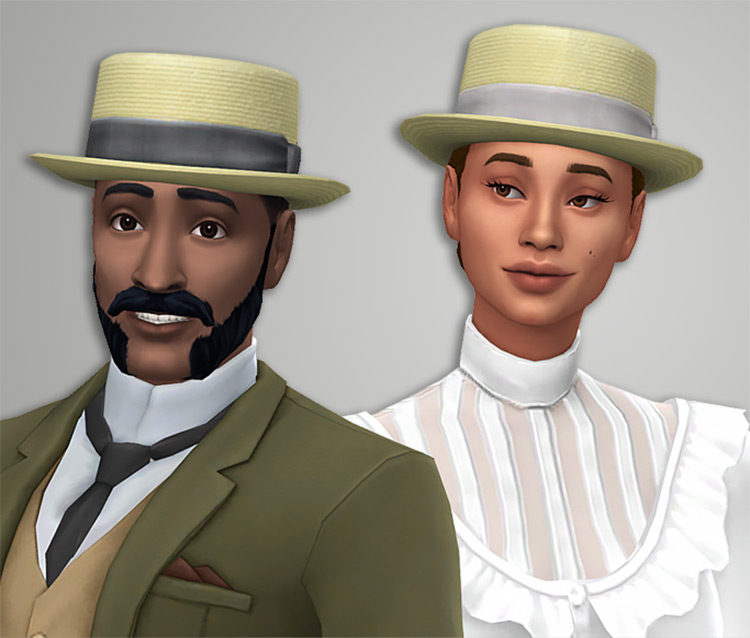 Paranormal Stuff has some of the most distinct content out of all the packs. Everything from the clothes to the furniture has that awesome old-timey look.
No one likes having to actually put forth effort to access any of it, though.
Thanks to this generous creator, the previously locked straw boater will now be in CAS like everything else.
29.

Maxis Witch Hat (Sans Spider)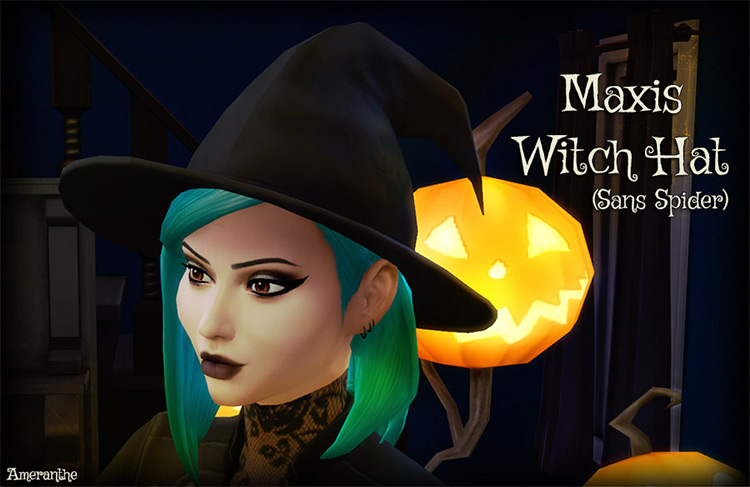 Whether your Sim is legit a witch or just wants to look the part for Spooky Day, keeping things simple with this plain hat is an option you may want to have.
It's a classic that's now BGC and available to all ages except toddlers. As simple as this Maxis-match Witch Hat may be, it's always the obvious choice when you find yourself in need of one.
30.

Selena Hat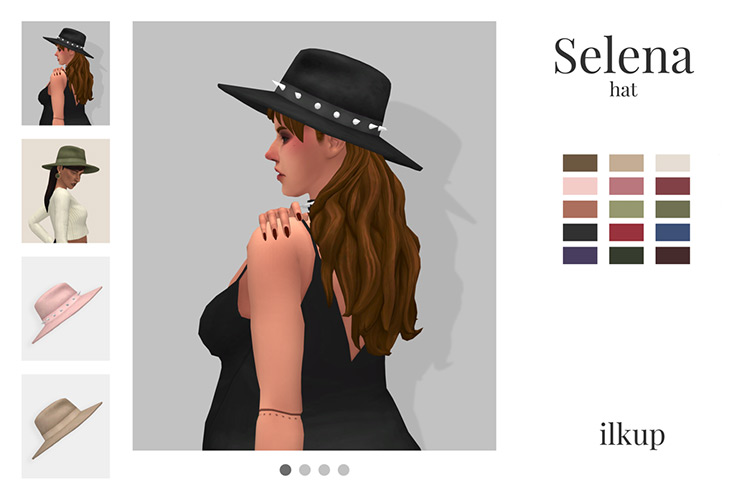 At first glance, you might think this is a regular wide brimmed hat. Ah, but those shiny things aren't just decorative studs, they're spikes!
Of course, they're optional… but who can pass up such an interesting look? Whatever way you want to go, you'll have a variety of 15 swatches.
31.

Universal Caps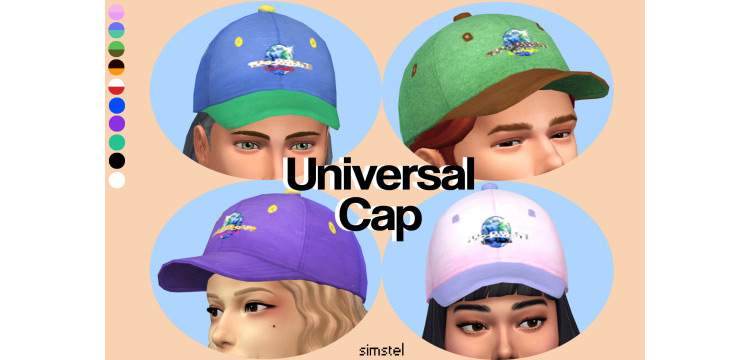 Sims can travel, but they can't really buy souvenirs. How devastating.
But you can just cheat your way through that like everything else, thanks to Simstel's custom ball caps. They have that nostalgic look of all touristy merchandise, largely due to the Universal Studios logo.
32.

Adult Floppy Hat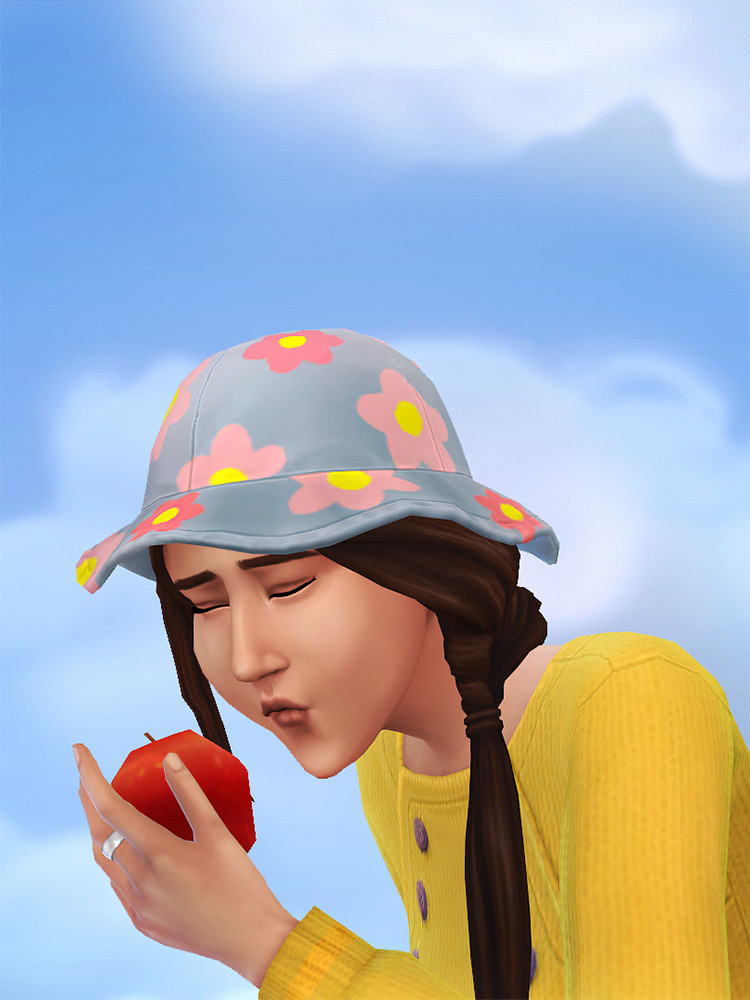 That base game sunhat for children is so cute and should be available to all ages. We've got a step in the right direction here, with this conversion for adults.
Everything else is the same, which really is fine. The swatches are ideal for spring and summer, so you can work them into a multitude of outfits.
33.

Louise Hat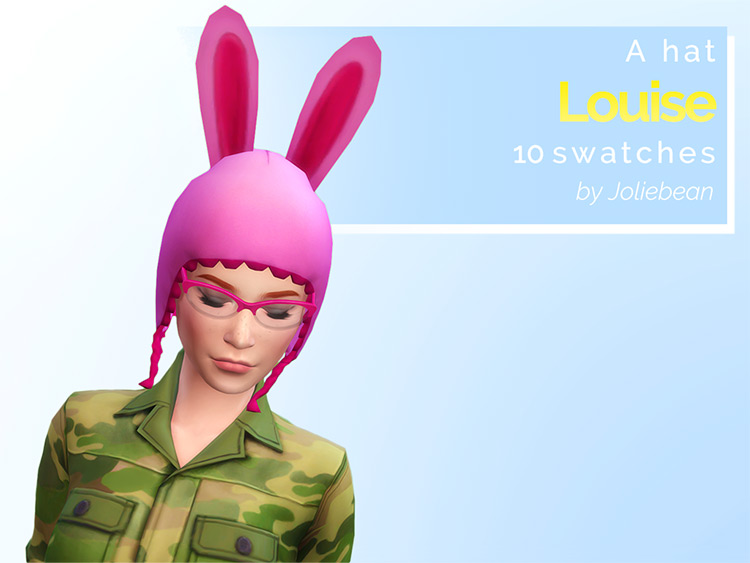 More animal hats?
Yes, please.
It's clear Joliebean's inspiration for this one came from Bob's Burgers, which may not seem like the height of fashion, but Louise's pink hat is definitely iconic.
Since the ears and colors are so distinct, any Sim will be just as eye-catching.
34.

Kippah Head Covering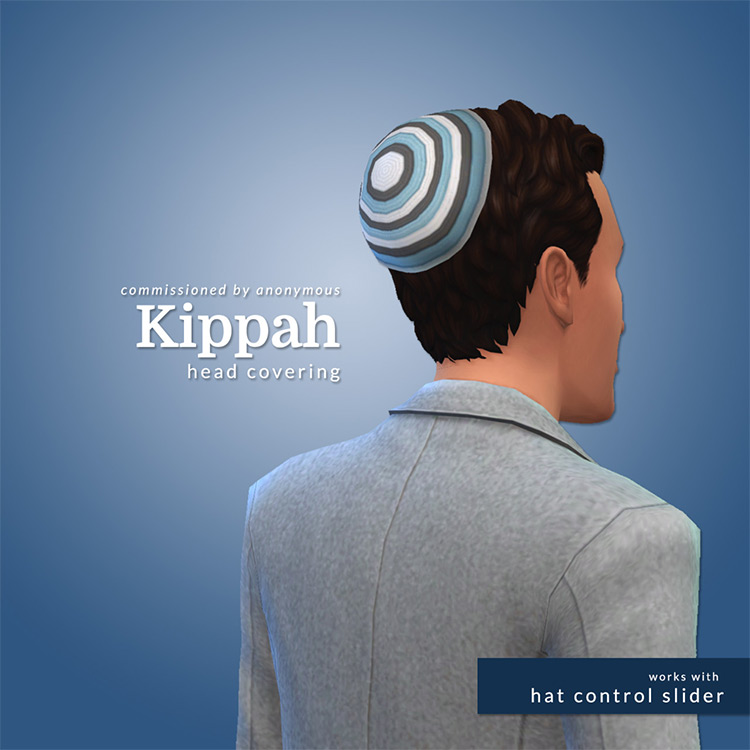 The Sims 4 has come a long way in terms of diversity, but there's still progress to be made.
To include Jewish culture, CC is a must at the moment.
Linzlu's kippah is flawless – and when used with a handy hat slider, you should be able to use it with just about any hair.
35.

StrangerVille Icon Hats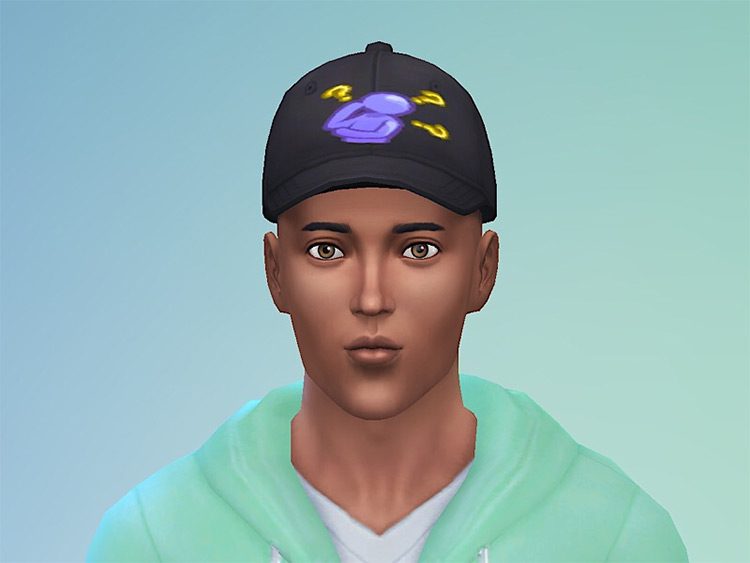 Like Paranormal Stuff, anything "StrangerVille" related is immediately recognizable. No other pack is characterized by paranoia, conspiracies, and not so subtle extraterrestrial references.
It's a lot of fun and the icons seen with this expansion are rather pleasing to the eye, so of course they're great to put on hats.
36.

Winter Wear Aviator Hat & Ribbed Beanie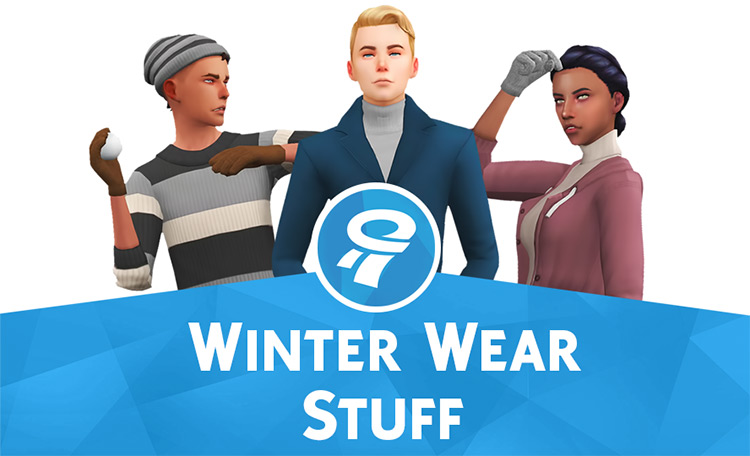 This fanmade pack has tons of incredible new clothes for winter, but the hats really do stand out.
One option is the classic aviator, with its furry ear flaps. Those alone set it apart from the rest of the game's options.
There's also an incredible new beanie, with a stylish slouchy design.
37.

All Ages Winter Skull Cap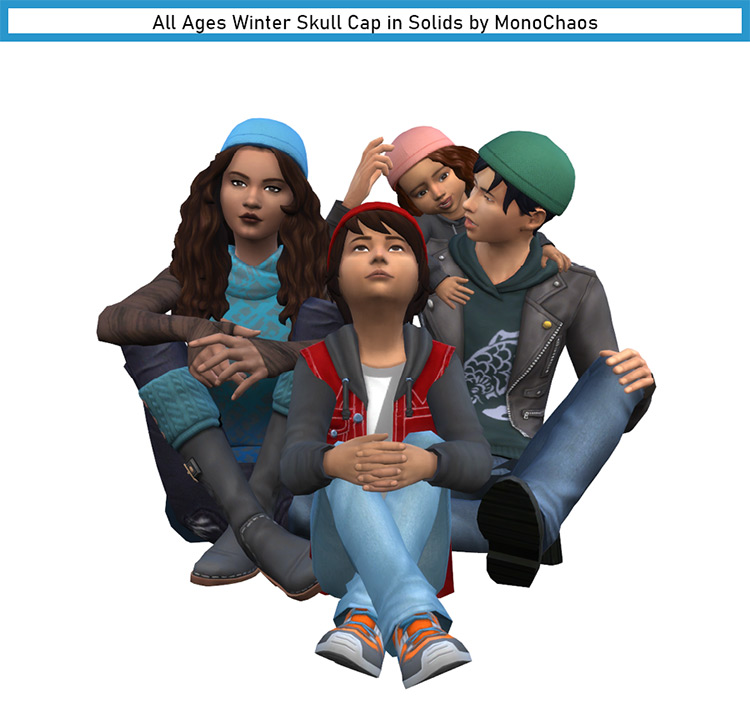 The look of skull caps is inherently modern and youthful, so it makes sense to have them available to all ages.
Here they come in a range of solid colors, and should be compatible with most hairstyles. A skull cap may not keep your Sim's ears warm, but it'll keep them looking rad.
38.

Raspberry Beret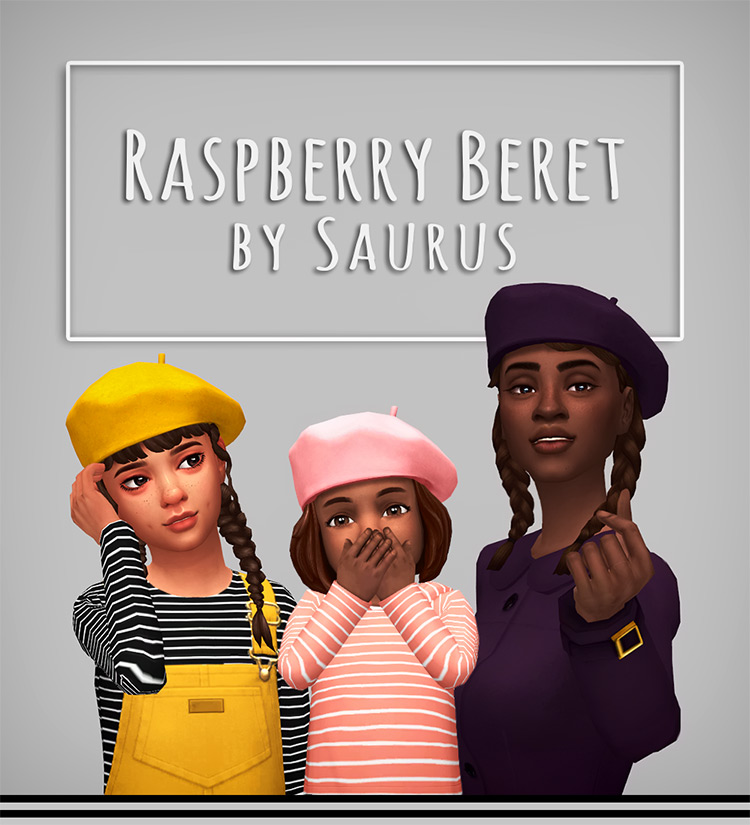 Incorporating a beret into an ensemble may take some effort but it'll be well worth it.
On guys and girls both, they just have such an elegant sweet vibe.
And with 30 swatches in total, there's definitely something to suit everyone. They're even available to toddlers and children!
39.

Mushroom Cap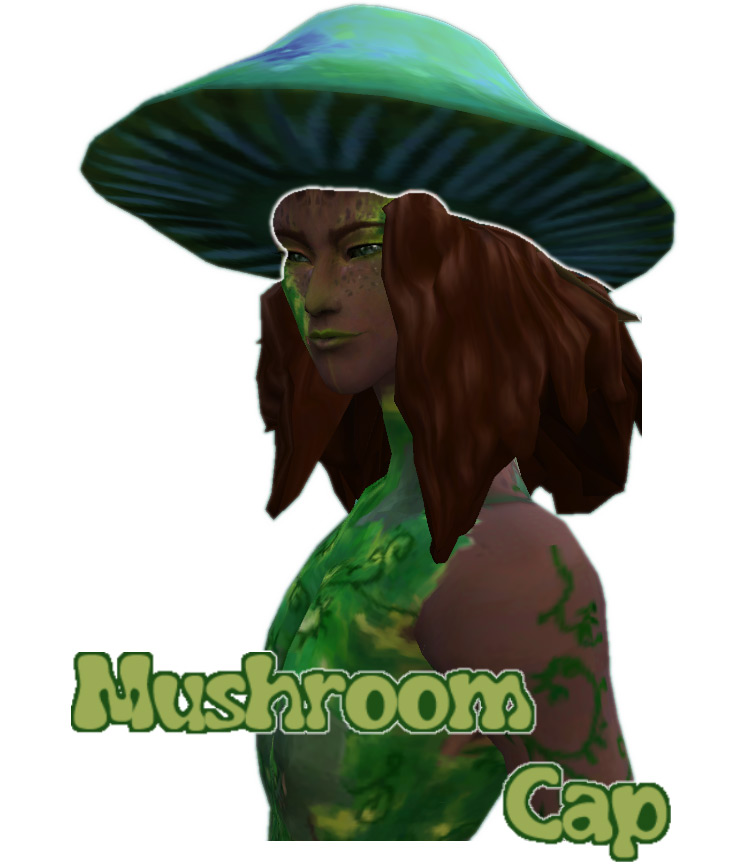 So… this one might seem a tad strange.
I mean, it is just a big mushroom hat, albeit a very well done one.
But you can't deny the whimsical feeling. If you like to play Sims who aren't exactly normal, then you'll get a lot of use out of this for sure.
40.

The Fiddler Hat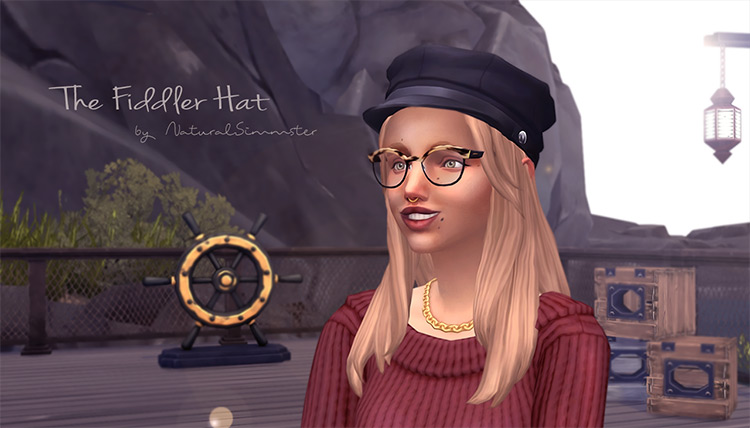 You really do learn something every day – because I had no idea that these hats even had a name until I found NaturalSimmster's version.
No fiddling is required, just to be clear.
This is totally a statement piece that'll work for vintage styles as well as modern ones (your hipster Sims should love this).
41.

Beret CC Set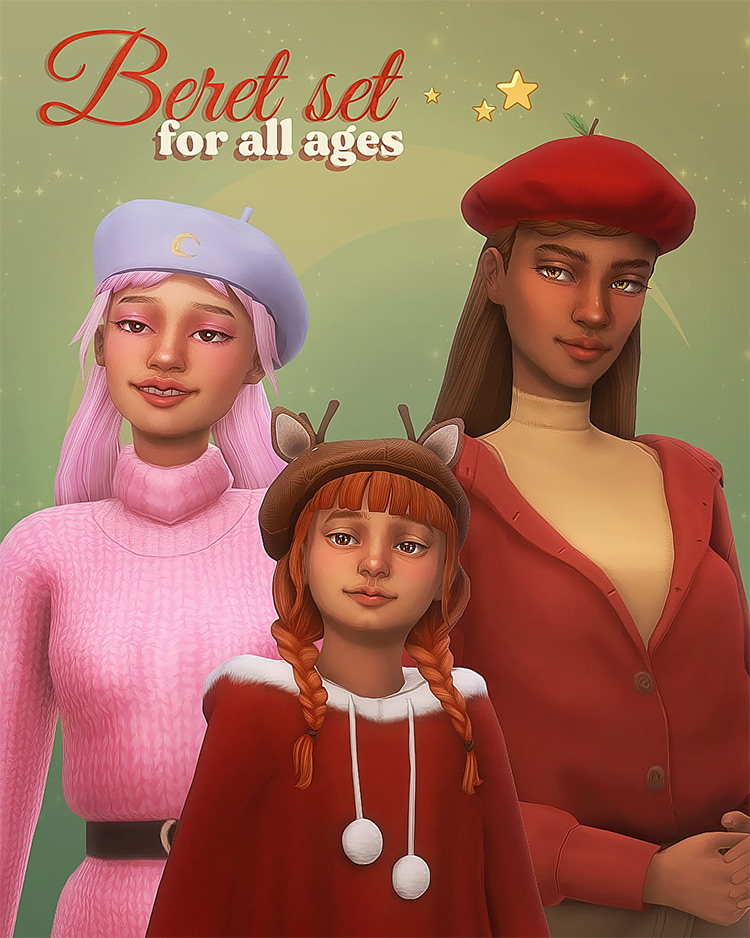 We have some more berets here, with an insane amount of variety.
Some have a standard look but others take things up a notch with unbelievably adorable options like deer antlers, leafy little accents, moon designs, and more.
You can even do some fun matching since Sims of all ages can enjoy them.
42.

Bee Hat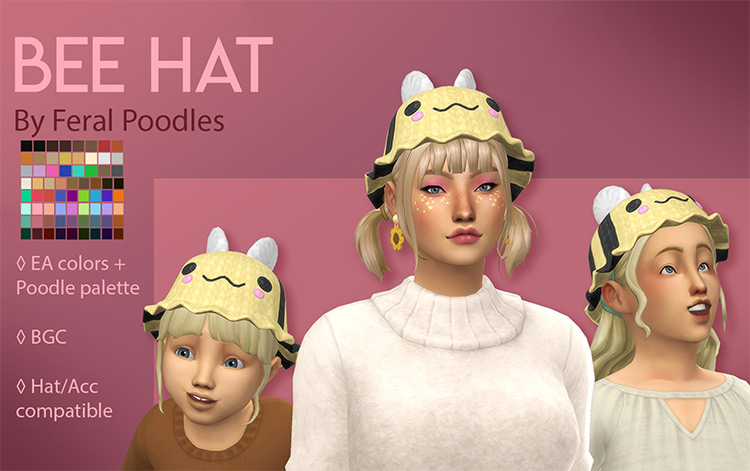 For kids, a bee bucket hat is a cute accessory.
For adults, it's still cute, but also kind of chic.
The knitted texture is fantastic either way. And just look at that little face, with the blush cheeks and smile!
43.

Daisy & Daisy-less Hats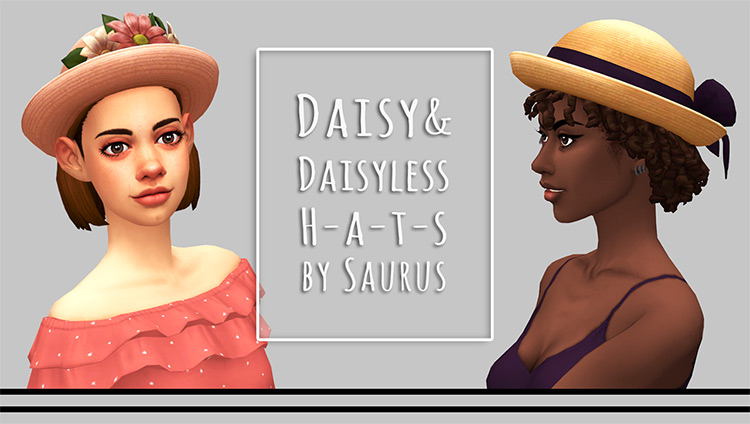 Since the original version of these hats comes from Seasons, it's not hard to imagine all of the possibilities with these edited new options.
Saurus made the flowers bigger and more visible in one version, and completed removed them in the other. Both still have a really feminine look, ideal for warm weather.
44.

Baker Boy Cap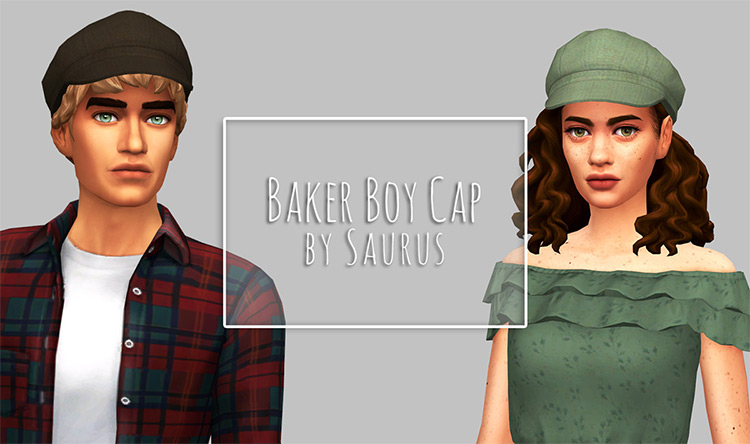 This cap may date back a good century or so – but with the right colors, it's got a much more modern twist.
Best of all, it's unisex. So you can do your own thing for both masculine and feminine Sims.
From teens to elders, there's some way for the Baker Boy Cap to bring a trendy twist to an outfit.
45.

Dreadful Hat (Requires Seasons)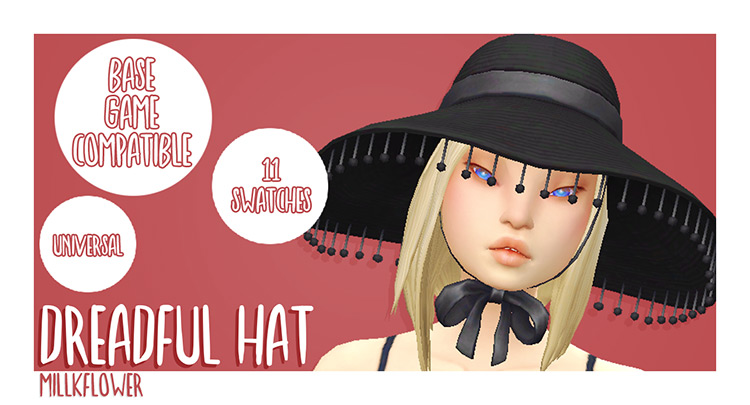 By just adding these little beaded tassels to the Seasons sun hat, Millkflower has made it much more goth.
The black swatch really helps with that, but there are 9 others that'll allow you to branch out. You can't miss that peculiar little curtain, however.
46.

Adult Beanie Visor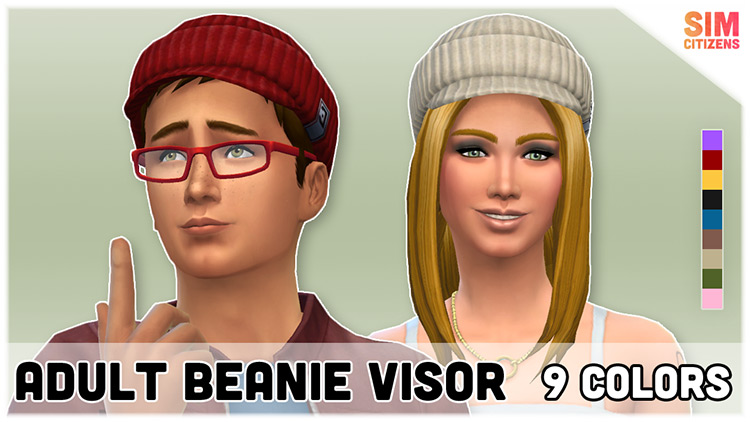 Adult Sims kind of got the shaft with Outdoor Retreat headwear.
How is it fair that only kids could wear this beanie, which is both practical and fashionable?!
This injustice has been made right at last. Now all Sims can wear this hat, regardless of if they're going camping or just wearing it for aesthetic purposes.
47.

SBP Cowboy Hat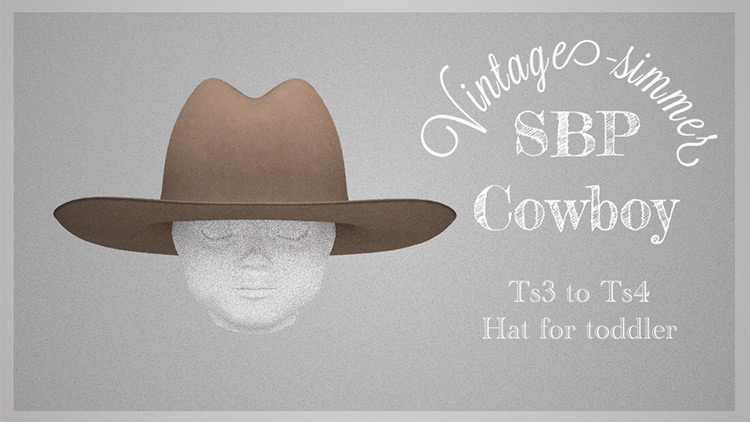 A few cowboy hats have already been included in this collection, but none like this.
This is like, the most classic old school cowboy hat possible. It's big, has that iconic shape, and has an equally noticeable worn texture.
Sims who are truly in touch with their western side will look right at home with this on their head.
48.

Bow Hat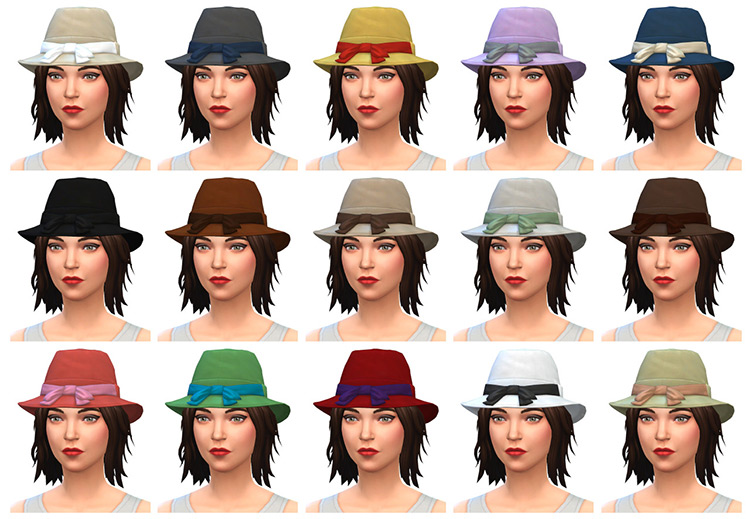 When you find yourself in need of an accessory that is both casual and classy, this might be the perfect choice.
The bow is front and center which really is a nice touch. The color combinations also feature rich shades you don't always see, like navy blue and tan or red and purple.
49.

Reversible Bucket Hat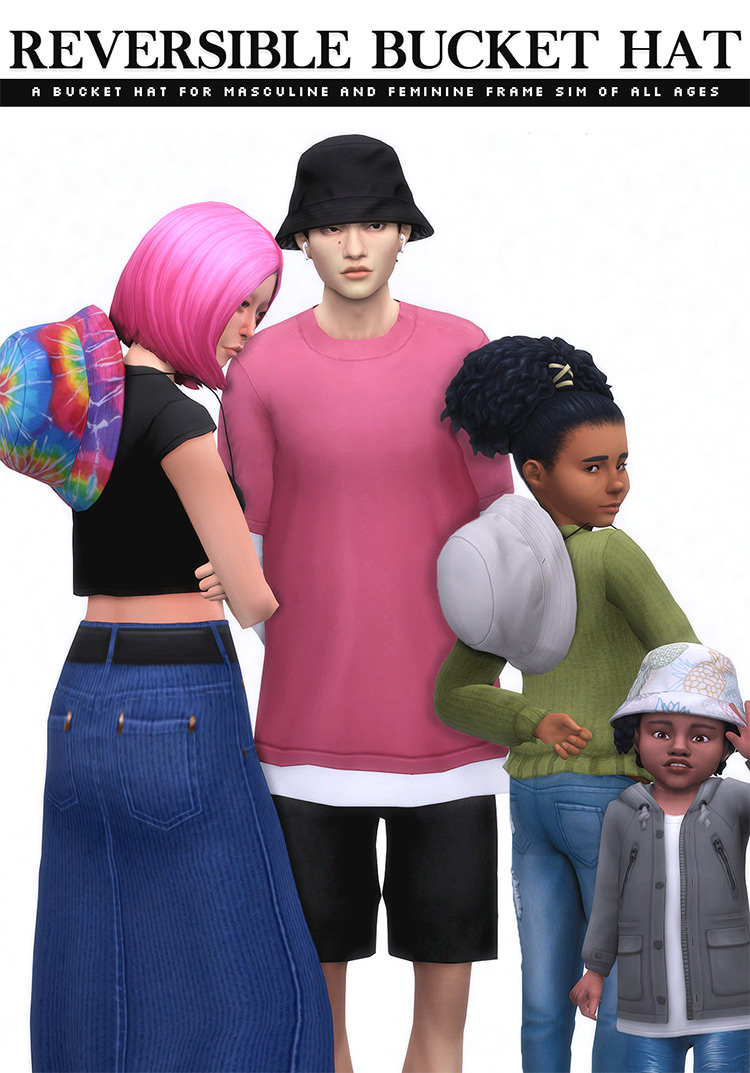 What makes this bucket hat stand out is the abundance of awesome swatches. That's really what makes these so sought after and with fun options like tie dye, animal print, flowers, and camouflage, you'll never get tired of seeing this in CAS.
There are plenty of solids too, so Sims can have a bucket hat for all occasions.
50.

Outdoor Hat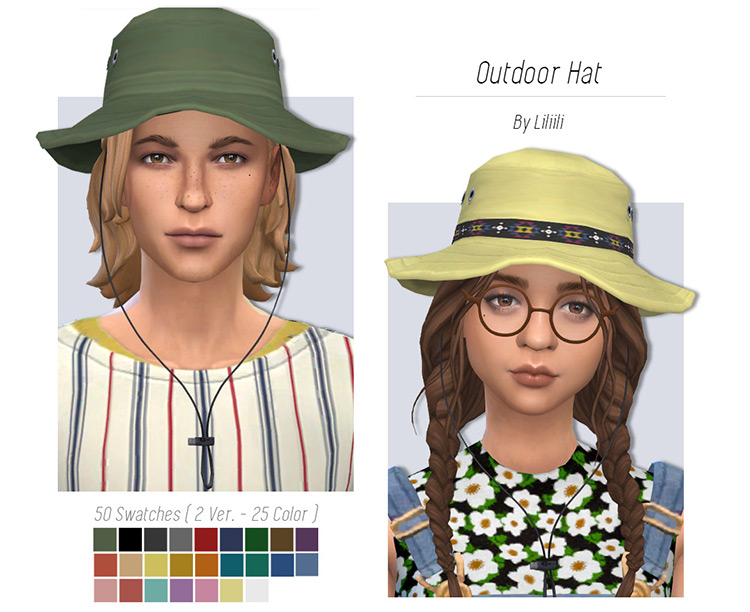 Here's some CC that keeps things simple – it's an outdoor hat, suitable for all outdoor activists. You know, like desperately searching for frogs to sell so you can pay your bills. Standard stuff.
Rugged Sims and city folk alike can make this work in their own ways.
51.

Fabric Hat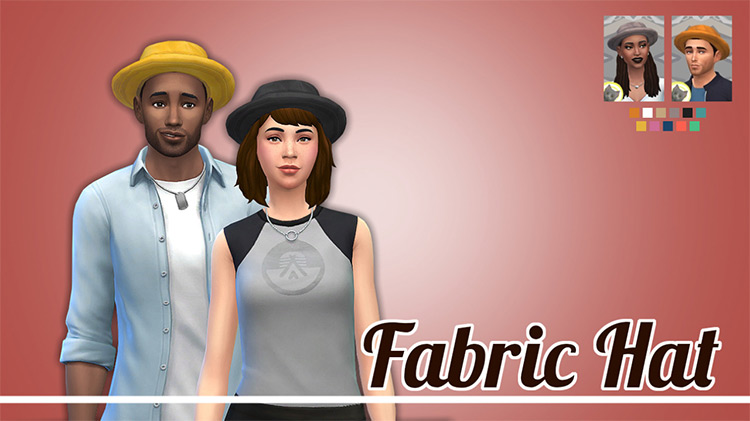 The most versatile accessories are always the one you'll get to use the most.
So you won't regret adding this basic fabric hat to your CC folder.
This hat is unisex and comes in several solid colors, ranging from bright shades to neutrals, so it should be really easy to find ways to use it.
52.

True Colors Pride Bucket Hat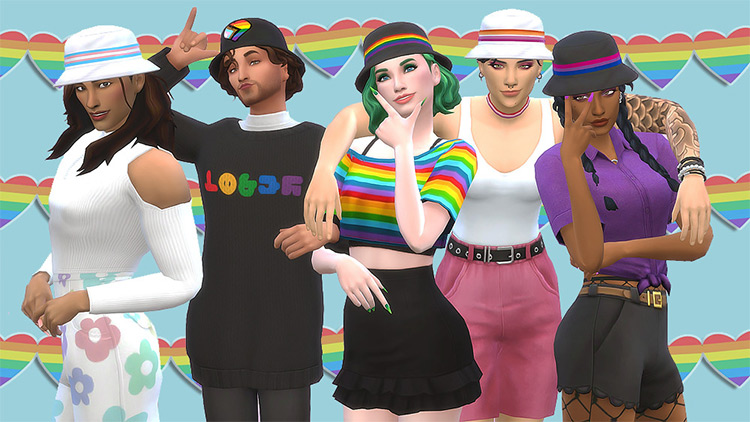 We've got one last bucket hat to close out this collection.
What makes it stand out is that it features the colors of various Pride flags.
If you need a straightforward & simple way to bring Pride into your Sim's, look then it doesn't get much better than these bright stripes and hearts.
Browse:
Lists
Maxis Match
The Sims 4
Video Games