Sims 4 Maxis Match '70s CC: The Ultimate Collection
This post may contain affiliate links. If you buy something we may get a small commission at no extra cost to you. (Learn more).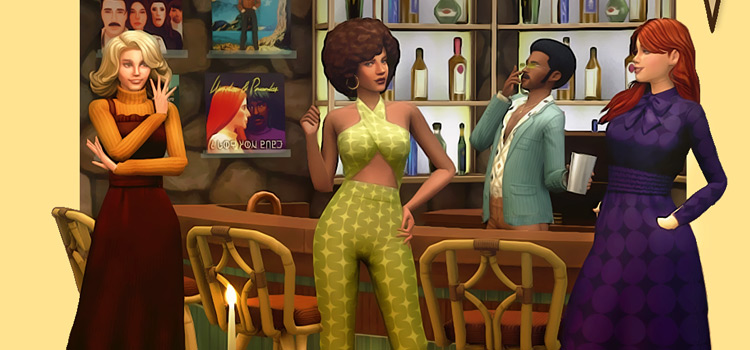 What's not to love about the '70s?
It was a time of change and experimentation, in every facet of life.
And you know it when you see it. This decade is one of the most recognizable and aesthetically pleasing ones of all, and with CC you can completely transform your game in its image!
1.

Vintage Tees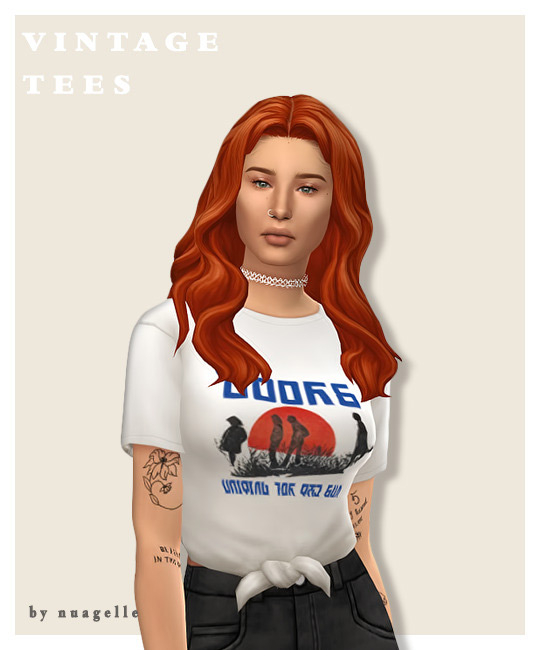 Any custom content described as "thrifted" is guaranteed to be an absolute gem of a find, and these tees are no exception.
Vintage bands and logos? We love to see it!
Having the real pop culture of this era in your game will definitely bring the vibe you're looking for.
2.

High Waist Flare-Leg Pants
They're bold, beautiful, and perfect for any casual occasion.
Some flared-leg pants instantly add a vintage look to any outfit, and the swatches make these even more fitting. There are 15 total, so you can use these no matter the season.
3.

Medium Textured Curls Male Hair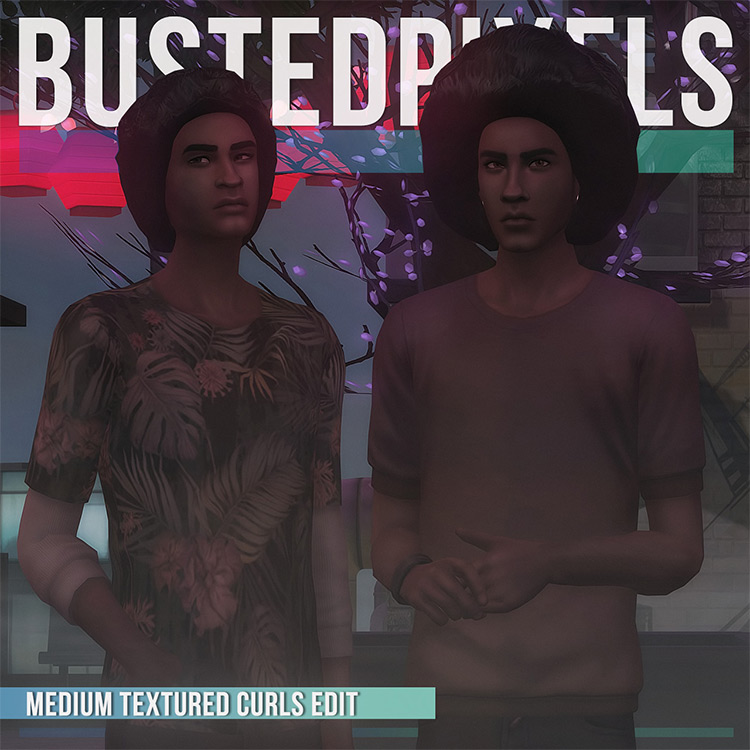 This edited base game hair from Busted Pixels is more glamorous than ever. Two versions are available.
The difference is one is a little bigger than the other.
Whichever one you choose, it'll be a cinch turning your Sim into the '70s king you always knew he could be.
4.

Copacetic Sideburns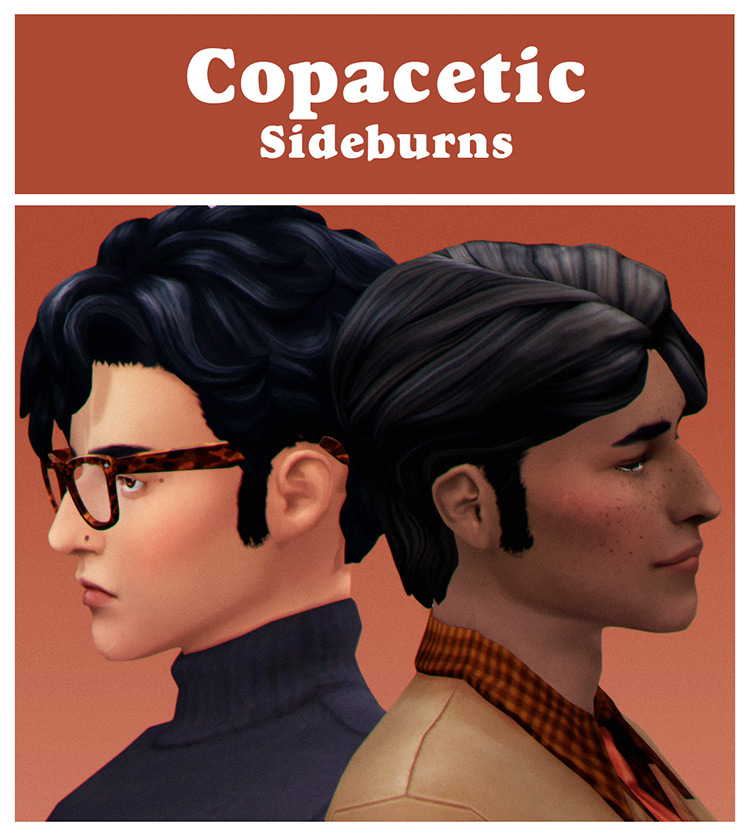 Look, sideburns!
It's a sign of the times, no doubt.
These are pretty tame by 1970s standards, but very dashing no less. I've always been rather disappointed that TS4 doesn't have in-game sideburns unless they're part of an existing hair, so this is a must if you want to really switch up your Sim's appearance.
5.

Animated Disco Ball
Flashy clothes and flashy lights.
That's what made a night on the town in the '70s worth the effort, and this functional disco ball is an absolute must if you want your Sims to have some period-appropriate fun.
You can resize and place this light wherever you want, however many times you want.
6.

Sims 1 Disco Jacket
You know how I was just talking about flashy clothes?
Well, here you go.
This converted jacket from The Sims 1 is delightfully extra. Just look at that texture, and the shine! For the true retro effect, make sure your Sim has some thick chest hair!
7.

Farrah Flip Hair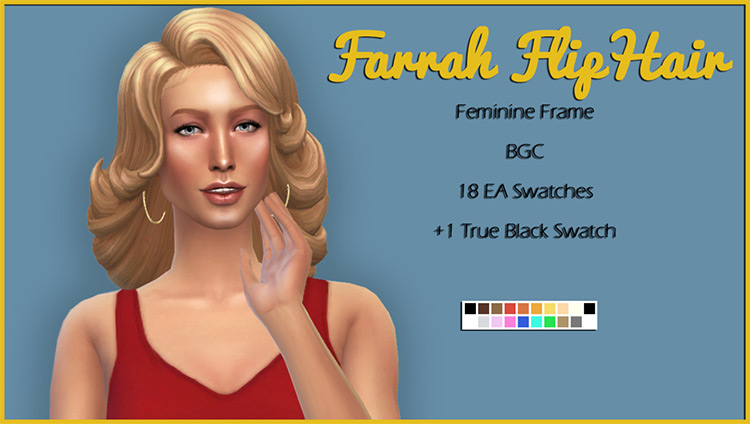 Farrah Faucet's iconic, voluminous, and incredibly dated 'do just might be the quintessential women's hairstyle for this decade.
This creator's version is just perfect in every way. What Sim could pass on these long, sleek layers?!
8.

Giselle Hair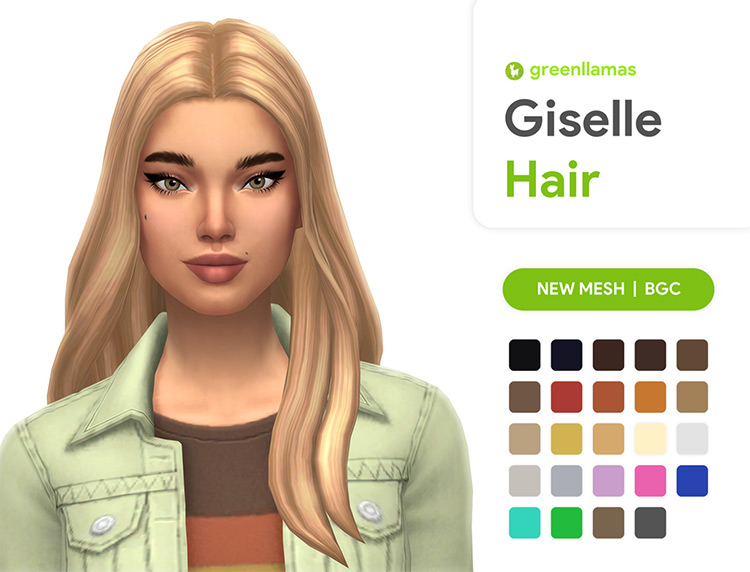 If you're after something a little less groovy, this simple long style will do the trick.
This is honestly a pretty timeless style, at least since the late '60s. I think it's safe to say now straight, middle-parted hair will be "in" for eternity!
9.

Swimsuit Recolors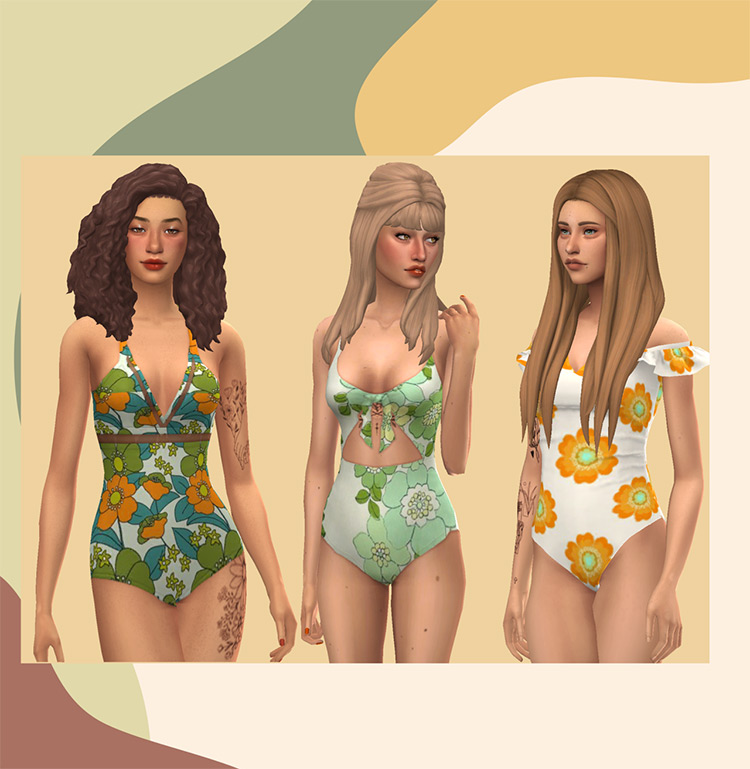 The Sims 4 may have some lovely bathing suits, but a very select few work for the '70s.
The color palette of this decade is very specific and recognizable, and this creator nailed it.
Those shades of blue, orange, yellow, and brown are just right, plus there are some stunning floral prints.
10.

Skate Everywhere Mod (Seasons Required)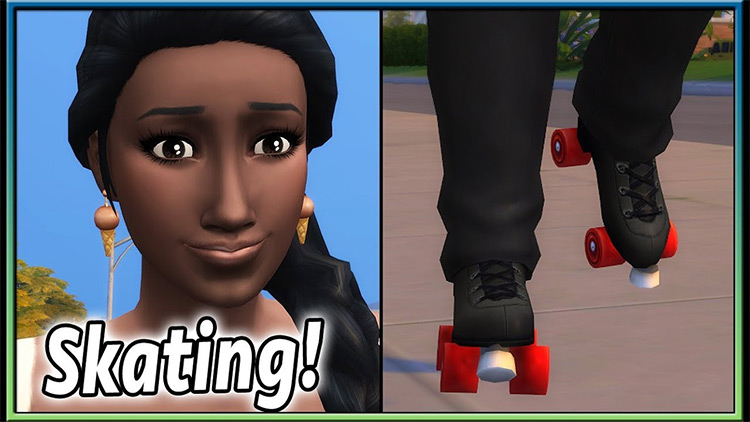 Back in the 1970s, if people weren't at the disco, they were probably out roller skating.
Okay, so there's a lot more to it than that.
But this really was a popular pastime, and your Sim can really live their best life skating all around the neighborhood thanks to this mod.
11.

Soul Train Poses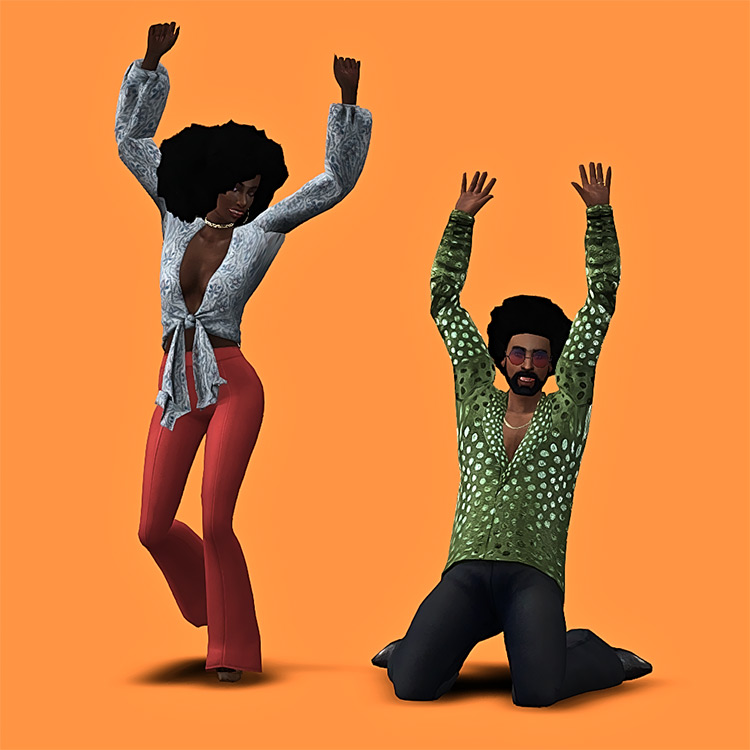 Poses are a fantastic way to put your Sims into scenarios and situations that you otherwise would never be able to play out.
Sure, Sims can dance. But can they get down like they did on Soul Train? Not quite.
But these poses are an awesome compromise!
12.

Curly Mop Hair For Men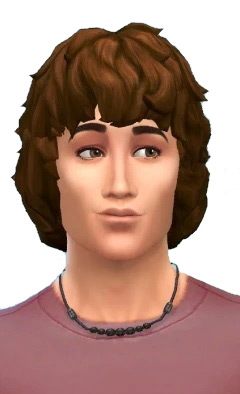 Everything was longer in the '70s, including hair.
Birksches' basic but cute curly hair for men is very well done.
The texture is great, and even if this wasn't originally intended to be for Sims hailing from another time, it definitely has the right look.
13.

Retro Vibes CC Pack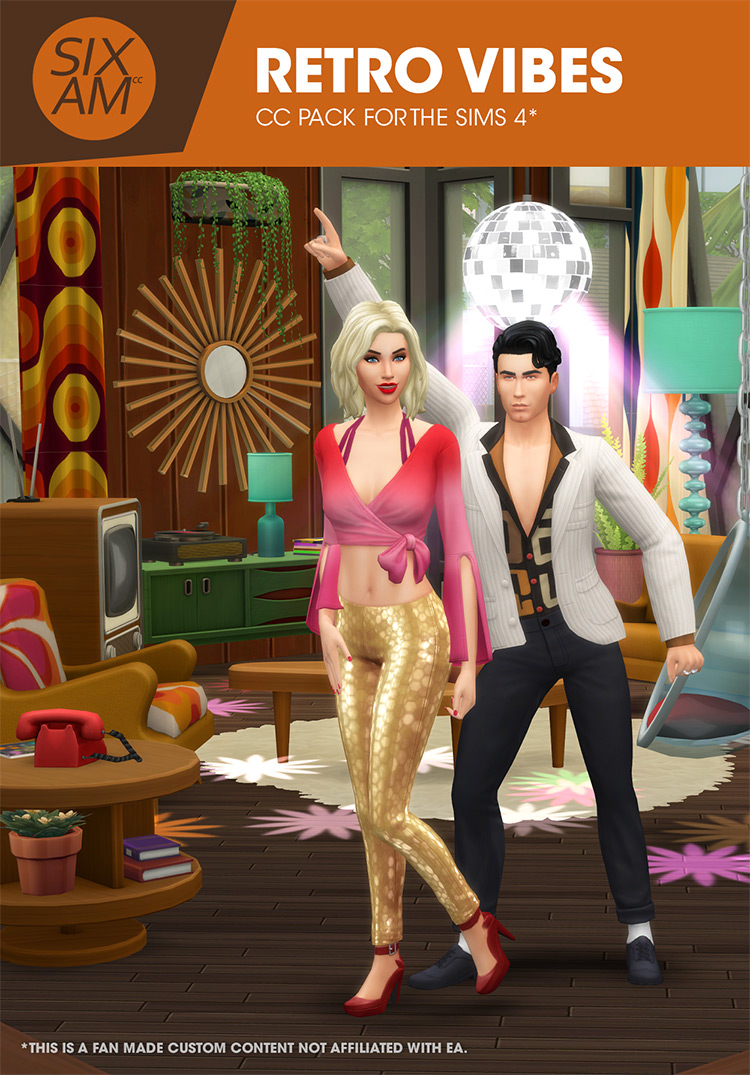 If you also had the urge to squeal at the sight of this pack, no worries. It's normal… I think.
There's an abundance of fun, functional new objects and furniture in this set.
They will leave no doubt that your Sim's home is a '70s home, thanks to the stunning patterns and colors.
14.

Perfect Party Stuff

Here's another fanmade pack, this time focused on throwing your ideal corduroy-covered shindig.
This collab between Surly Sims and Gilded Ghosts really left nothing out. In addition to gorgeous new dresses, this set includes decorative records, a very '70s television, new deco food, a whole bar, and more!
15.

Free Spirit CC Pack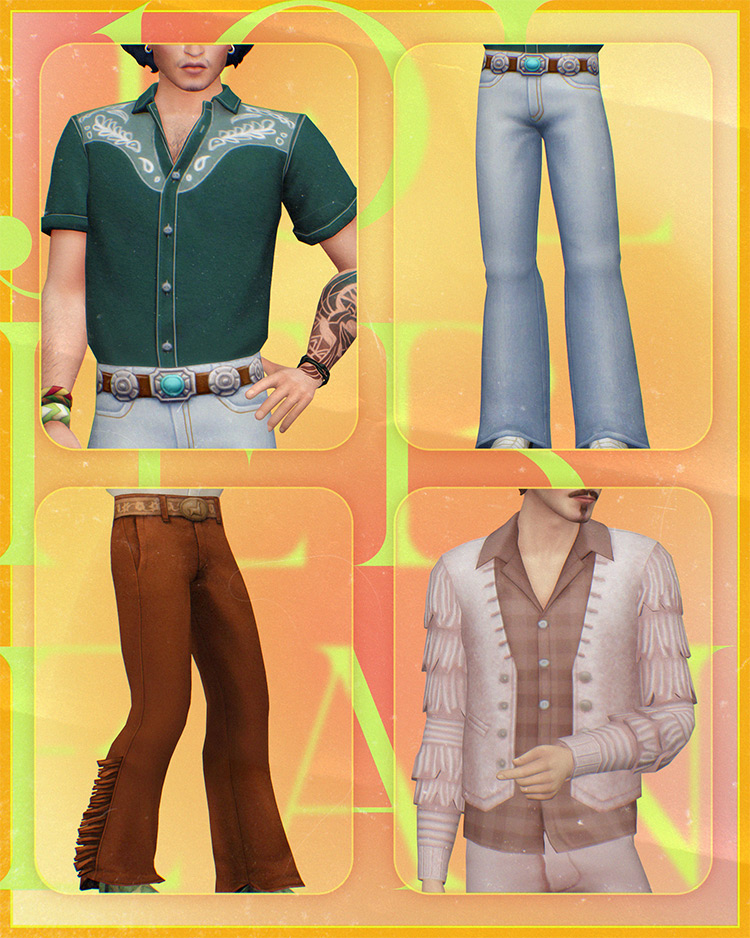 It seems just about every style is represented in this CC pack – so you can really vary your Sims and mix-and-match different pieces.
Two dozen items are included here, from bold platform boots to lovely accessories, tie-dyed and cropped shirts, bell bottom pants, and so much more.
16.

Retro & Proud Shirts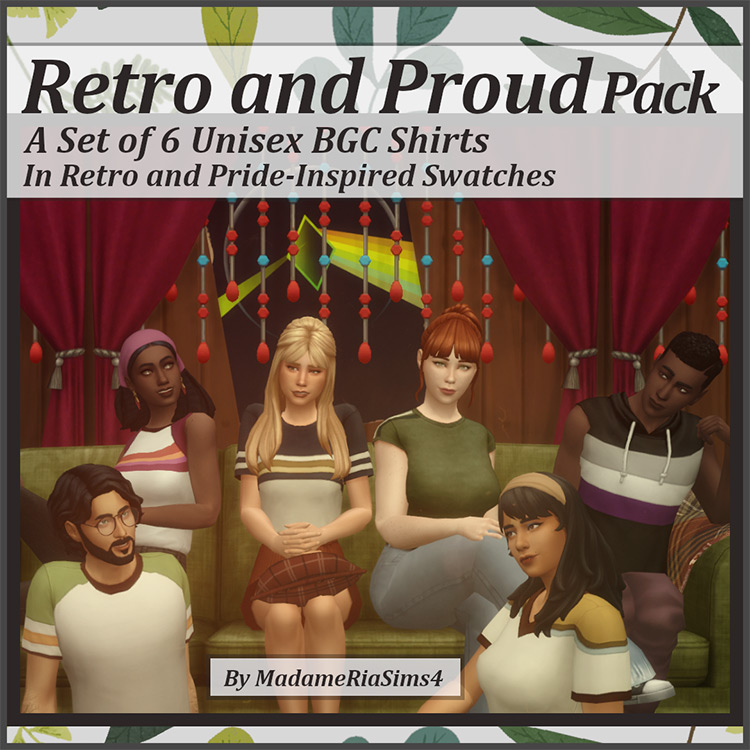 You just can't have a '70s wardrobe without horizontal stripes in there somewhere.
These tops come in a few different cuts for both men and women, with about 18 total swatches.
There are even nine Pride swatches, so TS4 can be inclusive no matter the year.
17.

Dainty Deena Hair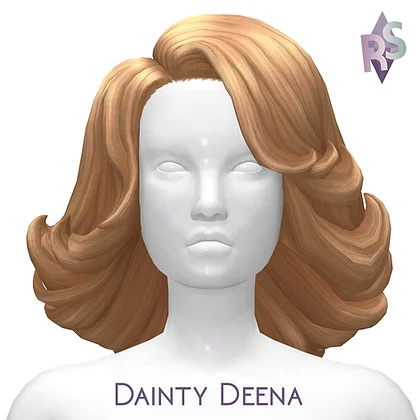 Here's another undeniably vintage hairstyle, courtesy of that mesh from Nifty Knitting. You know the one.
Fortunately, thanks to the clever editing of RenoraSims, the Dainty Deena Hair is a standalone, base game download.
18.

Vintage Coffee Set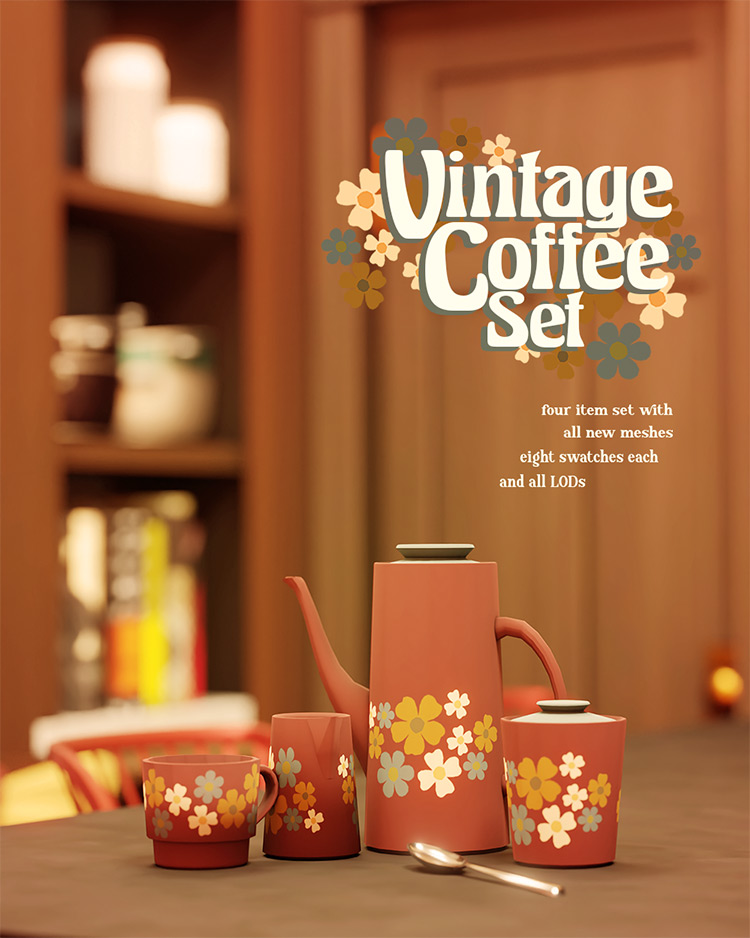 Without custom content, all of your Sim's dishes are plain white, and that's more fun.
Retro decor like this is always packed with color, and the eight swatches of this set prove that more than ever.
A coffee cup, pot, sugar bowl, and creamer pitcher are such nice, clutter-y additions to any build.
19.

Gracie Hair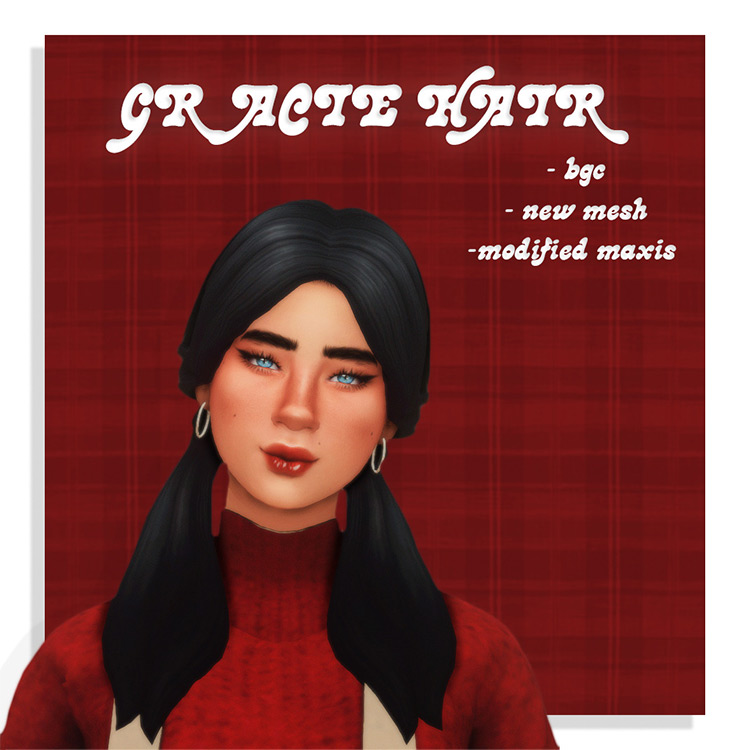 Pigtails are known for the youthful look they give the wearer, and they seemed to be kind of on-trend for a while in the '70s.
Just pair this 'do with any casual outfit, like a tee and some sneakers, and no one will know your Sim is really days away from becoming an Elder.
20.

Basic Tucked T-Shirt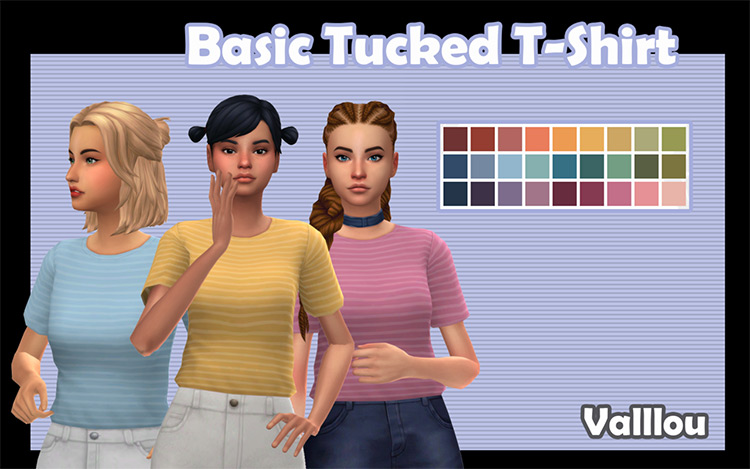 Tucking in your shirt is always a good idea with old-school fashion.
These standard striped tees are another staple that you'll get a ton of use out of.
They may be simple, but they're also fantastic!
Especially with so many colorful options.
21.

Summer Basics Collection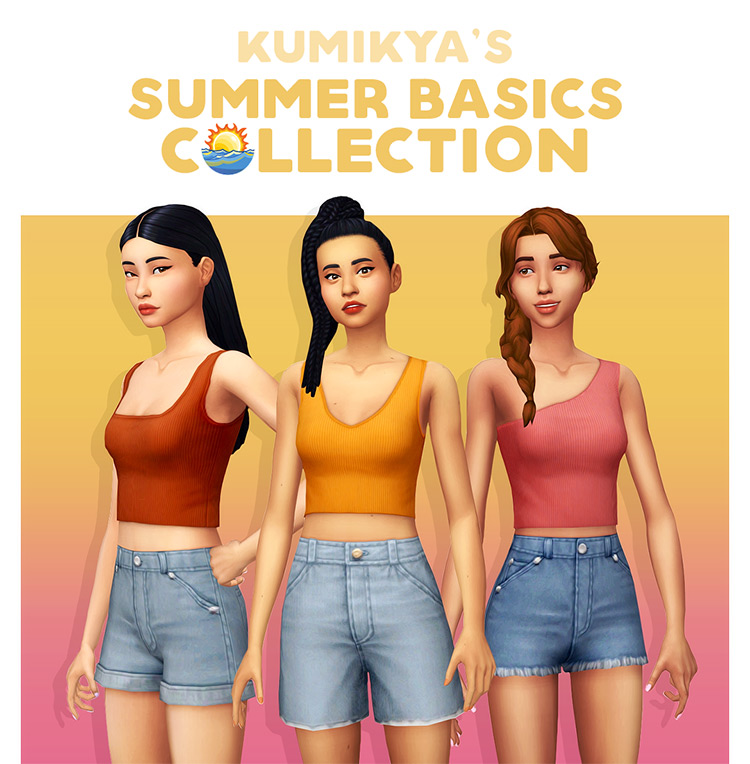 As versatile as this collection is, you'll definitely want to grab the shorts. Denim is a staple, both then and now.
Not only are they super cute, but just pair them with any summer-y top on this list and boom, you've got a '70s ensemble.
22.

Bohemian Child Collection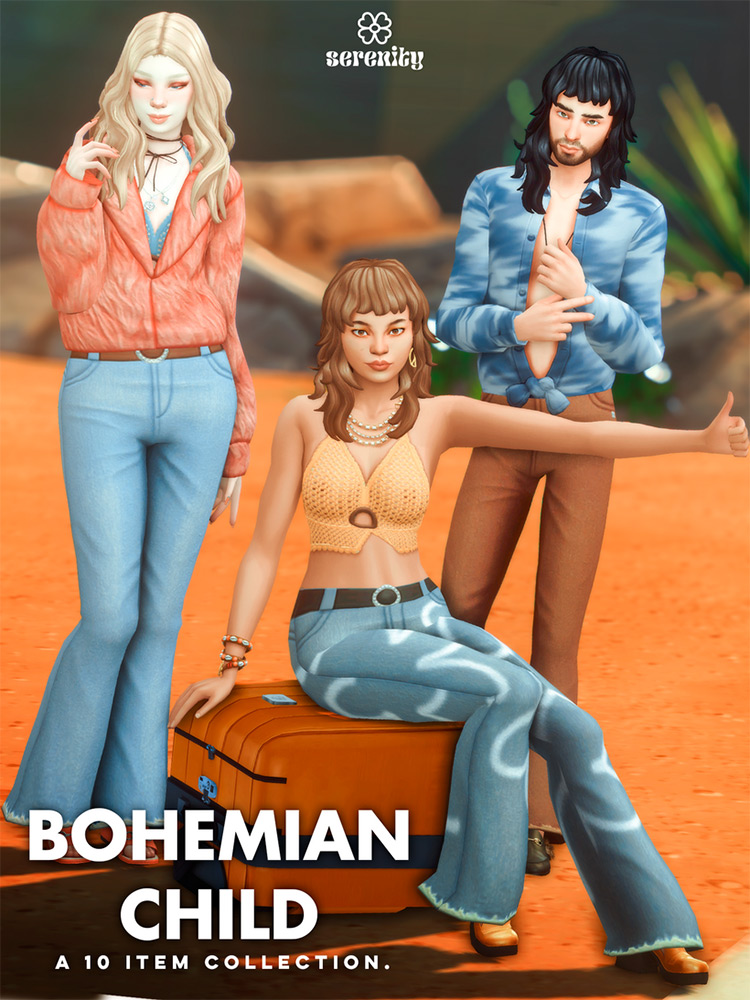 Serenity's Bohemian Child Collection has a little bit of everything.
The faux fur coats are particularly awesome finds because there isn't a ton of '70s outerwear out there.
But there's plenty of other new tops and bottoms, plus two hairstyles, if your Sims happen to live somewhere that's warm year-round.
23.

November 2022 CC Set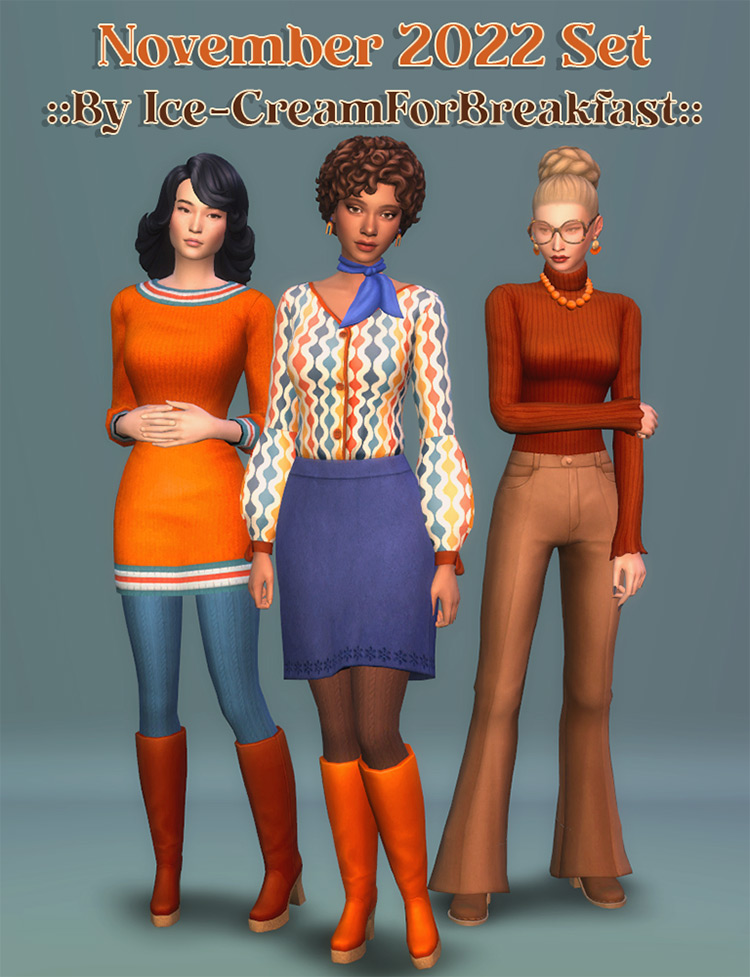 Even though this set was released in 2022, it's a huge blast from the past.
All sorts of fun new tops, skirts, and accessories are included here. There's even a scarf and some earrings!
My personal favorite bit might just be the glasses – it's hard to find good retro ones, and these are among the best.
24.

Vintage Curtains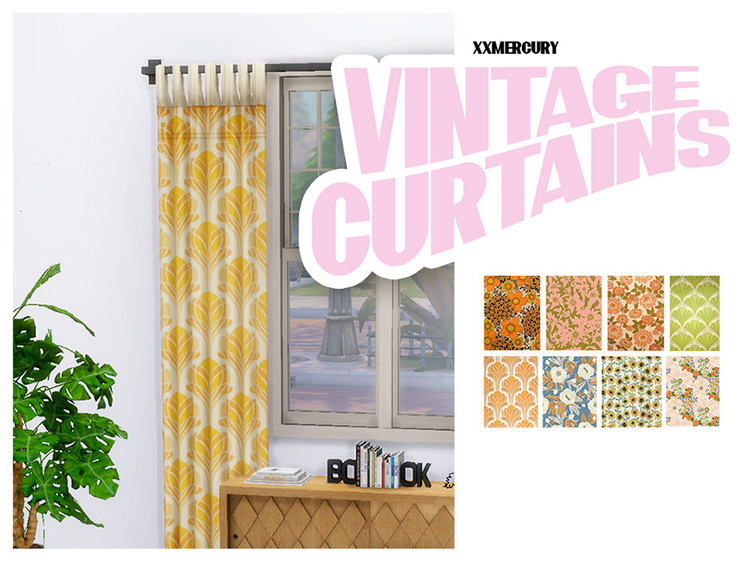 You don't see many printed curtains anymore, but they were once an interior decorating standard.
For maximalist fans, this is like striking gold!
The eight swatches really go a long way, adding color and personality to any room. Most of them are floral but there are a couple geometric designs, too.
25.

Sims 3 Generations Stereo Conversion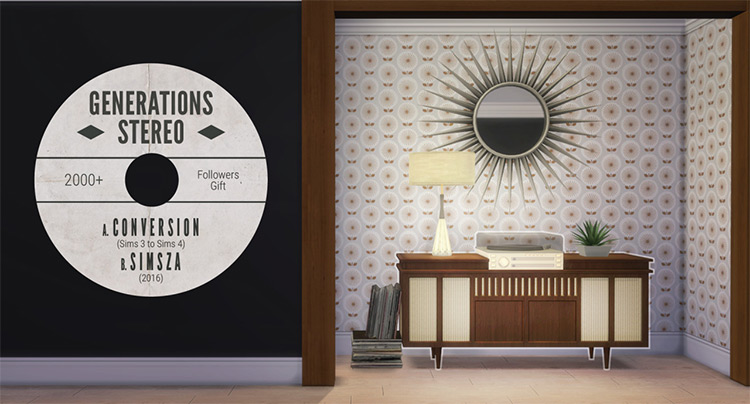 These aren't the days of the Lin-Z Smart Speaker we're talking about.
Once upon a time, every electronic device was kind of enormous.
This stereo may be bulky, but it's pretty accurate, and it's a great deco piece for sitting rooms.
26.

Summer Stroll CC Pack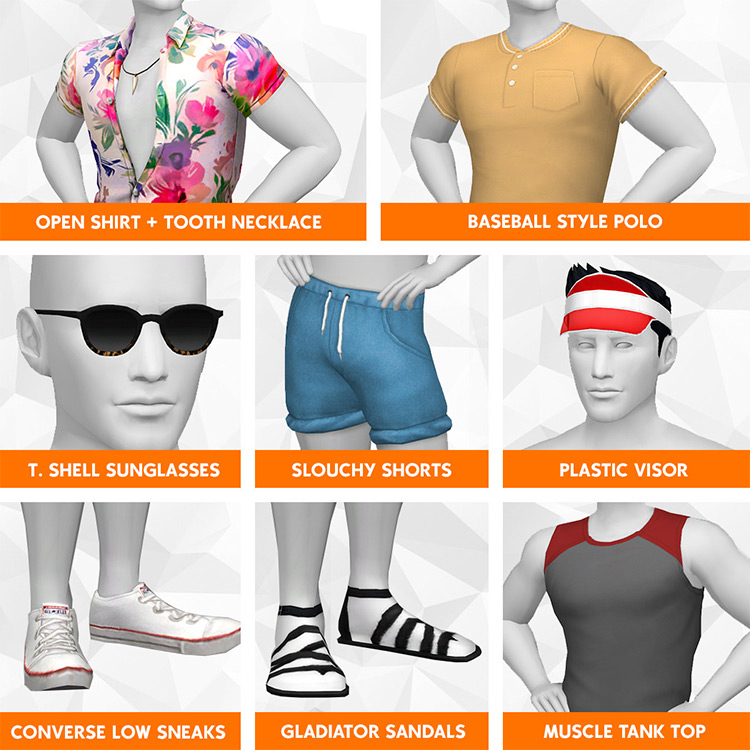 While some parts of this CC pack may definitely be modern, the shirts and shorts in particular are incredibly, inexplicably '70s.
Any guy honestly will look great, and there are so many ways to incorporate these pieces into other ensembles warm weather ensembles.
27.

Cute As Two Buttons Pants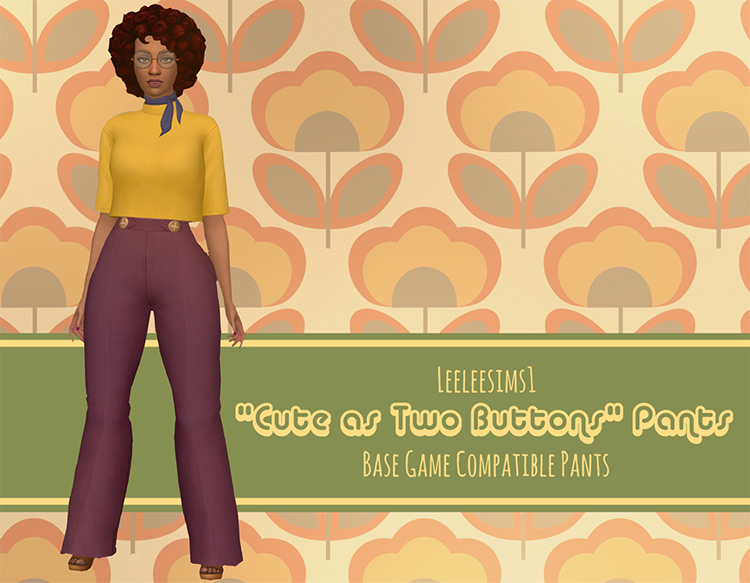 Some high-waisted pants will never do you wrong.
There's a lot to admire here, from the flared design to the snazzy buttons.
As with anything in this era, color is what it's really about, though. Basically the whole range of the rainbow is included in these 18 swatches.
28.

Sofa, So Good Sectional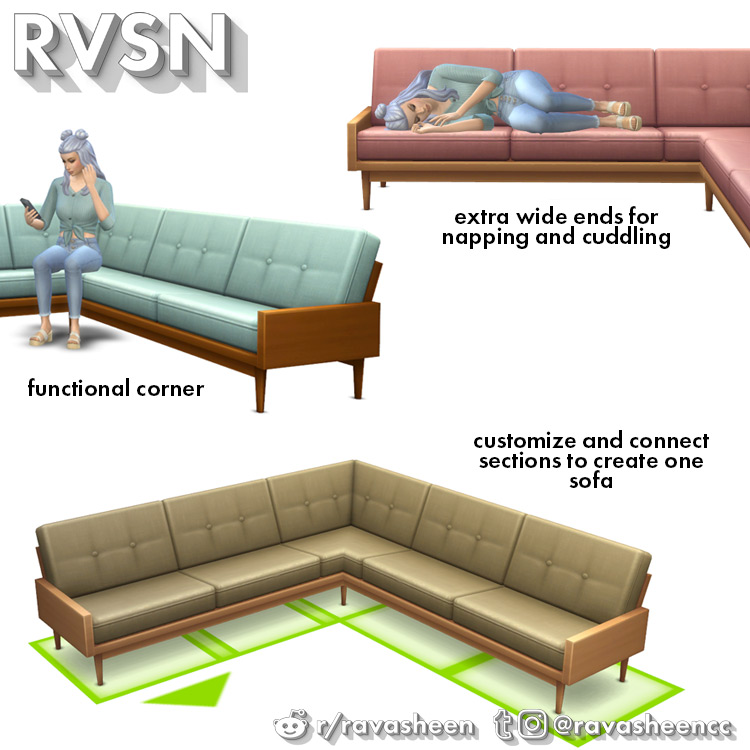 These days, interior design tends to not be quite as experimental or modular.
But a few decades ago, sectional furniture wasn't too shocking.
This is one incredible set. You can mix and match a number of different pieces, to make a sofa whatever length and shape you desire.
29.

SMEGlish Large Appliances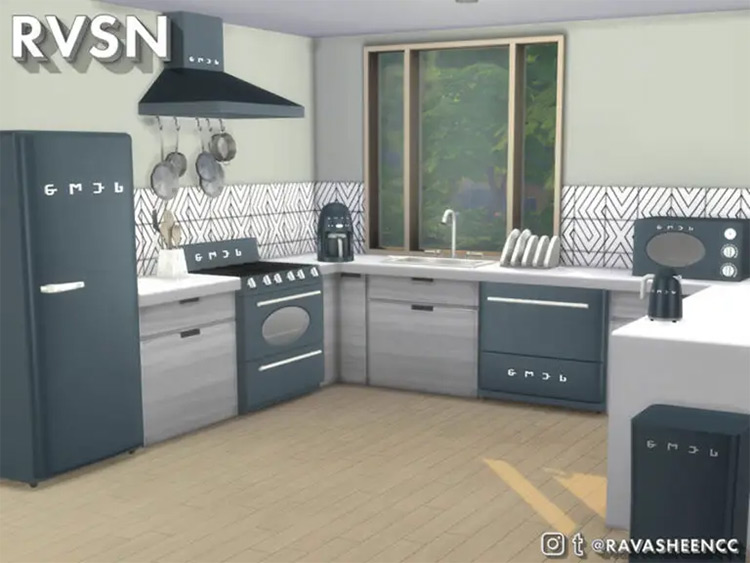 Here's a good set to give your kitchens a totally different feel.
The vibrant colors and mid-century designs are perfect for an old school build.
All of the bigger appliances are included, even a dishwasher and microwave, which are rather luxurious for the '70s!
30.

SMEGlish Small Appliances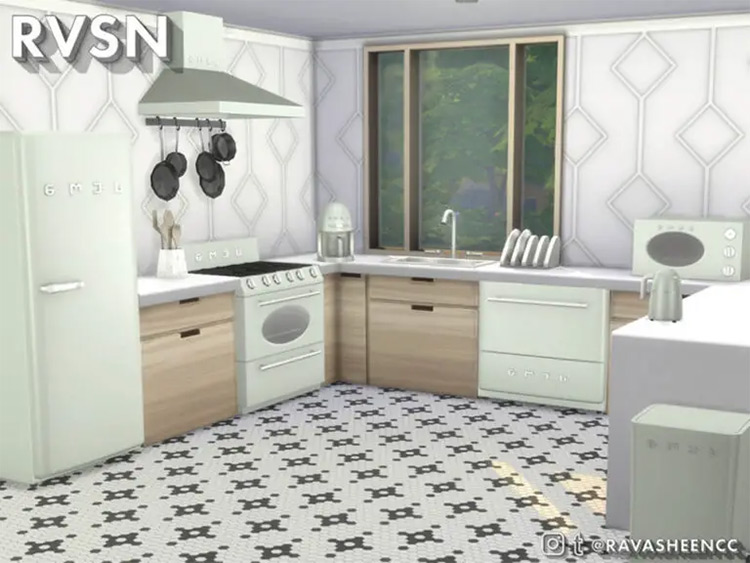 This second half of the appliances set makes sure all of your bases are covered.
Whether your Sim is in a tiny home with hardly enough room for a fridge, or a mansion where they need everything Simoleons can buy, you can get the look you want.
31.

April Blouse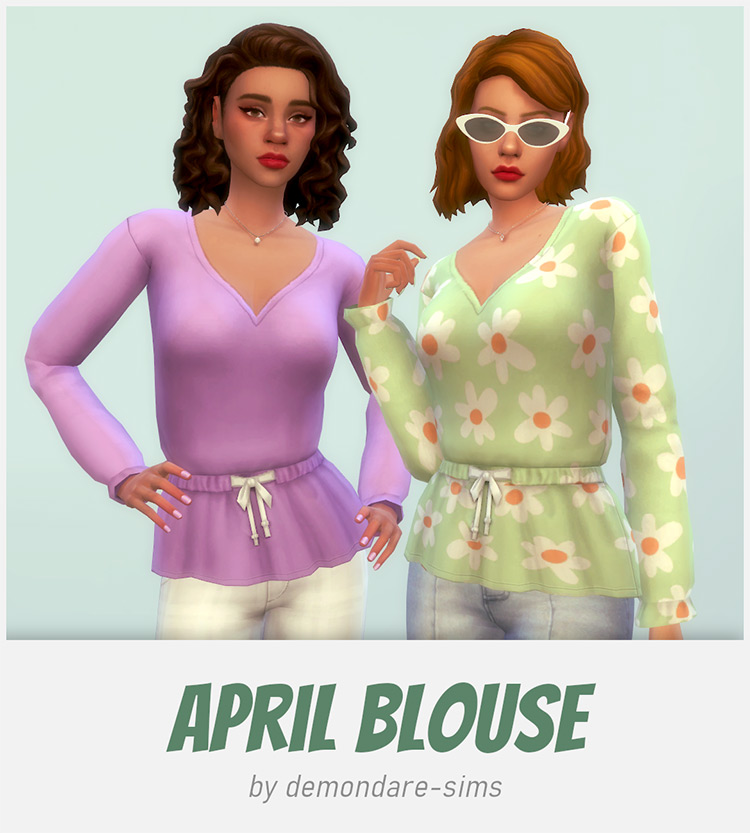 There's plenty to love about this incredibly versatile blouse. It's got a unique neckline, a cinched waist, and ruffled hem.
All of that already adds plenty of visual interest, but with more than two dozen swatches, you'll find reasons to use it again and again.
32.

Retro Toddler Dungarees (Toddler Stuff Required)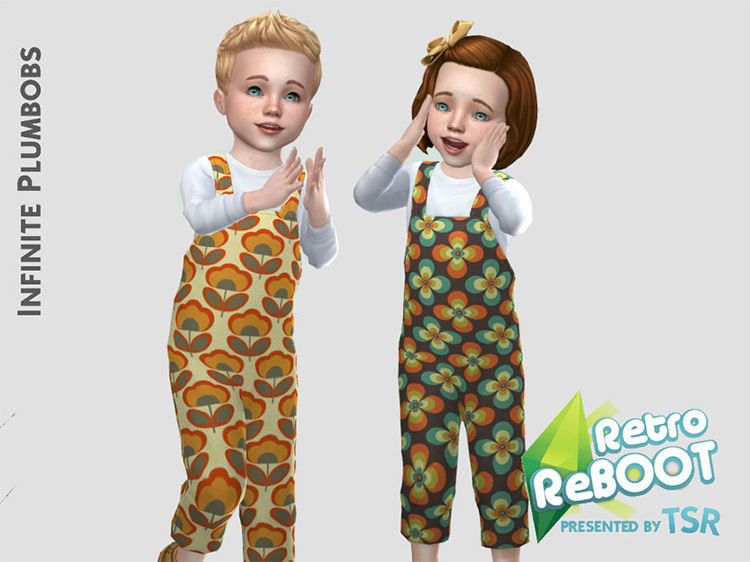 Children's fashion has evolved over time just like anything else, and these dungarees for your little ones are pretty outrageously retro.
Note that you'll need to own the Toddler Stuff Pack to enjoy this CC. But it's well worth the cost.
Because it's always great to have some new fresh options for older content!
33.

Marigold Jumpsuit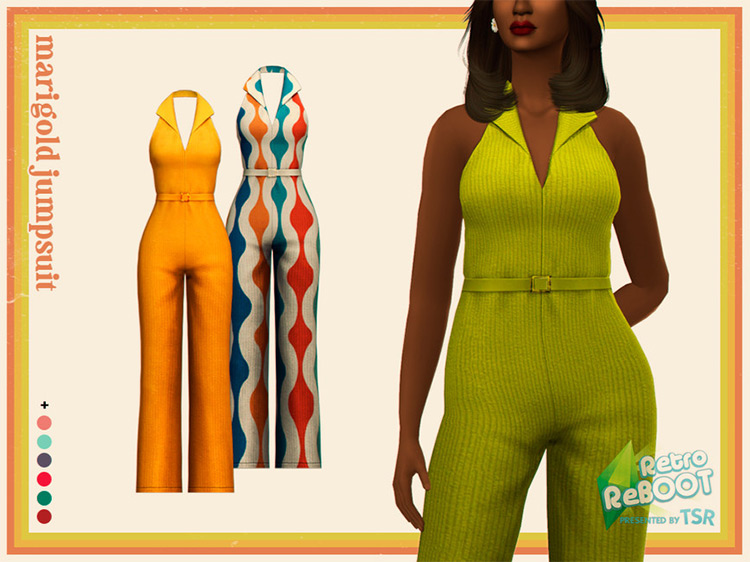 Jumpsuits come in so many different styles, but they all have one thing in common… no matter what, they make the wearer look super cool!
Piexelette's fashionable and very '70s version makes for lovely everyday or party outfits. 28 total swatches are included, ranging from simple solid colors to eye-catching patterns.
34.

Eleven Skirt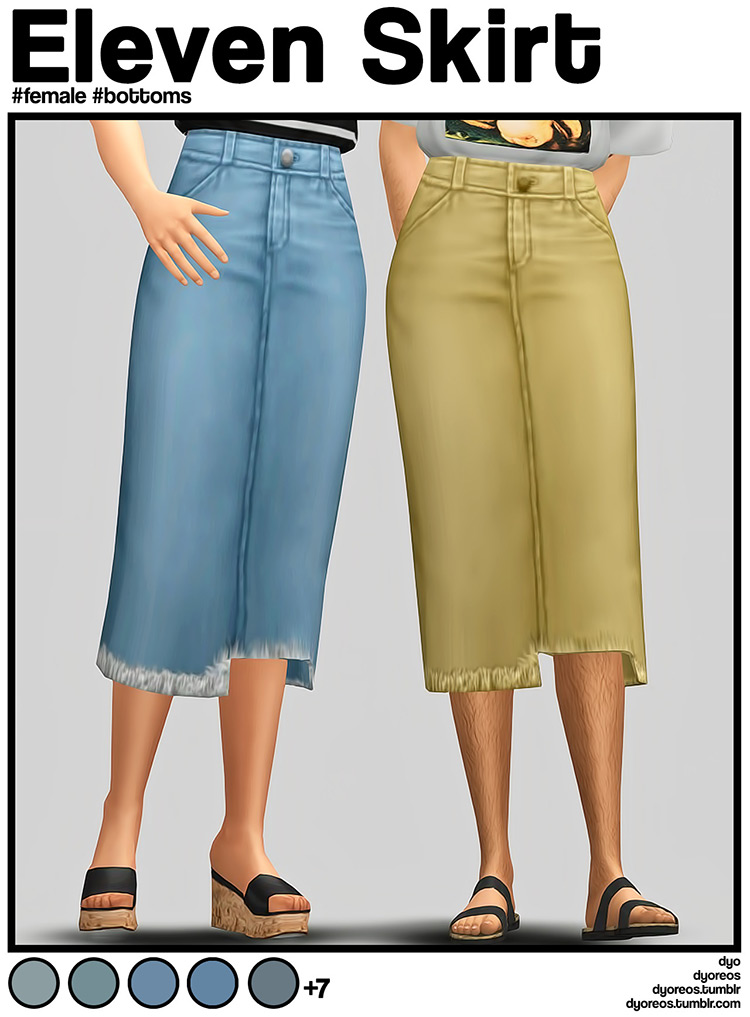 Denim skirts have been falling in and out of popularity for fifty years or more.
They're a great bottom for casual ensembles, and you can easily use this for a number of 1970s-inspired looks.
What I like about the Eleven Skirt in particular is the frayed hem. It gives such a DIY'd look!
35.

Corduroy Suit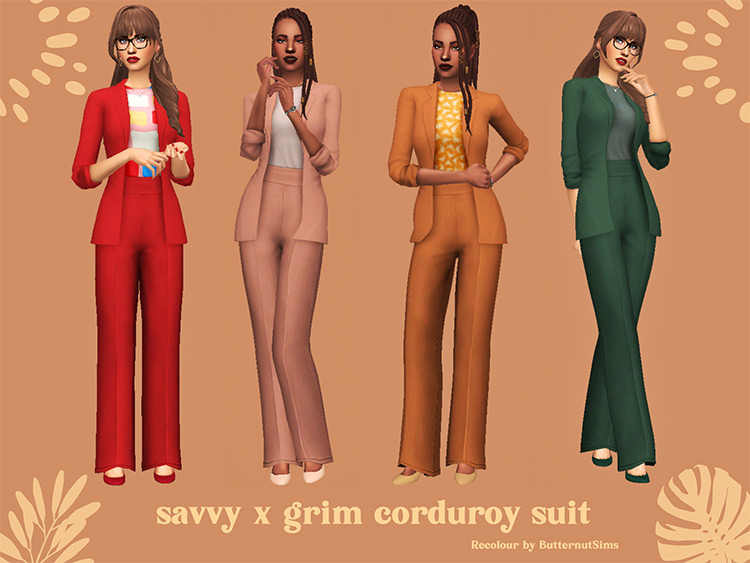 An old school suit such as this one is really a special creation.
Most of the suits in TS4 are very chic and modern, which makes sense.
But sometimes, you just want something with a scratchy looking texture and bold colors. All sorts of awesome color combinations are available in these 20+ swatches.
36.

Coral Blouse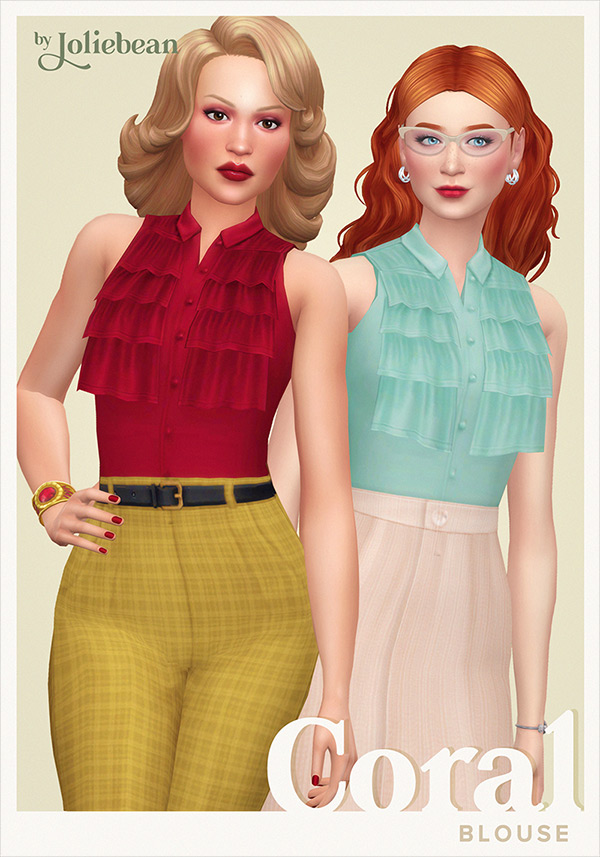 You know what instantly makes a top more retro? Ruffles. Always ruffles.
It helps that the Coral Blouse is also tuckable, so you can easily put together a '70s look.
I think there's a bit of a western vibe here, like the Strangerville clothes, that makes it even better.
37.

Como La Flor Jumpsuit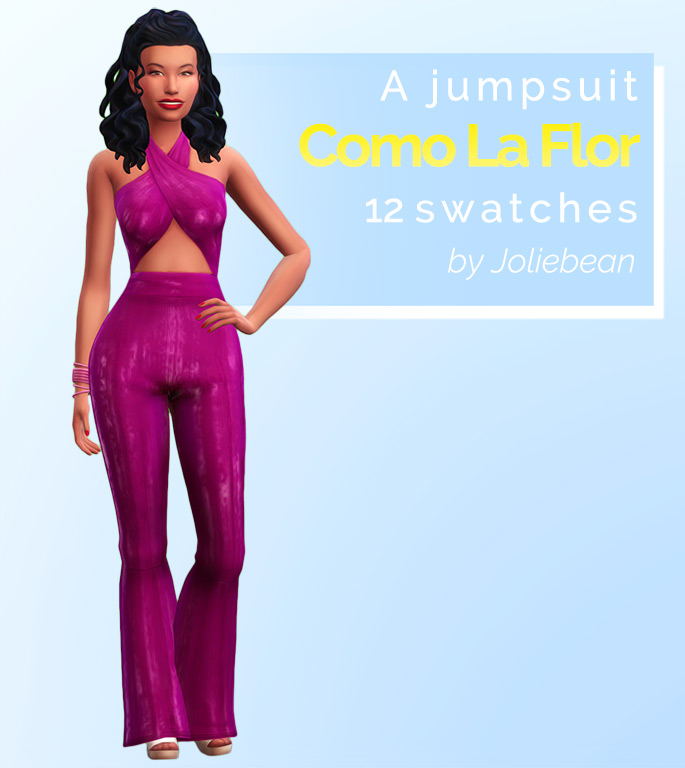 Joliebean's Como La Flor jumpsuit is one of the coolest outfits around. Not only is the cut of it flattering on any Sim, but it's sparkly, too!
I'm obsessed with those sparkles, no matter the swatch, and you probably will be as well. It's pretty mesmerizing.
38.

Seventies Dream Makeup Set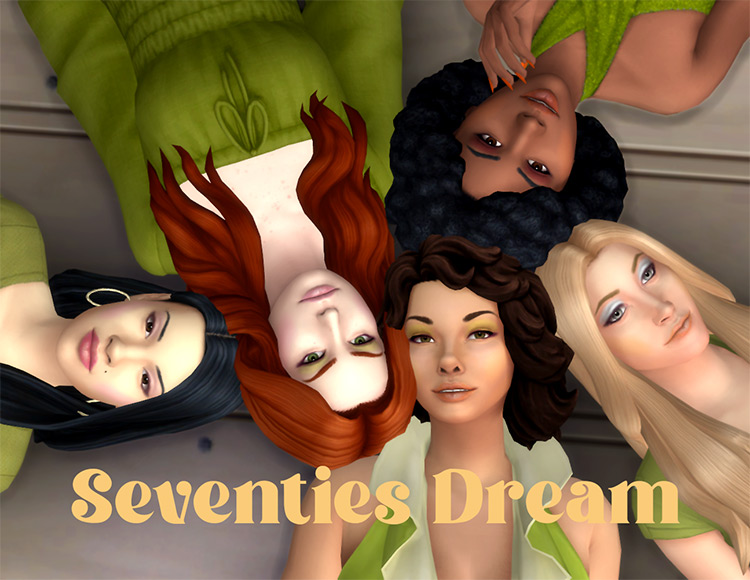 Blue eyeshadow may be among the most iconic beauty trends from this era.
But that's just one of the epic downloads that make up this CC set.
Whatever look you envision for your Sim, you can make it happen with this stunning blush, contour, lip gloss, and eyeliner.
39.

Mary Janes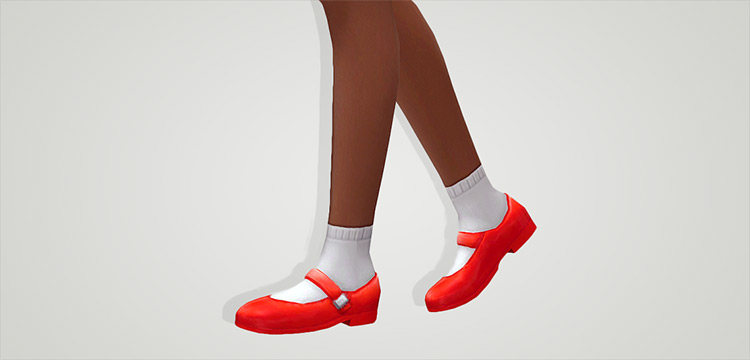 I'm sure everyone will recognize these shoes from the base game, as one of the few footwear options we have for children.
Well, this Simmer has made a whole bunch of new outfit options possible by converting them for adults! They even added more colors so you can really go wild.
40.

Children's Belted Pants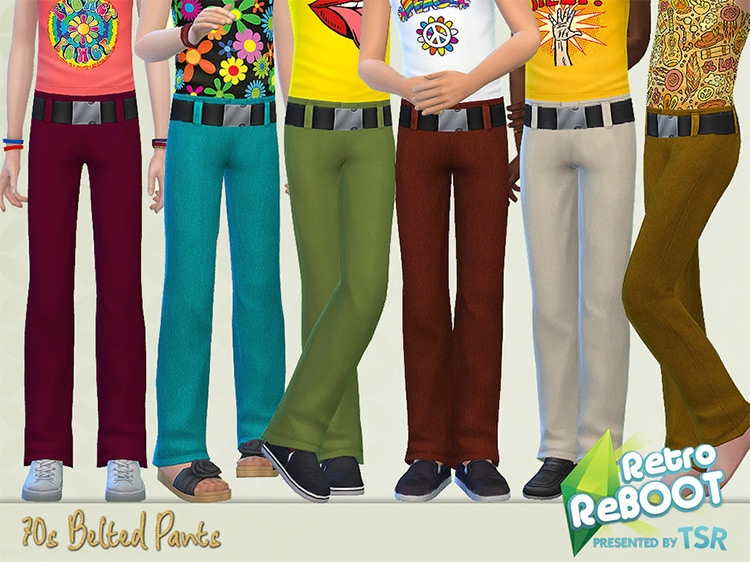 Avocado green, burgundy, and brown.
Those are three colors you don't see much in children's wardrobes today, but they were once must-haves.
Your Sim's kids can be just as radical as their parents thanks to these straight legged pants.
41.

Old-Timey Fireplace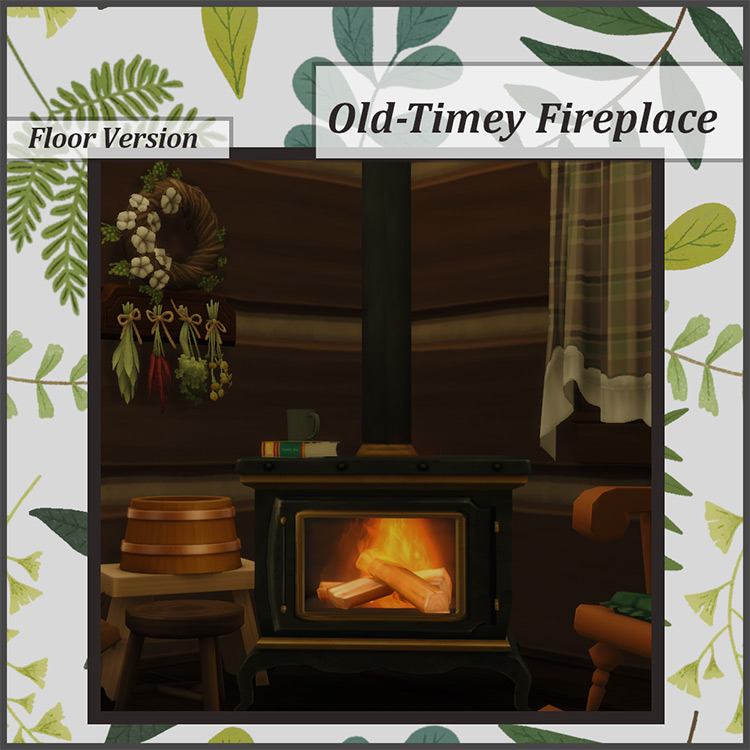 Like Sims, some people prefer the simple things in life.
This is the fireplace for them.
It's much smaller than any of the ones we have in the game, which makes it even more suitable for smaller builds. The floor or wall version either one will be such a lovely addition to any cabin.
42.

Mina Top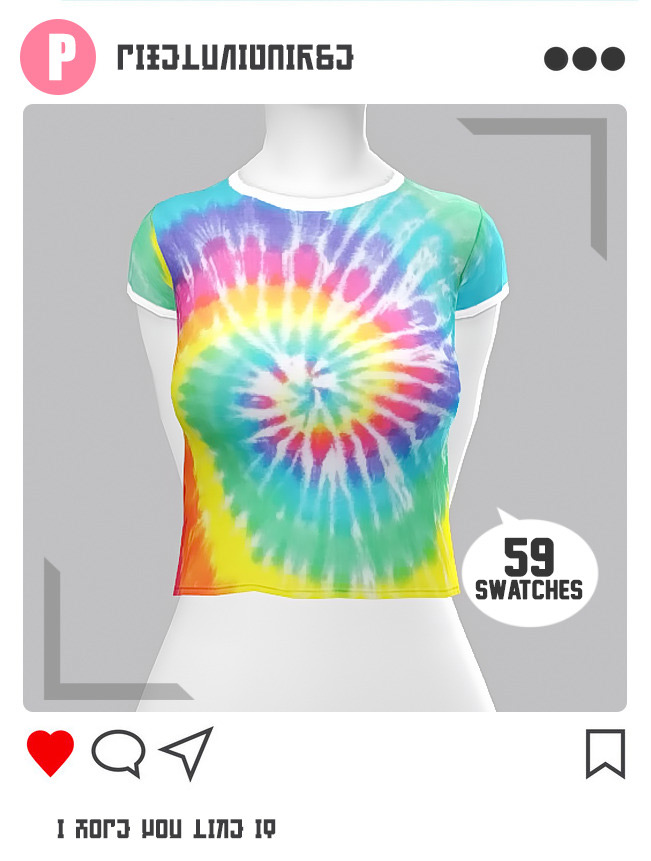 Here's another simple tee for all of your Sim's everyday needs.
Some of these swatches may be a little modern for your taste, but the striped options have no doubt got vintage vibes.
I don't know if you'd exactly call this top cropped, but it's pretty close, and totally chic.
43.

Bow Collar Sweater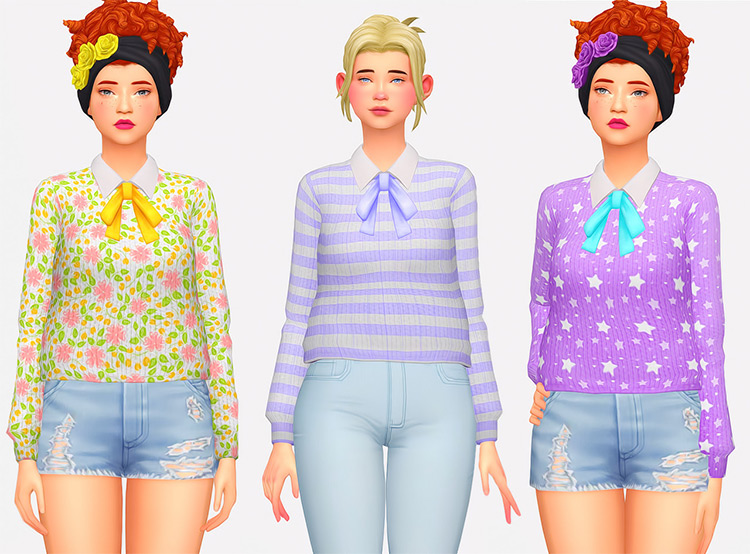 Every part of this sweater is incredibly vibrant, and the bow collar is just adorable.
26 swatches makeup this palette, and they cover a huge assortment of options. Some are solid colors, and some are beautiful patterns, but each one is unique in its own way.
44.

70s Wallpaper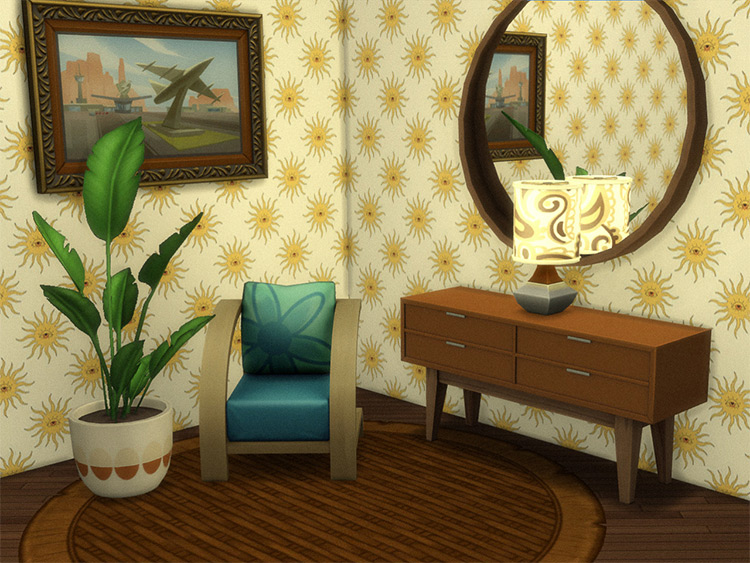 All five of these wallpapers are nothing short of groovy.
These busy patterns will make any room a little more interesting.
The Sims 4 lacks a little bit in crazy wall coverings like these, so they will definitely set your Sim's house apart from the rest.
45.

Azariah Jeans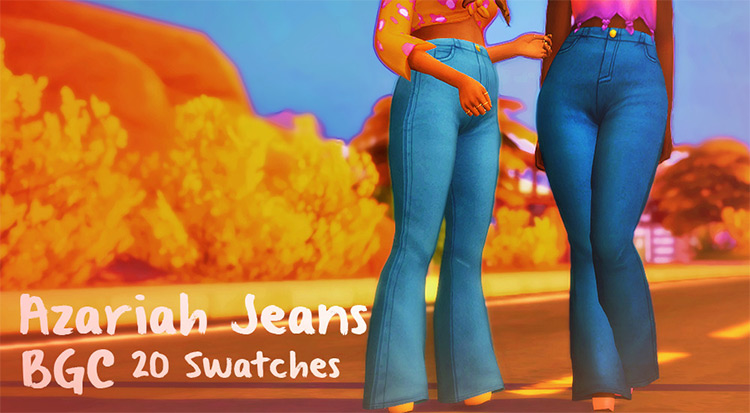 A '70s Sim can't have too many jeans. These bell bottoms are just like the real thing, incredibly big and bold.
Best of all, they're pretty high waisted, so you can use just about any top you want with them and it will look fantastic.
46.

Portland Living Set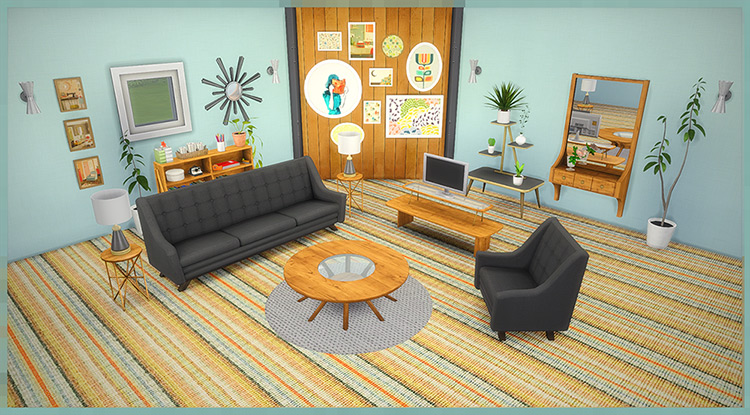 Furnishing a build for a specific time period can be rather stressful, but it doesn't have to be.
This 70s-style CC set has got everything your Sim's living room could need.
Not only did this creator include new seating and tables, but also a really cool fireplace, and even some wall art!
47.

1970s Style Long Dress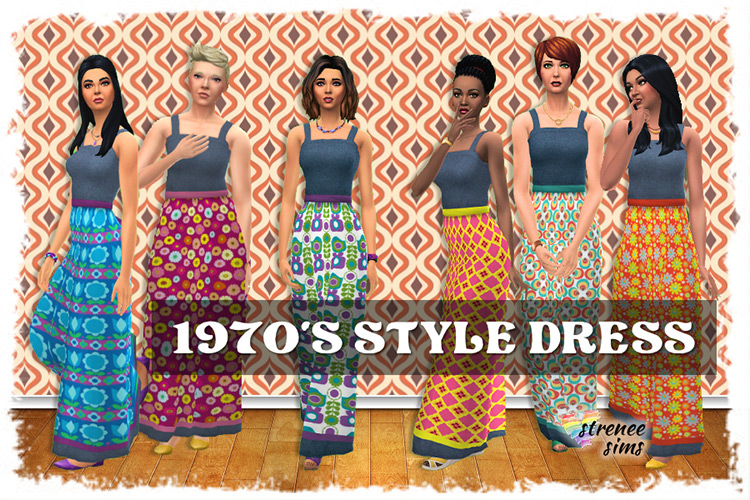 Two versions of this long dress are available:
One with a turtleneck sweater, and one without.
So your Sims can wear one or the other no matter the weather!
If you're someone who likes their Sim's outfits to really pop, then you will love these many patterned swatches.
48.

Grandma's Couch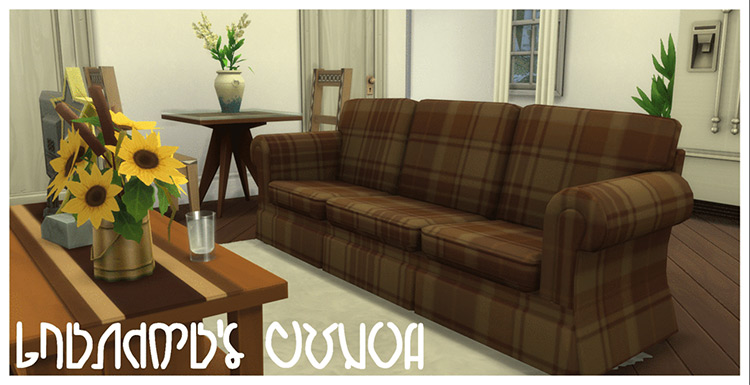 Back before grandma was grandma, her ancient-looking couch was actually right on trend.
These five couch options are just as maximalist as everything else from this decade. The simple base game Hipster Hugger Sofa has proved to be the perfect mesh to stand the test of time.
49.

Birkenstocks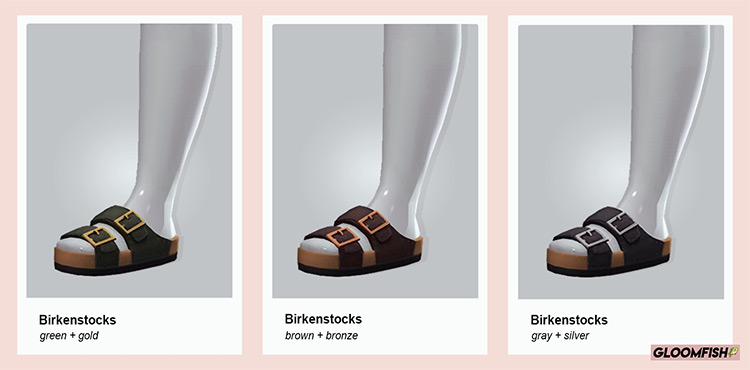 As one of the most popular sandals of the '70s, you can rest assured Birkenstocks are the perfect footwear choice for your Sim's summer outfits.
They may seem a little bulky, but they are still oh so charming. Pair with some bell bottoms to get the full effect!
50.

Caesar Hair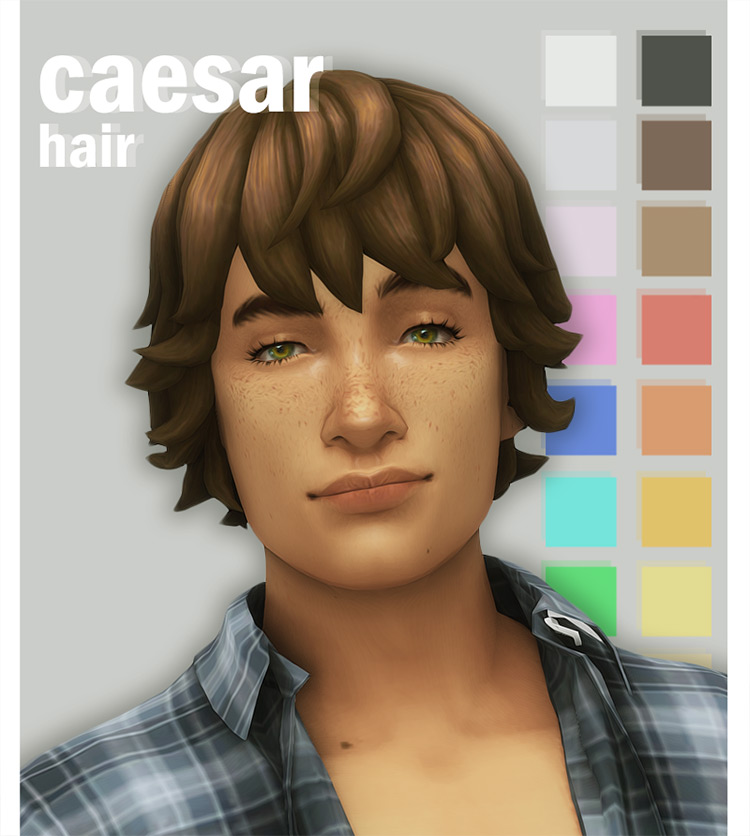 It would be a crime to finish out this list without one last shaggy hairdo for your male Sims.
If this seems familiar, you're not imagining things – it's an edit of a hair from Snowy Escape.
But Okruee's hard work has made it Base Game Compatible, and a handsome improvement from the original mullet-like version.
Browse:
Lists
The Sims 4
Video Games